My Stroke of Luck by Diane Barnes. Victoria Fringe 2017. An interview.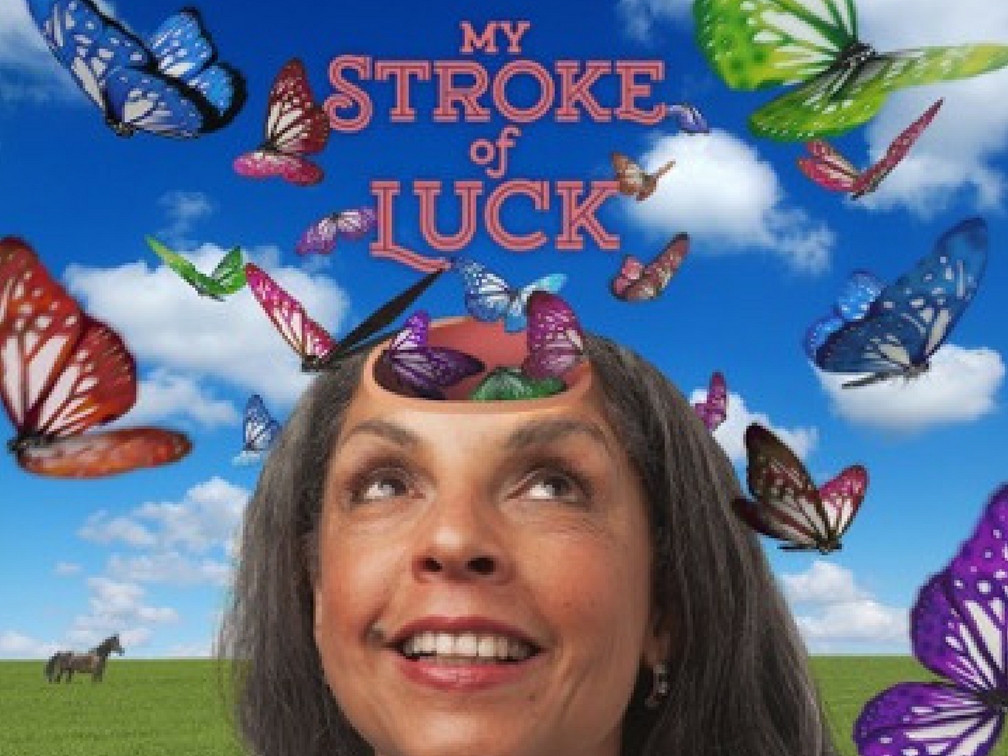 How long have you been producing work on the Fringe circuit?  As an artist/company?
I'm brand new to producing, but I'm having big fun with my new career!  Last year was my first on the Fringe circuit as an artist, writer, producer with my first solo show, My Stroke of Luck.
Is this your first visit to Victoria?
I'll never forget flying into Victoria the first time with my younger son, Takeshi, for his interview at Shawnigan Lake School.  On a sunny day, Victoria is even more beautiful than San Francisco, our home.  Takeshi also loved it. He's a 2010 Shawnigan Lake School and 2017 Camosun College (Bachelor's in Athletic Therapy) graduate.  So I've been a lucky, regular parent visitor to Victoria.
Have you been (or will you be) taking the show to other Fringes?
My show premiered last year at the Orlando Fringe, then played London Ontario and Vancouver. This year, Nanaimo and Victoria. Next year, hopefully, I'll be lucky enough to score a few more Canadian cities.
Is your show a new work, or has it been performed elsewhere?
My show was new 2016.   Over the winter 2016-7, I  developed new material, and revised the show, performing excerpts in the Bay Area, including at Solo Sundays at Stagewerx and Tell it On Tuesday at the Marsh, Berkeley, as well as at the juried Los Angeles Women's Theater Festival.  Nanaimo is the first run of the newly revised show.
Significant awards or accolades? (not just on the Fringe circuit) 
Selection for the Los Angeles Women's Theater Festival, United Solo Fest and the Atlanta Black Theater Festival, all 2017.
From two fellow Fringe artists:
"Diane Barnes tells her story with such grace and charm. A moving piece that reminds us all about the beauty of life." Jon Paterson, playwright and actor, "Inescapable", "Best Picture"
"My Stroke of Luck is clear, concise storytelling that goes straight to the heart." Chloe Zinner, Mind of a Snail, "Caws and Effect", "Curious Contagious".
Can you speak to the creation process of this work? 
I didn't know what I was writing, what the story was, or where I was going when I began what would become My Stroke of Luck.  I knew only that I had to write.  So I wrote everything that came to me, shared it, wrote more, rewrote, and shared more.  Most often the re-writing was in response to questions from David Ford of The Marsh and his other students : "I was really engaged when…"  "I really connected with…." or  "You lost me when…."
By the end of the first year, I knew I had a story.  But I still didn't know THE story.  I thought it was about my older son's difficult teen years, how a parent copes with a struggling adolescent. Only later did I realize it was really about how my unexpected, unwelcome medical crisis – a sudden hemorrhagic stroke – changed me and my family.   The end changed, then the middle, then the beginning. Maybe it's not only snakes that shed skins!
But the whole process was collaborative.  Audience engagement and feedback helped me hone and refine the show.  Comments like, "Your show is really about transformation," or "It's about letting go" were exciting gifts that spurred my script development.  So, it's ironic to call it a "solo" show, when audiences and fellow creatives are such essential collaborators.
Who will your show appeal to?
People affected by a catastrophic health event, especially brain injury, stroke or cognitive impairment, parents of special needs children, adoptive and single parents, parents of struggling teens, mothers of black sons,  health care professionals and students, those interested in the brain and neuroscience, reinvention and people needing the courage to make a change.
What would you say to entice a potential audience member to come?
What's your worst nightmare?  Suppose I told you that might actually be the door that opens your best life.  After all, that's what happened for me.   My nightmare was the ultimate gift.
What do you hope to inspire in your audience?
Faith. Hope. Belief.  Courage. Determination. A visceral understanding that even unimaginable setbacks offer opportunities for growth, grace and positive change.
Is there anything I've missed asking you, or that you would like to comment on? more robust
Even though as an introverted intuitive, the wild, extrovert world of the Fringe is a huge stretch, I love the Fringe. Not only are the audiences wonderful, open, curious, eager and warm, but the artists are collaborative, generous, supportive.  It's a moveable feast of theater, physical comedy, magic and camaraderie.
And I love being a part of this community.  The Fringe gives me a place to share my experience of medical catastrophe while raising two sons, one special needs- something that would normally break someone, or leave them helpless, hopeless and paralyzed. But instead for me, the injury and recovery was a gloriously transformative experience, one I can't wait to share with your audiences.
My Stroke of Luck written and performed by Diane Barnes, directed by Rebecca Fisher
Venue 8 St. Andrew's Kirk Hall 680 Courtney St., Victoria
Duration: 75minutes
Genre: Comedy, Drama, Storytelling
PG 14+
Friday August 25, 6:45pm        
Saturday August 26, 4:30pm    
Sunday August 27, 2:30pm         
Tuesday August 29, 9:15pm      
Saturday September 2, 12:45pm    
Sunday September 3, 7:30pm
Tickets $11/$9 via Ticket Rocket or at the door
This show could save your life!

"Very uplifting."  – London Free Press
"An amazing life story… a wonderful woman to spend 75 minutes with."  London Yodeller

"An entertaining enlightening piece that educates as well as touches the heart." Arts Beat LA

Diane wakes up. Alone. The place looks hauntingly familiar.  But she expected to be dead. "Where am I?" she wonders.  "It's not the hospital.  Home?  But if this is home, where are my children?"

Did you know the average person loses 1.9 million brain cells every minute a stroke goes untreated?  I knew; I'm a doctor, a radiologist who diagnoses strokes!  But I did not deal with having a stroke very well. It was 21 hours before I drove myself to the hospital!  Come see how that worked for out for us- me, a single parent by adoption family, and my biracial, 'tween, sons – one gifted, one special needs.

A spellbinding and funny look at love, family and seemingly insurmountable obstacles.

Diane is a black SF Bay Area based physician, B.A Stanford (psychology) and Yale University School of Medicine. A Meisner trained actor, Diane studied with Anna Deveare Smith. "My Stroke of Luck" was developed at The Marsh with David Ford. My Stroke of Luck has played at The Marsh San Francisco and Berkeley, Canadian and US Fringe Festivals and the Los Angeles Women's Theater Festival.  My Stroke of Luck opens at The Marsh, SF Nov 2 for a six week run.   My Stroke of Luck supported in part by Theater Bay Area CA$H Grant.