The Ginger Goodwin Story by Michael Stephen May 9th 2016. A preview.

Michael Stephen has long been interested in social and labour history.  For years he taught at the Contact Alternative School for marginalized youth in Toronto.  He knew many "Wobblies"—members of the Industrial Workers of the World, an international labour union founded in 1905—which was where he was first introduced to the story of Ginger Goodwin, Vancouver Island's most famous union activist, killed in the hills above Cumberland in 1918.
Although he'd written previous plays based in the social and labour history of 1930s Toronto Cabbagetown, it wasn't until he took Janet Munsil's playwriting workshop a few years back that Goodwin's story surfaced again during a scene writing exercise.  Three development workshops as part of Theatre One's Emerging Voices followed, and in 2015 the play was presented as part of Cumberland's Miner's Memorial Weekend.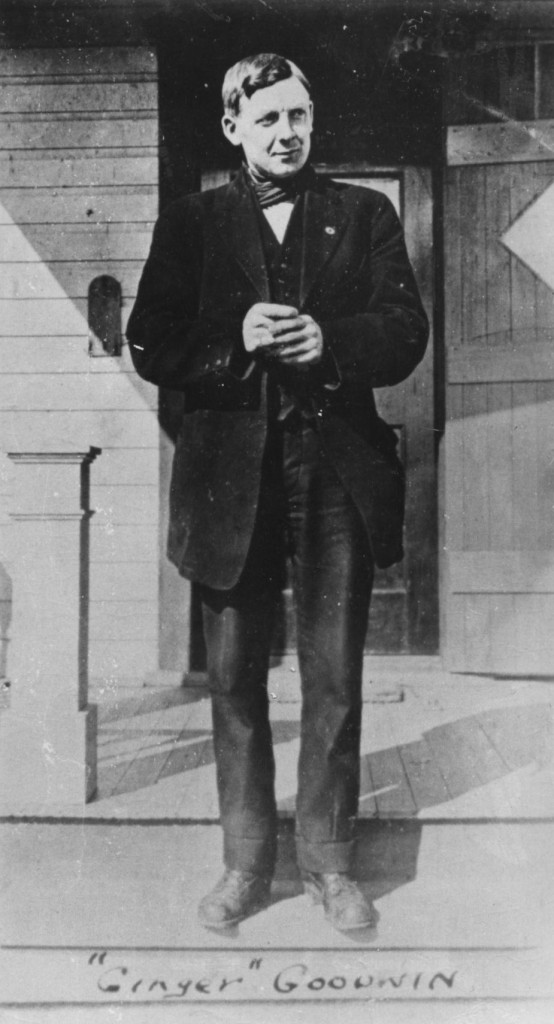 Photo credit: Cumberland Museum and Archives C110-002
Stephen has done extensive research into the story of Goodwin, a committed trade unionist, labour organizer and pacifist and cites source material from Susan Mayes' Ginger—the Life and Death of Ginger Goodwin to Roger Stonebanks' Fighting For Dignity: The Ginger Goodwin Story and Derek Hannebury's fictionalized account Beyond Forbidden Plateau.  He even consulted letters between Ginger and Mary Clark, his sweetheart.  Interestingly, Stephen points out that a lot of the archival material available—newspapers of the day, police reports—could be considered to be prejudiced given Goodwin's anti-conscription and pro-labour stance.
The story has its basis in truth but there is some invention in Stephen's play, although he's quick to point out "my guiding rule is that I'm not inventing anything that couldn't have happened".
The Ginger Goodwin Story has two main themes—the injustices that a lot of the workers faced at the time ("we talk about Goodwin as a martyr for the cause, but in reality, they were all martyrs—the seamstresses, cannery workers, coal miners, labourers", states Stephen) and the pacifist movement (against conscription during the Great War).  "Conscription was one of the most divisive things to happen in Canada" says Stephen.
The play follows Goodwin as he moves around the province, from his time in Cumberland with his mentor Joe Naylor, his relocation to Trail where he was active in organizing the miners' strike, and then return to Cumberland, fighting conscription.
It's not all about the men either—a number of prominent women activists are featured—Mother Jones (the magazine is named after her) the mining organizer who travelled to Cumberland, Helena Gutteridge—a student of the famous suffragettes, the Pankhursts—who sat on the trades council and was the first woman Vancouver city councillor, and Mary Clark—Goodwin's sweetheart.
For Stephen, it's important that people know about a seminal moment in Canadian labour and pacifist history, "anything to get the story out", he quotes Susan Mayes.
The Ginger Goodwin Story, by Michael Stephen
A staged reading
Monday May 9th as part of the Retail Action Network's May Works
Victoria Event Centre 1415 Broad Street
Doors at 7:30pm. Play at 8pm.
Suggested donation $10 or Pay What You Can. Tickets at the door only.
Directed by Kate Rubin
Produced by Denise Brown
Featuring:
Justin Carter, Paul Terry, Jared Gowen, Morgan Cranny, Christina Patterson, Kathryn Popham, Monica Prendergast, and Katrina Kadoski
Albert "Ginger" Goodwin, a coal miner, union organizer, passionate anti-war activist and hero of the B.C. labour movement was hunted down and shot by Dominion Police in the bush near Cumberland, B.C. as he fled conscription in 1918. This play portrays Goodwin's pacifism and his skill as an orator. It also examines the events leading to his death.