The Penelopiad by Margaret Atwood, directed by Wendy Merk, currently playing at Langham Court Theatre (April 23 to May 10, 2014) is replete with stately majesty. It's a visual banquet, an auditory feast, and a veritable treasure trove of pithy comments and rich humour.
Most high school English students will have studied Homer's Iliad and Odyssey, and be familiar with the peregrinations of the hero Odysseus (also known as Ulysses)—sailing to Troy to bring back the wayward queen Helen—she whose face "launched a thousand ships"—and winning the war with the strategy of The Trojan House.  We remember his ten year voyage to return home; characters like the dreaded Cyclops, the siren enchantresses, and the lotus eaters have entered our cultural vocabulary.  While Odysseus fought, plundered and wandered, his faithful wife Penelope remained at home—held up, then as now, as a paragon on patient virtue.
In Margaret Atwood's pithy, crafty and funny re-telling, Penelope turns the tables and recounts the stories from her point of view.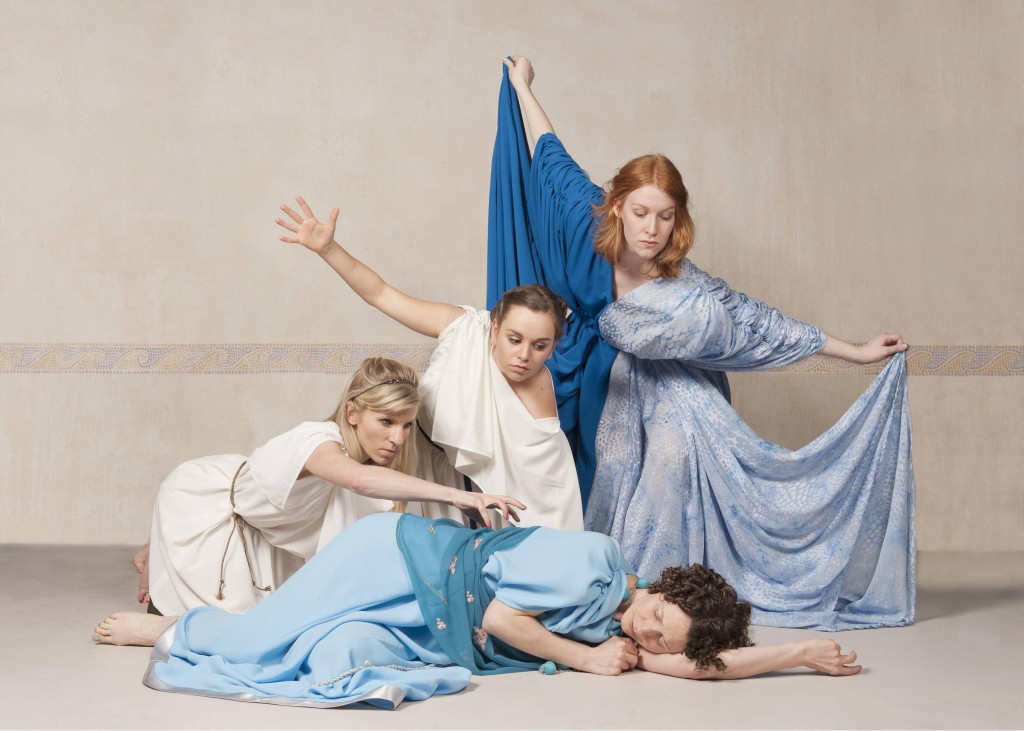 Leah Moreau as Tanis, Kate Boutilier as Iolë, Taryn Lees as the Naiad, and Jackie Rioux as Penelope
Photo : David Lowes Art Studio 21 
Director Wendy Merk has an obvious love of the material, which she has carefully mined to reveal hidden gems and nuances.  Over the course of many months (almost a year by her own admission), she recruited an excellent and varied cast (multi-aged, newcomers and veterans, Langham regulars and those making their début on this stage) and honed them into a formidable ensemble, orbiting the commanding presence of Penelope (Jackie Rioux).
The luxury of community theatre is time; working with choreographer Sylvia Hosie and dance captain Leah Moreau, the ensemble—most of them non-dancers—present a rich physical theatre and dance experience.  Of note are the flowing performance of Taryn Lees as the Naiad, mother of Penelope—greatly enhanced by her incredible robe (Costume Designer Ann-Marie Arneson)—and Ursula Szkolak in the Dance of the Seven Veils, but there are many more worthy nuggets.  What appears to be simple artifice—a few poles and canvas to convey ships sailing to Troy—enchants with its whimsical elements without detracting from the grim situation.  From a vocal perspective, the chorus' sea shanty was another highlight; throughout the chorus work (Music Coach Margaret McLynn) was strong with distinct harmonies.
Since its premiere onstage in 2007 in a first collaboration between the National Arts Centre in Ottawa and the Royal Shakespeare Company (England), the cast of The Penelopiad has been all female.  The gender-bending of the roles is challenging—how to convey the difference in attitudes, physicality, speech and stature without veering into caricature? This cast acquits itself with aplomb—it's a joy to witness maid become suitor (or soldier, sailor, king or oracle) become maid.  Amelia Petscheleit is perfection as the petulant teenage heir to the throne, Telemachus, and the quartet of Corinna Gilliland, Rosemary Jeffrey, Nicole Moller and Alison Fuller as representative suitors (there were more than 100 in the original tale) capture the conniving, licentious, and glutinous bravado of these ultimately unlikeable men.
Jackie Rioux is an exquisite Penelope—quizzically perplexed by intention, without ever veering into sarcasm. The fierce intellect of Atwood runs just below the surface and, at times, in the arch of an eyebrow, I can see her superimposed on the character. Kathy Macovichuk's Odysseus is frank and convincing—capable of rallying men to his bidding, or wooing his young love tenderly. Gloria Snider is the quintessential fussy, faithful and meddling long-suffering nurse maid Eurycleia.
An original score, commissioned from composers Ivana Jokic and Liam Gibson, blends orchestral and traditional ancient instruments in a wide variety of styles—the music moves from child-like nursery rhymes to rollicking sea shanties to sparse liturgy and folk songs.  It's a pleasure to hear commissioned work performed for the theatre. I'm not sure if this is a first for Langham Court Theatre but the music definitely enriches an already full sensorial experience.
Merk does double-duty as the set designer; the staging evokes the classic Greek outdoor theatre upon which all the action passes.  Scene changes are marked by lighting (Anastasia Schwarze) and projections (Kevin Stinson)—a useful device that aids audience members who might not be overly familiar with the story line.  Backdrop lighting picks up the tones of the costumes—particularly in scenes featuring Penelope, the Naiad and Helen of Troy—an added stylistic touch.
Costume Designer Ann-Marie Arneson's flowing gowns, luxurious scarves, ornamented robes and battle-worthy military dress create living tableaux amid the landscapes and action of the drama.
The action is never rushed; there is ample time to enjoy every aspect of this rich woven tapestry of a piece.  Kudos to cast and crew on this fantastic re-telling of a timeless story. Thank you for your wonderful labour of love—you have instilled this cautionary tale with fresh insight.
THE PENELOPIAD
By Margaret Atwood
Directed by Wendy Merk
Choreography by Sylvia Hosie
Original music composed by Ivana Jokic & Liam Gibson
Performance run April 23 to May 10, 2014 (Preview: Wed, Apr 23 / Opening: Thurs, Apr 24)
"After I was dead," Penelope tells us from Hades, "they turned me into a story.  Though not the sort of story I'd have preferred to hear."  The Penelopiad is Margaret Atwood's brilliant re-imaging to Homer's The Odyssey.  An insightful retelling of the myth of Odysseus from the point of view of Penelope.  Destined to spend eternity in Hades, Penelope recounts her life's story and the murder of her twelve handmaidens by her vengeful husband, Odysseus.
Audience Advisory: This play has coarse language and some violent sexual material.
Tickets:
$21 for Adults, $19 for Students / Seniors (Seniors ages 65+)
2 for $20 Preview (Wed, Apr 23)
2 for $30 Tuesdays (Apr 29 & May 6)
Student Rush Tickets $10 per ticket (At 15 min before curtain, Student ID required)
Performance Schedule (April 23 to May 10, 2014):
Apr 23 to Apr 26–Wed thru Sat nightly show time 8:00pm
Apr 29 to May 3–Tues thru Sat nightly show time 8:00pm
May 6 to May 10–Tues thru Sat nightly show time 8:00pm
* Plus two Saturday matinees May 3 & May 10-show time 2:00pm
* Friday, April 25 performance includes a post-show talk-back with the director and cast
LanghamCourtTheatre:
805 Langham Court
Victoria BC V8V 4J3
Box Office / Admin: 250-384-2142 boxoffice@langhamtheatre.ca
Website: http://www.langhamtheatre.ca/ Facebook: https://www.facebook.com/langhamtheatre Twitter: https://twitter.com/#!/LanghamTheatre
 
PRODUCTION TEAM
Director & Set Designer: Wendy Merk
Assistant Director: Lorene Cammiade
Choreographer: Sylvia Hosie
Dance Captain: Leah Moreau
Composers: Ivana Jokic, Liam Gibson
Music Coach: Margaret McLynn
Stage Manager: Sharon Sutherland
Lighting Designer: Tasia Schwarze
Sound & Projection Designer: Kevin Stinson
Properties Manager: Joyce Kline
Set Decor: Sven Black
Costume Designer: Ann-Marie Arneson
Costume Assistants: Heather Truswell, Lynn Cadrain
Mask Designer: Troi Donnelly
Set Artist: Anne Swannell
Head Painter: Anthony Johnston
Technical Advisor: Tony Cain
Producer: Andrea Pite
Assistant Producer: Corinna Gilliland
Assistant Stage Managers: Rowan Hebert, Paloma Ponti
CAST
Jackie Rioux Penelope
Kathy Macovichuk Odysseus
Gloria Snider Eurycleia
Sara Gustavson Maid 1, Melantho
Emily Yarnold Maid 2, Helen
Leah Moreau Maid 3, Tanis
Kate Boutilier Maid 4, Iolë
Ursula Szkolak Maid 5, Klytie
Amelia Petscheleit  Maid 6, Telemachus
Taryn Lees Maid 7, Naiad
Rosemary Jeffery Maid 8, Icarius
Corinna Gilliland Maid 9, Laertes
Nicole Moller Maid 10
Pippa Catling Maid 11, Queen Anticleia, Oracle
Alison Fuller Maid 12, Antinous
Disclaimer: I was provided with complimentary tickets to The Penelopiad for the purpose of writing a review. As always, I retain complete editorial control over all content published on this site.