Tween Earth and Sky by Mark Lyon. Victoria Fringe 2017. An interview.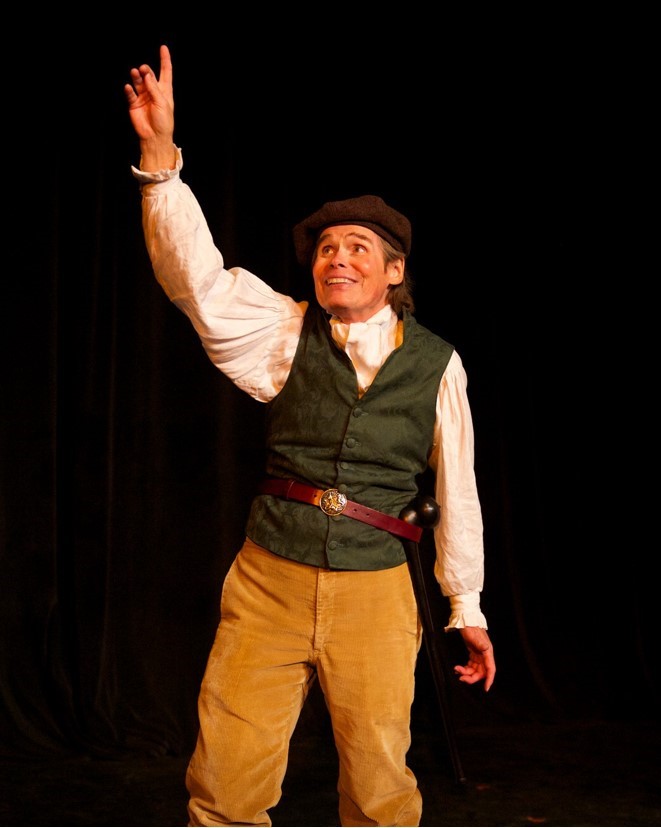 Master storyteller Mark Lyon returns to the Victoria Fringe with a host of tales.  He was happy to answer questions about his show 'Tween Earth and Sky, and the process of creating it.
How long have you been producing work on the Fringe circuit? 
I have been performing one-man plays (plus performing in one two-person play and producing a one-woman show) on the fringe circuit (on and off over the years) for twenty years.

Is this your first visit to Victoria?
This will be my 6th time performing in the Victoria Fringe and two years ago I was back in Victoria producing a one-woman dramatization of Neil Gaiman's children's book, Fortunately, the Milk at the Fringe.
Have you been (or will you be) taking the show to other Fringes?
I performed 'Tween Earth and Sky at this year's Orlando and San Diego Fringes and will be performing it at this year's Nanaimo and Vancouver Fringes.
Is your show a new work, or has it been performed elsewhere?
I first tried out the show in a somewhat different form approximately two years ago but it was first performed in this form at this year's Orlando Fringe.
Significant awards or accolades? (not just on the Fringe circuit) 
My proudest honor was being chosen by the late Lynn Regrave to be featured, as Richard II, alongside her in a showcase of great moments from Shakespeare which she produced for the benefit of the Motion Picture and Television fund at the Louis B. Mayer Theatre.
Can you speak to the creation process of this work?

'Tween Earth and Sky evolved out of a combination of my love of Irish supernatural folklore and a life-long history of telling ghost stories in a dramatic fashion.
I started by scouring through my collection of rare volumes of Irish supernatural folklore in search of appropriate stories to dramatize and, after trying out the show locally two years ago, deleted one of the stories and added, "Timothy O'Flynn and the Corpse," a story which had  become an audience favorite in two of my earlier one-man shows.
Next came many days of working with Marion Jeffery, a highly talented actress (with whom I had performed in Victoria a few years ago and for whom I produced Fortunately, the Milk) editing my initial script and exploring how I might best portay the 16 different characters in the show.
Almost two years later, I still continue to make changes in both the script and in my performance as, in the course of my performances, I discover new possibilities and continue to learn from my audience.
Who will your show appeal to?
I believe that my show will appeal to those who enjoy dramatic storytelling, tales of the supernatural and those intrigued by Irish folklore.
What would you say to entice a potential audience member to come?
I would say that 'Tween Earth and Sky offers the opportunity to, for an hour, depart from the world of the here and now and enter a world of enchantment in which magic is to be discovered around every corner.
What do you hope to inspire in your audience?
I hope to inspire a sense of wonder, fun and delight along with the suspicion that, perhaps, the supernatural entities the audience will encounter in the course of the play, just might actually exist in the world today, invisibly lurking in the shadows.
Is there anything I've missed asking you, or that you would like to comment on?

While the stories I dramatize in 'Tween Earth and Sky are derived from folklore, during my trips to Ireland searching out little known supernatural sites and interviewing locals who have told me of personal encounters with the fairy folk and other supernatural entities, I have, myself, had experiences in Ireland which I cannot explain in other than supernatural terms, the most intriguing of which occurred during a visit to the Holy Island of Monaincha, just outside the town of Roscrea.
I was there all by myself one day and found myself so intrigued with the place that I found it almost impossible to leave. When I finally decided to leave, every once of strength seemed to leave my body and I felt as if I didn't leave immediately, I would pass out and, perhaps, even die. This was very strange as I was in very good health, gotten a enough sleep the night before and I had just two hours before had a full Irish breakfast and I was full of energy when I had ridden a bicycle about a mile from my B&B to Monaincha.
I suddenly remembered stories I had read of the fairy folk taking people who remained too long in the wrong place down into their underground world and, while I had never believed such stories before, suddenly I became concerned and, though still feeling faint, I managed to leave the island and make my way to the edge of where, centuries before, a bog had originally surrounded the island. The further I got away from the island, the better I felt until, finally I was feeling absolutely normal again. When I looked back at the island I realized for the first time that, from a distance, if one can eliminate the ruined abbey on the island from one's mind, the island looks very much like a fairy fort.
After leaving the unpaved road which leads to the island, I rode a mile or so up a paved rode away from Roscrea. At length, I turned around and headed back toward Roscrea. When I neared where one could make a turn onto the unpaved road leading to the island, all by itself, my front bicycle wheel turned and sent me heading back to the island. This was very frightening and I yanked the handle bars back in the opposite direction and pedaled for all I was worth until I was far from the unpaved road which would have led back to the island.
When I returned to the States and had a chance to look carefully at the photos I had taken in Ireland I was stunned to see the strange rainbow effect you will see in the attached photo taken in the interior of the abbey on the island in the upper right hand area of the photo near the window. I have taken hundreds of photos with the camera I used on that day and nothing like this has appeared in any photo other than those taken at Monaincha.  I do not believe this to be a sun flare as I was not shooting into the sun.
Had the fairy folk tried to "sweep" me away?  Did I capture something supernatural with my camera?
While there may be some "normal" explanation for what I experienced, I have, yet, to find one.
'Tween Earth and Sky by Mark Lyon
Performances: Venue: V6 – Fairfield Hall (1303 Fairfield Rd)
All seats $9
Friday, August 25 – 5:15pm
Saturday August 26 – 5:45pm
Sunday August 27 – 8:15pm
Monday August 28 – 7:45pm
Saturday September 2 – 6pm
Sunday September 3 – 2pm
Journey back to a time, long ago; long before your great-great-grandfather's grandfather was born, when the world was filled with enchantment and bedevilment brought about by supernatural entities who dwell within the invisible world 'tween earth and sky; a time when Ireland was so much a place of enchantment and bedevilment that a decent man could hardly poke his nose outside the door of his own cottage without chancing upon spirits and witches and all manner of fairy folk who have the ability to bring either good luck or bad luck to mere mortals such as you and I.

'Tween Earth and Sky weaves a magical spell through the dramatization of four traditional Irish tales of the supernatural ranging from the tale of a clever lad's attempt to outwit a leprechaun, to stones which weep tears of regret memorializing the tragic romance between the son and the daughter of two warring Irish clans, to a financially ruined aristocrat who sells his soul to the Devil and a young rogue's harrowing journey seeking redemption while a talking corpse clutches tightly to his back.

Actor and playwright, Mark Lyon, who will portray sixteen different roles, has enchanted audiences from Orlando, Florida  to Victoria, B.C. (where he was called "a master storyteller" by the Victoria Times Colonist) and across the Atlantic in Irish castles and at Ireland's most prestigious literary event of the year, the Listowel Writers' Week Festival, with his original one-man plays as well as having been featured on numerous television and radio programs .  He is a member of the Screen Actors Guild, holds a masters degree in Theatre, studied at length in a master class with Lynn Redgrave and was honored to have been chosen to perform with Ms. Redgrave in a presentation of great moments from Shakespeare at the Louis B. Mayer Theatre for the benefit of the Motion Picture and Television Fund.

Although the tales dramatized in 'Tween Earth and Sky are based upon traditional Irish folklore, while searching out supernatural sites in Ireland, Lyon has met credible individuals who have told him of personal experiences involving the fairy folk and other legendary Irish supernatural entities; experiences which resulted in his initiating a survey throughout Ireland in search of present-day, first-hand encounters with the fairy folk in all of their intriguing forms.