Driftwood by Hawk Mom Productions at the Victoria Fringe Festival 2016.  Interview.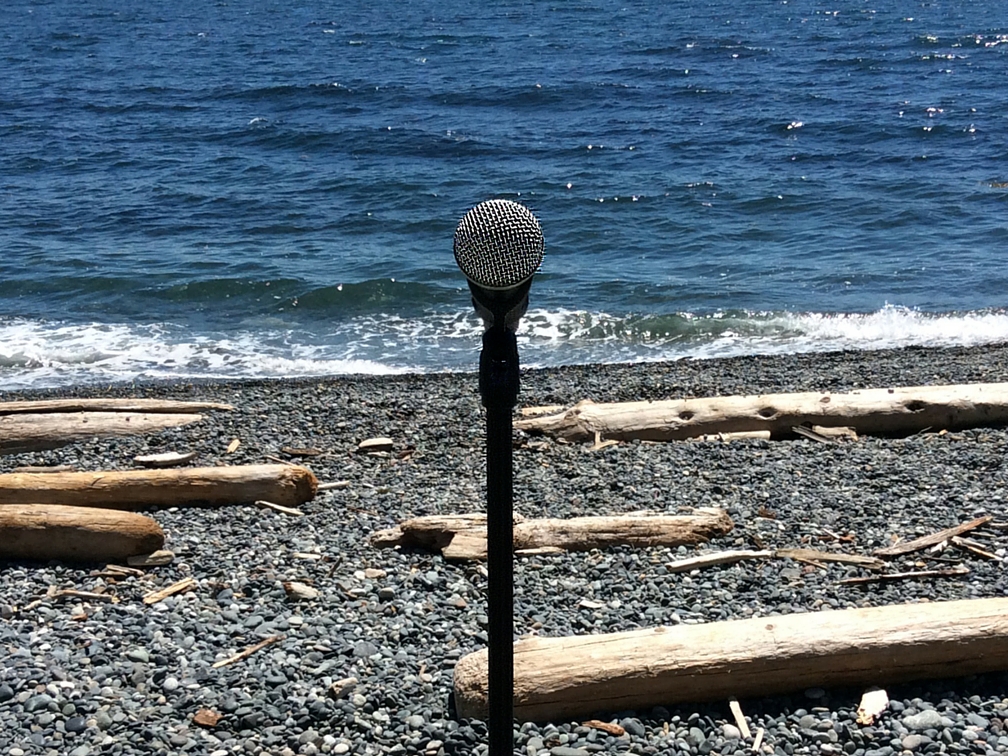 The team behind Driftwood are Robbie Huebner, Melissa Taylor and Ian Simms.
How long have you been producing work on the Fringe circuit?  As an artist/company?
As a company (Hawk Mom), this is our second collaboration in Fringe. Individually, it varies. Melissa has been working as an artist in the Fringe for the last eight years. This will be Robbie's second Fringe, and Ian's third.
Is your show a new work, or has it been performed elsewhere?
It's a new work! Sort of an ultimate indie collaboration. We've assembled a dream team of theatre artists around Victoria (actors, writers, musicians, the list goes on…) to write a ten-minute monologue based on their personal experience in a "break"; this is purposely broad, we wanted to get stories about broken bones, lost loves, grief, career mishaps… And we did! So we're helping shape and style the monologue into three separate shows that incorporate similar themes and ideas. Some of the artists involved are: Alex Judd, Tea Siskin, Caitlin Holm, Cati Landry, Jared Gowen and Esther Rzeplinski. We have a surprise performer or two, but the details are being worked out at the moment.
Significant awards or accolades? (not just on the Fringe circuit)
Robbie and Melissa have both received SSHRC (Social Sciences and Humanities Research Council) scholarships to fund their MFA thesis work; these are prestigious grants given to graduate students whose research is deemed the highest quality and most cutting edge in their peer group.
Hawk Mom's Fringe entry last year, The Dangers of Daphne, was nominated in the Best New Play and Best Actress category.
Can you speak to the creation process of this work?
All three of us have been circling around the idea of monologue and storytelling for the better part of a year. We have all had one-person shows and projects recently: Ian's, The Problem with Facebook in last year's Fringe, Robbie's, Describe My Lonely in January and Melissa's The Oldest Trick in the Book in SKAMpede 2015 and The Short Short Play Festival 2016 (Toronto), as well as her MFA thesis project. We all admire a story well-told, so this seemed like a natural progression. Melissa and Robbie will be sharing stories for Driftwood.
Then we started by accepting submissions from the community. We put out notices to different theatrical and artistic communities in Victoria, and chose performers based on the quality and uniqueness of the pitches they sent in. We wanted a diverse array of relationships and experiences, a real sense the idea of "a break" had been well-explored both literally and figuratively. After that, we asked our story-tellers to write a draft of the story, and then worked with them to hone the piece and develop a central theme. After that, it's simply a matter of getting them on stage.
Who will your show appeal to?  If it's an "all-ages show" what is the age range you think it is most appropriate for?
It's not recommended for children, but we'd say adults far and wide will find something in these stories – whether it's a sense of nostalgia, empathy, appreciation, or understanding. Each story is honest, earnest, and real; our storytellers are bravely sharing their memories with the audience, and we expect people young and old will be able to connect with that.
What would you say to entice a potential audience member to come?
Breaks define lives. What we've noticed in curating these stories is that everyone seems to look back on these moments as major periods of growth. They come out from the other side as different people. It's a reminder to those who are struggling – and have struggled – that these experiences are necessary in our own personal development, and are integral to the human experienc
What do you hope to inspire in your audience?
Hope. It's a little cheesy, but some of these stories involve a lot of devastation, and all of our performers are still here, and still moving forward.
Is there anything I've missed asking you, or that you would like to comment on?
Be sure to check out http://hawkmomtheatre.tumblr.com/ for our scheduled line-up each night as well as performer bios.
We hope to see the Victoria community out and about for Fringe, and we're excited to see all of the amazing artist contributions to this year's festival!
Have you ever taken a break from someone significant in your life, be it physical, emotional or otherwise? Hawk Mom Productions presents Driftwood: a storytelling series where a variety of Victoria artists recount a time when they were adrift — possibly lost, possibly free, definitely personal. Visit our website for our storyteller schedule.
www.hawkmomtheatre.tumblr.com
Driftwood by Hawk Mom Productions
Location: Fairfield Hall (Fringe Venue 6), 1303 Fairfield Road, Victoria BC
Created: Robbie Huebner
Advance price: All seats $9 + s/c*
Door price: All seats $9
Duration: 45 mins
Rating: PG14+: Coarse Language/Adult Themes
Fri Aug 26 – 4:30pm
Sat Aug 27 – 8:45pm
Sun Aug 28 – 4:45pm
Mon Aug 29 – 8:45pm
Fri Sep 2 – 8:00pm
Sat Sep 3 – 1:00pm