Vancouver Fringe Festival 2013 suggestions (mostly) from the Victoria Fringe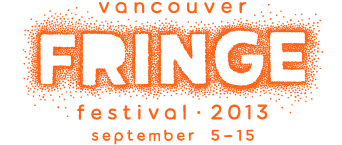 It wouldn't be an overstatement to say I'm a bit of a Fringe fanatic – over the years since I got back in to fringing, I've gone from seeing a handful of shows to 33 shows at this year's Victoria Fringe Festival.
Here are my recommendations for shows that were in Victoria this year (or last), either at the Fringe Festival, Intrepid Theatre's UNO Fest, or the Belfry Theatre's SPARK Festival.  However, my taste in theatre may not be yours. Caveat emptor!
I've listed the shows alphabetically, as they are indexed in the program. 
The Adversary – Andrew Bailey
Andrew Bailey is a talented monologist and award-winning comedian with a self-deprecating and self-revealing sense of humour. His shows Limbo, Putz and Scrupulosity have featured on the Fringe circuit since the early 2000s.  He's a member of the acclaimed troupe, Atomic Vaudeville. Adversary had a sold-out run at Uno Fest in 2012 (which is where I saw it).
Imagine Woody Allen stuck in The Wire. Award-winning comedian Andrew Bailey draws on a decade's experience as an inner-city church caretaker to explore how justice is brought to those who don't call the police.
I admire Andrew Bailey's honesty and his ability to unravel the complexity of human character with humour, wit and great intelligence. He travels to places most of us would rather never explore, and does so with great openness and heart, while asking the difficult questions.
2010 Vancouver Fringe Critics' Choice Award for Limbo
Co-Winner Best of Fringe Show of 2008 by the Vancouver Courier for Putz
Best Solo Show, Victoria Fringe 2005 for Scrupulosity
baileylaughs.com
Bursting Into Flames – Martin Dockery

Dockery arrived on the Fringe circuit in 2009 with Wunderlust, a masterful display of storytelling.  Based on my memories of this show alone (from the 2010 Victoria Fringe), I attended Bursting into Flames. It's Mach 8 storytelling and Dockery keeps up a "blistering" pace throughout.  The play left me with many philosophical questions and much to ponder.
The gonzo tale of a darkly hilarious romp through the afterlife.Told in Dockery's unique storytelling style,Bursting Into Flames is the story of one man's tenuous grasp on reality  as he endures an eternity of paradise in Heaven.
Winner of multiple Pick of the Fringe, Patron's Picks and Best of Fests for his shows.
martindockery.com
Butt Kapinski-  Deanna Fleysher
When God speaks, I listen! In this case it was Mike Delamont (God is a Scottish Drag Queen) and he was recommending I see Butt Kapinski at this year's Uno Fest.  Thank heavens.
In this supreme improvised send-up of the film noir genre, Fleysher sets out to solve a mystery, and enlists the participation of the entire audience to do so.  Somehow, we all bumbled our way to the end, happily following rabbit trails and missed clues as we went, with much hilarity along the way.  How often are we provided the felicitous opportunity to play?  Go with the flow and immerse yourself in this adventure.
Winner, Most Orgasmic Production, Hollywood Fringe 2013
Nominated, Best Solo Show and Most Outrageous Theatre Award
Nominated, Best Touring Show by The Austin Chronicle
Honorable Mention, Best English Language Show, Montreal Fringe 2012
buttkapinski.com/
Confessions of a Fairy's Daughter – Allison Wearing
Alison Wearing has a novel approach to marketing her book – she's doing a Fringe tour.  A 2011 Pick of the Fringe for her previous show Giving Into Light, Wearing is a kinetic and captivating storyteller. Her tale of growing up with a gay dad in the 1980s has already garnered significant attention.  It's a lush production – Wearing's stories are inter-woven with beautiful music and many family photos.
Best of Fest: Stratford Springworks Festival, Wakefield Fringe
Patron's Pick, Winnipeg Fringe 2013
Pick of the Fringe (Drama),Victoria Fringe 2013
Dirk Darrow: NCSSI  – Tim Motley
I saw NCSSI at the 2012 Victoria Fringe. Motley channels Phillip T Marlowe, and every film noir you've ever seen, with some incredible prestidigitation, mentalism and cheesy one-liners. Add to that, the fact he had me truly flummoxed at his feats of prescience. The show was extremely popular with sell-outs for last year's run – be sure to get your tickets early.
Patrons' Pick, Winnipeg Fringe 2013
Pick of the Fringe, Victoria Fringe 2012
timmotley.com/
Fools for Love – Small Matters Productions
Follow clown-neighbours Seashells and Rocket; you know where the story is going, but the detours it takes will leave you chuckling.  With ample references to ninjas and Japanese B movies, and some of the most impressive shadow play I have seen onstage, I was charmed.  It's a careful blend of romance and raunch with great physicality besides. PG 14+
Pick of the Fringe (Clown), Victoria Fringe 2013
Official Selection of the 2012 New York Clown Theater Festival Best of Fest at the 2012 Winnipeg Fringe Festival
Official Holdover Selection of the 2012 Edmonton International Fringe Festival
smallmatters.ca
Geek Life – Aji Slater
Not all geeks like Star Wars and Star Trek; it just so happens that Aji Slater is a circus geek. Geek Life is the gentle celebration of the geek in all of us.  Slater leaves home for art school and runs away to the circus. His juggling was a highlight.
Human Body Project – Tasha Diamant
The year  Tasha Diamant appeared in the Human Body Project at the Victoria Fringe Festival, I had just completed the photo shoot for the Babes (and Blokes) Go Bare for Cancer fundraising calendar, so the idea of a middle-aged woman onstage, naked and unscripted, struck me, not as odd, but as intriguing. After experience, I find it to be profoundly moving and relevant.
The Human Body Project is an ongoing performance art and non-violent action project. As creator, I make an intention to show up in vulnerability–naked and unscripted–to share a deep experience of vulnerability with other human beings. Many join me.
Tasha returned to even larger audiences at the 2012 Victoria Fringe. She continues this work throughout the year with Vulnerability Vigils, inviting us all to participate.
humanbodyproject.org/
Innocent When You Dream – Zeb West
This show was the sleeper of this year's Victoria Fringe Festival for me personally. Using mask, objects, and puppetry, West recounts the story of a man living in the belly of a whale with only two books – Moby Dick and Don Quixote – to keep him company.  It's tender, charming and wistful with an underlying spirit of naïveté.  It seems to meander in a random fashion, but the ending is extremely powerful.  Abandon your critical mind and sink into this adventure.
elephantandpeanut.com/
Jake's Gift – Julia Mackey
Vancouver Fringe Pick Plus – September 26-29th
This Jesse-nominated production premiered at Victoria's UNO Fest in 2007 and has gone on to tour to every part of Canada to great acclaim and numerous awards (Fringe and other). A sell-out everytime.
Mackey has the uncanny ability to morph physically before your very eyes – alternating back and forth between World War II veteran Jake, a man in his 80s, and Isabelle, a curious 10 year old French girl. I've seen Jake's Gift at least six times. My father was a vet; Mackey's show has helped me to connect to his lived experience.
Her unsentimental and natural treatment does great honour to our veterans.
jakesgift.com
Kitt and Jane (an interactive survival guide to the post-apocalyptic future)
Ingrid Hansen and Rod Peter Jr (Snafu Dance Theatre)
Fringe circuit darling Ingrid Hansen (Little Orange Man) grows up. I've seen many versions of Kitt and Jane, during workshops, and a run during the Belfry Theatre's SPARK Fest.
Now 14, Kitt (Hansen) and her frenemy Lucas Jameson (Rod Peter Jr) have been invited to host the ceremony to celebrate a beloved school principal at the naming of a wing in his honour, but the proceedings quickly go awry when they hijack the audience.
What follows is a delightfully zany, off-the-wall riff on surviving high school as social misfits, the loss of bees due to pollution, dying, bullying, friendship, family, and post-apocalyptic survival.  In quick succession the duo use shadow and found-object puppetry, movement, projections, video, music and storytelling as they zip from adventure to adventure – guided by their impending doom (one hour from the start).
Victoria's Critic's Choice Best New Play
Vancouver Playwright's Centre New Play Prize
snafudance.com/
La Cravate Bleue – Jean-François Plante-Tan
A musical monologue entirely in French. Plante-Tan has toured the Canadian Fringe circuit this summer as the only French act outside the Montreal Fringe.  He promises you can follow the story even if you don't speak French.  Plante-Tan is an enthusiastic performer, whose real-life closely mirrors the tale onstage. You'll be sure to meet him flyering one of the line-ups with his mega-watt smile, and easy quip.  He has a facile ability with poetic lyrics.
The protagonist swaps his computer keyboard for a piano, and embarks on a creative and spiritual journey.  Suitable for a general audience, exploring a universal experience:the choices and sacrifices we make for the things we love doing and the people we love.
The Last Show You'll Ever See – Sarah Liane Foster (Nomadic Theatre)
It takes an extremely inventive mind to weave together the trombone, clowning and apocalypse related theories.  Sarah Liane Foster succeeds magnificently.  Any mind that can ask for sets of random words from the audience – "dragonfly" and "escalator", "jellyfish" and "ice cream"- and then proceed to link them together with word-vignettes, has my undying respect.
Thor, the Valkyries, classical musical pieces – it's the stuff of this inventive clown's musings. Once again, an off-beat show that asks you to come, open-hearted in great anticipation of the offering you will witness.
WARNING: AS THE WORLD MAY END AT ANY MOMENT, WATCHING THIS SHOWMAY BE THE LAST THING YOU DO
nomadictheatre.org
Promise and Promiscuity – Penny Ashton (and Jane Austen)
Recommended to me by another Fringe regular, Brian Carroll of Ottawa.  What's not to love if you're a Jane Austen fan and enjoy mash-ups.  Ashton is adept at creating eight different characters in this very funny reworking of Austen's novels, and times. Her clear voice and R-rated song lyrics had audiences in stitches.  Sure to be a favourite – get tickets early.
Pick of the Fringe (Female Solo), Victoria Fringe 2013
Patrons' Pick, Winnipeg Fringe 2013
Best Performer, Auckland Fringe 2013
hotpink.co.nz
Richard Tyrone Jones's Big Heart
Ah, the power of the Fringe Preview night. This show wasn't even on my radar screen, but who can argue with "medical comedy poetry" and a powerful spoken word presentation. Jones recounts the story of heart failure on his 30th birthday through cardiomyopoetry, anecdosage (and jokes).  The show has since become a BBC Radio 4 mini-series.  The award-winning projections are of particularly high-quality.
Pick of the Fringe (Spoken Word), Victoria Fringe 2013
richardtyronejones.com/
Shattered – Andrew Barrett, Impulse Theatre
Barrett presented a workshop version of Shattered at this year's Uno Fest.
His impressive body of work (Clan Resilience, Damned Girl, The Path, Conversations With the Sea) hovers on the edges – of dance and theatre, myth and reality.  His newest solo piece, Shattered, is bold and assertive while retaining a hint of fragility. It constantly tests the boundaries while remaining accessible to audiences more accustomed to linear story-telling.  Shattered grips your attention right from the beginning and doesn't let go. The eerie and discordant sound design juxtaposes perfectly with Barrett's choreography – careful, deliberate and esthethically pleasing – in this brave new piece.
impulsetheatre.ca/
Wolf Trek – Kevin Kennedy (Duqamuq Produqtions)
A man, alone in the wilds of WoodBuffaloPark, on a quest for answers to the big questions of life.  Whitehorse-based Kennedy spins a yarn interlaced with moments of domesticity and flashes of nature-induced adrenaline. Imagine yourself around a fire, face glowing in the flames, suspended on every word. Suitable for most audiences.
duq.ca
Although I have not seen the following shows, I have enjoyed other work by these performers, and would also recommend:
Little Pussy – John Grady
Storytelling extraordinaire. Grady toured Fear Factor:Canine Edition last year. He's a respected wordsmith, has performs at the famed Moth, and is a former member of Ballet BC, and the Blue Man Group.
thejohngrady.com/
Nonce – Steve Larkin
Larkin brought TES, a re-worked version of Hardy's Tess of the D'Ubervilles, to this year's Victoria Fringe Festival. I sat in at 11pm, rapt and mesmerized by the images of urban decay, and a civilization slowly crumbling. His hypnotic litanies roll over the audience like waves.
stevelarkin.com
Unpossible – Travis Bernhardt
Bernhardt's show Lies was a clear favourite at last year's Victoria Fringe Festival (Pick of the Fringe). Unpretentious, unruffled, and clearly in control of his magic and his audience. A pleasure to watch and experience.
travisthemagician.blogspot.ca/