The intrepid Kirsten Van Ritzen is at it again—this time she's launching Victoria's first Funny Women Festival February 21st and 22nd (with a networking/hangover brunch on the 23rd).
You might know Kirsten for her many roles with SinCity, the live improvised serial, or the searing Langham Court theatre production That Face in January 2013, or her regular stand-up and improv comedy classes. She's also a novelist, solo performer and executive producer (the locally produced show "She Kills Me" is now airing on APTN).
After remarking on the few opportunities open to women comedians, she has decided to organize a festival.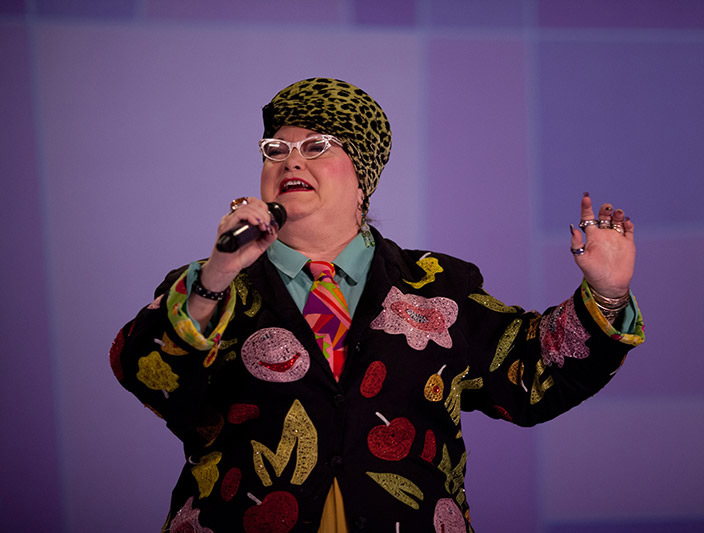 Zandra Bell as Shirley Best. Photo: David Bukach
The complete line-up is available on the website, but some of the featured acts are:
Zandra Bell (Edmonton) one of Canada's top corporate entertainers performs as outrageous motivational speaker 'Shirley Best'   www.zandrabell.com
Rachel Sommer (Winnipeg) Comic by night, mild mannered optometrist by day, Dr. Sommer has been spreading both laughter and moderately improved eyesight around Manitoba. www.rachelsommer.ca
Melanie Rose (Vancouver) a rising star known as the tie-dye comedian, she also uses humour to promote mental health awareness http://www.melanierose.ca
 Also starring Victoria comedians: Carilynn Nicholson, Romina Miranda, Shelley Suzuki, Joy Huebert, Nancy Mergen, Lenore Lemay, Natalie North, Pat Schandl, Ana deLara, Karen Brelsford, Kirsten Van Ritzen, J. McLaughlin, Maxine Fisher, Justine Drummond and the Busty Buskers.
A comedy festival that celebrates funny women. Stand-up, character, music and variety acts – two nights chock full of fierce funny females, with a different lineup each night.
Broad Theatrics presents
Victoria's 1st annual
FUNNY WOMEN FESTIVAL
8pm Friday Feb. 21 & 8pm Saturday Feb. 22
Victoria Event Centre 1415 Broad Street
Advance tix $20/show     http://www.ticketrocket.org 250-590-6291
$25 at the door 7:30 pm cash only
Licensed venue 19+
LADIES WHO LUNCH
A networking/hangover brunch for female comics to mingle with Victoria's
Women in the Arts who Get Things Done
1pm – 3pm Sunday Feb. 23 Stone's Throw Restaurant 642 Johnson
Advance $15/ Door $18   (all ages/genders welcome
LAUGH-ALL-WEEKEND FESTIVAL PACKAGE includes admission to both shows and brunch – only $50 at Ticket Rocket
http://www.funnywomenfestival.com