Do you come from Victoria, or have your moved here from elsewhere?  What does "home" mean to you?
Dustin Harvey of Secret Theatre will be investigating the notion of place (and home) in two works during Intrepid Theatre's Winterlab (January 25th – February 1st).  We Are Here takes place during the opening Winterlab Fête January 25th and Farewell Victoria closes the festival (January 31st and February 1st).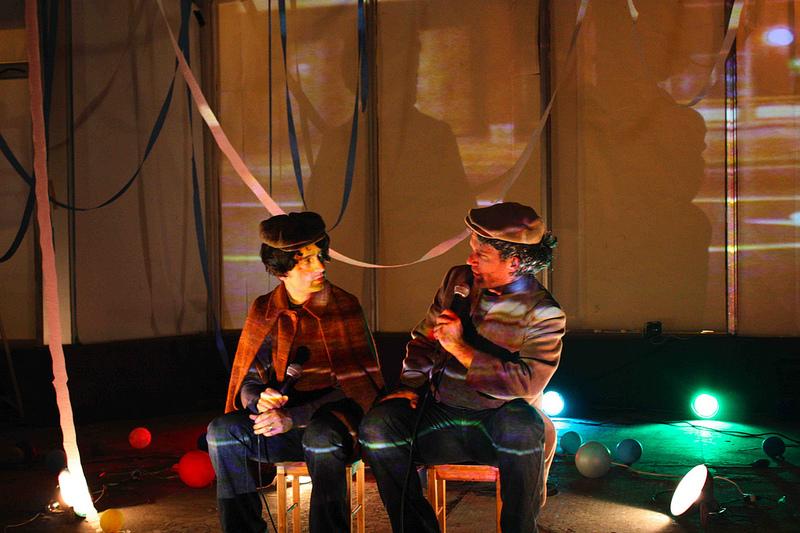 I had the opportunity to ask Dustin and his collaborator (Chad Dembski) a few questions.
What kind of work does Secret Theatre do, and what is the impetus for creating this work?
Dustin Harvey (DH) Secret Theatre's recent work is about a beauty found in the connections between strangers.  These projects include theatrical walks with the help of iPods, live film experiences, site-specific performances about locality, and responsive audio installations. The work emerged out of a desire to creating meaning, shared experiences that are thoughtful, intimate, and temporary.

In Farewell Victoria I am collaborating with Chad Dembski (CD) an artist based out of Montreal and the force behind surprise performance, which he can tell you about.

CD: While I am only a member of secret theatre for Farewell I can say the work investigates the potential of performance to include the audience as part of the experience.  While participatory at times it more asks questions that we hope speak to the fears, hopes and dreams of the audience and the potential of what could be.
Have you ever been to Victoria to "perform" before? 
DH:I have never been to Victoria.

CD: I have never performed in Victoria but did go there once for a protest in 1993 for LangaraCollege as I was the representative for Studio 58 at a sit-in about funding for the entire college.  I remember the ferry ride being beautiful.
What intrigues you about our city (and/or Intrepid Theatre)?
CD: I have been interested in Victoria since living in Vancouver for two years from 1992-1994 and being able to visit once for a day.  I have seen over the years that it has been sited for a very active population and a high standard of happiness (at least by some polls).   I was born and raised in Kitchener-Waterloo and while it has a similar population count has way less culture so

I'm always impressed with small cities that seem to have very supportive artistic communities.  Intrepid theatre has intrigued me for a few years as they produce and promote more cutting edge work in a such a wide variety of ways.  I have had a few friends perform at UNO festival over the years and have always raved about the experience and the Victoria Fringe seems to rally both audience and artists together, which does not always happen at Fringe festivals.

DH: I've always thought of Victoria as a lot like Halifax, although I'm not sure how similar they really are.  I applied to the University of Victoria back when I was making the shift from math into theatre, so maybe I just convinced myself of that. I chose it partly because Victoria was a smaller place, and it was close to the ocean. I was afraid of living so far away from my family, but it didn't matter because I didn't get in.

I admire Intrepid Theatre a lot. Jan (Janet Munsil) has been someone who has shown interest in my work since we first met a few years ago in Kitchener Waterloo at Magnetic North Theatre Festival. Chad was actually performing at that festival.
What impact do you want your performances to have on the audience?
DH:  I really hope our work makes audience see or re-see the place they call home.

CD: I hope audiences see their city in a way, experience a place they walk by everyday but don't always take in.   I want to create a one night utopian community that for a short while imagine together what could be; both for themselves, their city and their friends.  In an almost reversal of usual theatre where the attempt is made to transport the audience to another place and time, I want to make them feel more present in their city and this exact moment we have together.
[vsw id="41254468″ source="vimeo" width="425″ height="344″ autoplay="no"]
We Are Here is part of the Winterlab Fête January 25 at Rifflandia HQ (corner of Douglas and Pandora). Also performing will be STO Union in Can We Talk. Tickets ($10) are available via Ticket Rocket.  Farewell Victoria closes out Winterlab on January 31 and February 1 (in a secret location).
We kick the festival off with a party, a fête! We combine a rocking speakeasy experience with two live performances that will involve, engage, inspire and delight you. Theatre, local brews, artists and friends in a killer downtown venue- what better way to fête the night away!

We Are Here
Projections, music and animation collide as two performers manipulate the equipment in this live film made by hand that tells the story of a homesick girl adrift far from home .

Can We Talk – An STO Union Creation* Ottawa/Victoria

The phone's ringing and it might be for you! Sarah from Ottawa is on the line and she has some questions about life in Victoria. Part storytelling, part conversation, Can we talk is an exploration of the impulse to leave the place where you were born, emigration by choice, and the decision to stay behind.  Can we talk is an interactive and immersive live art piece for one audience member.
Farewell Victoria
January 31 and February 1 in a secret location
Tickets $19/$15 via Ticket Rocket
Two performers transform an empty storefront into a live video backdrop in this goodbye party for our city, complete with one last slow-dance. This piece offers a unique perspective on an old city; an opportunity to imagine what this place would be like if all the people who left had stayed.
[vsw id="41254465″ source="vimeo" width="425″ height="344″ autoplay="no"]
This is the second year for Winterlab.
Engage your senses and brighten your winter with the hottest theatre from the coldest country at Intrepid Theatre's Winterlab, January 25 – Feburary 1, 2014. The most innovative theatre artists from across the Great White North take over spaces both traditional and unconventional with work that will stretch the imaginations, engage the senses and spark conversations. Multi-disciplinary live performances from Halifax, Whitehorse and brand new work from artists right here at home are all part of the week long festival that returns for a second year. Winterlab will start with a launch party  – the phone is ringing and it's for you – a one-on-one theatre project from Ottawa/Victoria and a projection show from Halifax, and end with the same company throwing a goodbye party to the city. In between these parties, will be a week of residencies, a puppet and live action adventure for the whole family, and more, so stay tuned…