4 1/2 (ig)noble truths by Thomas McKechnie at Intrepid Theatre Uno Fest 2017. A review.

Raw, chaotic, poetic—4 ½ (ig)noble truths by Thomas McKechie at the 20th annual UNO Fest gets under your skin and worms its way into your psyche with a never ending onslaught of words, thoughts and actions.
The set design is meticulous—tall white pillars constructed of Coroplast, edged in blue, and a low table, each topped with a range of objects—a carton of eggs, a slide projector, a bucket, a sledgehammer. McKechnie checks them all carefully as if grounding himself.
The words "performance lecture" conjure visions of fusty university halls, or polished talks aimed at upwardly mobile global audiences.  4 ½ (ig)noble truths is anything but as McKechnie eviscerates himself onstage, pouring heart and soul into the performance, in an attempt to name and tame the beast, and to convey, in some small way, what it feels like when "it" takes over.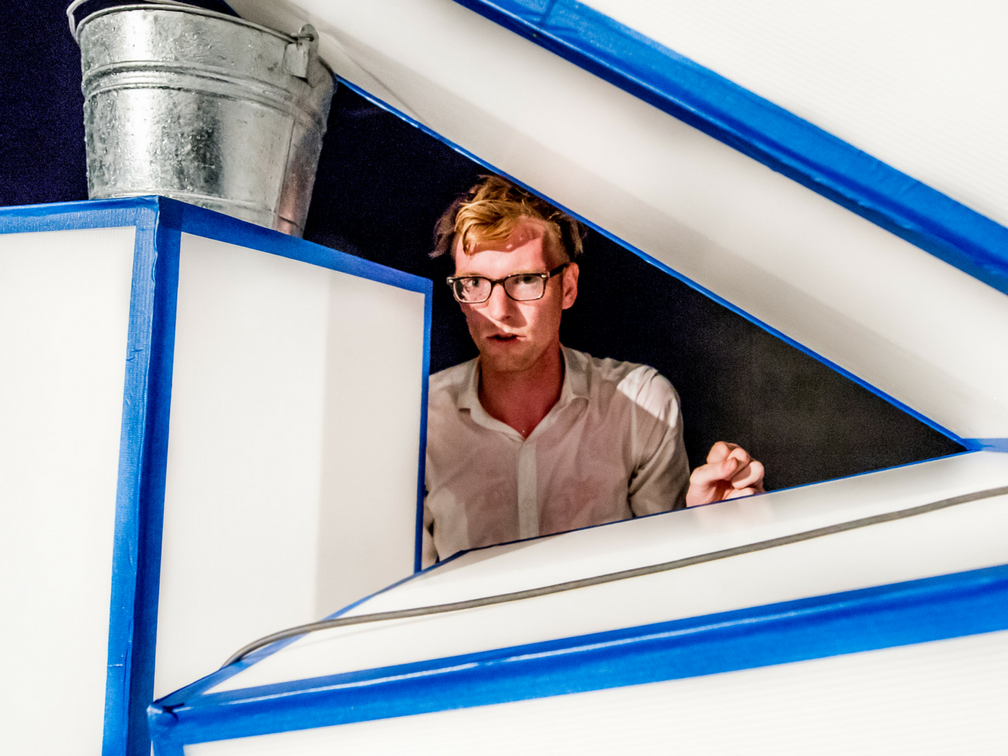 Frenetic word pictures jostle one another.  Structures juxtapose in a jumbled, teetering heap. Tension mounts with the mania, culminating in startling, excruciating and painful moments before slowly releasing.
4 ½ (ig)noble truths is brave and extraordinarily vulnerable, a bold expression of a state—clinical depression–most people cannot pretend to understand.  Beyond shocking, McKechnie takes great care to educate and even protect the audience, in a final act that wraps the performance as a gift to himself and to us.  Theatre as catharsis.  A chance, if ever so briefly, to live in the skin of another.
In a world that is increasingly unhinged—and McKechnie has many insightful thoughts on the issue (one can sense more plays being written)—how can anyone answer "fine" to the question "how are you?"
With references to Hamlet and Buddhist teachings, this is a show that presents opportunities for further research and questioning long after the lights have dimmed.
McKechnie has presented what is surely only the tip of the iceberg of his creativity—in free-wheeling prosody there are comments on class struggle, systems of inherent oppression, and the shallowness of contemporary culture, nods to the beat poets and explorations of existentialism to mention but a few.
Theatre as the antithesis of entertainment.  Theatre as communion and the opportunity for transformation (as mentioned by Daniel MacIvor in his opening Uno Fest keynote address "What's Theatre For?"). Theatre we've come to expect from 20 years of Uno Fest.
Let's pretend for a second that we're OK. What does that feel like? A lot of things are not OK with Thomas but he's got a ten-pound sledge hammer and is pretty sure that could solve at least one of his problems. This is a show that he wrote. Because we are walking around polishing silverware or running schools or arresting jaywalkers, and dying all the time and no one is saying anything. We aren't talking because we don't have words. Or we have those words but to say them could be worse. A punk performance-lecture on clinical depression.

If he howls will you howl back? If we howl together will we be healed?
4 ½ (ig)noble truths, created and performed by Thomas McKechnie (Toronto)
May 18th 9pm, May 20th 6:30pm, May 21st 6pm
Intrepit Theatre Club, #2-1609 Blanshard Street at Fisgard
Tickets $18 through Ticket Rocket online, by phone at 1-855-842-7575, or in person at 101-804 Broughton Street.  May 18th is Pay What You Can.
50  minutes
Adult themes, coarse language, violence.
Performance lecture
Directed by Michael Reinhart, Scenography by Claire Hill, Assistant Direction by Julia Matias
About the artist: zeitpunktheatre was formed to produce and disseminate urgent political and social interventions. Our work focuses on making complicated ideas manifest on the stage. This centres around questions of ideology and how a person can and should live in the world. We attempt to put forth in my work questions that challenge how individuals live within a society. We are also interested in a theatre outside of fourth-wall realism; theatre that welcomes the audience into the space to witness or participate.
Disclaimer: I received a complimentary ticket to attend 4 1/2 (ig)noble truths.