9 to 5 the Musical by the Victoria Operatic Society. A review.
Take a trip back to 1980 and be buoyed by the infectious spirit of 9 to 5 the Musical (May 4-3, 2018 at the McPherson Playhouse) with its can-do nature, peppy music and award-winning lyrics.
The Victoria Operatic Society has once again pulled out all the stops—not only are there twenty six actors and twelve musicians, but a quick read-through of the programme reveals dozens of individuals involved in the design and execution of this vivacious production.
Dolly Parton's musical premiered in Los Angeles in 2008 and opened on Broadway in 2009; it has gone on to tour in the US and internationally, as well as be produced by regional theatres across the US, in Europe and South America.
Faithful to the story line of the famous movie, 9 to 5 has surprising relevance in 2018—women are still battling sexual harassment and fighting for equal pay and adequate recognition in the workplace—while also being a nostalgic look back at a time before computers and cell phones.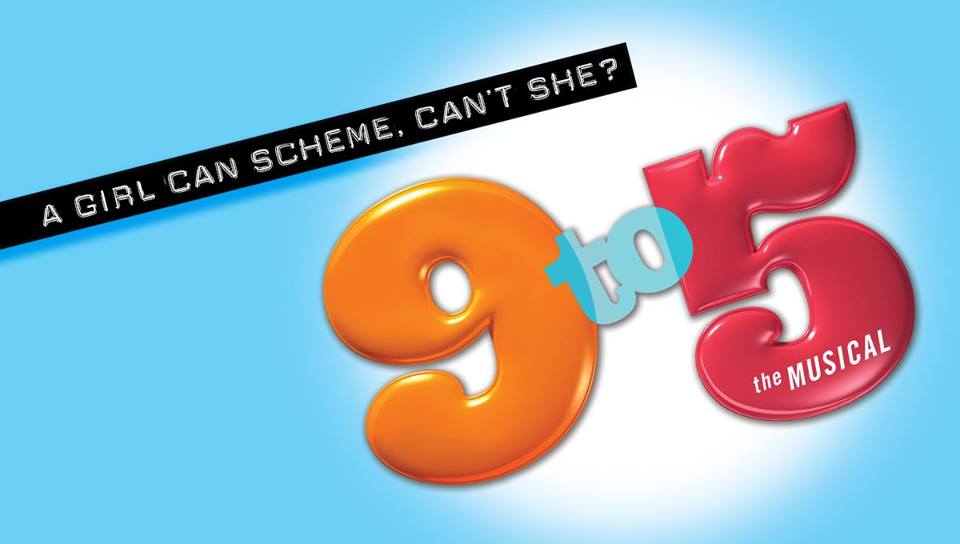 Director Pat Rundell, assisted by Samantha Currie, has assembled a fine cast—Fran Bitonti (Violet) and Tara Britt (Judy) are veterans of many previous VoS productions and can always be counted on for nuanced interpretations. Jolene White is a most felicitous addition—her big voice and twang a perfect match for the open-hearted Doralee (Backwoods Barbie).  Dwayne Gordon is a marvellously lecherous Franklin Hart, Jr in an outstanding Here For You. Colleen Mares makes a great office snitch as Roz Keith, Hart's minion with designs on the man himself (Heart to Hart). Lindsay Robinson is earnest in the role of Joe, the junior accountant who is slowly falling in love with a reluctant Violet.
The production team revels in recreating the era. The set (Barbara Clerihue) is comprised of metal towers and sliding partitions that do double duty—at times being industrial in nature, and at others featuring opalescent panes to allow the light to shine through. Lighting designer Adam Wilkinson capitalizes fully on this effect by drenching the panes, and the backdrop, in translucent violet and blue.  Costumes (Jeff Mousseau and Deb Cope) hark back to a time of polyester, pencil pleats and big hair (Megan Stretch and team, with the assistance of Capilia Victoria for the amazing wigs). While the overall show esthetic is one of the workplace, there are cameos and vignettes—Dance of Death, Cowgirl's Revenge, Potion Notion—when Violet, Judy and Doralee are dreaming of revenge, where the designers are given full imaginative rein. Thus Violet becomes Snow White, Judy a dangerous femme fatale and Doralee a high-stepping cowgirl.
9 to 5 is a big musical—as befits Ms Parton's personality—and the orchestra, comprised of well-known local professional musicians, conducted with great precision by Nancy Curry in her VoS debut, produces an infectious high-energy sound that positively drives the action onstage.  Rundell and Currie pay homage to the film, carefully navigating between numbers that demand an over-the-top treatment and ones that require finesse (Let Love Grow). Choreography is imaginative and varied in style—Colleen Mares is funny and vampy in Heart to Hart performed with the ensemble as background singers and dancers in slinky dresses; One of the Boys is a Fosse-inspired number with Fran Bitonti as a stand-out in red satin alongside the quick-stepping ensemble in black.  Whether focusing on the three principals (I Just Might) or filling the stage with the entire cast (Shine Like the Sun, Finale) the directors are skilled at arranging visually pleasing tableaux.
Despite the outrageous and slightly campy nature of 9 to 5, Rundell and Currie have found the essence of the musical's message—no matter the office politics, people can band together to support one another and build friendships while finding ways to change working conditions.  And, if, in real life, solutions are not quite as easy as kidnapping the boss—we can all dream! 9 to 5 whole-heartedly celebrates the underdog, a sentiment it's easy to applaud.
Dolly Parton's award winning 9 to 5: THE MUSICAL. Winner of the LA Drama Critics Circle Award for Best Score, 9 to 5: THE MUSICAL also received 4 Tony Awards nominations and 13 New York Drama Desk Award nominations. With music and lyrics by Dolly Parton and book by Patricia Resnick, 9 to 5: THE MUSICAL is based on the seminal 1980 hit movie of the same name starring Dolly Parton, Jane Fonda, and Lily Tomlin. This high-energy show, a hilarious story of friendship and revenge in the Rolodex era, is outrageous, thought-provoking and even a little romantic. Pushed to the boiling point, three female coworkers concoct a plan to get even with the sexist, egotistical, lying, hypocritical bigot they call their boss. In a hilarious turn of events, Violet, Judy and Doralee live out their wildest fantasy – giving their boss the boot! Hey, a girl can scheme, can't she?
9 to 5 the Musical, music and lyrics by Dolly Parton, book by Patricia Resnick
Directed by Pat Rundell
Victoria Operatic Society
May 4-13, 2108  (Fri/Sat at 8pm and Sun matinée at 2pm)
McPherson Playhouse
Tickets: $21.75-$54.50 via McPherson Box Office, online, in person or by phone 250 386 6121
PRODUCTION CREW:
Director/Choreographer – Pat Rundell
Assistant Director/Choreographer – Samantha Currie
Music Director – Nancy Curry
Co-Producers – Suzanne Dane, Suzan Pyke
Production Manager – Janet Hender
Stage Manager – Jessica Bambrough
Set Design – Barbara Clerihue
Costume Design – Deb Cope, Jeff Mousseau
Hair Design – Megan Stretch
Props and Set Décor – Drinda Ribeiro, Sandi Norton, Effie Mayer, Gillian Mayer
Makeup – Margaret Bowes
CAST MEMBERS:
Violet Newstead – Fran Bitonti
Doralee Rhodes – Jolene White
Judy Bernly – Tara Britt
Franklin Hart, Jr. – Dwayne Gordon
Roz Keith – Colleen Mares
Joe/Ensemble – Lindsay Robinson
Dwayne/Ensemble – Darren Rathgaber
Margaret/Ensemble – Leah Moreau
Maria/Ensemble – Dorothy Eggenberger
Josh Newstead – Devin Arams
Missy Hart/Ensemble – Suzanne Moreau
Dick Bernly/Ensemble – Doug Crockett
Kathy/Ensemble – Mary Harrison
Russell Tinsworthy/Ensemble – Patrick Heath
Bob Enright/Ensemble – Mark Riishede
THE ENSEMBLE:
Kaitlin Bain
Chelsea Bowen
Allison Chandler
Angela Cragg
Katie Friesen
Melissa Funge
Molly Lydon
John Manson
Laura Noakes
Angelina Robertson
Alexei Warwick
Further reading: https://en.wikipedia.org/wiki/9_to_5_%28musical%29
Disclaimer: I received a complimentary ticket to attend 9 to 5 the Musical.