Anne of Green Gables by the Victoria Operatic Society November 24-December 3 2017. A review.
When modern life and the busy period leading up to the holiday season threaten to overwhelm, what comfort there is to be found in the quintessential and iconic Canadian tale—Anne of Green Gables.  This spunky orphan girl with fiery red hair has captured people's attention since the book (written in the 1880s by Lucy Maud Montgomery) was published in 1908.  The musical, originated in 1965, is still running. What's the secret to Anne's longevity? Is it her whimsical imagination, the beautiful rural and quiet surroundings of Prince Edward Island or interactions with the many characters that populate Avonlea?
Director and choreography Tara Britt fills the stage with an accomplished, cohesive ensemble cast of 35, creating vivid tableaux, complete with spirited dancing and singing and tender and heartfelt scenes.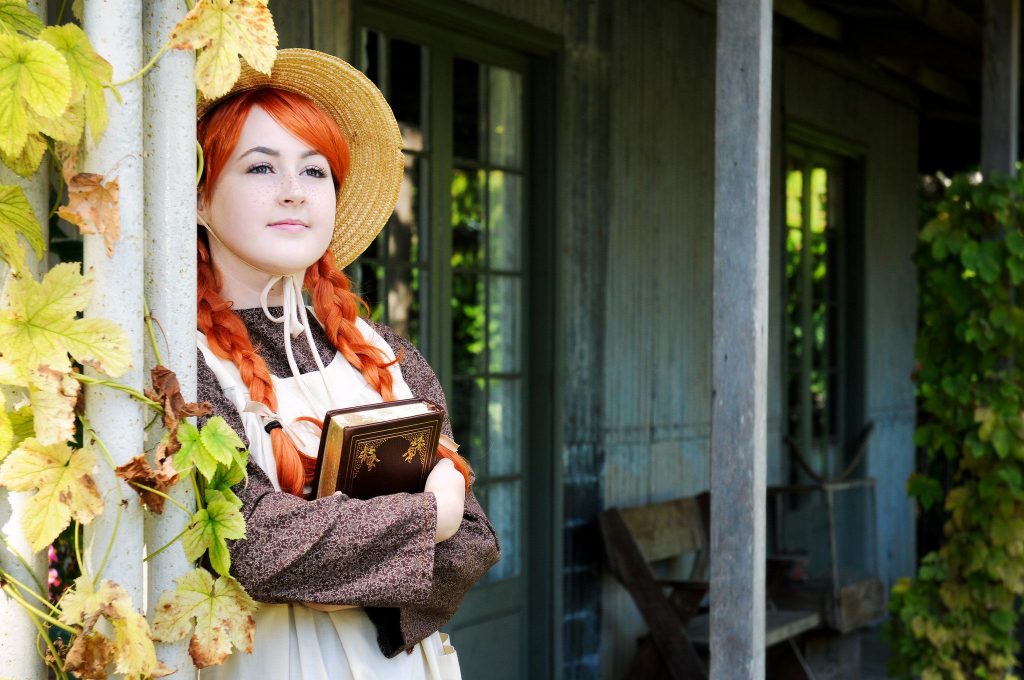 Molly Lydon as Anne of Green Gables. Veronica Bonderud Photography.
Musical director Brad L'Écuyer has assembled a 17 piece orchestra comprised of some of the city's busiest professional musicians. Victorians are indeed fortunate to be the beneficiaries of this incredible talent and should not take it for granted—professionalism of this calibre means that after only two rehearsals together and a dress rehearsal with the cast, they are more than ready to tackle the engaging and ever-changing music. Anne of Green Gables is an eminently singable musical—in a warm register that allows from ample expression—with more than enough tempo changes in ensemble numbers to keep it interesting for everyone.
Costume designers Lal O'Connor and Deb Cope had a field day with the dresses and accoutrements of the era producing capes, capelets, ruffles, "puffed" sleeves, satins, velveteen, sashes and gorgeous hats, as well as a full range of men's and  boy's suits, uniforms and short pants.
Lighting designer Adam Wilkinson takes the audience on a journey through the times of day as well as the seasons, from the muted shadows of early evening to the bright sunshine of a summer picnic.  Projections by Pat Rundell round out the visual effects with dreamy sequences of red country roads, green valleys, wooded hollows and streetscapes.
Set designer Guy Chester recreates the simple two-storey home of Matthew and Marilla Cuthbert with a cut-away design, opening to reveal Anne's bedroom high under the gabled roof, and inserts a stand-alone element for the porch and front door which allows for an expansion of the space.  Later the staircase, cleverly turned in the opposite direction, becomes the general store. Benches, tables and chairs round out the elements used to convey the settings.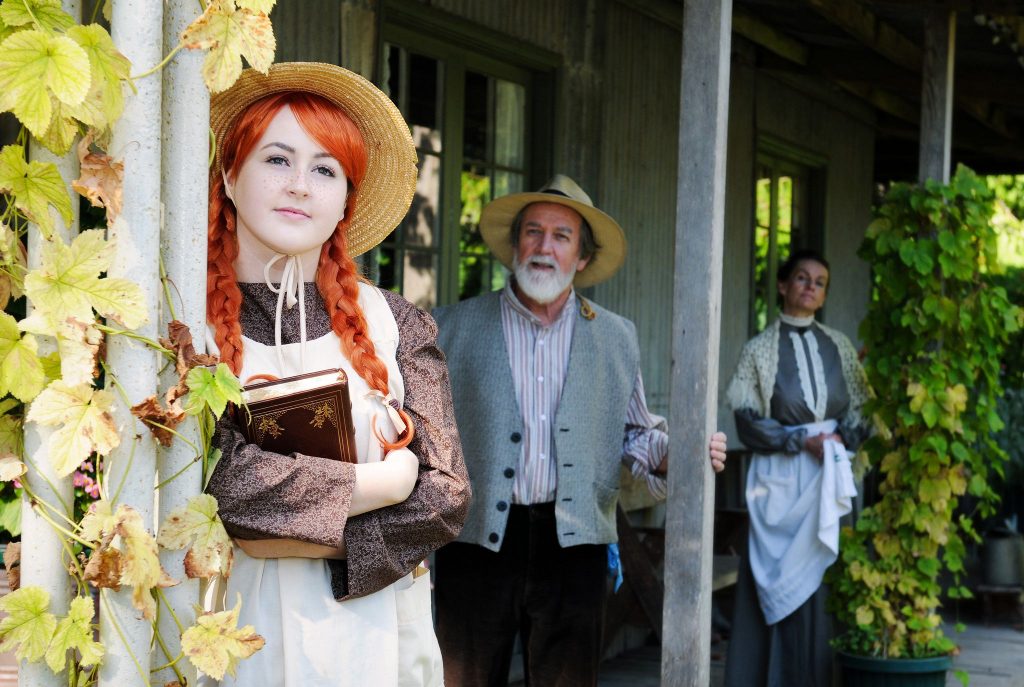 Molly Lydon (Anne), Dan Costain (Matthew), Jo Barnes (Marilla). Veronica Bonderud Photography.
The bustle and gossipy nature of small town living is captured in numbers like Great Workers for the Cause/Where is Matthew Going?, Did You Hear?, General Store and If It Hadn't Been for Me. 
Chief busy body Rachel Lynde (Eva Bild) is no match for the quick tempered Anne (Molly Lydon) who is barely mollified into an apology thanks to Matthew's (Dan Costain) careful words.  Stern and plain speaking Marilla (Jo Barnes) gradually warms to Anne's exuberant character, and keeps her own counsel in the face of much advice from townsfolk.  The script allows relationships to develop over time (the musical spans five years of Anne's young life) and each townsperson is rendered with enough distinction to make them memorable.
Lydon is a joy as Anne—whether stomping her feet at an injustice Oh Mrs Lynde, celebrating friendship with Diana Angelina Robertson (Kindred Spirits), determined to best Gilbert Rowan Wolfe (I'll Show Him) or exploring nature with boundless enthusiasm and graceful dance moves (Nature Ballet).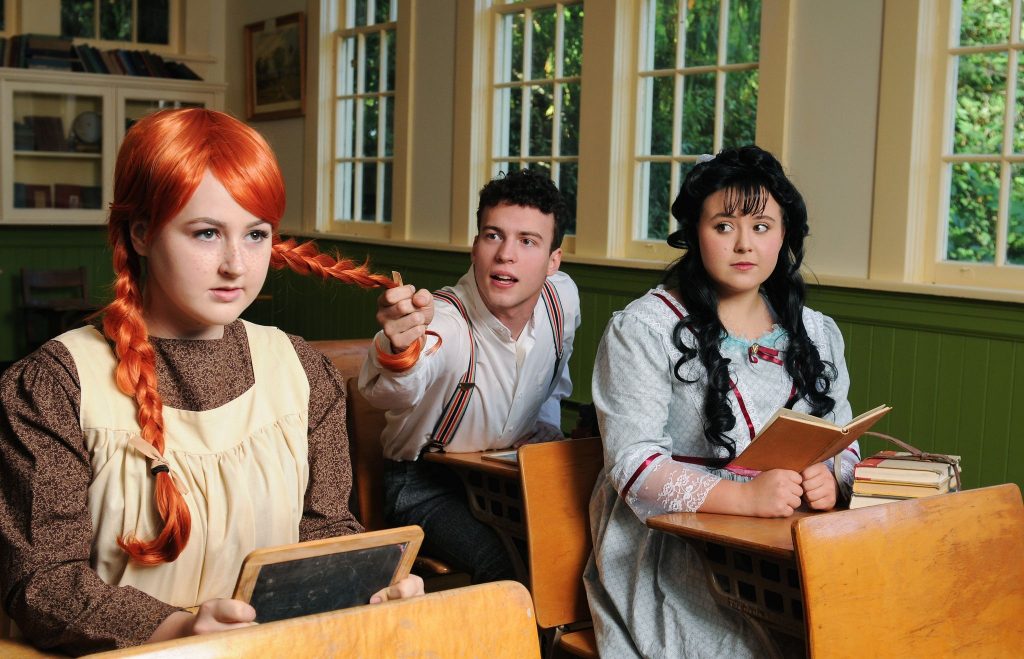 Molly Lydon (Anne), Rowan Wolfe (Gilbert) Angelina Robertson (Diana Barry).Veronica Bonderud Photography
VOS regular Francesca Bitonti plays double-duty as the blowsy care-worn Mrs Blewett, where Anne is almost sent to live, and then becomes Miss Stacy the teacher whose beguiling and forward-thinking ways (imagine huge puffed-sleeves and bloomers in 1908 rural PEI!) open up a world of possibilities to her students. Led by Bitonti, Open the Window and Nature Ballet are performed with high energy, skill and enthusiasm by the young ensemble cast—switching from ballad to jazzy midstream to everyone's delight and allowing the orchestra to truly showcase their virtuosity.
As Matthew and Marilla, Dan Costain and Jo Barnes share the companionable bond of plain thinking and speaking people who have lived together all their lives—their reticence painfully expressed in two exquisite solos—The Words.  Costain's influence on musical theatre in Victoria is legendary (he not only opened the original run of the show in Charlottetown, but continued to tour with it for years); Barnes is featured in a VOS debut that displays wonderful nuance and depth. Together—he bumbling, she no-nonsense—they make a fine couple of siblings, each smitten in their own way by the intrepid orphan.  Equally smitten is Gilbert; Rowan Wolfe conveys the amazement of falling slowly in love in Wond'rin'.
Anne of Green Gables is a musical with high, professional-quality values—the cast is capable, confident and incredibly well-rehearsed, from the youngest performers to the veterans. Director Tara Britt showcases their skills and lets them truly shine with demanding choreography and movement, and authentic dramatic moments—stand-outs being The Picnic and the Finale. Theatre-goers will leave the auditorium uplifted by this rich and rewarding rendition of the timeless classic.
A special mention of stage manager Rob McDonald, assistant stage manager Suzanne Dane and the amazing crew who ensured scene and costume changes went off without a hitch backstage—the logistics of a 35 person cast demand detailed planning and seamless co-ordination.
To help celebrate Canada's 150 Anniversary, VOS will open their Season with a production of Canada's longest-running musical, Anne of Green Gables: The Musical. With book by Donald Harron, music by Norman Campbell, and lovingly adapted from the 1908 novel by Canadian author L.M. Montgomery, Anne of Green Gables: The Musical is a timeless piece of Canadiana. The story is filled with unforgettable characters and brings the comical adventures of spunky red-headed orphan Anne Shirley to life as she wins over her new family and the rest of Prince Edward Island with her spirit and imagination in this heartwarming story about love, family, and home.
Anne of Green Gables by L.M. Montgomery adapted by Donald Harron and Norman Campbell
Victoria Operatic Societey
McPherson Playhouse
November 24-December 3, 207
Tickets $21.75-$54.50
https://www.rmts.bc.ca/events/anne-of-green-gables-2017-mcpherson-playhouse
PRODUCTION TEAM:
Director/Choreographer – TARA BRITT
Music Director – BRAD L'ÉCUYER
Producers – MARY-LYNNE BRITT, DARREN RATHGABER
Production Manager – JANET HENDER
Stage Manager – ROB McDONALD
Set Design – GUY CHESTER
Costume Design – LAL O'CONNOR, DEB COPE
Lighting Design – ADAM WILKINSON
Hair Design – MEGAN STRETCH, LAL O'CONNOR
Props – EFFIE MAYER, GILLIAN MAYER, SANDI NORTON
Set Décor – DRINDA RIBEIRO
Makeup – MARGARET BOWES
CAST:
MOLLY LYDON as Anne Shirley
JO BARNES as Marrilla Cuthbert
DAN COSTAIN as Matthew Cuthbert
ROWAN WOLFE as Gilbert Blythe
EVA BILD as Mrs. Rachel Lynde
ANGELINA ROBERTSON as Diana Barry
MARIAH McDONALD as Josie Pye
FRANCESCA BITONTI as Miss Stacey/ Mrs. Blewett
CIARA GALLAGHER as Mrs. MacPherson
SARAH PLANK as Mrs. Barry
ALISON BENDALL as Mrs. Sloane
STEPHANIE GEEHAN as Mrs. Pye
GEORGE MORFITT as The Minister
MARK RIISHEDE as Earl
NEIL CROSWELL as Cecil
KATIE KERR as Mrs. Spencer
VERONIQUE BEAUDET as Prissy Andrews
SOPHIE McGRATH as Ruby Gillis
ABBY BIDWELL as Tillie Boulte
TORI FARKAS as Gertie Pye
NATE JACKSON as Charlie Sloane
JORDAN McDONALD as Moody MacPherson
DANIEL YAXLEY as Gerry Boute
NATHAN CORPUS as Tommy Sloane
ALEXEI WARWICK as Malcom Andrews
CADEN CHURCHILL as Mr. Phillips
HELENA DESCOTEAU as Lucilla
ABIGAIL CORPUS as Minnie May
DEMI KOUTOUGOS as Jane Andrews
HANNAH OCKENDEN as Lizzie Wright
JENNY HAWES as Sophie Sloane
MAURI MOMOSE as Julia Bell
ELLIE KOUTOUGOS as Mattie Andrews