A Spring of Theatre 2016 in Victoria BC. March-May 2016.
This post is accurate as of February 29, 2016 and  will be updated as required.
Spring is a busy time in the local arts calendar.  It's book-ended by two festivals—SPARK in March and UNO Fest in May—and features works by emerging and well-established companies—local, Canadian and international.
There's a chance to experience the classics (Summer and Smoke, Long Day's Journey into Night), Shakespeare (Two Gentlemen of Verona, Charming of the Shrew), musicals (Mary Poppins, The Little Mermaid), solo shows (Mack the Nurse: The Legacy of Carl Gustavson, The Succubus: A Gothic Puppet Tale, Uno Fest ), full length improv (Sin City—Season 6, Paper Street Theatre's Improv Festival), variety shows (the 2nd edition of The Greatest Most Awesome Show Ever), cabaret (The Big Gay Cabaret, Atomic Vaudeville Spring Cabaret), works in progress (Uno Works), and theatre for families (Robinson & Crusoe).
Popular local comedians Mike Delamont and Morgan Cranny present new work—God is a Scottish Drag Queen 4 and Vasily Djokavich: Russia's #1 State Approved Comedian.
Collaboration is key to productions like Betroffenheit–one of my most awaited 2016 arts moments–presented as part of the Belfry Theatre's SPARK Festival with Dance Victoria–by Victoria-born choreographer Crystal Pite of KiddPivot and Jonathan Young of the Electric Company Theatre, La Voix Humaine–a co-production of Pacific Opera Victoria and Intrepid Theatre during Uno Fest, and Burn This–with workingclasstheatre and Broken Rhythms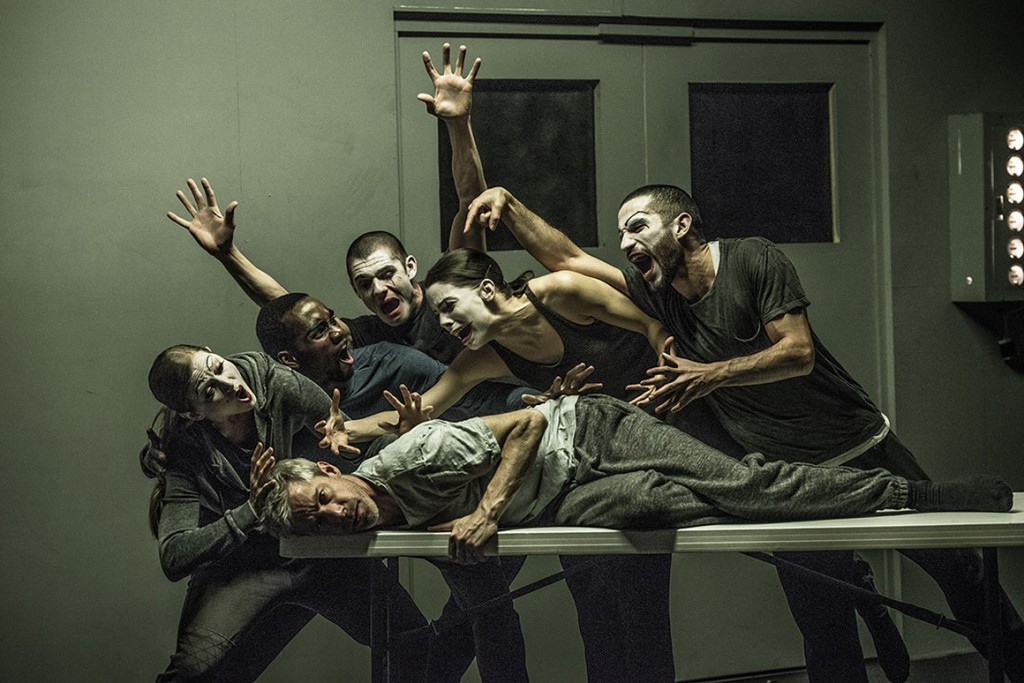 Betroffenheit by Kidd Pivot and the Electric Company Theatre. Image provided.
A Spring of Theatre in Victoria BC. March – May 2016
Ongoing:
Bad Jews by Joshua Harmon at Theatre Inconnu
to March 5th
A vicious and hilarious brawl over family, faith and legacy. My review here:
Robinson and Crusoe
Kaleidoscope Theatre
to March 5th
Two rival soldiers marooned on the roof of a house, adrift at sea, must come to terms with their differences if they hope to survive.
Sin City the Live Improvised Serial returns with Season Six—set in Sin City aka Las Vegas during the time of the Rat Pack (early 1960s).
Tuesdays to April 26th at the Victoria Event Centre.
No matter what is happening in my life, I know I'm guaranteed laughter at my weekly visits to Sin City.
Female Transport by Steve Gooch
Langham Court Theatre
March 2-19, 2016
Gooch's 1973 historical drama is "gripping and authentic. 100 minutes whisk by". My review:
Bent by Martin Sherman
a fundraiser presented by the Victoria Refugee Initiative in co-operation with Creative Mage & Blue Bridge's Roxy Theatre
March 3-6 at the Roxy Theatre
Martin Sherman's 1979 play about the persecution of gays in Nazi Germany.
Mack the Nurse: the Legacy of Carl Gustaffson. Created by Paul Shortt. Part of Intrepid Theatre's YOU Show series.
March 5th at the Intrepid Theatre Club
"an absurd puppet play about a nurse who winds up on a journey across the country to meet a woman he's never met, to give her her recently deceased father's prized possession – the family photo album."
Casino Royale 007 From the Empress with Love.
A Bond-themed fundraiser for The Canadian College of Performing Arts
March 5
Voted "Favourite Artsy Fundraiser" at the M Awards) Casino Royale 007 From The Empress With Love, is an elegant evening that promises prizes, auctions, gaming and amazing food, with performances by young artists from across the country who attend the college. Ccpacanada.com
Cliffhanger
St Luke's Players
March 9-20.
An ingeniously plotted and suspenseful tale of a mild-mannered professor of philosophy who is apparently driven to murder. Stlukesplayers.org
Betroffenheit by Kidd Pivot and the Electric Company Theatre
presented by Dance Victoria and the Belfry Theatre (as part of the SPARK Festival)
March 11/12 at the Royal Theatre
My most highly awaited arts moment of the year, and a unique collaboration between choreographer Crystal Pite and theatre artist Jonathan Young.
Summer and Smoke by Tennessee Williams
UVic's Phoenix Theatre
March 10-19th.
Tennessee Williams' most passionate play, a bittersweet exploration of love and longing, directed by MFA candidate Alan Brodie.
Theatrical Treasures
Year Two students of the Canadian College of Performing Arts
March 10-12
The Two Gentlemen of Verona, directed by Bard on the Beach founding member Christopher Weddell
The Prime of Miss Jean Brodie, directed by Story Theatre founder Jim Leard.
Theatre Under the Gun
Intrepid Theatre at the Metro Studio
March 13th
Live performances by groups of imaginative theatre-makers who raced against the clock to create brand-new 7-minute plays in just 48 hours using only their quick wits, raw talent and a mysterious gift-wrapped box of inspiration. Intrepidtheatre.com
The Closed Loop Theatre Collective
U There?
March 14 at the Victoria Event Centre
A group of UVic writing students (under the mentorship of Kevin Kerr) have devised an unconventionally structured immersive thriller.
SPARK Festival at the Belfry Theatre
March 15-26 2016
Includes Cliff Cardinal's searing drama Huff, 21 Ways to Make the World Last Longer—puppet theatre by James Fagan Tait and Cathy Symington, the Gay Heritage Project—an exploration into what it means to be gay and Iceland—winner of the 2013 Governor General's Award for Drama. There will also be play readings and the ever-popular mini-plays as well as the celebrated dance party.
The Gin Game
Blue Bridge Repertory Theatre at the Roxy
March 17-27
Starring Scott Hylands and Gwynyth Walsh in DL Coburn's classic comedy about two lonely people in a nursing home, and their frequent games of gin rummy.
Prof.
at the Metro Studio
March 24-26
Nobody's perfect… But who else is going to watch your kids? Using a cast comprised entirely of UVic students and alumni, "Prof." depicts the ego clashes and absurd antics of the employees at Robert Keaton Secondary School. Take a look behind closed doors at this quick-witted faculty who seem to only be role-models during school hours.
Bard in the Ballroom: The Charming of the Shrew
Launch Pad Productions returns to Craigdarroch Castle
March 31st to April 9th
Adapted from William Shakespeare's Taming of the Shrew . "Elegantly cut to an hour, tastfully fitted to the Castle, stylishly tailored for you."
Once Upon a Coffee Break by Kayla Hart/hartofsilver productions
Intrepid Theatre YOU Show
April 2
A collection of children stories get a coffee-related spin.
Catalyst, an Island Circus show
Metro Studio Theatre
April 2/3
Vancouver Island's first professional circus company sparks the future with Catalyst—a contemporary circus show featuring feats of strength, juggling, aerials, magic and more.
Fawlty Towers 3.5 (based on the British TV series)
Sooke Harbour Players
April 2nd dinner theatre at the Prestige Hotel
April 9/10 at Edward Milne Community School. Eventbrite.ca
The Big Gay Cabaret
a fundraiser for Intrepid Theatre's OUTstages Theatre Festival
Metro Studio
April 8th
This multi-disciplinary cabaret will be programmed with diverse samplings of the inspired, kitschy, simple & sweet, avant-garde, f*cked up, eccentric, and fabulous.
Paper Street Theatre Improv Festival
Intrepid Theatre Club (#2-1609 Blanshard at Fisgard)
April 12-16
To celebrate 5 years of great improv in Victoria Paper Street Theatre is producing a festival and remounting all its past shows – plus bringing in guests from Calgary, Ottawa, and Seattle! For five nights you can enjoy Paper Street Theatre's award-winning improv, featuring two shows a night as well as late night shows Friday/Saturday.
Puttin' on the Ritz, conceived by Don Shipley, directed by Glynis Lyshon
Belfry Theatre
April 12 – May 8, 2016
In celebration of the Belfry's 40th anniversary they are staging the musical that started it all—Puttin' on the Ritz by Irving Berlin, conceived by Don Shipley, the first artistic director.
The 2nd annual Speakeasy:
a fundraiser in support of Kaleidoscope Theatre
Saturday April 16th at the Victoria Public Market
It's 1920 — prohibition has hit the country and there's nowhere to party…. until now. Kaleidoscope Theatre invites you to don your pearls and fringe, break out your fedora, and polish up your shoes for a night of dancin', entertainment, and frivolity at the Victoria Public Market at the Hudson for our 2nd Annual Speakeasy.
Escape from Happiness by George F. Walker
Langham Court Theatre
April 20 to May 7
This very funny dark comedy, set in working-class Toronto tells the story of Nora, the matriarch of an eccentric, wacky family. Her daughter Mary Ann is a crazy runaway mother, her son-in-law Junior is a beat-up car thief, and her daughter Elizabeth is a hot-tempered bisexual. Nora maintains a cock-eyed optimism with a cup of tea and a firm grasp on fantasy, as the family deals with cops, drug dealers, and thugs in the basement.

Received a DORA Award for Outstanding Play of the Year in 1992, the Chalmers Canadian Play Award, and the Governor General's Literary Award
On Broadway! Canadian College of Performing Arts
Mary Poppins the Broadway Musical
Book by Julian Fellowes, Music and Lyrics by Richard M. Sherman, Robert B. Sherman
Directed by Darold Roles
April 22-30, 2016
Supercalifragilisticexpialidocious! The 2004 musical based on the 1964 film starring Julie Andrews and Dick van Dyke.
CASTLE IN THE SKY by Castlereigh Theatre Project
Saturday April 23 2016 to Friday April 29
Belfry Theatre Studio A
A verbatim theatre piece about the tragic murders of a Medicine Hat family by their 12-year-old daughter and her much older boyfriend. "An Greco-Albertan tragedy".
Burn This by Lanford Wilson
workingclasstheatre
April 27 – May 1st
workingclasstheatre has a new studio space at Unit #41, Market Square. Doors at 630pm, show at 7pm.
The 2nd The Greatest Most Awesome Show Ever
Lifetime Networks
April 29/30 at the Victoria Event Centre.
Students of popular local entertainers Wes Borg and Celine Richmond in a variety show like no other—spoken word, puppets, dance, video, skits and more.
Vasily Djokavich: Russia's #1 State Approved Comedian
April 29th at Intrepid Theatre Club.
From the award winning director of God Is A Scottish Drag Queen comes Vasily Djokavich, Russia's #1 State approved comedian! Starring Morgan Cranny, follow the dimwitted and shy Vasily as he embarks on a hilarious cultural tour of the west!
God is a Scottish Drag Queen 4 by Mike Delamont
May 3/4 at the Victoria Event Centre
Everybody's favourite deity returns for another round of skewering everything and anything. Proud to be politically incorrect, this God's bantering will keep you in stitches at the implausible hilarity of the everyday.
A Lie of the Mind by Sam Shepard
Theatre Inconnu
May 3 – May 21
The play alternates between two families after a severe incident of spousal abuse leaves all their lives altered until the final collision at an isolated cabin.
Fawlty Towers
Peninsula Players
May 5-9
The series is set in Fawlty Towers, a fictional hotel in the seaside town of Torquay, on the south coast of England. The plots centre on tense, rude and put-upon owner Basil Fawlty, his bossy wife Sybil, comparatively normal chambermaid Polly, and hapless Spanish waiter Manuel, showing their attempts to run the hotel amidst farcical situations and an array of demanding and eccentric guests.
Atomic Vaudeville's Spring Cabaret
Victoria Event Centre
May 4-7
Atomic Vaudeville ends its season with its Spring Cabaret. Love is in the air, flowers are in bloom, and it's time for a little song, a little dance, a little seltzer down your pants.
The Succubus: a gothic puppet tale by Jane Bee/Levity Stilt
Intrepid Theatre YOU Show
May 7th
A larger than life tale of a widowed Countess who finds a child among the tombstones, could this cure her broken heart?
Long Day's Journey Into Night
Blue Bridge at the Roxy
May 12-22, 2016
Long Day's Journey into Night by Eugene O'Neill is considered one of the greatest American plays in the 20th century.
LA VOIX HUMAINE By Francis Poulenc
Adapted from the play by Jean Cocteau
May 12-22
Presented by Pacific Opera and Intrepid Theatre as part of Uno Fest
A forty-minute one-act opera for soprano and piano
Performed in French with English Surtitles
Starring Kathleen Brett as Elle
with Robert Holliston on piano
Directed by Diana Leblanc
THE ANNUAL READERS' THEATRE FESTIVAL!
Langham Court Theatre
Saturday May 14th
Details to be announced!
The CCPA Alumni Company presents "Get Happy" and "The Pitch"–-2 original musicals
CCPA Performance Hall
May 14-18
UNO Fest
Intrepid Theatre
May 18-29
The 19th Uno Fest takes you from the top of a tightrope to a final phone conversation, from life behind bars to a support group for Elizabethan literary figures. Fourteen bold and innovative shows play Uno Fest.
Bull in a China Shop
St Luke's Players
May 18-29
Six old ladies—presumed sweet until they prove otherwise—have a unique solution to the problem of getting that handsome homicide detective, Dennis O'Finn to pay them a visit. You'll find that a nice genteel homicide, with a cup of tea as the murder weapon is all it takes.

However, when Detective O'Finn discovers he's the motive for this murder, and he decides to distance himself from the ladies, what are the the sweet dears to do?
Four Season's Musical Theatre
Disney's the Little Mermaid
Oak Bay High Theatre, May 20, 21, 22
Isabelle Reader Theatre, May 27, 28, 29
Who doesn't want to be, under the sea?