Bad Jews by Joshua Harmon at Theatre Inconnu Feb 16-March 5, 2016. A review.
Bad Jews by Joshua Harmon—currently at Theatre Inconnu February 16-March 5, 2016—is an outstanding depiction of a family in free-fall grief over the death of a beloved patriarch. The play is filled with quibbles and quarrels—many long-standing—and the author is unafraid to topple inherited shibboleths considered sacred. While the topic is dark, and there are many philosophical questions to explore, the writing is sharp and unbearably, laugh-out-loud funny.
As the writer Anthony Brandt states so clearly, "Other things may change us, but we start and end with family".
In his evisceration of the modern Jewish family at their moment of greatest weakness, Harmon reminds us that family has the unfair advantage—they know all the chinks in our armour and where to slip the knife blade among the ribs while administering the final twist.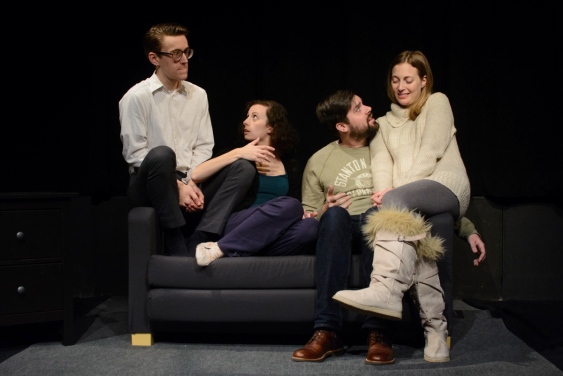 Michael Bell (Jona), Kat Taddei (Daphna), Simon Basch (Liam), Casey Austin (Melody). Photo: Hugo Wong
Kat Taddei as Daphna, (a name adopted to bump up her Jewish cred rather than her birth name of Diana), one of three young adult cousins, is vicious, vindictive and sly; her expression of glee in the battle of wits is exceptional. An audience member, overheard at intermission, referred to her as a termagant—a shrew or nag. Taddei has the uncanny ability to elicit sympathy for her carefully constructed arguments—why shouldn't she get her grandfather's gold medallion or "chai", typically worn by men, since she is the "most Jewish"—and disgust in the next moment for her careful and spiteful attacks on both older cousin Liam (an equally forceful and opinionated Simon Basch) and his shiksa girlfriend Melody (Casey Austin). Only her sweet, compliant younger cousin Jona (Michael Bell) seems to avoid her wrath.
Director Matthew McLaren, in his directorial début, made the decision to set the action on the floor of the already-intimate Theatre Inconnu space—adding an extra dimension of veracity. It feels as if you are spying on a bad family argument, trying as hard as possible to escape into the woodwork, while acknowledging a creepy fascination with the proceedings.
And when the three cousins pile onto the couch to share a brief moment of shared remembrance, there is added relief at the cease-fire.
McLaren has guided the cast, all with considerable stage credits despite their young ages, in a deep plumbing of motivation and of culture—none are Jewish. The four characters are sharply drawn and differentiated. Battle lines are quickly set up and crossed, allegiances and sympathies shift rapidly—further destabilizing not only their own relationships, but that of the audience to them.
In some ways, Bad Jews harks back to the toxic relationships in Albee's Who's Afraid of Virginia Woolf.
Simon Basch's Liam is self-absorbed and selfish, more interested in a weekend with his girlfriend than his responsibilities as eldest male grandchild, yet there are genuine moments of tenderness towards both Melody and Jona. Basch and Taddei convey a simmering antipathy to one another—never quite clearly spelled out in the script, although it is apparent there is bad-blood between the two—and when the fight ultimately breaks out, they match figurative blow for blow.
Casey Austin (who Theatre Inconnu audiences will remember from Scorched and Hedda Gabler) plays Melody as a bit of a happy bimbette at the outset—pretty and vacuous—only to later reveal a steely inner fortitude. Michael Bell is heart-rending as Jona, the peace-maker, caught between adoration for his older brother and his role of confidant to Daphna. His quiet grief goes completely un-noticed by the others—filled as they are with contempt for one another. The final poignant scene reminds us all of the many ways to process death, and to honour the dear departed.
Bad Jews is a play of numerous levels, something that became apparent at the talk back after the show, in a lively discussion animated by Rick Cool (others are scheduled for February 23 with Louis Sutker – psychologist and rabbi—and the March 5th matinee with Peter Golden – family, immigration and refugee lawyer). While it is certain that non-Jewish audience members may miss some of the rich layers of cultural and historical references and while the philosophical questions arising may not have the same importance to them, it remains however that Bad Jews will resonate deeply with anyone who has ever shared family connections and grieved the loss of a loved one.
Bad Jews is an outstanding modern and uncomfortable take on family and culture—of our desire to at once fit in and stand out—sharply written and eloquently interpreted by a brilliant cast.
Bad Jews by Joshua Harmon, directed by Matthew McLaren
Theatre Inconnu, 1923 Fernwood Road
February 16-March 5, 2016
Tickets: $10-$14
Through Ticket Rocket (add $2.50 surcharge) online, by phone 250 590 6291
Through Theatre Inconnu (no surcharge) by phone 250-360-0234, or email: tinconnu@islandnet.com).
Tuesday Feb 23 is Pay-What-You-Wish admission
The play is about 115 minutes long, including on 15 minute intermission.
Cast (alphabetically):
Casey Austin as Melody
Simon Basch as Liam
Michael Bell as Jona
Kat Taddei as Daphna.
Production Team
Matthew McLaren Director
Megan Adair Stage Manager
Clayton Jevne Lighting
Matthew McLaren Sound
Hugo Wong (Publicity Photography)
Preview: Feb 16-8pm
8pm shows: Feb 18, 19, 20, 23, 24, 25, 27; Mar 1, 3, 4, 5
2pm show: Feb 20, 27; Mar 5
Post show talk back opportunity following these performances hosted by:
Feb 18: Rick Kool – founded MA in Environmental Education and Communication at Royal Roads University.
Feb 23: Louis Sutker – psychologist and rabbi.
Mar 5 matinee: Peter Golden – family and immigration, and refugee lawyer.
Disclaimer: I was offered complimentary tickets to attend Bad Jews.