Animal Medicine at OUTstages 2018. Interview with Eddi Wilson.
Eddi Wilson presents Animal Medicine as part of Intrepid Theatre's OUTstages 2018, after development that included UNO Fest 2017 and a recent YOU Show performance.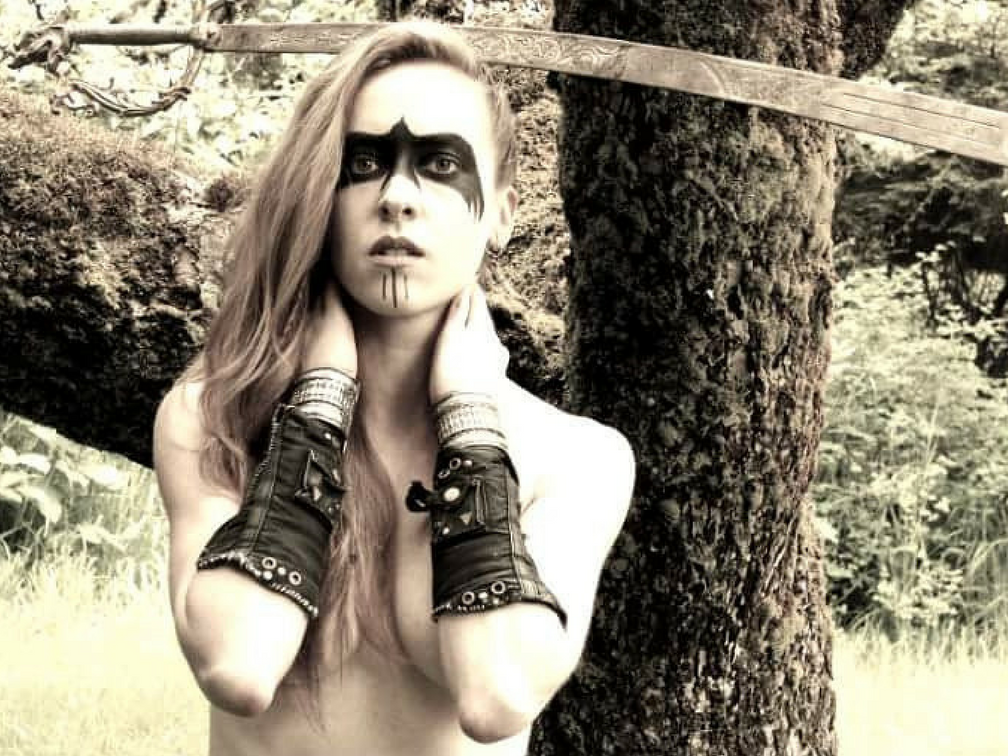 What sparked the creation of this show (can you speak to the creation process)?
This show began percolating while I was in the messy midst of pursuing a diploma in animal health technology. The program I chose was extremely fast paced and known to have a very high attrition rate. I'd never voluntarily committed to such a structured form of education before, but I was determined to rock it. As I approached the half way point in the program I fell into a major depression. I was getting awesome grades but I hated myself and everything around me. I chalked my emotional state up to just not being smart or disciplined enough, yet felt compelled to keep pushing through. I had told myself from day one that there was no time for frivolous fun while I was pursuing this serious scientific endeavor, and that any time I spent creating art was a self indulgent waste of time. At the peak of my depression I realized I hadn't attended a dance class or created a new piece of art in close to a year. Although the work I was doing was satisfying in many ways, I felt disconnected and constantly distracted. To top it off my patients were picking up on my anxiety and getting increasingly difficult to deal with, which created a near comical self perpetuating feedback loop of misery.
On the verge of a complete breakdown, I decided I had to change my approach or give up entirely. I recognized that the internal conflict I was feeling was something I had always lived with, but that it only really became unmaneagable when I forced myself to do things in a way that felt rigid to me. Being Two Spirit and Métis, between genders and cultures, I was already well versed in existing between worlds. I began to apply my usual coping methods to the current art and science disparity I was drowning in. Free time was scarce, so instead of jumping back into the dance studio I started writing little poems and songs to help me remember key concepts for exams. I allowed myself to look at my anatomy textbooks and appreciate the beautiful drawings that accompanied dry descriptions of the various mammalian body systems. I sang to my practicum patients as I recovered them from anesthesia or performed a blood collection. I unexpectedly began to process repressed memories of administering palliative care to my father. As the endless biological and behavioural similarities between humans and animals crept, swam and flew freely around in my head, everything started to feel interconnected again. Before I knew it I was nearing graduation and feeling more a part of everything than I had ever remembered being. As a side effect, I also happened to have a lot of new performance material accumulating. Excised from the surgical suite and transfused to the stage, most of my show was born through a process of reflecting on the many lessons my patients taught me, and the mutually healing exchange we developed.
When did you debut the show and how has it changed since the debut?
The seeds of the show were sown when I was approached to do Unoworks in 2017. I was asked to create a 20 minute solo performance, and I had never done anything like that. I panicked a little, and tried to pack every trick and skill I had into those 20 minutes. Songs, drag, dance and oddball animal knowledge.  I had a lot of fun with it but it was a little chaotic.  When I had a chance to revisit the show as a longer piece for Youshow this spring, I was able to slow down, explore, and expand on themes of symbiosis, identity, loss, and isolation, particularly through the lens of the way we relate culturally to animals. Since its debut, the show has become more personal, and autobiographical.
Can you comment on the design aspect of your show, its esthetic?
The general esthetic uses elements from traditional indigenous medicine and European or western medicine. I pulled from my childhood memories of participating in sweat lodges and going to the doctor's office and decided to blend the two environments together to form a hybrid healing space. For example, I have IV bags stuffed with cedar and sage, hung on a suggestion of an IV pole that is adorned with an, admittedly, faux wolf pelt and non-traditional geometric mask. It's ceremonial, institutional, and all very obviously DIY. I made and put together all of the projections, props and set pieces myself so the space has a bit of a B movie vibe, but I kind of like it that way. It's raw like the content.
What do you hope to inspire in your audience?
I mostly want to remind people that everything is connected, and that all living creatures deserve our respect. Even though the narrative is based specifically on my experiences as a super queer Métis veterinary weirdo who wishes they could fly, I wanted to highlight that bipedal or quadraped we all share a common drive to survive, and that community and cooperation is vital to that.  It's so easy to feel alone in a crowd these days. Live performance forces us to glance away from our screens for a bit, which can be galvanizing in and of itself. I hope to encourage people to make art, to tell their story, and to see the therapeutic value in sharing experiences in this way.
Who will be interested as a potential audience member?  What would you say to entice someone to come?
I think this show could appeal to a wide variety of people. I've received excellent feedback from theatre appreciators novice and veteran, medical practitioners, artists and animal lovers alike. Whether you're into unsettling soundscapes, guided meditation, random biology facts, puppets, emotional breakdowns, indie quality video projections, original music, dance, bondage, I've got you covered. I'd like to think there's a little something for everybody in Animal Medicine.
What's next?
I'm hoping to look at taking this show to other festivals, maybe attempt a mini tour. I want to keep exploring what animal medicine means from Indigenous and European perspectives and build on this framework until I feel like I've learned all there is to learn about the subject. The thing with studying medicine is, the more you learn the more you realize you don't know, so I've got my work cut out for me. I would actually love to do sequel that pays tribute to the unsung heroes that are animals used in research, maybe do a whole laboratory edition. The intersect of art, science and spirituality is endless in its inspirational offerings.
Significant accolades or awards?
My mom came to see the show, and due to the subject matter as well as how undressed I get at various points, it took me a considerable amount of courage to ask what she thought. Her only negative feedback was that, at one point, I dropped something on the ground and then picked it up and ate it. Having her approval (mostly) made the entire painful process of creating this show absolutely worthwhile.
(Some accolades/past credits as a performer in general: former Mr Gay Vancouver Island title holder, Merridale Showdown champion 2015, member of Riot Grrrls Burlesque Revue, Atomic Vaudeville, co-founder of King Fling, a night for experienced and emerging drag kings, model for InDefiance and Touching Earth Bodies, a photo series by Victoria's Indigenous artist in residence Lindsay Delaronde)
Animal Medicine by Eddi Wilson (Victoria)
OUTstages 2018
Intrepid Theatre Club, #2-1609 Blanshard (at Fisgard)
Thursday June 21 at 9pm
Saturday June 23 at 7pm
Tickets: $20
Duration: 100 minutes
Rating: Coarse language, Adult themes, Nudity
Genre: Multimedia, performance art, music, dance

What do you get when you cross a Two-Spirit Métis agnostic, a career in veterinary medicine, and a pathological preoccupation with parasites?

Welcome to Animal Medicine General Practice! We're sorry you're here but happy you made it. The patient will be you now.

Part biology lesson, part pet therapy session; 'Animal Medicine' explores the experience of a self-diagnosed human. Eddi Wilson uses music, monologue and movement to dissect what they have learned from a life spent staring in the microscope.

Animal Medicine has been developed through UNO Fest & Intrepid Theatre's YOU Show.  

About the artist:
Eddi Wilson is a Victoria based dancer, gender bender, shape shifter and performance artist. They are a member of Riot Grrrls Burlesque Revue, Atomic Vaudeville, co-founder of King Fling, and winner of the coveted local titles Showdown Champion and Mr. Gay Vancouver Island 2015. Their alter ego Eddi Licious is a familiar face in YYJ drag and burlesque venues, and regularly MCs performance cabarets.
Recent credits include: Atomic Vaudeville's Rocky Horror Live, UNO Fest 2017, Wet Coast Presents: Buttlesque, Disney Deconstructed: A Feminist Burlesque Showcase, and The Hootenanny at Logan's Tavern of the Damned.

Credits:
Direction & guidance by Britt Small
Outside eye: J McLaughlin