Omelette at UNO Fest 2018. Interview with Csaba Raduly
Intrepid Theatre's UNO Fest, now in its twenty-first year, runs May 9-19, 2018 in Victoria BC.  It features eighteen shows, including two as part of the new Family Fest Series, and a spotlight on women's indigenous voices with a guest indigenous curator, Yolanda Bonnell.
I'll be featuring interviews, previews and reviews during the festival. Follow http://janislacouvee.com/tag/uno-fest-2018/ for all my coverage.
Csaba Raduly of Puzzle Theatre/Théâtre Puzzle answered questions about Omelette one of the shows in the Family Fest series, presented in partnership with Kaleidoscope Theatre for Young People.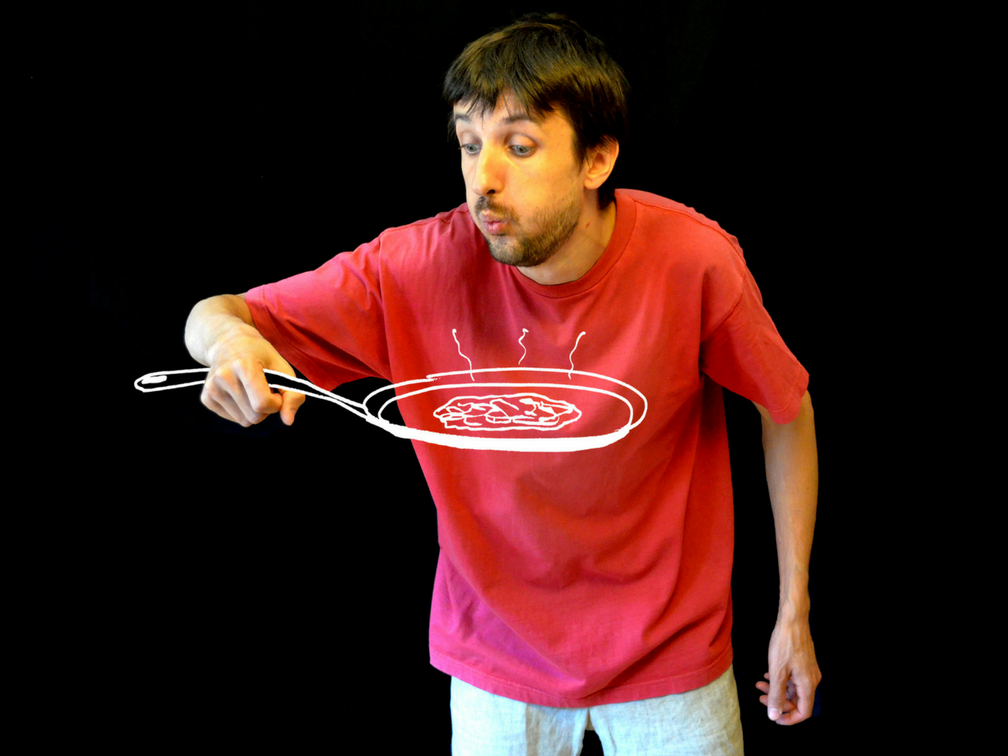 What sparked the creation of this show (can you speak to the creation process)?
I wanted to create very simply, to go to the extremes, so I started to get lots of ideas, one single object—of course when I said I wanted to make something simple, I had feelings, I wanted to express them in a minimalistic way.
As I was trying all kinds of things, I found myself inventing objects, inventing surroundings and playing in an imaginary world—I like it. Everybody does it. Kids are playing non-stop in their world—their imagination. I had to learn something—how did I reach this imaginary world. When you have absolute freedom—anything you imagine is possible. You realize that communication with the audience becomes difficult—I have all the freedom but I have to put very clear rules on the game, otherwise the audience can't follow.  I have to put limits to my imagination.
It became one single space that is shown in the beginning during a very simple action (making breakfast)—once the rules are put on the table, the public knows what I am doing and then I remind them of the imaginary objects and space.  All kinds of happenings appear in my imaginary kitchen and I had to organize them to be enjoyable, to have some rhythm to go somewhere. I am very far from the beginning of the creation process, the original idea.
My desire allows me to keep pushing—when the form is still kind of liquid, it allows me to continue, I've lost the hope and desires I had in the beginning. This new "something" gives me enough energy to keep digging and keep going ahead.  I did not want to make a classical mime show, it's not my language—I'm not a mime, probably that is the reason I had to put some words (explanations). I take an object—a mime would mime the object. I take it and I say, "a cup" I don't have to explain with gestures, with choreography. It became a big game with the public. Everything happens in the mind and the brain of the public—they arrange the kitchen, they people it with the imaginary characters, it becomes a very powerful game, where they participate strongly, this participation gives the weight of the show. I remember when we tried the first time with my son—I remember I felt very bad, because he was with me all the time—he was crying at the end.
Is this your first one person show? When did you debut the show (or is this its debut), and how has it changed since the debut?
It's my second one man show, and in 2017 I made a third one. Since the premiere the show has changed a lot. We used to say after 80 shows the show finds its shape even after I change small things. There are parts, pieces we used to call dinosaurs—now there is no place for them.  A lot of small changes.
Who will be interested as a potential audience member? 
This show is for everyone, ages 7+ because smaller kids would get tired and would lose interest. A second layer is for adults.
What do you hope to inspire in your audience?
In our theatre we use simple means to make something out of nothing because we like to explore—materials, ideas—but to keep it simple in order to be able to show the richness of the simplicity, to touch something more essential.  It empowers people, gives them messages of "me too I can do it, it's ordinary plastic bags, ordinary yarn, bedding, pillows, children's drawings and they made a show. It gives the accessibility of creation and I like this. I think it's important. People come to theatre to receive something and on top of it we can offer means of expression that is accessible to everyone.
What's next?
Next we (my wife and I) are going to make a show with mood and creatures, branches. It takes a year to create a show, a year when we are not travelling.
Any significant awards or accolades?
Each invitation to play a show is an award in itself and we are happy to play a part in any effort to bring culture to the public.
Created in Bulgaria in 1996, and based in Montreal since 2004, Puzzle Theatre/Théâtre Puzzle has developed a unique style that mixes various genres. Combining objects, puppets and actors, Puzzle Theatre works with a colorful amalgam of styles and widely diverse means of expression. The company includes artistic director Pavla Mano; actor and creator Csaba Raduly; and set and costume designer Ivan Stavrev.
The story is simple: It's morning, we wake up, the weather is beautiful, the sun is shining, but suddenly there is the belly that rumbles! What to eat, what to eat? … Omelette! What could be simpler? Nothing! Except… Alone on an empty stage, the performer, with bare hands and a wild imagination, creates and breaks an imaginary world in front of our eyes. A show with endless room for imagination, thought, laughter and plenty of surprises. Bon appétit!

Note: This show is performed in both French & English, but the performance has very little dialogue so can be enjoyed and understood in either language.

TIP! Take advantage of our discounted Family ticket bundle and bring the whole family. Limited quantities of the family ticket bundle (1 adult and 2 kids) are available for just $24.
Omelette by Puzzle Theatre (Montreal) performed by Csaba Raduly
UNO Fest 2018
Intrepid Theatre Club, #2-1609 Blanshard (at Fisgard)
Tickets: Adults $15, Children & Students $7
Duration: 45 minutes
Rating: Ages 5 & up
Genre: Family Series/Clown/Comedy
May 18th at 2pm
May 19th at 2pm
Presented as part of the Family Fest Series in partnership with Kaleidoscope Theatre for Young People.