ArtSmarts Monday Magazine September 2016. Hotbed of creativity marks fall.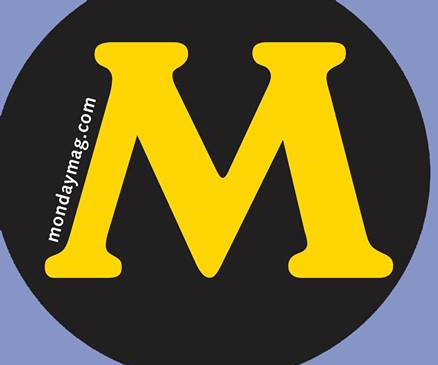 This content was first published in the September 2016 of Monday Magazine and I have been given permission to re-publish it online.

September is truly the New Year in the arts community as arts practitioners present their new seasons for your pleasure.  It's a wonderful time to experience the arts in myriad forms—whether it be evocative and unusual music, a favourite or edgy new musical, multi-media performance or theatre designed to provoke and entertain.  Victoria is truly a hot-bed of artistic creation.  This column can only capture a few of the many possibilities available.
SingYourJoy, Victoria's only non-auditioned chorus for young adults (16-29) from all walks of life, is back for the Fall 2016 season and welcomes new and returning singers September 5th and 12th before beginning rehearsals in earnest.  Sing, and build friendships and community. Singyourjoy.ca
Vox in the Stars—a unique annual concert in a magical venue—the Plaskett Telescope at the Dominionn Astrophysical Observatory—September 9/10/11.  Vox Humana Choir performs works with an astrophysical connection and a variety of compositional styles and texts.  Advance tickets only. Voxhumanachoir.ca

Victoria Operatic Society remounts their hit-show Spamalot, based on the film by Monty Python for a limited engagement September 8-11 at the McPherson Playhouse. Vos.bc.ca
In celebration of the diverse cultures of the Pacific, Victoria non-profit organization Pacific Peoples' Partnership is hosting its 9th annual One Wave Festival on September 10th and 11th. Linking artists and change-makers from across the North and South Pacific, One Wave Festival aims to build Pacific identity, foster cultural awareness and inspire action on Pacific issues. pacificpeoplespartnership.org
The Merridale Showdown presents their second annual ALL DRAG Talent show Sunday September 18th featuring ten drag kings and queens competing for the $500 Cash Prize at The Victoria Event Centre. Hosted by Eddi Licious.
The Belfry Theatre begins their 2016-2017 season—Contemporary. Canadian.—with The Last Wife by Kate Hennig, a contemporary re-imagining of the compelling relationship between Henry VIII and his last wife, Katherine Parr.  See history through a female lens in this witty and powerful examination of sexual politics and women's rights. September 20-October 16. Belfry.bc.ca
Get in the Hallowe'en spirit a bit early with Mating Dance of the Werewolf by Mark Stein, September 27-October 15 at Theatre Inconnu.  It's an "unorthodox romance that looks at how infatuation influences our willingness to suspend disbelief." Theatreinconnu.com
Langham Court Theatre's 88th season starts off with the Pulitzer and Tony-award-winning rock musical Next to Normal, September 28 to October 15–an unflinching look at a suburban family struggling with the effects of mental illness.  Langhamtheatre.ca
Intrepid Theatre presents Montreal-based troupe Belzébrute in Mr P, the story of the original Mister Potato Head. ! Inspired by 1920's silent movies, this modern tale brilliantly combines live music, video projection, and puppetry. It's part cartoon, part musical comedy. September 22-24 with a kids' matinée (in French) September 24th.  intrepidtheatre.com
Members of the Victoria Composers' Collective (VCC) present a concert September 30th of works inspired by the art of the "Why Can't Minimal" exhibit at Open Space.  The VCC is a community of emerging composers dedicated to the performance and promotion of new music. Victoriacomposerscollective.com
Local comedian and actor Kirsten van Ritzen of Broad Theatrics has been appointed an Arts Ambassador for BC Culture Days.  Founded in 2009, Culture Days is a three day cross-Canada celebration of the arts September 30-October 2. Participate in free, interactive and "behind the scenes" activities to discover your cultural spirit and passion. Go to CultureDays.ca to find events throughout the Capital Regional District.