Avenue Q by the CCPA Alumni Company May 31-June 17 2017. A review.
Avenue Q has been described as "Sesame Street for adults". It's easy to see why the show is attracting new audiences to the Performance Hall at the Canadian College of Performing Arts—loveable puppets (with the exception of the Gary Coleman puppet which was built locally by Pamela Stringer, the others are rented), catchy and audacious lyrics, upbeat choreography (Sarah Murphy), the incredible talents of CCPA alumni (cast, creative and crew), backed by musicians (Heather Burns-piano/conductor, Colin Webster-percussion, Joe Doyle-strings) who produce a rich and cohesive sound that belies their number—combine in a performance that remains long after the final notes have subsided.
An upstart from the get-go (beating out frontrunner Wicked at the Tony Awards in 2004) Avenue Q appeals to people who aren't necessarily musical theatre fans. Creators are careful to underline that while there is no lower age limit, the content references sex, internet porn and drinking—parents can exercise their discretion in regards to their teenagers.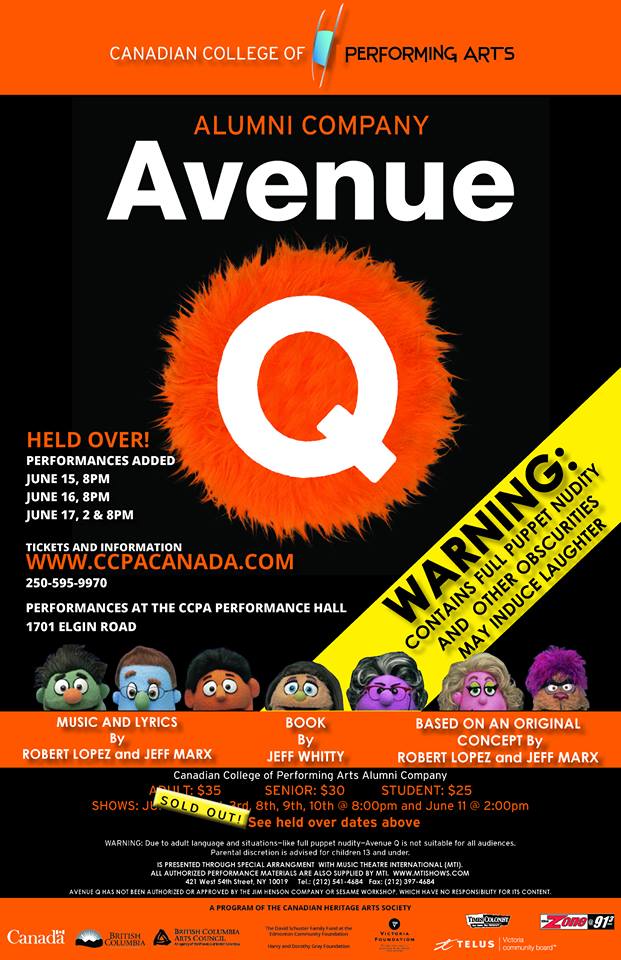 Working with the small intimate space of the CCPA Performance Hall, set designer RJ Peters (who is also the director and lighting designer) has pulled together typical (and working) architectural elements—doors, windows, balcony—to create a charming streetscape that allows the performers to pop in and out, creating delightful elements of surprise throughout.
Graduates of the Canadian College of Performing Arts are often classed as triple threat performers—actors, singers and dancers.  In reality, the skills they develop at the college go much further than that, as the highly co-ordinated puppet manipulations (Puppet Director—Ryan Reid) of Lucas Blaney (Rod/Princeton), Alison MacDonald (Kate Monster/Lucy), Sarah Murphy (Mrs. T/Bad Idea Bear/Newcomer), Ryan Reid (Trekkie Monster/Nicky/Bad Idea Bear) and Lindsay Robinson (Gary Coleman) can attest.  Avenue Q utilizes both rod (single and double) and live-hands puppets (necessitating two operators)—there is tremendous work involved in creating likeable and relatable puppet characters, particularly when their humans are visible to the audience. In this regard, the cast succeeds in remarkable fashion.
Recent college grad Princeton (Blaney) arrives in the city, and, beleaguered by debts, settles into a shabby apartment on far-out Avenue Q, while struggling to find work and his purpose in life.  Here he meets wholesome Kate (McDonald) the girl next door, Rod (the closet gay Republican) Trekkie (Reid) the pervert, superintendent Gary Coleman (Robinson) and humans Brian (Brad L'Écuyer) and his fiancée Christmas Eve (Dutchess Cayetano).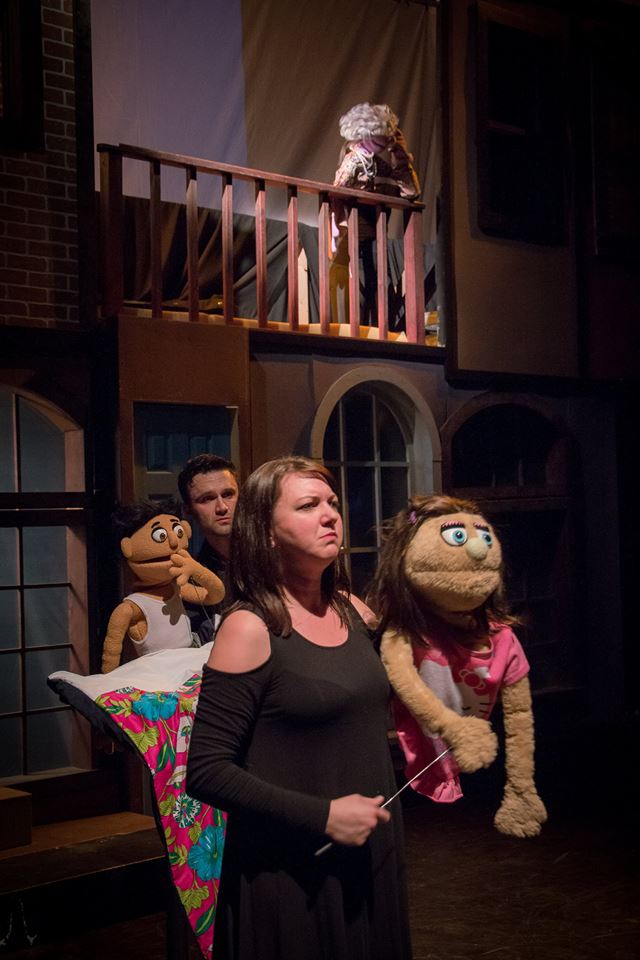 Kate (Alison MacDonald) and Princeton (Lucas Blaney)
The songs (music and lyrics Robert Lopez and Jeff Marx) range from buoyant (The Avenue Q theme), to plaintiff (What Do You Do With a BA in English, It Sucks to Be Me), provocative (Everyone's A Little Bit Racist), racy (You Can Be As Loud As You Want—When You're Making Love) and heartfelt (There's A Fine Fine Line, The More You Ruv Someone).  Once again, the level of training and professionalism is evident in the execution of each number. MacDonald sustains notes of deep longing as fresh-faced Kate pondering her love life (There's A Fine Fine Line), and does a complete about face, growling in the best raunchy fashion as she teases and entices as Lucy the Slut (Special) with her powerhouse voice.  Likewise Blaney is utterly convincing as wide-eyed Princeton (a traditional musical theatre role) and the much more cynical Rod (with his high nasal whine); Cayetano adds wonderful comic flair to the irreverent lyrics in The More You Ruv Someone; Reid makes a marvellous monster (The Internet is For Porn) and together with Murphy is hilarious as one of two Bad Idea Bears; L'Écuyer may be the wiser, older neighbour (There is Life Outside Your Apartment) but he reveals his true nature in the cheeky (and very short) I'm Not Wearing Underwear Today; Robinson is lusty and full of life as Coleman with a highlight being Schadenfreude.
Now in its third year, the CCPA Alumni Company has hit its stride. Avenue Q is the perfect musical antidote; while love does prevail eventually, there are plenty of twists and turns on the journey—just like in real life.
Funny, profane and incredibly well executed, Avenue Q is a treat.  Tickets are selling fast and the show is held-over.
Avenue Q by the CCPA Alumni Company
Canadian College of Performing Arts, 1701 Elgin Avenue
May 31-June 17th
Tickets $25-35 online at Eventbrite
The show is held over and tickets remain for June 15/16/17
Cast
Lucas Blaney-Rod/Princeton
Dutchess Cayetano-Christmas Eve
Brad L'Écuyer-Brian
Alison MacDonald-Kate Monster/Lucy
Sarah Murphy-Mrs. T/Bad Idea Bear/Newcomer
Ryan Reid-Trekkie Monster/Nicky/Bad Idea Bear
Lindsay Robinson-Gary Coleman
Band
Piano/Conductor-Heather Burns
Percussion-Colin Webster
Strings-Joe Doyle

Crew
RJ Peters-Director/Lighting Designer/Set Designer
Lindsay Robinson-Music Director
Sarah Murphy-Choreographer
Ryan Reid-Puppet Director
Jenny Austin-Stage Manager
Ainsley Harrington-Props/Costume Designer