US/Canadian raised and New Zealand-based Ren Lunicke of Zir Productions (and the award-winning comedic story-telling show "Ze"), ruthlessly exposes the ongoing mythology about biological kinship in their new play BLOOD RELATIVE.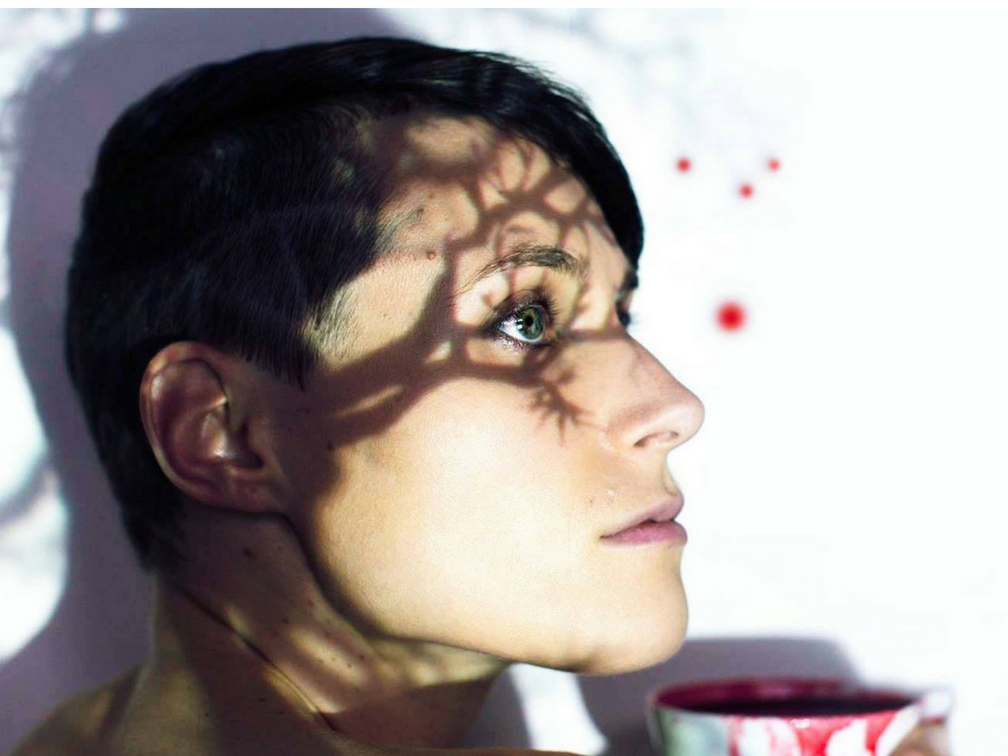 Photo by Megan Bowers-Vette
How long have you been producing work on the Fringe circuit?  As an artist/company?
I built my first solo show in 2015 about my travels as an Ameri-nadian through Australia. Although I knew quite a bit about playwrighting and the play-building process, I knew relatively little about myself as a solo performer or marketing a play. Now I've produced four different shows from my home in New Zealand, toured four countries, and several fringe festivals later I've learned quite a bit and met some really lovely people with good advice who have been doing it for years.
Last year I formalized by creating Zir Productions after the success of my show "Ze": queer as f*ck! which won a silly comedy award in Toronto Fringe and placed third for artistic risk in Vancouver Fringe. It's based on the gender-neutral pronoun ze/zir and with it, I'm committed to creating connection "beyond all binaries."
Significant awards or accolades? (not just on the Fringe circuit) 
2018 BLOOD RELATIVE was nominated for New Zealand Fringe's Development Award.
It received a 5-star review at FRINGE WORLD in Perth, Australia.
2016 "ZE" placed third for Artistic Risk at Vancouver Fringe
2016 "ZE" won "best use of awkward silence" at Toronto Fringe
2016 "ZE" was nominated for Best Comedy at FRINGE WORLD in Perth Australia.
Who will your show appeal to?
Alive people who have loved dead people, ugly ducklings, black sheep, and people who grew up with elephants in the room.  It takes a special person with a somewhat dark sense of humour to enjoy a wry dissection of the "happy family" mythology and the ways it can leave us disappointed and lonely.
I have some bold and unique characters in my family that punctuate how family expectations divide us. This show is for anyone that feels that they or someone they know fell far from the tree, or at least the closest branch and got a good knock on the way down. It's ageless and genderless, although some women enjoy it more because of the part of the story about endometriosis. LGBT people enjoy it because diversity is the scapegoat for the disapproval.
It does not have a Pollyanna ending, but it does promise a big boost of heart.
What would you say to entice a potential audience member to come?
It depends on their age…
Teens and 20's: Do you know what queers and grandmas have in common? Come to BLOOD RELATIVE and find out.
30's and 40's: Have you ever felt like family was a four-letter word, and friends were much better? Come to BLOOD RELATIVE and laugh about that.
50's and up: Do you think Millennials are too self-focused to notice you? Come to BLOOD RELATIVE and get some love.
What do you hope to inspire in your audience?
Possibility, connection, a future in which we're not quite so focused on conformity in our families to create belonging. I do not think one should have to have hierarchies about family based on blood, or peer group, or the politics of the times. That's a recipe for loneliness.
Family has always been a negotiation of who is responsible for whom, and it's going to keep re-organizing itself. I would like to inspire us to keep sitting in our discomfort with the difference and honouring our power to build all kinds of families; a family of one, a family of many, biological, chosen, adopted, IVF, AI, four generations, one generation, local, international, etc. It's ok to acknowledge we don't have the Hallmark card. No one else does either.
Is there anything I've missed asking you, or that you would like to comment on?
We are living in seriously strange times on the family front and it's reflective of a variety of changes. On the one hand, people are living longer and the inter-generational divide is bigger than ever too. Lots of young people are waiting for an older generation to die off. On the other hand, child-bearing has decreased while we are becoming increasingly interested in genetics, ancestry, race, and genealogy. Many of us are spitting in tubes and mailing it away to find out just who and what we are. If we were really interested in a connection to our past, you would think we would visit our grandparents a bit more often (at least in the western world).
The population is at an all-time high and so is loneliness. The family is still very important internationally as the most basic human structure but it's often not meeting our needs. Generations have always had difficulty understanding one another. The divide we've inherited might be what we have in common, but it's especially bad now because we are living longer while the world is changing faster. If we're going to heal this divide, we are going to have to figure out what tolerance really is and what family really is, without excluding anyone.
This show is the first part of my 'Belonging Trilogy' because true belonging is first and foremost experienced within families. It complements my other solo show "ZE": queer as f*ck! and acts as a prequel to it.
I will be touring both shows through the North American West Coast over the next two months.
What is the play about?

BLOOD RELATIVE is an autobiographical solo play that weaves together a few time lines. The main plot is the 10 days when I was newly married in a same-sex relationship despite parental disapproval, and my 100-year-old grandmother, whom I loved, began a rapid decline. I was part of her care team and was forced to think about who I was in the family without her, what family even meant to me, and what power I had to create family for myself. At the same time, I was realizing I likely had endometriosis (a pain disease causing infertility) and would be unlikely to bear my own children as a means of filling the void for family love and belonging.

BLOOD RELATIVE is about legacy and belonging, but mainly love within families where the beliefs and expectations are so divergent. We are all stuck with biological family, but what really bonds us to people is our capacity and willingness to love and be loved by one another for who we really are as individuals. Sometimes a family role can actually get in the way of that. Sometimes having a family role in someone's life is the only way we would learn from people who are different from us. These days, communicating over that difference seems more difficult than ever. I wanted to show a story (mine) where communication amongst difference came as a successful result of meaningfully re-defining the boundaries of family.

What motivated you to write it?

My first draft was written about eight years ago pretty soon after the events. Then I let it sit for a variety of reasons, one of which was that I had a great high-stakes problem for my main character to solve (ME), but I didn't have a resolution. I don't think it was until I immigrated to Aotearoa, New Zealand (I'm originally from the US and Canada), that I encountered this idea of "whanau" that solved my "family" problem by broadening my definition and having it legitimized.

Seven years later, the show has become a hybridized mash of the cultures and expectations that have had an impact on me and was dramaturged by my lovely director and famous kiwi actor Stuart Devenie. That was a match made in heaven because he was able to bring a generational perspective and support into it that I needed.

What's the message?

The message of BLOOD RELATIVE is that family is there, in infinite forms, and that any useful re-definition of "family" would have to include a loving bond free of assumptions.

I hear you are offering some free tickets to elders.

Yes, I have allocated a number of free tickets to residents at local senior housing communities to see the theatrical season because I know they don't often have the opportunity to see theatre, and especially not fringe theatre. It's also because I'm hoping to get multiple generations in the same room together.

I hope lots of young and young-at-heart people will come along and start to ask questions about their family histories, if only to see their elders as people and develop that loving bond with them. I hope the elders will feel loved and cared for too.
Relaxed Performance Measures: This show contains no major lighting effects and reduced sound.
"Family will always be there"…WON'T THEY?!? But what happens when they disapprove of you, die, or end with your generation? AWARD-WINNING non-binary performer Ren (of comedy "ZE") grapples with their expectations and disappointments for biological kinship and identity through a fading grandmother, a hyper-religious mother, and a painful fertility disease. Themes feature inter-generational love, loss, and our cross-cultural capacity to bond. "touching, wry, powerful" – Independent Theatre Association. "?????" – FringeFeed zirproductions.com
BLOOD RELATIVE, written and performed by Ren Lunicke (New Zealand/Canada/USA)
Zir Productions
Original Production directed by Stuart Devenie
Venue 7 St Andrew's Kirk Hall (860 Courtney Street)
Tickets: Advance price: Regular $11/ St & Sr $9 + s/c  Door price: Regular $11/ St & Sr $9
Duration: 75 mins
Rating: PG 12+
Genre: Storytelling, theatre
Showtimes

24 August at 9:30pm
25 August at 2:15pm
26 August at 8:15pm
29 August at 8:15 pm
1 September at 6pm
2 September at 3:15pm
NOTE: All ticket holders 13 + must have a Fringe Button to use their ticket. A $1 surcharge applies per ticket (this fee directly supports the Victoria Fringe). Advance sales cut off 3 hours prior to show time. At door tickets go on sale at venue 1 hour prior to show time, cash only (half of all tickets are reserved for at door sales). Fringe Buttons can be purchased in advance at Fringe HQ, Ticket Rocket and at every venue. No latecomers, exchanges or refunds.
About the artist/company
Zir Productions is the umbrella production company of international performance artist and writer Ren Lunicke. Originally based on the Ze/Zir gender neutral pronoun, Zir Productions mission is to produce works of storytelling, comedy, theatre, and live art that work to take audiences on an experience "beyond all binaries."
Zir Productions will be touring the West Coast and Hawaii from August 15 – October 15 with their BELONGING TRILOGY. Three chronological autobiographical shows including:
BLOOD RELATIVE (about family identity)
"Ze": queer as f*ck! (about community/chosen family identity)
I'm an Apache Attack Helicopter! (about belonging in society)
Please see the website for more details!
Credits
Zir Productions is the umbrella production company of international performance artist and writer Ren Lunicke. Originally based on the Ze/Zir gender neutral pronoun, Zir Productions mission is to produce works of storytelling, comedy, theatre, and live art that work to take audiences on an experience "beyond all binaries".
Ren Lunicke is trans non-binary and uses ze/zir or they/them pronouns.