I first saw The Fitting Room by Ellery Lamm when it was presented as part of Vino Buono's inaugural season. Lamm and director Anna Marie Anderson answered questions about this latest version of the play.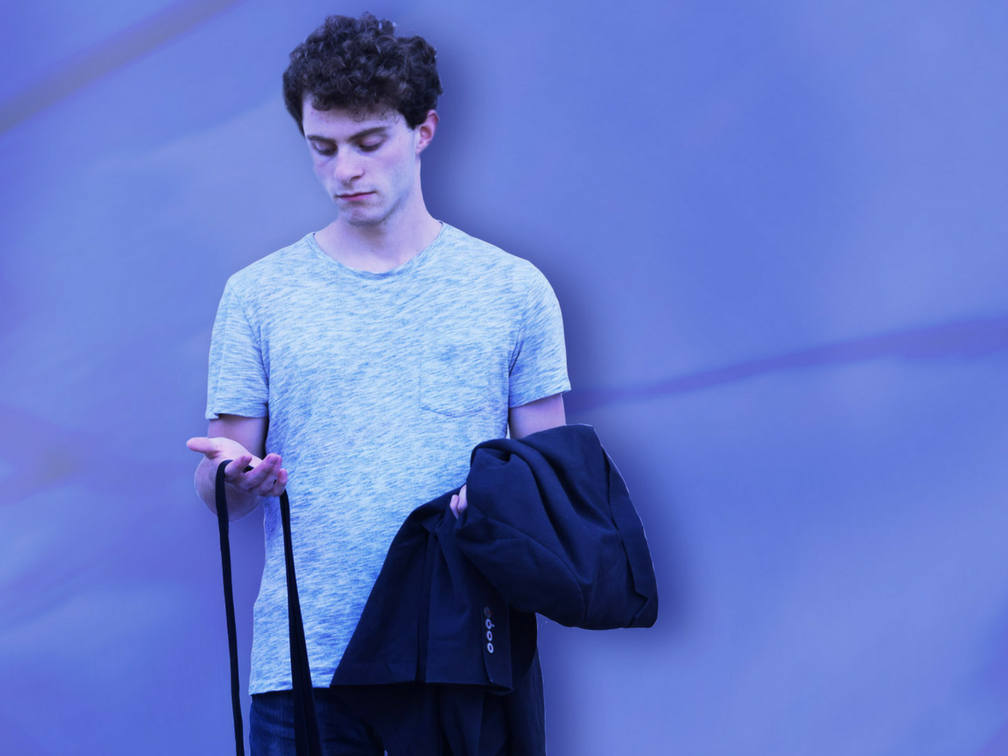 How long have you been producing work on the Fringe circuit?  As an artist/company?
Ellery: This is both of our first time producing work for Fringe Festival.
Have you been (or will you be) taking the show to other Fringes?
Anna Marie: No other Fringe festivals this year, but plans are in the works to reproduce this play again.
Ellery: Our set designer is building a tour-able set that will allow us to continue sharing this work, which we're really excited about.
Is your show a new work, or has it been performed elsewhere?
Ellery: The Fitting Room was part of Vino Buono's inaugural season and premiered at Intrepid Theatre last Spring (2017). It really felt like a launching pad. Anna Marie and I had never met before then, but by the end of the run we promised (pinky promised) that we would remount the show after I made rewrites and edits.
Can you speak to the creation process of this work? 
Ellery: I honestly started writing this play just so I could write in the voice of queer characters before I, myself, had come out. I wanted to express things through my characters that I thought I wasn't ready to say yet. From there, the story kept expanding. All I knew was I wanted to set a play in a department store fitting room. At first the characters weren't connected to each other's stories, but as I continued to write, the links between them surfaced. Writing this play felt healing, and the responses we've gotten from audience members have been that it's felt healing to watch. Even if one person comes away from a performance thinking that, it's all been worth it to me.

Who will your show appeal to?
Ellery: This is an incredibly human story, so I'm tempted to say everyone. But that's the easy answer. More specifically: people interested in LGBTQ stories, people who have faced incomprehensible loss, teens, parents of teens, single parents, people interested in Judaism, people who gravitate toward dramedies.
Anna Marie: The authenticity of the characters I believe can speak to any individual. We are hoping to particularly grasp the attention of young adults as this piece bravely approaches subject matter that is especially relevant to youth.
What would you say to entice a potential audience member to come?
Ellery: You'll leave the theatre having laughed, cried and having felt things deeply. You will walk away from this play feeling hopeful. What more could you want?!
What do you hope to inspire in your audience?
Ellery: Possibility, hope and an understanding that every human you pass is carrying with them a long, tangled mess of experiences. I hope to inspire the fact that we need to approach each other with more kindness.
Anna Marie: Healing. We hope that through the healing of the characters the audience is also healed.
Reviews:
"Every word in this script feels true – and deeply moving, often funny and brave. Ellery Lamm and Anna Marie Anderson are a perfect match. Not to be missed." – Joan MacLeod (Governor General's Award winning playwright)
"The creativity of the script and the direction to make it work, is the reason theatre continuously delights me." & "Those selfish and think-you-know-everything teenage years are fleshed out in tragedy, although with enough humour to give it heart" – The Martlet (Holly Lam)
"The Fitting Room…puts emphasis on its excellent writing" – Nexus Newspaper
Grief. Guilt. Growing up. Coming out. In one fitting room. A play about the intersecting lives of five people linked to the sudden death of 13-year-old Noah.
The Fitting Room by Ellery Lamm directed by Anna Marie Anderson (Victoria BC)
Rosemarie Productions
Venue 3: Metro Studio Theatre (1411 Quadra Street)
Tickets: Advance price: Regular $11/ St & Sr $9 + s/c  Door price: Regular $11/ St & Sr $9 Duration: 75 mins
Rating: PG 14+: Coarse language
Genre: Dramedy
Showtimes:
Aug 23 Thursday 09:00 pm
Aug 25 Saturday 07:15 pm
Aug 26 Sunday 08:00 pm
Aug 30 Thursday 09:30 pm
Aug 31 Friday 06:30 pm
Sep 01 Saturday 10:00 pm
 
NOTE: All ticket holders 13 + must have a Fringe Button to use their ticket. A $1 surcharge applies per ticket (this fee directly supports the Victoria Fringe). Advance sales cut off 3 hours prior to show time. At door tickets go on sale at venue 1 hour prior to show time, cash only (half of all tickets are reserved for at door sales). Fringe Buttons can be purchased in advance at Fringe HQ, Ticket Rocket and at every venue. No latecomers, exchanges or refunds.
Credits
Ellery Lamm – Playwright
Anna Marie Anderson – Director
Aaron Smail – Stage Manager/Sound Designer
Ciaran Volke– Henry
Kelly Vanderswan – Amy
Emma Newton – Sophie
Emma Grabinsky – Cleo
Eva Hocking – Hanna
Delaney Tesch – Set/Costume Designer
Elizabeth Martin– Lighting Designer
About the artist/company
Rosemarie Productions is excited to remount "The Fitting Room" for Victoria's Fringe festival. Ellery Lamm (playwright) and Anna Marie Anderson (director) were randomly paired together during Vino Buono's inaugural season, in May 2017. It was creative love at first sight. After a sold-out first run and a year of re-writes Ellery and Anna Marie knew they wanted to put the show up again. "The Fitting Room" is comprised of local emerging theatre artists, many of whom are graduates of University of Victoria writing and theatre program.