Blue Bridge Repertory Theatre (BBRT) announces its 2018/2019 season. (Media release)
The upcoming season will include an additional show fifth show which will open in the fall of 2018.  The season will feature classic plays by some of the world foremost playwrights including: Billy Bishop Goes to War by John MacLachlan Grey, Happy Days by Samuel Beckett, The Master Builder by Henrik Ibsen, Barefoot in the Park by Neil Simon and Fiddler on the Roof by Bock, Harnwick & Stein.
The theme of the season will be Travel the World with Blue Bridge, as audiences will be transported around the world including: The United States, Ireland, France, Norway and Russia. "The 2018/19 season is one that not only celebrates great plays from around the world, but it does so by providing audiences with a rich and diverse program of drama, comedy and music theatre," states Brian Richmond, Blue Bridge's Artistic Director.
The season launches on October 23, 2018 and runs through to August 11, 209 with each show running for two weeks.
Season ticket holder who purchase a Blue Pass will receive 20% off single ticket prices and will have first choice of seats and performances as well as ticket exchange privileges. With the Blue Pass discount, it's like getting the fifth show for free!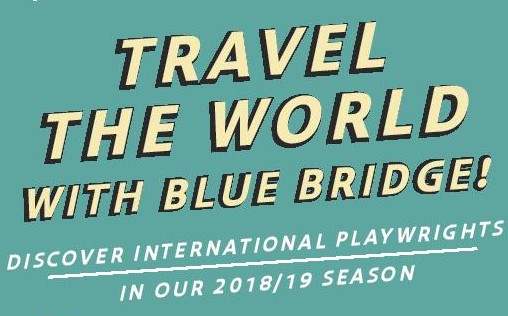 2018/2019 SHOW DETAILS
Billy Bishop Goes to War by John MacLachlan Gray
October 23 – November 4, 2018
Billy Bishop Goes to War is a Canadian musical, written by John MacLachlan Gray in collaboration with the actor Eric Peterson of Corner Gas fame. The story of irreverent hero and Canadian WWI flying ace Billy Bishop remains one of the most critically acclaimed Canadian plays of all time. Watch as the actor playing Billy fires on all guns at the 18 characters he must play while singing the haunting melodies played by his friend and accompanist the piano player.
Happy Days by Samuel Beckett
April 23 – May 5, 2019
In Samuel Beckett's masterpiece Happy Days, we watch in delight as the playwright continues his relentless search for the meaning of existence through the characters of Winnie and her husband Willie who are buried up to their necks in sand but who continue in their belief that their lives are filled with happy days. Blue Bridge audience members who remember the brilliant and multi-award winning 2016 Blue Bridge production of Waiting For Godot, will wait in eager anticipation as we prepare to present a work steeped in Beckett's trenchant, existential wit.
"Harrowing, funny, tender and terrifying…" The Times
The Master Builder by Henrik Ibsen
May 28 – June 9, 2019
The Master Builder by the great 19th century Norwegian playwright Henrik Ibsen – commonly referred to as 'the architect of modern drama'. Halvard Solness is a hugely successful architect – a master builder, and erector of very high spires – but he's worried that his career may be slowing and that younger, more talented people may soon be snapping at his heels. His depression is brightened by the arrival of Hilde Wangel, a youthful and high-spirited young woman who claims to have met Solness 10 years ago and been the recipient of a promise: a promise that he would one day come back for her and that together they would construct castles in the sky.
"Perplexing and fascinating." The Guardian
Barefoot in the Park by Neil Simon
July 2 – 14, 2019
Barefoot in the Park is a 1963 romantic comedy written by America's top comic meister Neil Simon which helped launch the career of Robert Redford. Telling the story of a pair of newlyweds, Corie and Paul, as they begin married life in a tiny, 5th-floor walkup apartment in Manhattan brownstone, Simon artfully and hysterically etches the tensions between a straight-laced attorney and his far more spontaneous and free spirited young wife."
A bubbling, rib-tickling comedy." The New York Times
Fiddle on the Roof by Bock, Harnwick & Stein
July 30 – August 11, 2019
Fiddler on the Roof, winner of nine Tony Awards when it debuted in 1964, is the brainchild of Broadway legends, Jerome Robbins and Harold Prince. Songwriters, Jerry Bock and Sheldon Harnick and bookwriter, Joseph Stein adapted the works of the great 19th century Russian Yiddish short story writer and playwright Sholem Aleichem and created a universal musical that became an instant classic and a staple of the musical theatre canon. With such hit songs as Tradition, If I Were A Rich Man and Sunrise, Sunset this classic musical is a perfect way to end your trip through the world of great classic theatre.
"Nothing short of a miracle." Time Out Magazine
ABOUT BLUE BRIDGE REPERTORY THEATREBlue Bridge Repertory Theatre (BBRT) is a non-profit theatre society that seeks to provide:
Significant creative, production and management opportunities to young theatre artists wishing to pursue a career in the arts.
The opportunity for emerging artists to play major roles alongside some of Canadas respected and established theatre artists.
BBRT acquired The Roxy Theatre in the heart of Quadra Village in 2013. Built in 1949, the Roxy Theatre was a movie theatre for over 60 years. We are now proud to produce live theatre, as well as to present and host many other groups, from children's theatre to burlesque