The Comedy of Errors at UVic Phoenix Theatre. A review.
The Comedy of Errors, currently at the University of Victoria Phoenix Theatre until March 24th, deserves to be widely seen by the youth and young adult audiences of the Capital region.  Director Jeffery Renn has made it abundantly clear in this contemporary, bright and frothy adaptation that he is aiming directly for Generations Y and Z.  Fear not—even older audiences will appreciate the level of expertise present in the design and execution of this show.
Technology is everywhere in society today; this extends to theatre with ever-increasing sound and lighting requirements.  There are over 300 lighting cues (Lighting Design Michael Whitfield) in Comedy of Errors—it's something to think about as an audience member; the behind the scenes technical and stage management teams may be invisible but they are working every bit as hard as the actors treading the boards (Stage Manager Brendan Agnew).
Perusing the program before-hand at the long line of production credits I noted "Costume special effects" (Matthew Wilkerson) and waited in anticipation.  It's a stunning choreographed sequence at the opening of act two that had the audience cheering in wonder—and one I will not reveal for fear of spoiling the delightful surprise.
The Comedy of Errors—set in this version in New Orleans during Mardi Gras—holds the audience similarly enthralled throughout by topical cultural references. The two brothers—both Antipholus—are re-imagined as American (Douglas Peerless) and Canadian (Brendan Elwell) with corresponding servants, an American Dromio (Chantal Gallant) and a Canadian Dromio (Emma Grabinsky); two sets of identical twins separated at a young age during a violent storm at sea, as were their parents.  The American Antipholus established himself and took a wife Adriana (Rachel Myers is strong and determined), niece to Solinus, a town notable played by Evan Coates in full "Godfather" mode, complete with accent hinting at Brando. Unbeknownst to the former, his long-lost brother arrives in the city, on a quest to find him. Much confusion ensues as people mistake them for one another.  Of course, because this is a comedy, all will end well.  Settle in for a wild ride.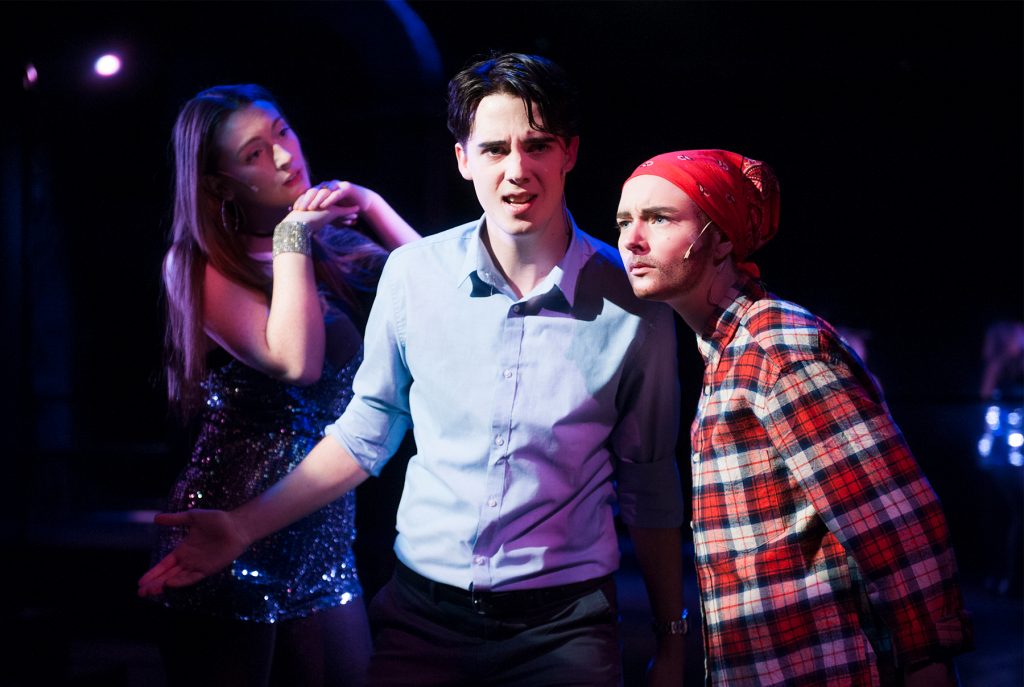 Antipholus (Brendan Elwell), Dromio (Emma Grabinski) and Adriana (Rachel Myers). Photo: David Lowes
While it is possible for the audience to differentiate between the two Antipholi, Grabinsky and Gallant, dressed like men, are preternaturally alike in size, posture and movement style—further puzzling those watching as to which Dromio is which.  When Adriana asks Canadian Dromio to guard the door, effectively barring the real master and servant from entering, the two Dromios are pitted against one another—within and without.  Slapstick and crude humour unite in a scene that the groundlings in Shakespeare's time would surely have approved.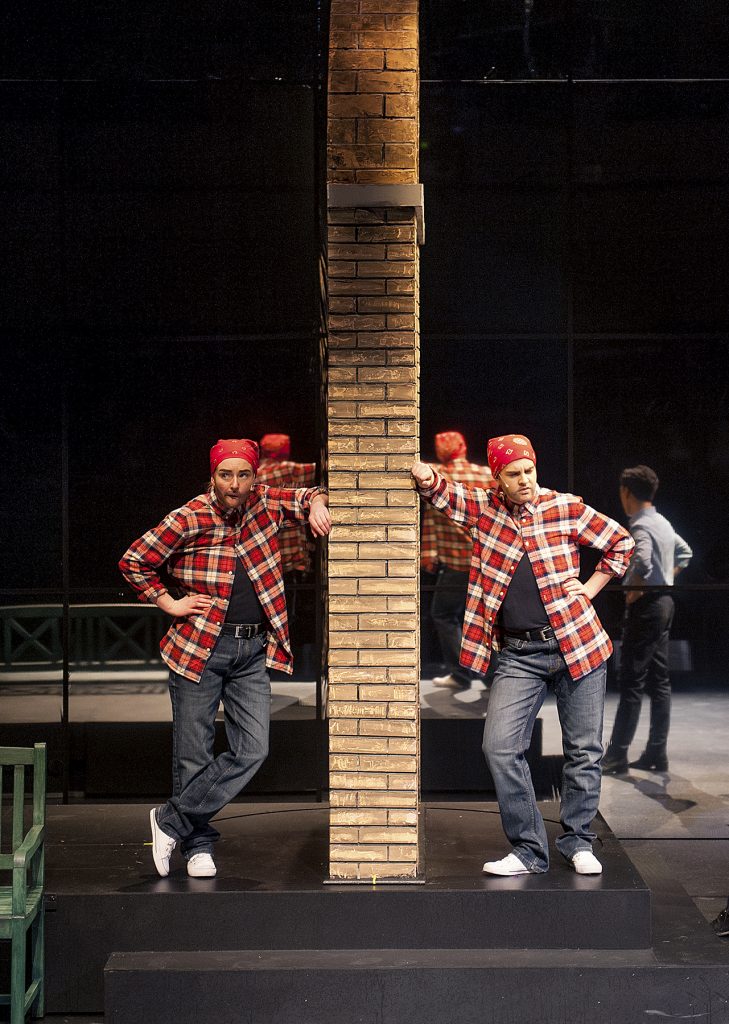 The servant Dromio (Emma Grabinsky) and his long lost twin, also named Dromio (Chantal Gallant).Photo: David Lowes
As music director, Renn enlisted the tremendous talents of Wendell Clenton, instructor in UVic's School of Music, who, together with a team of transcribers, arrangers, musicians and vocalists, completely re-wrote pop songs using the Shakespearean text and then pre-recorded them.  What a feat, to match today's music tempo to iambic pentameter rhyme.
Is there any more appropriate song to begin with than Let's Get it Started by the Black Eyed Peas?  The entire cast takes the stage in a high-energy extravaganza of movement and song.  Choreographer Christina Penhale punctuates the space with routines most often reserved for music videos—the spirit is one of riotous celebration and joy, befitting Mardi Gras.
Renn employs, as central theme, the concept of identity, making Human, by Rag 'n Bone Man, an obvious choice to be included—"look in the mirror, what do you see…I'm only human after all, don't put the blame on me". Set designer Patrick Du Wors amplifies this idea by covering the entire back wall of the stage with mirrors—a dazzling effect when melded with movement, music and song. Costume designer Jivan Bains-Wood creates sexy clothing for Adriana and her sisters Luciana (Maggie Lees) and Luce (Nathan Patterson in a gender-bent role that reminds us of Shakespearean tradition), contemporary costumes for the major male roles with the Dromios as "homeys", and lets her vision loose in a wide variety of carnival apparel.  Selected highlights include the Courtesan (Elena Kellis) with her flower crown and the flying wings of the Abbess Amelia's (Anna Marie Anderson) coiffe.  Sound designer Aidan Dunsmuir meets the formidable challenge of melding live and pre-recorded music and sound, ensuring levels and creating a harmonious soundscape that does not overwhelm the space of the Roger Bishop Theatre.
Myers (Adriana), Lees (Luciana) and Patterson (Luce) shake and shimmy to All the Single Ladies garbed in lycra and lamé; Grabinsky (Dromio) raps with an easy fervour to Baby Got Back; Emily Hay showcases her tap skills as a dancing nun; the entire ensemble dances in the aisles to Iko, Iko (Jock-a-Mo) complete with drums and percussion instruments; Elwell (Canadian Antipholus) and Grabinsky  are on the lam to the Mission Impossible theme trying to elude capture; the Halleluiah chorus rings triumphant when the final resolution is reached.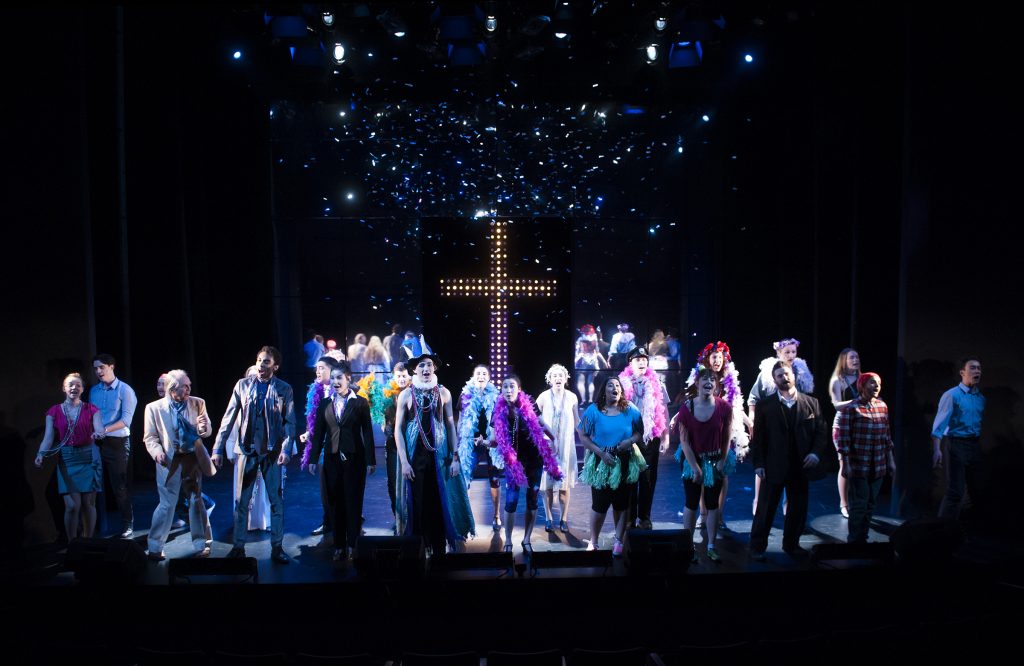 The company of The Comedy of Errors celebrate Mardi Gra. Photo: David Lowes
Dramatic moments are not overlooked—Elwell (as the Canadian Antipholus) is passionate as he woos Lees (Luciana), who remains steadfast against his advances, convinced he is her sister's husband; Peerless (the American) is truly an aggrieved man, his reputation and social standing, so carefully nurtured over the years, in tatters through the mistaken actions of his twin.
References to "border-wall" politics are sown throughout; transposed to today's reality the zenophobia and distrust of the other seen in the original is brought frighteningly home.  It doesn't seem out of place that the Canadian Antipholus could be jailed for being on American soil, or that Aegon (Clayton Jevne conveys a deep mournful sorrow befitting his immense loss), come to new Orleans in search of his Canadian son, be sentenced to death for the transgression.
Likewise mentions of possession and witches are completely aligned with the period of Mardi Gras.  Summoned to rid the Canadian Antipholus of his demons, Brother Baptiste (Tallas Munro in a fiery, impassioned cameo) and his choir launch full swing into Sinner Man with a performance guaranteed to bring down the house.
A special nod to the team that kitted out Solinus' "ride"—a specially decorated mobility scooter dressed as harlequin.
The Comedy of Errors is smart, inventive, vibrant and au-courant, displaying the incredible talent incubated at the University of Victoria and in the city's wider creative community with an appeal that spans the decades of theatre patrons.  Aimed at a younger generation yet presenting an aesthetic committed theatre-goers will appreciate for the high level of proficiency, Renn has united a complex array of elements to retain and magnify the original story, in a bold move that pays off in great enjoyment for the audience.
Mystery and mayhem are at the heart of Shakespeare's shortest and funniest comedy that features a pair of twins – twice! Twenty years after they are separated in a storm at sea, the twins find themselves swept up in Mardi Gras celebrations and everyone gets mistaken for everyone else.

This pop musical reboot of the 16th-century farce will have you asking the eternal question Who am I? while dancing in the aisles to songs by artists from Nina Simone to Beyoncé, and Queen to Justin Timberlake.

Recommended for ages 13 +
The Comedy of Errors, by William Shakespeare, adapted by Jeffrey Renn
University of Victoria Phoenix Theatre
March 15 – 24, 2018
Tickets: $16-26 through the box office in person or by phone 250-721-8000 Monday-Saturday noon-8:30pm

CAST:
Anna Marie Anderson  Abbess Aemelia
Evan Coates Solinus
David Cosbey Officer Joseph
Brendan Elwell Canadian Antipholus
Chantal Gallant American Dromio
Emma Grabinsky Canadian Dromio
Emily Hay Sister de Claquettes, Mademoiselle Balthazar
Clayton Jevne Aegeon
Elena Kellis The Courtesan
Maggie Lees Luciana
Alexander Moorman Gigi Bouffon
Tallas Munro Brother Baptiste
Rachel Myers Adriana
Ted Angelo Ngkaion Rosario
Arielle Parsons Rex de Tambours
Nathan Patterson Luce
Douglas Peerless American Antipholus
Shayla Pready Nurse
Rahat Saini Roxanna
Hilary Wheeler Twin Elizabethan Musician
Olivia Wheeler Twin Elizabethan Musician
Taryn Yoneda Ms. Angela
CREATIVE TEAM:
Director: Jeffrey Renn (MFA Candidate)
Music Director: Wendell Clanton
Choreographer: Christina Penhale
Set Designer: Patrick Du Wors
Costume Designer: Jivan Bains-Wood
Lighting Designer: Michael Whitfield
Sound Designer: Aidan Dunsmuir
Stage Manager: Brendan Agnew
Disclaimer: I was provided with complimentary tickets to attend the opening of The Comedy of Errors.