The Madwoman of Chaillot at UVic Phoenix. Nov 9-25 2017. A review.
The latest University of Victoria Phoenix Theatre production–Giraudoux's The Madwoman of Chaillot November 9-25, 2017–is grandiose–huge in scale and extremely physical, playing on the edges with hints of the absurd, and yet, the dialogue sends shivers down the spine with its prescience and modernity.
Giraudoux wrote the play during the Nazi occupation of France and did not live to see it produced in 1945.  The excellent English translation (Maurice Valency) still used today dates from 1947.
Director Conrad Alexandrowicz and his design team have chosen a very stylized and fanciful interpretation of this seminal oeuvre, considered to be one of French theatre's masterpieces of the 20th century.  It's a choice that tempts an audience to question every costume, movement interlude, lighting change and set design in an attempt to glean any additional hidden meaning.
For instance, costume designer Michelle Ning Lo took inspiration from the golden pheasant for Countess Aurelia's (Sarah Jean Valiquette) luscious flowing Belle Époque gown.
Set designer Patrick Du Wors has a predilection for black and white, and has often used giant cut-outs or painted scrims to suggest a location or to serve as a stand-in for a prop (Little Shop of Horrors and My Fair Lady—Blue Bridge Repertory Theatre come to mind).  In the Mad Woman of Chaillot, hints of Paris appear in arches and the Eiffel Tower, with giant scaffolding, which will be used in the second act, in the background.  Off to the side, giant pipes run from floor to ceiling. Sound Designer Logan Swain taps into the universal appeal of Parisian tunes to evoke the City of Lights.
Lighting designer Matthew Wilkerson introduces glimpses of iridescent colour as highlights against the set, an effect that is mirrored in the largely mono-chromatic black, white and grey costumes of the ensemble.  Paris' street hawkers and neighbourhood merchants sport patches of dyed material strewn in haphazard fashion on their clothing.  Elsewhere, the natty suits of the President (Nicholas Guerreiro), Baron (Stephen Dopp), Prospector (Chase Heibert) and Broker (Evan Coates) feature sharp geometric shapes.  The distinction between the two groups is marked and the villains are clear from the outset.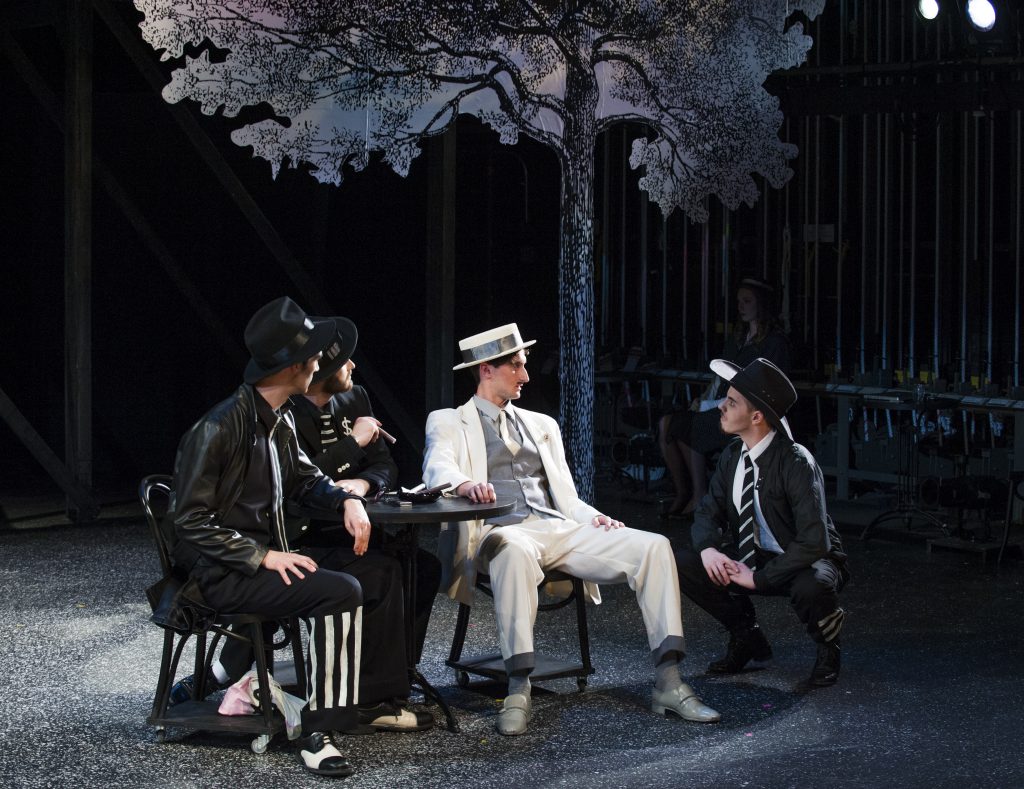 Nicholas Guerreiro, Evan Coates, Stephen Dopp, Chase Heibert. Photo: David Lowes
The Madwoman of Chaillot may be a fantasy, nevertheless the nefarious workings of stock manipulation and the ebullience of markets based on nothing more than a name ring true today. Guerreiro and Dopp join a long line of greedy self-promoters waiting for an easy mark. Coates' hyperbolic description of a stock issue took on a ballet-like quality as he soared across the stage, descending into the pit, while in the background the assembled citizens frantically juggled balls. When Heibert finally arrives with his outlandish description of oil underneath Paris, it's easy to see how people get caught up in the frenzy.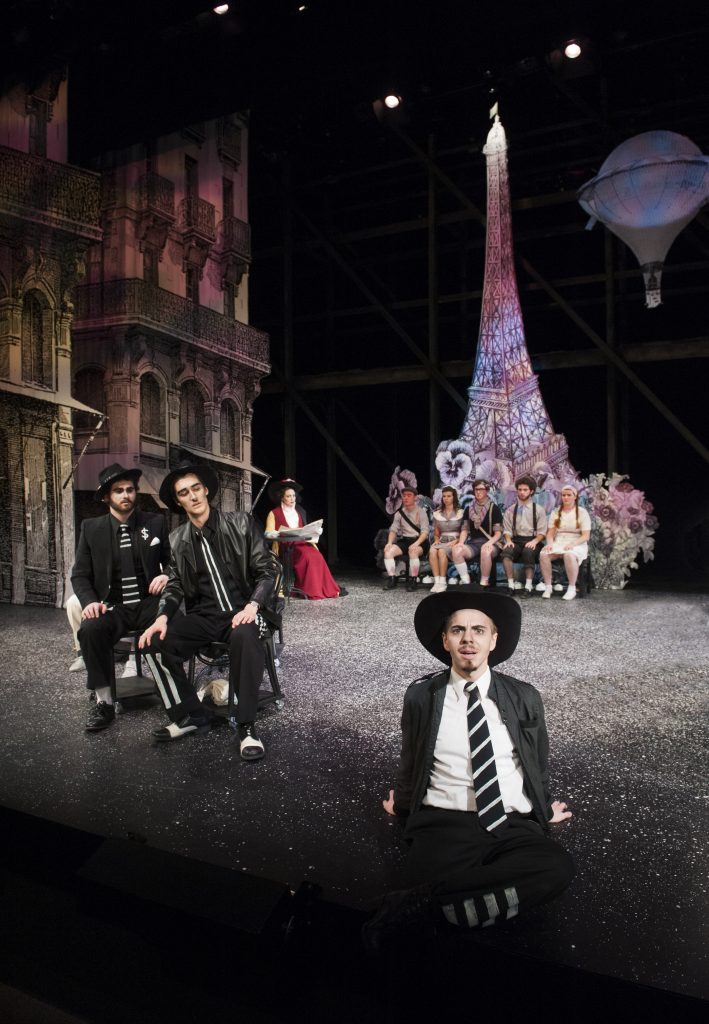 The Prospector Chase Heibert, The Broker Evan Coates, The President Nicholas Guerreiro, Countess Aurelia Sarah Jean Valiquette, ensemble. Photo:David Lowes.
Against this backdrop of craziness and menace, the folly of the Madwoman seems pedestrian—she's a personage from another era, lovingly enmeshed in the lives of people in the neighbourhood of her café. Valiquette plays the Madwoman with an all-knowing, kind and imperious manner.  When a young man, Pierre (Douglas Peerless) is saved from drowning and the terrible plot is revealed, the revelation seems a trifle—as if nothing more than a slight contre-temps that will be easily fixed.
The large ensemble conveys the chaotic nature of the street scene with brio—constantly interrupting the conversation of the business men, chiming in when Pierre is pulled from the water—emphasizing each character's distinctive nature.
The second act reveals the depth of the artistic vision, as the afore-mentioned scaffolding comes into play. The Madwoman's grand entrance will remain fixed in memory as one of the significant visual moments of this year's theatre season.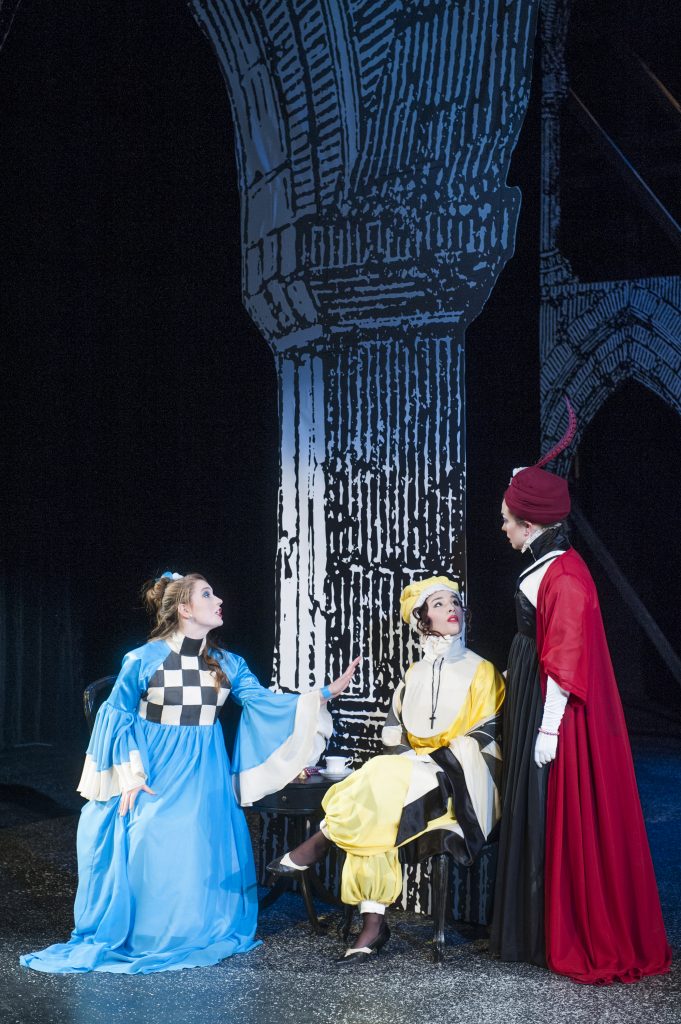 Constance Rachel Myers, Gabrielle Taryn Yoneda and Countess Aurelia Sarah Jean Valiquette. Photo: David Lowes
Conspiring with her fellow "madwomen" for a solution–with assistance from the Sewer Man (Brendan Elwell) who has revealed an underground secret–their dotty take on the affair seems more and more reasonable, given the stakes at hand.
The Ragpicker (Mary Van Den Bossche in an inspired turn) lays out the case in a mock trial.  When the business men and prospectors return, justice is served and order returned.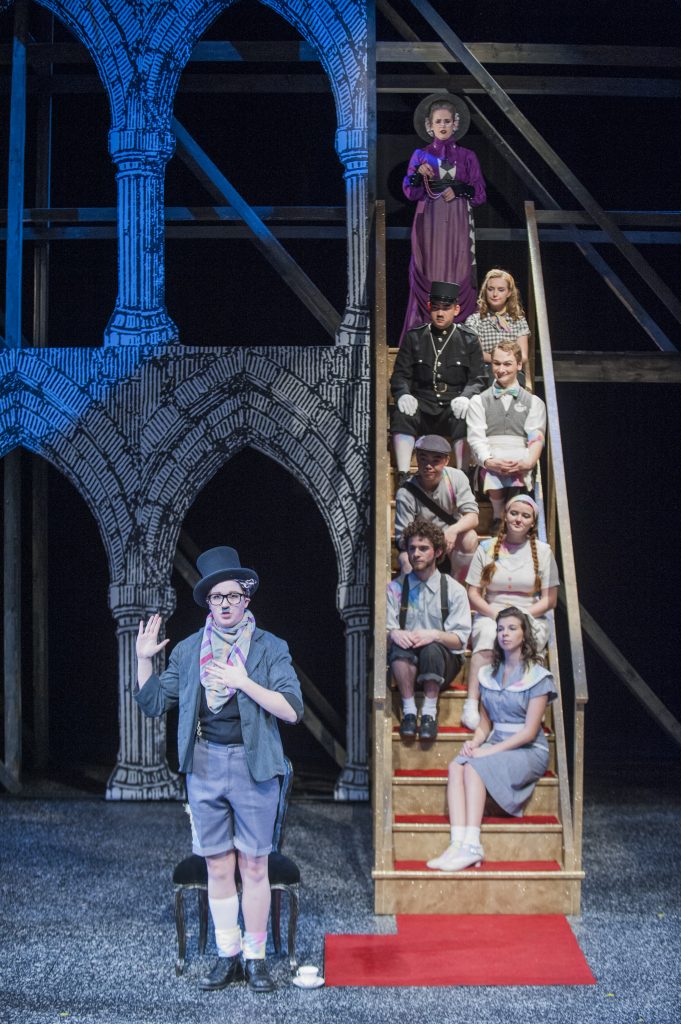 The Ragpicker Mary Van Den Bossche and the ensemble. Photo: David Lowes
Watching the struggle of good over evil, of the self-important versus the little people, many human rights and environmental battles come to mind—more recently the Trans Mountain and Dakota Access Pipelines; but also the fight against the World Trade Organization that lead to the Battle in Seattle.
While the English translation has the Madwoman proclaiming "Nothing is ever so wrong in this world that a sensible woman can't set it right in the course of an afternoon", the original French is more emphatic—"All that's needed is a sensible woman for the world's folly to fail".
The Madwoman of Chaillot is a meta-theatrical spectacle of tremendous proportions, serving up visual delights and thought-provoking observations that will leave the audience questioning their role in the scheme of things.  Once again, Victoria is fortunate to have a theatre department where foundational work of this scale can be staged.
Welcome to Chaillot and the whimsical world of Countess Aurelia, a flamboyant holdover from a less cynical time. She whiles away her days sharing her joie de vivre and cryptic wisdom with everyone she encounters – until corrupt businessmen discover oil beneath her Paris neighbourhood! With everything she holds dear suddenly under threat, the Countess unites with a rag-tag group of local artists, vagabonds, and dreamers to take Chaillot back. This poetic and comic fable of good and evil, written in 1943 during the Nazi occupation of Paris, has developed a whole new relevance in our current era of pipelines and protests.
Recommended for ages 13+
The Madwoman of Chaillot by Jean Giraudoux, translated by Maurice Valency
University of Victoria Phoenix Theatre
November 9-25, 2017
Tickets: $15-$26 at the Box Office (Mon-Sat noon-8:30), or by phone 250 721 8000

Creative Team
Direction Conrad Alexandrowicz
Set Design Patrick Du Wors
Costume Design Michelle Ning Lo
Lighting Design Matthew Wilkerson
Sound Design Logan Swain
Stage Management Emily Lindstrom
CAST:
President  Nicholas Guerreiro
Baron  Stephen Dopp
Waiter, 1st Press Agent Nathan Patterson
Flower Girl, 2nd Press Agent Sophie Chappell
Ragpicker Mary Van Den Bossche
Irma Emma Grabinsky
Deaf-Mute, 3rd President Joy Peters
Peddler, Doorman Justin Francis Lee
Broker Evan Coates
Little Man, Dr Jardin Duncan Alexander
Street Singer, 2nd President Ciaran Volke
Prospector Chase Hiebert
Countess Aurelia Sarah Jean Valiquette
Policeman, 2nd Prospector David Cosbey
Pierre Douglas Peerless
Sergeant, 3rd Prospector Ted Angelo Ngkaion
Professor, Sewer Man, 3rd Press Agent Brendan Elwell
Blonde in Café, Constance, 1st Lady Rachel Myers
Gabrielle, 2nd Lady Taryn Yoneda
Josephine, 3rd Lady Lucy Sharples
Disclaimer: I was offered complimentary tickets to attend The Madwoman of Chaillot.
Further Reading:
a Noise Within Study Guide
http://www.anoisewithin.org/wp-content/uploads/2017/08/SGFall_17-18-Madwoman-R3.pdf