Dance Victoria presents Dance Days 2016 January 22-31.  (media release)

Dance Victoria's popular city-wide Dance Days event is back for its seventh year featuring free classes in all kinds of styles in studios all over town. This year the free classes include a larger dance fitness component for adult beginner, intermediate and professional levels that'll move you. You can try your hand (or foot) at salsa, swing, flamenco, yoga, nia, zumba and even learn the fundamentals of ballet.
In addition to loads of free classes, look for a series called Rough Cuts in the schedule: free studio showings of some of the hottest dancers on the west coast on January 29 and 30 at Dance Victoria Studios (2750 Quadra Street). Among the artists presenting new works-in-progress will be Meredith Kalaman's trio Femme Fatales, Julianne Chapple, Amber Funk Barton, Ziyian Kwan and Shay Kuebler. These informal showings introduce you to the artist and include a question and answer period after you see a short section of their new work. Because of the limited capacity of these events, participants are asked to visit www.dancevictoria.com and select Rough Cuts to RSVP for each of the shows.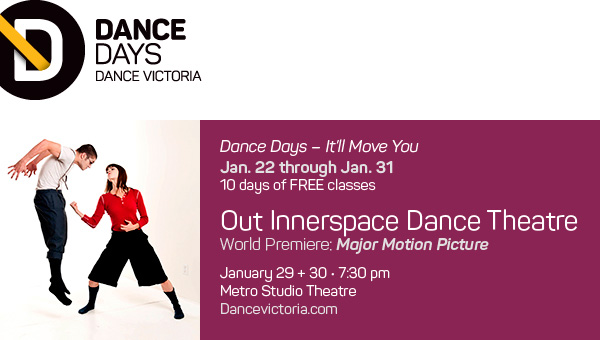 Dance Days is thrilled to have the premiere of a brand new group work by Vancouver's Out InnerSpace Dance Theatre: Major Motion Picture. David Raymond and Tiffany Tregarthen were an audience favourite at the 2014 Dance Days Festival when they performed their work, Me So You So Me. When it played in Toronto a few months later, Globe & Mail critic Martha Schabas said, "Both Raymond and Tregarthen are captivating… It's a treat to see this talented and boldly imaginative company touring Canada. Lucky for us, they're planning another national tour in 2016 to debut a new ensemble piece." Tickets for their new work are available now through the McPherson Box Office at 250-386-6121.
Dance Days 2016 kicks off on Friday, January 22 at 8:30 pm with Red Hot Swing's Friday Social. You don't need any experience or even a partner. The evening begins with a class and then the DJ lets loose with hot jazz that's perfect for dancing 'til 12:30 am.
The Dance Days Guide will be available for pick up in early January at 13 south island Serious Coffee locations. The online calendar of classes is HERE. 
Out Innerspace Dance Theatre [Vancouver] Contemporary Dance
WORLD PREMIERE OF A NEW GROUP WORK: MAJOR MOTION PICTURE
January 29 + 30, 7:30 pm
Metro Studio Theatre (Quadra at Johnson)
Tickets: $25 + $3.50 service charge • 250-386-6121
Created by two of the most exciting, next-generation choreographers renowned for their hilarious characters and imaginative use of multimedia. Seven dancers engage in a struggle, fighting for their power, identities and desires in a highly charged, digital world. Outrageous costumes, great music and highly physical dance. The World Premiere of Major Motion Picture is something you will not want to miss!
"Unlike anything you've ever seen…suffice it to say you've never seen movement like this, or characters like this, on a dance stage before." – Janet Smith, Georgia Straight
This work is commissioned by the CanDance Network and a group of presenting partners that include Live Art Dance Productions (Halifax), Dance Victoria, Firehall Arts Centre (Vancouver), L'Agora de la Danse (Montréal), and the Brian Webb Dance Company
Join the party on stage to celebrate the World Premiere at the Jan. 29th performance (included in the price of admission).
Dance Victoria Dance Days
Free Classes: January 22 to January 31
Dance Days Performances: January 29 & 30
Tickets: 250-386-6121
Information: DanceVictoria.com or 250-595-1829
About Dance Victoria
Now in its 19th season, Dance Victoria presents the world's best dance at the Royal Theatre and fosters the development of new dance for the international stage from its studios in Quadra Village. DanceVictoria.com