Vancouver Fringe Festival 2015 suggestions (mostly) from the Victoria Fringe
It wouldn't be an overstatement to say I'm a bit of a Fringe fanatic – over the years since I got back in to fringing, I've gone from seeing a handful of shows in 2006 to 42 shows at this year's Victoria Fringe Festival. In my second year of reviewing I also submitted 30 reviews.
Here are my recommendations for shows that were in Victoria this year (or last), either at the Fringe Festival or Intrepid Theatre's UNO Fest. However, my taste in theatre may not be yours. Caveat emptor!
I've listed the shows alphabetically. You can find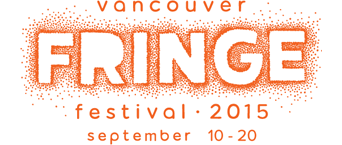 The Birdmann in Momentous Timing
Trent Baumann, aka The Birdmann, first appeared at the Victoria Fringe in 2011 where his quirky, odd-ball vaudeville act quickly accumulated fans, and awards. Since then he's returned to the Fringe in 2013, and UNO Fest in 2012. Victoria can't get enough of the Birdmann and the feeling is mutual.
Over the years The Birdmann's original street-busking has transitioned into a set filled with juggling of unusual objects, magic and cheesy one-liners. Audiences looking for the "fringiest" of performances will appreciate the absurd humour of his comedy and storytelling.
Full review here:
Pick of the Fringe, Favourite Cabaret/Variety Victoria Fringe 2015
Brain by Brendan McLeod
McLeod has an enviable and deserved reputation as a storyteller and slam poet with over a decade of work to his name. He's also an award-winning novelist (The Convictions of Leonard McKinley) and musician (The Fugitives) with an MA in Philosophy. To say he has a facility with words and complex concepts, and the ability to easily convey ideas, would be an understatement. This is his first appearance on the Fringe circuit, and if Brain is any indication, audiences can only hope for more.
Brain is brave and humble theatre–by normalizing his struggles, McLeod provides validation for so many others who are prisoners to their minds
Experience what many spoken word aficionados already know—the sheer brilliance of an accomplished artist.
Full review here:
Pick of the Fringe, Favourite Male Performer, Victoria Fringe 2015
Camel Camel by Janessa Johnsrude and Meghan Frank
This was a fabulous year for physical theatre at the Victoria Fringe. What a joy to watch artists create and inhabit their own peculiar universes.
I love being exposed to theatre I might otherwise be unable to see—the weird, kooky, quirky, odd and absurdist creations of inventive minds, unfettered by convention.
Camel Camel by the California-based duo of Janessa Johnsrude and Meghan Frank definitely fits the bill.
Full review here:
Do I Have to Do Everything My Fucking Self?
When an actor like Laura Anne Harris (Pitch Blonde, Red) says "Go see this show"—I pay attention.
Regina is the drag queen alter-ego of Toronto-based musician Gentleman Reg (Reg Vermue). Expect sass, spunk, some wonderful cabaret numbers and high kicks, and personal revelations about growing up queer in small town Ontario.
Dreamscape: Our Dreams Told Through Dance
The Fringe presents opportunities to experience performance styles I don't often attend.
Viva Dance Company has a vigourous, dynamic and energetic style that is also highly accessible. Dreamscape is comprised of a series of short vignettes.
Critics' Choice Award for Best Dance Show, Orlando Fringe Festival
The Exclusion Zone—Martin Dockery
Dockery arrived on the Fringe circuit in 2009 with Wanderlust, a masterful display of storytelling. Based on my memories of this show alone (from the 2010 Victoria Fringe), I have eagerly awaited the rare opportunities to see him in Victoria. Dockery has a blistering delivery and often explores deep philosophical questions in his stories.
The Exclusion Zone is a travel tale unlike any other—revealing the dark complexities of "ruin porn", an homage to the work of his favourite author—Geoff Dyer—and a philosophical reflection on the nature of art and the relationship between creator and audience.
Navigating every step of the way through the details, Dockery serves as careful, considerate and enthusiastic tour guide, eager to share his findings with the world.
Among storytellers, Dockery has a unique perspective on revealing kernels of truth, his tales a labyrinth for meandering.
Full review here:
Winner of multiple Pick of the Fringe, Patron's Picks and Best of Fests for his shows.
martindockery.com
Falstaff by Clayton Jevne of Theatre Inconnu
Theatre Inconnu is an institution in Victoria. It's the city's longest running alternative theatre company. Artistic director Clayton Jevne has performed across North America and internationally with his acclaimed solo shows—his one-man Hamlet ran for 20 years, Moscow Stations was presented at United Solo.
Falstaff is an adaptation of Robert Nye's acclaimed novel. The central character is bawdy and licentious with a sly rascally wit.
This comprehensive portrayal is a mesmerizing delight for lovers of story-telling, the solo show and Shakespeare.
My full review here:
For Body and Light present Bear Dreams
For Body and Light create visually arresting and musically rich performances where dance, spoken word, music and light meld into a beautiful whole.
Follow two young lovers on their journey into the heart of winter, and into themselves.
Bear Dreams is a profoundly contemplative rêverie where myth, memory and magic collide. Allow yourself to be carried away, beyond all known signposts and landmarks—unhitched yet somehow anchored to the eternal.
Featuring a different local poet or writer to lead off each show.
My review here:
forbodyandlight.org
God is a Scottish Drag Queen II by Mike Delamont
Everyone's favourite deity returns with a brand-new show. With rapier wit this kinder, gentler God "it was time for a make-over", skewers everything from Mormons, to Scientology, religion to Noah. Along the way there are jabs at Russell Crowe, hipsters and humans among others.
Everything Mike Delamont touches turns to comedic gold. My only recommendation—get your tickets now before the run is sold-out.
My full review here:
Pick of the Fringe, Favourite Comedy, Victoria Fringe 2015
Winner – Best Solo Show – Orlando Fringe Festival
Winner – Best of the Fest – Orlando Fringe Festival
Winner – Best of the Fest – Edmonton Fringe Festival
Nominated for a 2014 Just For Laughs Best Comedy Award
Great Canadian Tire Money Caper by Corin Raymond
It's been a few years since Corin Raymond toured the Fringe circuit with his hit show Bookworm. In between he's been busy with the double album that lies at the centre of "The Caper"—a tale of how he paid for the recording, mixing and editing of Paper Nickels with $7333.75 in Canadian Tire money.
Astonishment and joy abound. With his overt enthusiasm and evident joie-de-vivre, it's easy to see how this uniquely Canadian event came to be and why people wanted to contribute.
My full review here:
Corinraymond.com
The Inventor of All Things by Jem Rolls
Jem Rolls is a veritable legend, having performed in over 100 Fringes since his debut on the circuit.  Known for his commanding presence and authority with the English language, his spoken word shows require no introduction.  Expect a departure in 2015 with The Inventor of All Things as Rolls chronicles the extraordinary life of Leo Szilard, nuclear physicist and father of the atom  bomb.
Rolls has spent considerable time investigating Szilard's life and theories. His skill at distilling the span of a lifetime and complex scientific ideas into a clear, forward driven narrative is brilliant.
Full  review here:
Kiss Around Pass Around by Yanomi Shoshinz
Yanomi made her debut on the CAFF circuit with Little Miss Hiccup—a loveable, endearing and largely silent character. She returns with Kiss Around Pass Around, an adorable creature akin to a Japanese animé character brought to life. Of indeterminate origins—some say the word is Sanskrit, others ancient Japanese—one thing is certain, Kiss Around Pass Around has a zest for life and an unstoppable nature.
Kiss Around Pass Around is filled with visual and sound effects, and a high degree of artistry and skill.
My full review here:
Patron's Pick -Orlando Fringe 2015
Best International Show -Orlando Fringe 2015
Artists' Pick -Cincinnati Fringe 2015
Love is for Superbeasts by Mily Mumford.
Presented by Little Mountain Lion Productions and If You Can't Beat 'Em Productions
The original production was at the Victoria Fringe in 2012 and subsequent development followed with Little Mountain Lion Productions. Playwright Mily Mumford has a unique insight into the lives and minds of serial killers—she holds a BSc in Biopsychology from UVic. A smart, sassy, unexpected comedy about the real lives of a couple of serial-killer lovers.
http://www.littlemountainlionproductions.com/love-is-for-superbeasts/
The Middle of Everywhere by the Wonderheads
The Wonderheads are by now well-known to Fringe audiences. I saw this show at the 2014 Victoria Fringe.
The Middle of Everywhere is the Wonderheads most complex piece to date with over 160 sound and 60 lighting cues. From the moment narrator Louise Watson's voice introduces the particle that started it all you'll be hooked. Not a minute of this brim-filled show goes to waste. What amazement to be able to carefully choreograph every minute, yet provide it with a sense of abandon and limitlessness.
Full review here:
Favourite Visual Theatre/Puppetry, Victoria Fringe 2014
Multiple Best of Fest and Pick of the Fringe for their shows.
The Most Honest Man in the World by Andrew Wade
Andrew Wade is a graduate of the University of Victoria theatre department, and a prolific emerging and awarded playwright (2011 Vancouver Young Playwrights Competition), as well as regular performer on the Canadian Fringe circuit (William vs the World, The Hatter, and now, The Most Honest Man in the World).
Wade has long prided himself on his honesty and now sets out to prove his hypothesis with oh-so-human results. The Most Honest Man in the World provides a glimpse into the life of a young man obsessed with the word love, and its meaning.
The Most Honest Man in the World reveals great depth of emotion as it delves into the loves and losses of an awkward, often out-of-place young man.
My full review here:
andrewwade.ca
The New Conformity by Cause and Effect Circus

The 2014 Victoria Fringe was full of juggling, magic and circus arts. The New Conformity was a definite stand-out and Pick of the Fringe winner.
Dubbed "contemporary circus" The New Conformity is sure to appeal to a wide-audience. If you like juggling, acrobatics or martial arts, you'll be easily drawn into this world.  The fight-scene "violence" is low-key and nothing that younger children would not have seen on TV or in cartoons.
As one audience member said in the chattering crowd gathered on the sidewalk after the show "who could have imagined juggling as social commentary?" Indeed!
Full review here:
Favourite Show, Pick of the Fringe Victoria Fringe 2014
Porn & Pinochet by Andy Canete
I saw an earlier version of this show at Intrepid Theatre's UNO Fest in May 2015. Since it's now advertised as un-censored and un-cut, I expect a few more details in the story-telling.
Canete was born in Chile, came to Canada as a young boy, returned to Chile as a teen and is now, once again, in Canada.
Porn & Pinochet chronicles all the vicissitudes of growing up and never quite fitting in, all the while exploring family dynamics and an uneasy relationship with his father, back-dropped by societal upheaval. Stand-up comedy and sharply observational story combine in this coming-of-age tale.
The Sama Kutra by Sizzle and Spark
An unfortunate mis-reading of the schedule meant missing this much-anticipated show at the Victoria Fringe Festival, to my great chagrin.
Veteran fringe-goers and fellow fans had stoked my curiosity all week with their praise for the antics of Sizzle and Spark, calling the show "great silly fun" and likening it to the work of the legendary clown duo Mump and Smoot.
Sperm Wars by Jeff Leard
It's an epic inter-galactic battle with a cast of millions and Jeff Leard, skills honed on the "mean" stages of the nation's elementary schools performing as a member of Victoria-based Story Theatre Company, is up to the challenge.
Expect high energy, suggestive and raunchy hijinks in this ode to conception in the theme of Star Wars. Leard has an enormous facility for caricature (and oh, what he can't do with an arched eyebrow!).
Full review here:
Spilling Family Secrets, written and performed by Susan Freedman
Susan Freedman presented this show at the Victoria Fringe in 2014.
She is an accomplished story teller who presents a polished slice-of-life as she examines her parents' love letters and marriage and measures them against her own romantic adventures. How did they manage to remain married for over 60 years when she was divorced and re-married twice by her 30s? What clues can the love letters—written over a period from the late 1920s to the late 1930s—yield?
Spilling Family Secrets is history writ small with incredible flair, a deft touch and a sense of the universality of human experience. Nostalgia is hard to handle well; Freedman's view is clear and captivating.
Full review here:
susanfreedman.ca/
The Traveller by Daniel Morton
A dark cautionary tale with disturbing undertones about life on the road, inspired by playwright Morton's backpacking travels in Central America.
In a society pre-occupied by novelty and the next new thing, The Traveller provokes meditation on the reasons behind the need for acquisition.
Thoughtful, moody and self-aware, The Traveller is an invitation to tarry awhile; to listen and to share.
My full review here:
Uncouth by Windy Wynazz
Clown meets bouffon meets puppets, burlesque and physical comedy in a hot glorious tangle.
Fringe festivals world-wide invite fans to shed the conventions of the fourth wall and "polite" theatre. There can never be enough silliness at the Fringe. Uncouth appeals to every prim and proper personage waiting for their chance to secretly "bust out" but relegated to cheering Windy on her road to success. One thing is certain—she'll do it her way.
Pizazz and physicality combine in a unique take on the rags to riches fable in this high-energy, high-laughs show.
Read my full review here:
Best San Francisco Comedienne 2014
windywynazz.com/uncouth/
The Vaudevillian by James Jordan
I saw the Vaudevillian at the 2014 Victoria Fringe. In a year filled with magic shows—five if I remember correctly—The Vaudevillian was a highly entertaining and polished performance that combined vaudeville, variety, magic, music and comedy. It's suitable for all ages.
Shows I haven't yet seen by performers I really enjoy.
The performers below need no introduction to Fringe audiences. They are multi-award winning comedians, storytellers, magicians, improvisers and physical theatre practitioners guaranteed to provide an outstanding performance.
Chris & Travis by Chris Ross & Travis Bernhardt
Fire in the Meth Lab by Jon Bennett
James & Jamesy in the Dark
Peter n' Chris present: Here Lies Chris
TJ's Kitchen by TJ Dawe (a different show every night)