Ferdinand the Magnificent. Victoria Fringe 2017. An interview with Nick Trotter.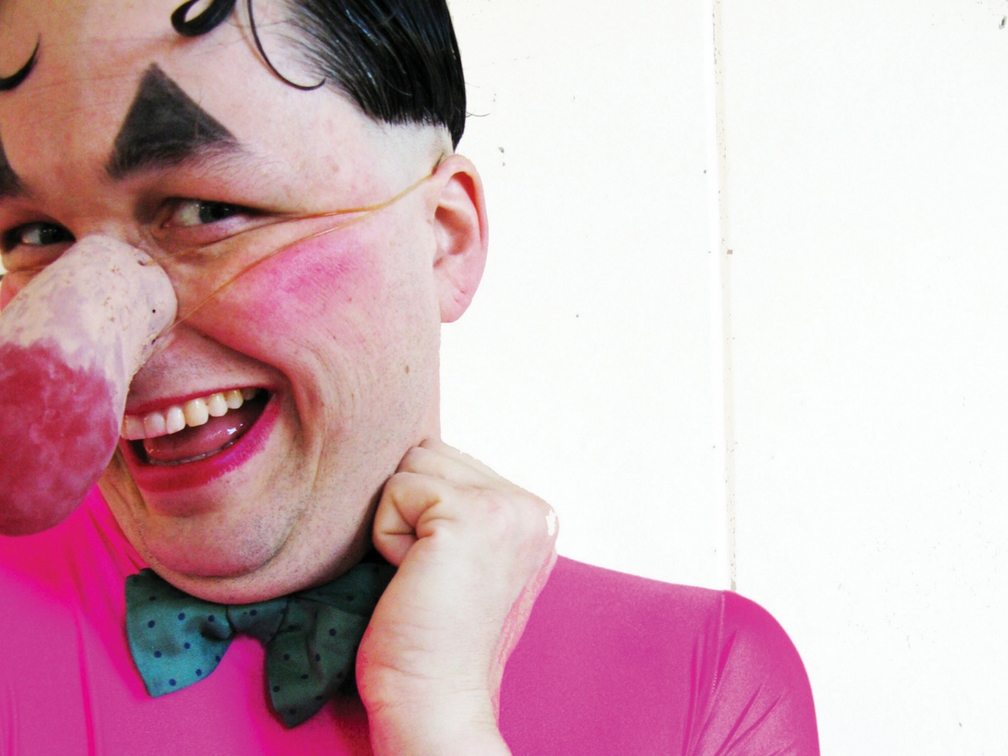 A kid-friendly show that will appeal to people who appreciate absurdity and weirdness. Nick Trotter brings Ferdinand the Magnificent to Victoria.
How long have you been producing work on the Fringe circuit?  As an artist/company?
Ferdinand played at the Boulder Fringe last year; Victoria is his first foray into Canada.
Is this your first visit to Victoria?
Yes! Really looking forward to it.
Have you been (or will you be) taking the show to other Fringes?
Not this year, but I intend to in 2018.
Is your show a new work, or has it been performed elsewhere?
It has been in development since 2009.
Significant awards or accolades? (not just on the Fringe circuit) 
None yet…
Can you speak to the creation process of this work? 
The character is a ridiculous, absurd, red-nose clown. Clown work is all discovered through improv and play, and I've learned the most about the character in the theater with a live audience.
Who will your show appeal to?
Anyone who enjoys absurdity and weirdness!
What would you say to entice a potential audience member to come?
The show is a surreal trip through silence and sound, with ridiculous live music and the possibility of Love.
What do you hope to inspire in your audience?
I hope, first of all, to trip their imaginations! Then to awaken the joy of music in their souls!
Is there anything I've missed asking you, or that you would like to comment on?
The show is kid-friendly!
Ferdinand the Magnificent by Nick Trotter
Venue 5: Langham Court Theatre
Tickets $11/$9 via Ticket Rocket online, in person or by phone, or at the door
Duration: 55 minutes
Genre: theatrical clown
Rating: all ages
Aug24 Thursday 07:15 pm
Aug26 Saturday 07:00 pm
Aug27 Sunday 02:30 pm
Aug29 Tuesday 09:15 pm
Sep02 Saturday 01:00 pm
Sep03 Sunday 02:30 pm
A pink Spandex body suit. A green bowtie. A diaper… with a bell. A rather…absurd nose. A trip through the universe.These are all that Ferdinand has, or knows, or is… until he meets friends along the way.

Ferdinand sings his world into existence, and puppetry, eccentric dancing and slapstick and are all part of the journey. Join this wild, witty, irreverent Clown on his mystical, musical trip through space and time, and play along as he encounters the Bizarre, the Fantastical, the Absurd… and perhaps even the Magnificent!

"A descendant of none other than Harpo Marx." —Slant Magazine

"Ferdinand the Magnificent is a riot! He's funny, goofy, witty and unforgettably unique… delivers an experience of hysterical theatrics fit for the whole family."—ALOC Media

"I have finally seen the Rabelaisian Clown!"—NY Clown Festival Blog

Created in 2006 by Nick Trotter, Ferdinand the Magnificent has performed at the New York Clown Theatre Festival in 2010; at the Calgary International Festival of Animated Objects in 2011, and toured Chiapas and Tabasco, Mexico in 2008 with Clowns Without Borders. He performed with Third Base! in Arcata, California in 2009, 2010, 2012 and 2014.

Visit Ferdinandthemagnificent.com for more information.

Nick Trotter is a graduate of the MFA program at Dell'Arte International in California. He specializes in Clown, Bouffon, Commedia dell'Arte, and puppetry, and is a mask and nose maker. His project Circo de Nada regularly perform improv at the Voodoo Comedy Playhouse in Denver, where he is the Education Director. He also teaches Mask, Commedia and Clown classes in Denver. In2015 he performed as King Henry and Falstaff, and created shadow puppets, in the world premiere of Henry Four, an adaptation of Shakespeare's King Henry the Fourth parts I & II, a production he created with Amy Driesler. With the theatre/music group Bonejesters, which he co-founded with David Leicht, he performed the original show Bonejesters in 2000 at LaMama ETC in New York, and later that year in Gogol's The Nose at HERE Arts Center. Their other original repertoire includes Round and Obscurity Knocks. As a musician, he has performed as a solo singer/songwriter and as a guitar accompanist for mandolinist Charlie Provenza; as guitarist with the Celtic trio The Crooked Road; and with the Brazilian percussion ensemble Maracatu New York.