Kitt and Jane host an interactive survival guide to the post-apocalyptic future.
Ingrid Hansen and Rod Peter Jr are prolific Victoria-based performers and creation artists who defy categorization. At any given moment they may be writing a play, performing in a cabaret, designing costumes, composing a song, making shadow puppets or choreographing dance.
In late 2010 Hansen's company SNAFU Dance Theatre was selected for a Belfry Theatre Incubator project with a premiere at the 2012 SPARK Festival.
 SNAFU creates original live performances both collectively and through director-driven creation.  Their work is inspired by Viewpoints (a creation practice that provides a vocabulary for thinking about and acting upon movement and gesture), Butoh (an avant garde performance art that has its origins inJapan in the 1960?s), found-object puppetry, storytelling, clown, ritual, fables, politics, children, history, and lore.
Hansen and collaborator Kathleen Greenfield produced the award-winning tale Little Orange Man (based on an earlier work Gnomeward Bound) in 2011.  Kitt and Jane is the sequel.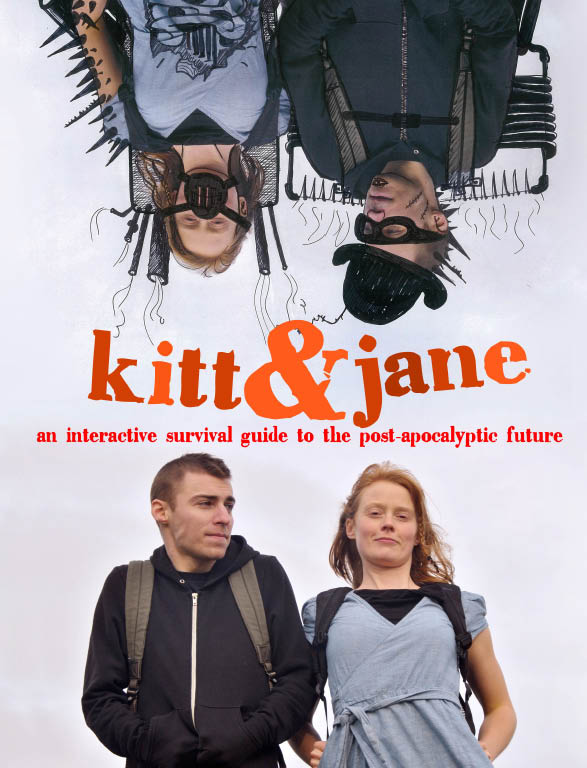 Kitt and Jane (her frenemy Lucas Jameson) have been invited to host the ceremony to celebrate a beloved school principal at the naming of a wing in his honour, but the proceedings quickly go awry when they hijack the audience.
What follows is a delightfully zany, off-the-wall riff on surviving high school as social misfits, the loss of bees due to pollution, dying, bullying, friendship, family, and post-apocalyptic survival.  In quick succession the duo use shadow and found-object puppetry, movement, projections, video, music and storytelling as they zip from adventure to adventure – guided by their impending doom (one hour from the start).
It's a race to the finish careening and zooming from one thought to the other. Pay close attention. All synapses are firing.  Bring your fourteen-year-old self to the forefront, and relax. Leave your preconceptions aside, and enjoy the ride.  From the playful interaction on stage it's obvious the performers are.
There will be cake!
Kitt and Jane
SPARK Festival, Belfry Theatre
March 14-18  (performances Friday 8pm & 10:30pm, Saturday 4pm & 8pm, Sunday 2pm)
Tickets online or by phone 250-385-6815
Disclaimer:  I was offered complimentary tickets to attend Kitt and Jane. I was not paid to write a review nor was I required to do so. As always, I retain editorial control over all the content published on this blog.