The Good Soldier Schweik at Theatre Inconnu September 27-October 14 2017.  A review.
Theatre Inconnu brings the Czech anti-war novel The Good Soldier Schweik to the stage in an adaptation by Michael John Nimchuk that owes much to the epic theatre theories of Bertolt Brecht.
Poor Schweik (Justin Muirhead) is a hapless dolt caught up in the hubris surrounding Archduke Ferdinand's assassination. One moment he's jazzing with his buddies at the local tavern and the next he comes under suspicion by the secret police for his all too realistic musings about the inevitability of war.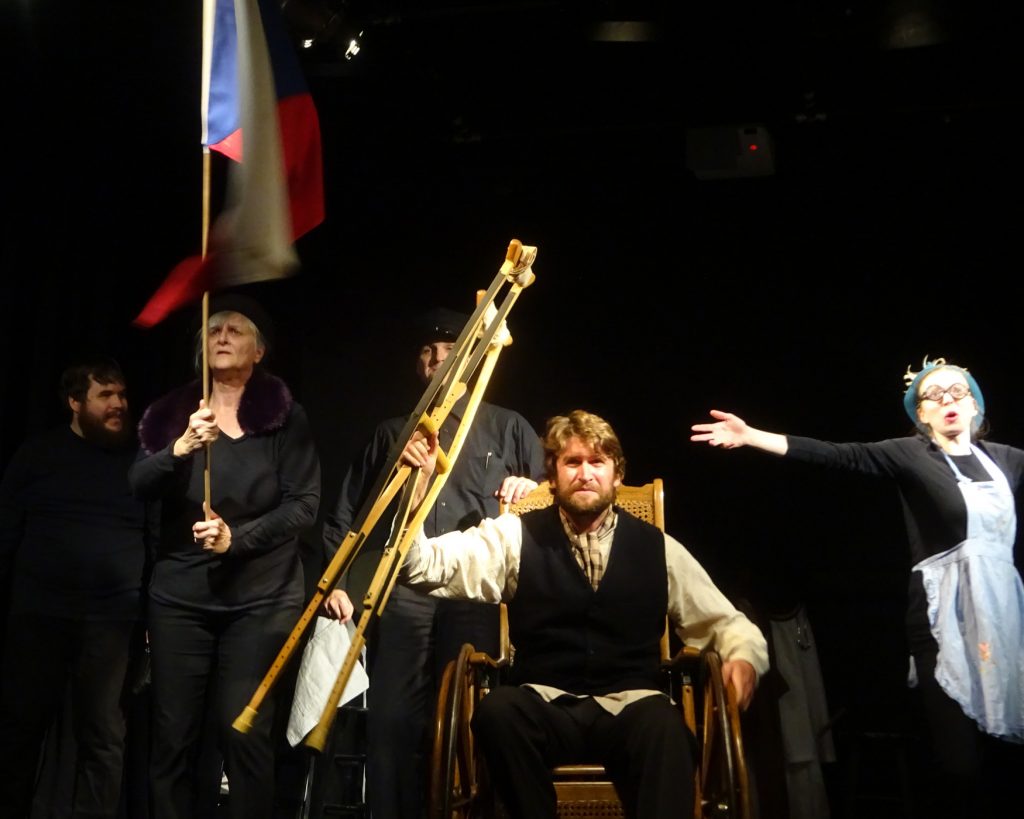 (L to R) Anton Brakhage, Pati-Ann Lawe, Ken Yvorchuk, Justin Muirhead (as Schweik), Kara Flanagan. Photo: Clayton Jevne

One misfortune follows another on his way to the front—or does it?  Throughout the play, there are reminders of the famous Chinese proverb Sai Weng Lost His Horse—an action's result might appear fortuitous when it is calamitous, and vice-versa. Schweik bumbles along, his oft-repeated mantra "one must make the best of things", exposing the cupidity and corruption of the ruling Hapsburg classes and the church, and their staggering bureaucracy.
Characters are brushed with broad strokes; physical postures and gestures almost slapstick in their range, reactions often overblown.  The ensemble takes on many roles—aided by a series of hats, scarves, coats and props (Pearl Arden—costumes; Maureen Colgan—props) to differentiate them to the audience. Julie Gray mugs it up as police inspector Bretschneider and is wearied to frustration with Schweik's antics as Commander Lukáš.  Ken Yvorchuk tries to keep the peace as the bar owner Palivec (to no avail—he still comes under suspicion) and is outstanding as the padre preaching peace while inciting violence—"squash the foe"—his southern accent speaking volumes. Kara Flanagan simpers and preens as Lukas' love interest, Katya, and performs in Keystone Kop style, with obvious and exaggerated delight, as various military personnel.  Anton Brakhage makes a fine drunk as military chaplain Katz and is particularly officious as Mr Wendler, Katya's husband. Pati-Ann Lawe is wonderfully obtuse as various administrators and officials, in complete opposition to her role as the flirtatious Mrs Palivec, barmaid. In his first role for the stage, Muirhead embodies the bewilderment and insouciance of the title character—shrugging his way through situation after situation with a devil may care attitude.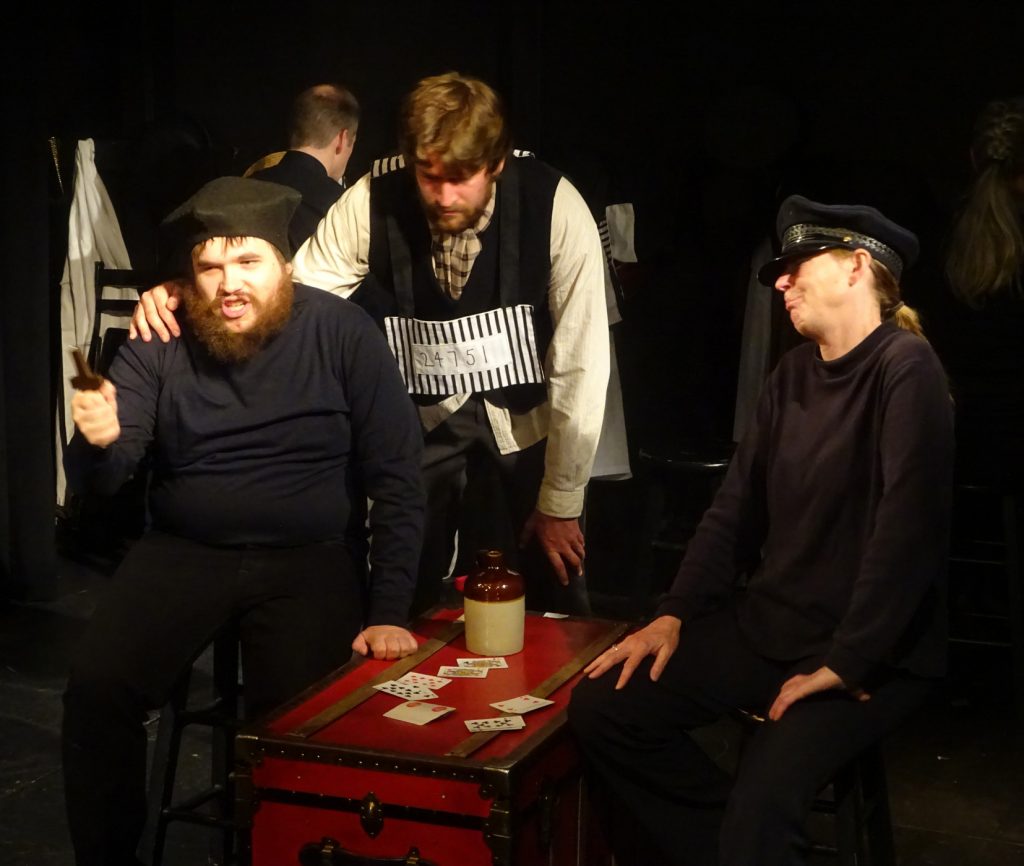 (L to R) Anton Brakhage, Ken Yvorchuk (back turned), Justin Muirhead (as Schweik), Julie Gray. Photo: Clayton Jevne
Director Don Keith does triple duty, directing as well as designing, not only the projections (scenes are played as episodes with title cards—another nod to Brecht), but also the very effective sound design, full of military marches, bold Slavic dances and music recalling silent movies of yore. The Good Soldier Schweik begins with a number comprised entirely of body percussives (choreographed by Sylvia Hosie). The overarching effect is reminiscent of Commedia dell 'Arte and Punch and Judy shows.
Throughout, Hasek's politics are clear—he prods and incites, portraying everyone other than Schweik in the worst possible light.  Fans of Catch 22 and MASH, as well as devotees of The Government Inspector, will appreciate the many satirical moments.
The world sits on the brink with bumptious world leaders hurling insults at one another non-stop.  One hundred years after this work was introduced, is history about to repeat itself?
As subversive and thought-provoking as the day it was written, passing into the common vernacular in Czech where "to schweik" has become a verb, The Good Soldier Schweik is a horrific cautionary tale when seen from this vantage point.
Is Joseph Schweik an idiot or a genius? In Nimchuk's adaptation of Jaroslav Hašek's 1923 great anti-war comic satire we are never sure if Schweik's survival is the result of the former or the latter. His escapades with the army and the church represent a scathing indictment of both institutions. Hašek's commentary rings as true today as it did almost a century ago. "Clarity, charm and great style. Daring." Globe and Mail
The Good Soldier Schweik by Michael John Nimchuk
adapted from the novel by Jaroslav Hasek
Theatre Inconnu, 1923 Fernwood Road (Paul Phillips Hall
September 26-October 14, 2017
Tickets: $10/$14. Tuesday October 3rd is Pay-What-You-Can admission
Directed by Don Keith
Staged Managed by Kathy Macovichuk
Choreography by Sylvia Hosie
Costumes by Pearl Arden
Props by Maureen Colgan
Sound and projection design by Don Keith
 
Cast (alphabetically):  Anton Brakhage, Kara Flanagan, Julie Gray, Pati-Ann Lawe, Justin Muirhead, Ken Yvorchuk.
Further Reading:
https://en.wikipedia.org/wiki/The_Good_Soldier_%C5%A0vejk
https://my.vanderbilt.edu/goodperson/brechtian-acting/
https://www.teachit.co.uk/armoore/drama/brecht.htm
https://en.wikipedia.org/wiki/Epic_theatre
http://www.telegraph.co.uk/books/authors/the-good-soldier-vejk-jaroslav-haeks-comic-masterpiece/
Disclaimer: I was offered a complimentary ticket to The Good Soldier Schweik.