Mating Dance of the Werewolf at Theatre Inconnu September 28-October 15, 2016. A review.
It takes skill to reveal a play's ending and introduce all of the characters in the first few lines of dialogue.  In Mating Dance of the Werewolf (currently playing at Theatre Inconnu) playwright Mark Stein hooks his audience and then proceeds to reveal, in flashback tidbits, the backstory.  It's a giant theatrical mystery, charged with danger from the get-go.
Co-directors Wendy Merk and Lorene Cammiade have chosen to emphasize the film noir aspects of this hard-bitten cop drama; the mood is dark, murky, menacing—greatly highlighted by a simple cut-away set (Clayton Jevne) with Rob Randall's original slide images to suggest the various environments in which the action takes place.
Costume Co-ordinator Jai Donaldson riffs on tones of grey and black for attire, and creates a fantastical –and sexy–dress for Abby's (Leilani Fraser-Buchanan) appearance at the annual Policemen's Ball.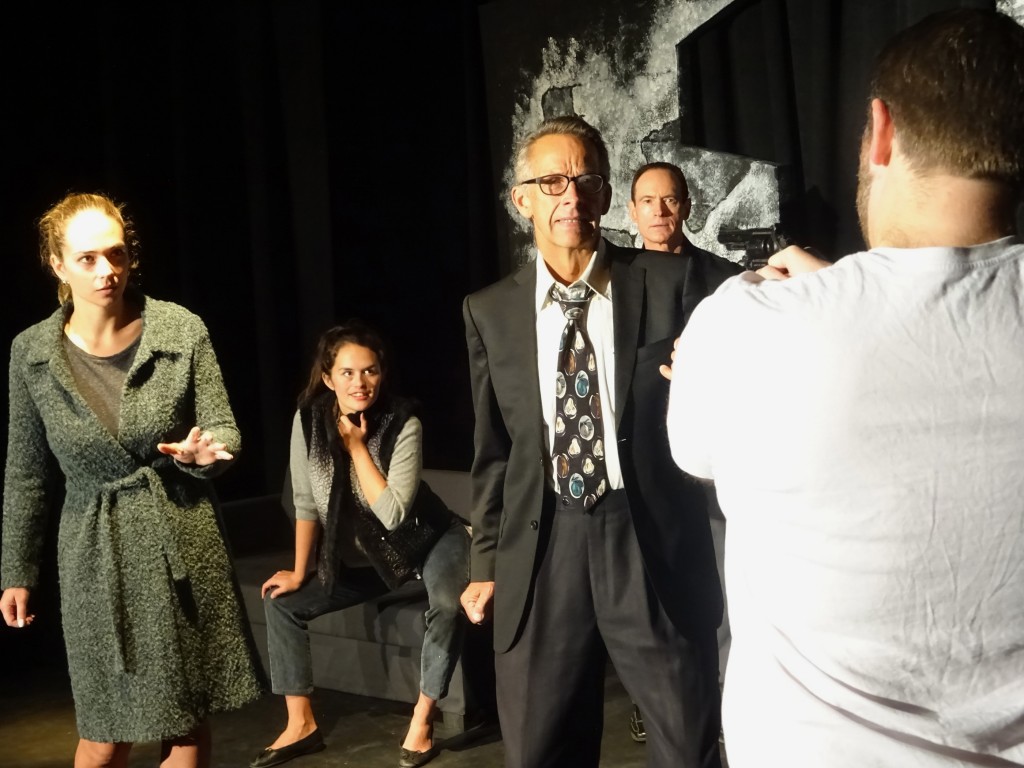 Renee Yakemchuk, Leilani Fraser-Buchanan, Wayne Yercha, Andrew Pirie and Justin Guthrie. Photo: Theatre Inconnu
Detective Raul (Andrew Pirie in gruff, no-nonsense fashion) simply wants to get to the bottom of the story—of all the players in this intricate piece, his is the most straightforward motivation. Ken (Wayne Yercha), his underling, is conflicted—his cop instincts set aside in obeisance to his desire for Abby. Yercha has a talent for interpreting the "bad boy" (Escape from Happiness, Better Living, August Osage County -Langham Court Theatre)—cocky and full of male bravado.  Here, this machismo is more nuanced as the traditional hunter becomes prey–completely smitten by the outrageously feral ways of his werewolf stalker.  His hapless partner Allen (Justin Guthrie as the quintessential good guy cop) can't get his mind off the fact that Ken was once involved with his wife Pam (Renee Yakemchuk is polished and sophisticated) while for her part Pam is jealous of Abby for her inhibition.
By up-ending the werewolf convention, Stein introduces a feminist interpretation to the script—it's one Merk and Cammiade exploit fully.  Fraser-Buchanan throws herself completely into the role of Abby (who refuses to be domesticated)–at once fragile and ferocious, completely unafraid to sniff unabashedly as she gets to know Ken, or howl at the moon after a particularly sensual and steamy tango to Ravel's Bolero (choreography Sylvia Hosie).  Her deadpan non-sequiturs contributed many genuinely funny moments.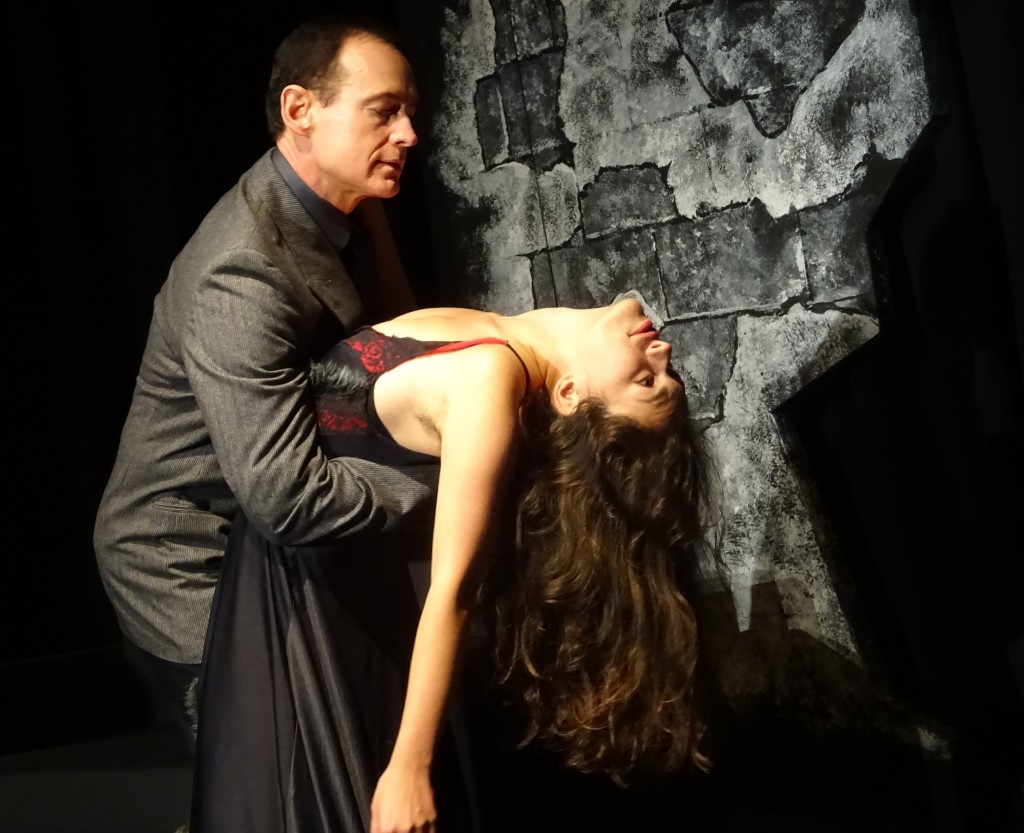 Wayne Yercha and Leilani Fraser-Buchanan. Photo: Theatre Inconnu
Perry Burton's marvellously campy sound design sustained the mood with snippets of songs like Little Red Riding Hood, Hungry Like the Wolf and Black Magic.
Mating Dance of the Werewolf walks a fine line—crisply delivered wisecracks and put-downs abound but in the end, there are also many serious questions begging answers—how far are we willing to go for love?, what happens when a woman refuses to play by the rules of nice society?, can anyone risk being who they truly are?
As the season of Hallowe'en approaches and the weird becomes once again fashionable, the cast of Mating Dance of the Werewolf fully embrace a world where darkest desires and urges run amok. In early preparation, take a walk on the wild side with them and experience the exhilarating thrill of the hunt.
Mating Dance of the Werewolf by Mark Stein
Theatre Inconnu, Paul Phillips Hall 1923 Fernwood Road
September 28-October 16, 2016
Tickets: Ticket Rocket online or by phone 250 490 6291 (Mon-Fri) or directly through Theatre Inconnu: Phone 250 360 0234 or by Email.
$14, $10 seniors/students/unwaged.
Preview September 27 $7. Tuesday October 4 is Pay What You Wish
Directed by Wendy Merk and Lorene Cammiade
Starring:  Leilani Fraser-Buchanan, Justin Guthrie, Andrew Pirie, Renee Yakemchuk and Wayne Yercha
Stage Managed by Michael Gosselin
Costumes by Jai Donaldson
Light and sound by Perry Burton
Slide projections by Robert Randall
Set and props by Clayton Jevne