If attendance at Gourmet Gala October 1st  is any indication, the Duncan Cowichan Chamber of Commerce deserves to be extremely proud.
It was a big leap of faith to go from previous galas, held in much smaller venues, to this year's event, held in the brand-new Mellor Hall at the Cowichan Exhibition grounds.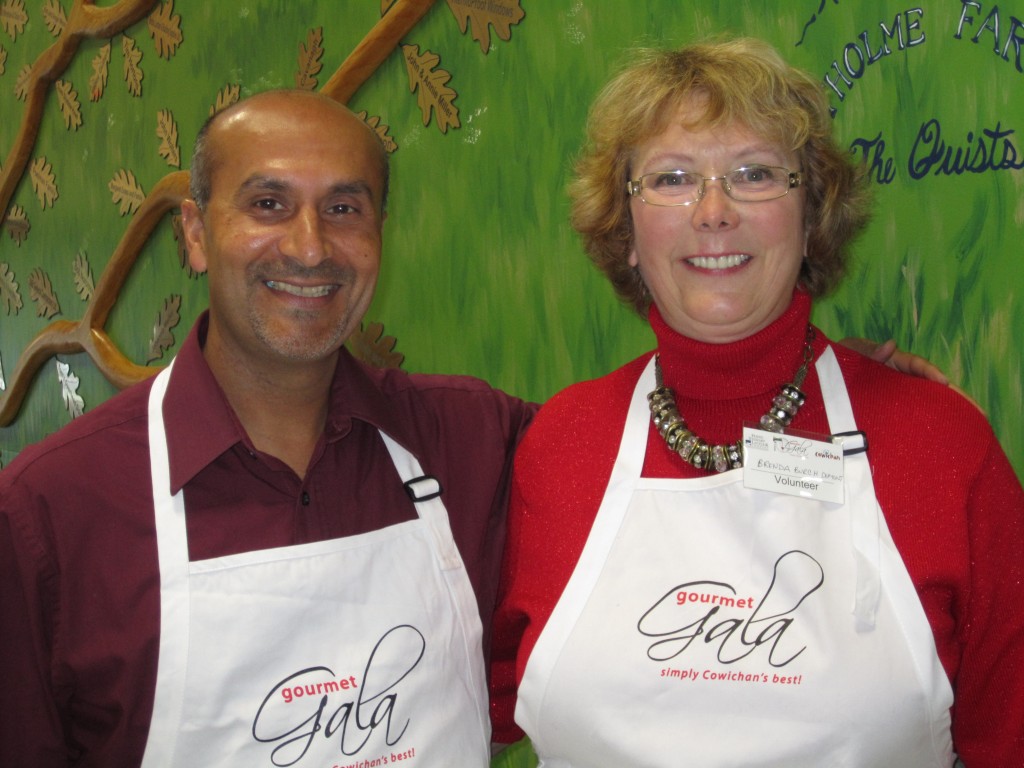 When the organizers learned that I would be celebrating a birthday, they graciously extended an invitation to me and Frans Jonker.
What a panoply of wine, spirits, food, art and silent auction! Doors opened at 6:30pm and for the next 2 1/2 hours we sipped and tasted our way around the room.
The 14-person organizing committee worked for months to create an event that would highlight the many businesses producing food, spirits and crafts in the Cowichan Valley.
They were very ably assisted at the gala by students from Cowichan Secondary School.
Chefs demonstrated their talents. Local performers entertained the crowd.
It was a delightful challenge to visit all the displays before the evening's end.
After an evening at the Oceanfront Suites Cowichan Bay, we continued our explorations in the region, purchasing victuals along the way before a return to Victoria.
Even though I've lived on the island for most of my life, and spent some time visiting the Cowichan Valley, Gourmet Gala introduced me to many businesses  I did not know.  The organizers have definitely achieved their goal of successfully highlighting their region to a wider audience.
We've decided to practice 100 Mile Tourism and will be returning to the Cowichan Valley on many occasions over the next year, at times by car, at times by bike.
Bravo Gourmet Gala!
For a full list of participants please see the Gourmet Gala website.
Disclaimer:  We attended Gourmet Gala as guests and were hosted at the Oceanfront Suites at Cowichan Bay. I was not paid to write a review nor was I required to do so. As always, I retain editorial control over all the content published on this blog.