I'm Doing This For You by Haley McGee. Intrepid Theatre Uno Fest 2017. Review.
Underneath the winsome veneer and placating manner, Haley McGee's character in the darkly disturbing (and oh-so-funny) I'm Doing This For You is brilliantly fragile, seesawing between conspiratorially recruiting the audience into her party plans, and despair as events swiftly go off the rails.
From the outset, she's the perfect hostess, seeking help with blowing up balloons and offering vodka shots to get everyone in the mood. Reality and fiction blur, and at the same time, at least initially, there is great comfort in being complicit—in on the secret.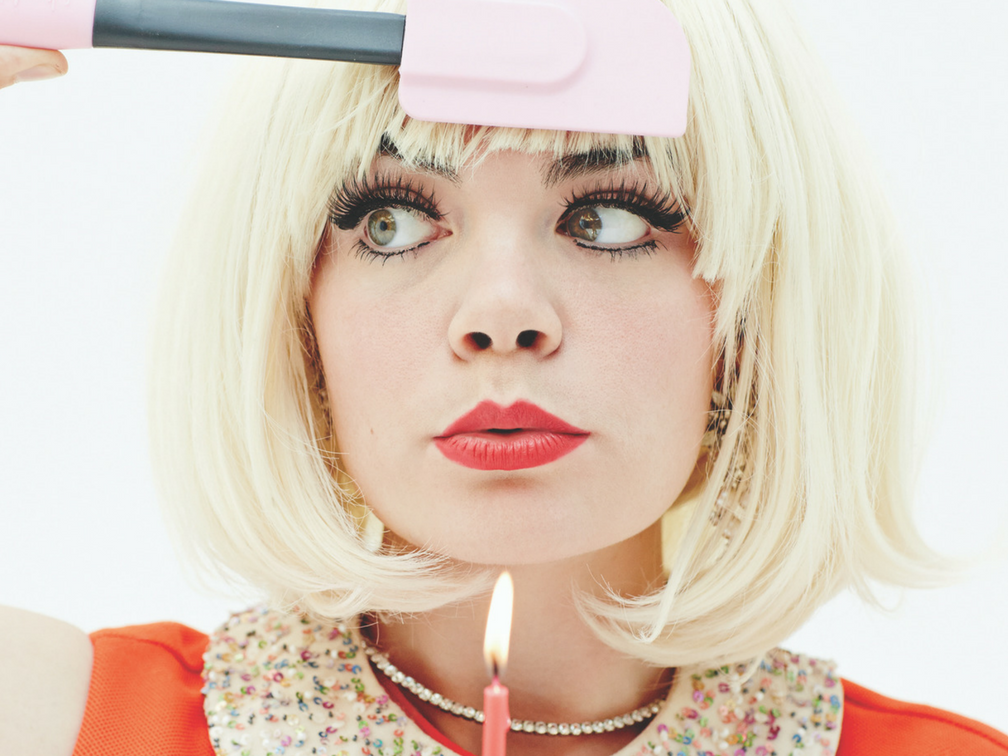 McGee has an engaging presence and swiftly wins those assembled into her grandiose plan with breathless revelations.  Everyone willingly practices an opening note.  Titters erupt as we wait, and wait, in the dark.  When the promised boyfriend fails to show, a bizarre backstory is slowly revealed.  The pleasing exterior (blond wig, stiletto heels and beautiful 50s era cocktail shift) hides a deeply deranged young woman trying desperately to salvage a relationship (as the evening wears on, the depth of despair is vividly and at times racily rendered). McGee has perfected performance as tight rope.
Exhorting and pleading with her absent lover, she finally convinces him to make an appearance—what ensues is awkward.  If you've ever been privy to an argument in public, you'll understand the sense of unease as she pleads with him (local performer Michael Bell radiates displeasure in a largely silent role).
McGee mines themes of devotion, obsession, misogyny, abasement, body image and misplaced love in a one-of-a-kind show that exhibits great prowess, not only in crafting a completely believable world, but also, in breaking the fourth wall to bring a room full of people along for the journey.  I'm Doing This For You is thus, not only a gift to a fickle lover, but a gift to the people fortunate enough to be in the audience.
As McGee handed out the vodka, in communion cups since "they were the cheapest thing I could find", I couldn't help reflecting back, once again, on Daniel McIvor's UNO Fest opening keynote remarks about the very essence of theatre. Gathered together in that small darkened room we were happy congregants in McGee's weird ritual. Vodka, cupcakes and a party—what could possibly go wrong?
'You get comedy and cake. I get to correct a mistake.'

A surprise birthday. A big romantic gesture. A gift for an aspiring stand-up comic. How could anything go wrong? Blending storytelling, live-art and improvisation, Haley McGee (OH MY IRMA) delivers a spellbinding performance in I'm Doing This for You. Filled with startling turns from the hilarious to the humiliating, this award-winning show delves deep into just how far a person will go to not be alone.
I'm Doing This For You by Haley McGee (Toronto)
Intrepid Theatre Club, #2-1609 Blanshard (at Fisgard)
May 24 8:30 pm, May 25 9:00 pm, May 26 9:00 pm, May 276:30 pm
Tickets $18 via Ticket Rocket, online, by phone at 1-855-842-7575, or in person at 101-804 Broughton Street.
May 24th is Pay What You Can
65 minutes
Tragicomedy, adult themes
Directed by Mitchell Cushman, Set and Lighting Design by Shannon Lea Doyle, Dramaturgy Deborah Pearson.
Disclaimer: I received a complimentary ticket to attend I'm Doing This For You.