Lethal Christmas by Paper Street Theatre December 16-19, 2015. An interview.
It's not traditional holiday fare, but for many movie buffs, the holiday season wouldn't be complete without a Christmas action flick. For the second show of their fifth season, local troupe Paper Street Theatre Co present Lethal Christmas, an improvised Christmas action movie.
Dave Morris, founder of Paper Street Theatre Co, and company member Monica Ogden sat down for a chat about inspiration and process.
The full cast and crew—11 improvisers, including recent arrival Brooke Cameron, originally from Ottawa, and two on tech—Emma Dickerson (lighting) and Dan Godlovitch (sound) have been researching and rehearsing for months now (since the last show, Improv's for Closers in October) to perfect this holiday offering.
Morris and Ogden point out the gender parity in the company and mention the fact that gender does not affect action or outcome in action films. As well, there are a number of female role models to choose from, "Gina Davis in The Long Kiss Goodnight is a great bad ass woman character who breaks the neck of a deer so that was definitely an inspiration as to where we could take the action in Lethal Christmas".
"In Alien, for instance", Morris points out "the script doesn't specify a gender for the character of Ripley. Action movies can easily have male or female characters".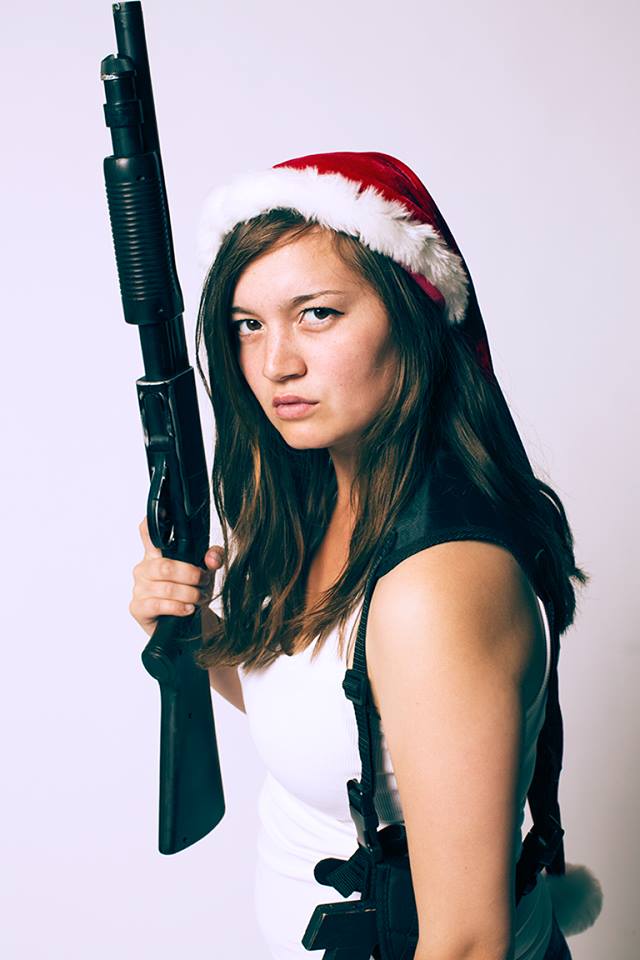 Monica Ogden in Lethal Christmas. Photo: Derek Ford
The company has been watching classics like Lethal Weapon, The Long Kiss Goodnight, Die Hard 1 and 2, Batman Returns. Iron Man 3, Enemy of the State, and Reindeer Skate. While not typically about Christmas, the action does take place during the holiday season, making for a film that crosses-over from action to Christmas movie.
"The villains are more villainous, and the heroes, more heroic—the juxtaposition yields a lot of fun in the action" says Morris. "The bad guys are worse because they are ruining Christmas. It's a classic struggle between good and evil".
Ogden mentions the fact that there is a lot of love in Christmas action films, and points out "this is not a parody. We're playing it straight, and while there are one-liners that are comedic, it's more by happenstance than intention".
To create action onstage the actors have been working on their stage-fighting skills, with choreography by Morris and Ogden that includes punches, slaps, chokes, grappling, gunshots. Lighting techniques by Emma Dickerson help to slow the motion down and create flickering effects and illusions. There will be chase sequences, explosions and—perhaps—jumps from helicopters!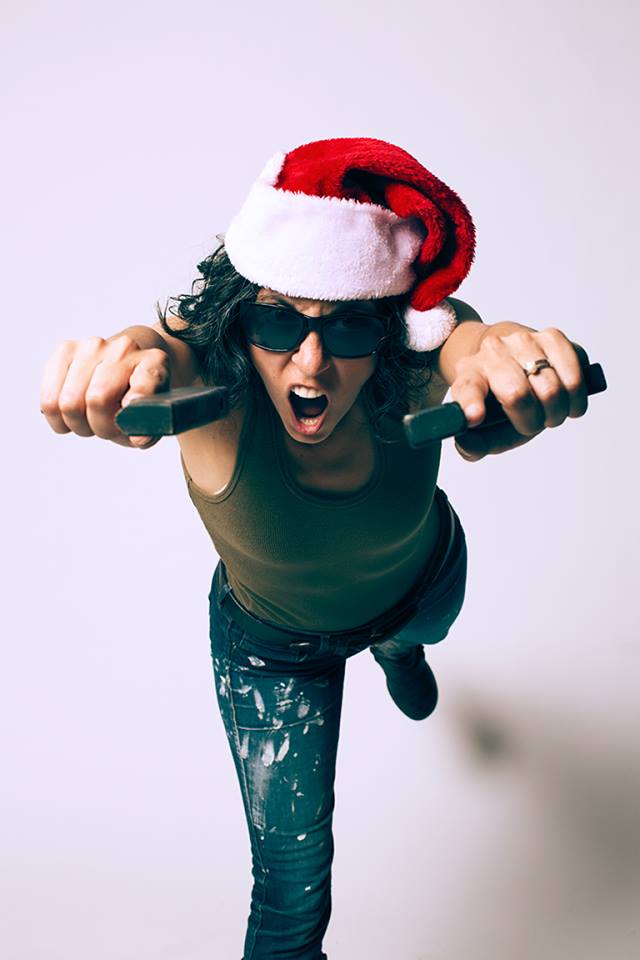 Missie Peters in Lethal Christmas. Photo: Derek Ford
Unlike many of Paper Street's show, where costuming has been elaborate, with original creations by Missie Peters, for Lethal Christmas the most important decisions were whether to be in suits, or undershirts and jeans. Comfort is key and clothing needed to be loose to allow for movement. "Characters start out in most action films "nice" and end up beat up and dirty" Morris states.
According to Morris, small, intimate spaces like the Intrepid Theatre Studio, are where improv thrives, and performing 6 shows allows the actors to "get better over time".
"This is the show I've been excited about for a very long time", says Ogden "I can let my inner bad ass out".
Yippee-ki-yay Father Christmas! Action movies and holiday season make for some explosive fun in Paper Street's second show of the season. Inspired by 1980s films like Die Hard and Lethal Weapon, there's something about the holiday season that brings out the worst in bad guys, but thankfully there's always a hard-working hero around when you need one. Strap in and hold onto your seat for this unrelenting action-packed holiday show!
Lethal Christmas by Paper Street Theatre
December 16-19 at Intrepid Theatre Studio (#2-1609 Blanshard at Fisgard)
Tickets $15 through Eventbrite (advance purchase recommended)
Family matinée Saturday December 19th at 2pm. $20 per family on sale one hour before the show.
SHOWTIMES
Wednesday, Dec 16 – 8pm
Thursday, Dec 17, 8pm
Friday, Dec 18, 8pm
Friday, Dec 18, 10pm LATE SHOW
Saturday, Dec 19, 2pm FAMILY MATINEE ($20/family)
Saturday, Dec 19, 8pm
Cast
Andrew Brimmell
Brooke Cameron
Chris Gabel
Byron Kjeldsen
Dave Morris
Monica Ogden
Nicole Olszewski
Christina Patterson
Missie Peters
Shahin Sanjari
Scott Thompson
Production
Emma Dickerson (lights)
Dan Godlovitch (sound)