Fringe festivals world-wide provide the opportunity to experience work in many different genres.  This definitely holds true for the Victoria Fringe, where this year patrons are rewarded with several dance shows.  La Palabra en el Tiempo marries fiery flamenco, exquisite guitar and profound poetry.  Principal dancer Denise Yeo and poet Garth Martens answered questions about their show.
PS: I saw an earlier version of this show at the beginning of the year and was very impressed. It definitely makes my list of "local picks" for this year's Victoria Fringe.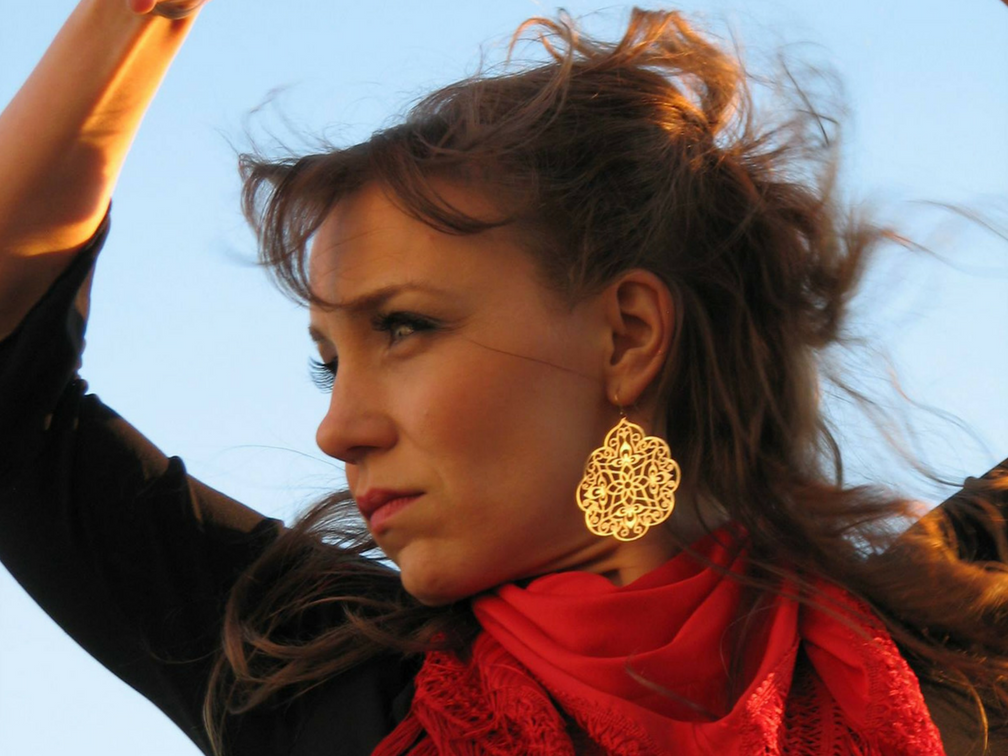 How long have you been producing work on the Fringe circuit? As an artist/company?
Denise:
None of us have produced work on the Fringe circuit before. Although Veronica, Gareth, and I have performed across Canada in flamenco tablaos, and in major productions like Recuerdos and Pasajes at the Royal Theatre in Victoria, this is our first Fringe experience as performers. We began working together as Palabra Flamenco in early 2017.
Have you been (or will you be) taking the show to other Fringes?
Garth:
Yes! After the Victoria Fringe Festival, we will take La Palabra en el Tiempo to the Vancouver Fringe Festival. We will also perform an extended, 75-minute finale at the Victoria Festival of Authors, which will conclude with an on-stage conversation with members of Palabra Flamenco led by acclaimed poet, musician, and philosopher Jan Zwicky.
Is your show a new work, or has it been performed elsewhere?
Garth:
We performed a rudimentary version of our show at the 2017 Victoria Flamenco Festival in Centennial Square and two sold-out shows last January at Intrepid Theatre. We've revised the show heavily for the Victoria Fringe Festival.
Significant awards or accolades? (not just on the Fringe circuit)
Denise:
Our poet Garth Martens is the winner of the 2011 Bronwen Wallace Award for Emerging Writers. For his first book of poetry, Prologue for the Age of Consequence (House of Anansi Press), he was a Finalist for the 2014 Governor General's Literary Award for Poetry. His recent chapbook Remediation is out with JackPine Press.
Garth:
Singer Veronica Maguire co-founded the Alma de España Flamenco Dance Company and School. For her contributions to dance in Canada, spanning a 45-year career, she is the winner of the Canada Council of the Arts' prestigious Jacqueline Lemieux Award. As for Denise Yeo and Gareth Owen, only a prize culture with monumental blindspots would fail to recognize their work—it's technically ambitious, responsive to the moment, and reliably gravid—among flamenco artists in Canada, they're outstanding.
Can you speak to the creation process of this work?
Denise:
Flamenco has always made me feel a lot—as both audience member and artist. It's as though I'm asked to discern, below what's happening on stage, the shape of something older and dimensionless. Something worth attending to. Poetry has a similar effect on me, an expansion in my chest, a tug from below. The show was an experiment to see if both art forms in the same space, at the same time, might point to the same thing without one being collapsed into the other. My hope was the flamenco and poetry could be themselves with neither colonized or subverted into something they're not. I'm not a fluent speaker of Spanish and neither is the majority of our audience—another reason we wanted to join English-language poetry and flamenco. I know many are moved by Spanish poetry in the cante (singing) in context with dance and guitar. My hunch was English-language poetry might likewise occupy the musical space.
Who will your show appeal to?
Denise:
This show will appeal to readers, dancers, musicians, therapists, death doulas, people into community healing, rhythm hounds, flamenco aficionados, people into world music, closet poets, out-of-the-closet poets, palliative care workers, New Age practitioners, feral Christians, and repentant oil rig workers.
What would you say to entice a potential audience member to come?
Garth:
Sharp rebuttals, feral melody, hypnotic poly-rhythms, poetry that dresses the wound but cannot save the patient, this is a thunderous and lyrical performance, tinged with fire and shadow. It inspires reverence, a sorrow in which you build something for yourself. What is joy when the roof has gone and fires smoulder in the Arctic? How to grieve and honour the world?
Denise:
It's like Leonard Cohen meets Antonio Banderas in a therapist's office. It's like Black Swan crossed with Kenneth Branagh's Hamlet crossed with Dune.
What do you hope to inspire in your audience?
Garth:
We hope audience members experience something stirred in them, a tug in their being for what has been lost and will be lost. This includes the ravages of climate change, fires in the arctic, mass extinction, recognition of that growing absence and a reverence for the land and water and its animals. I'm reminded of something the poet Jan Zwicky recently said to me: "We are, every one of us, going to die." Even if this planetary crisis is not immediate, even if the genocide is not at home, we are going to die. Flamenco and poetry, when all participants are at their best, are reverence for the present moment. In Andalusia, flamenco was born in rural places, done at weddings and baptisms, a family affair. The art form is essentially relationship: to one another, artists on stage, audiences who cry Olé!, adding fuel to the fire, a dancer's thunderous intensities or a singer's resolve; and to something shared, independent of all individual parts. Call this the rhythm or the music, a resonance we're all citizens of, at our best. Call this the world's dream dimension, overheard, truly seen. Audiences cry their Olés!, when the art and the groove are good, not mechanically, but because they're obliged to from the diaphragm. It's pulled out, like shock or joy. These rhythms are untameably complex and insistent. We cannot plan on heightened experience, but these art forms can create little rooms for it to happen.
Is there anything I've missed asking you, or that you would like to comment on?
Denise:
Flamenco guitarist Gareth Owen comes from a family of flamenco artists. His mother, Veronica Maguire, is the singer of this show. His father was the flamenco guitarist Harry Owen. I am his wife. These details are shared only to underscore the trust and familiarity we have with one another and our joint commitment to the art. Gareth, Veronica, and I have been working together for over eight years and Garth has been a student of flamenco for nine.
With bold rhythm and improvisation, Palabra Flamenco presents fierce dance, live guitar, troubled song, and English-language poetry – a grief and praise that soak their way to dark corners. How to confront what's buried? Hold death near, affirming life? This myth-inflected encounter honours what we've lost, what we're going to lose. "Sexy, uncomfortable… incredible" (Audience member, PeekFest) denisejy.wixsite.com/palabraflamenco
La Palabra en el Tiempo (Victoria BC)
Created by Denise Yeo, Garth Martens, Gareth Owen, Veronica Maguire
Palabra Flamenco
Metro Studio Theatre (Venue 3) 1411 Quadra Street
Tickets:  Advance price: All Seats $11 + s/c  Door price: All Seats $11
Duration: 60 mins
Rating: All ages
Genre: Literary Flamenco Theatre
NOTE: All ticket holders 13 + must have a Fringe Button to use their ticket. A $1 surcharge applies per ticket (this fee directly supports the Victoria Fringe). Advance sales cut off 3 hours prior to show time. At door tickets go on sale at venue 1 hour prior to show time, cash only (half of all tickets are reserved for at door sales). Fringe Buttons can be purchased in advance at Fringe HQ, Ticket Rocket and at every venue. No latecomers, exchanges or refunds.
Showtimes:
Aug 23 Thursday 07:15 pm
Aug 24 Friday 09:15 pm
Aug 25 Saturday 05:00 pm
Aug 30 Thursday 05:15 pm
Sep 01 Saturday 06:15 pm
Sep 02 Sunday 05:15 pm
About the artist/company
About the company
Palabra Flamenco combines traditional flamenco with English-language poetry. Artistic director Denise Yeo is a professional flamenco dance soloist and palmera. Poet Garth Martens, winner of the Bronwen Wallace Award for Emerging Writers, has published Prologue for the Age of Consequence (Anansi), shortlisted for the Governor General's Literary Award for Poetry. Guitarist Gareth Owen has collaborated with acclaimed flamenco artists from Spain and North America, and recorded two albums, Gareth Owen Flamenco Guitar and El Cobre. Singer Veronica Maguire co-founded Alma de España. For her 45-year career, she is the winner the Canada Council of the Arts' prestigious Jacqueline Lemieux Award.
Credits
Denise Yeo – artistic director and principal dancer
Garth Martens – poet and palmero
Gareth Owen – guitarist
Veronica Maguire – singer and dancer