How often do you get to consider the work of great philosophers and writers like Franz Kafka when you go to the theatre? That's the beauty of the Victoria Fringe Festival–finding performers who aren't afraid to stretch their creative muscles to deal with erudite concepts, secure in the knowledge that a Fringe audience is daring and adventurous.
How to Become Human in 5 Years by the Bobby Watson Theatre Company (Portland, OR) promises an incredible experience.  Myriel Meissner answered questions about the show.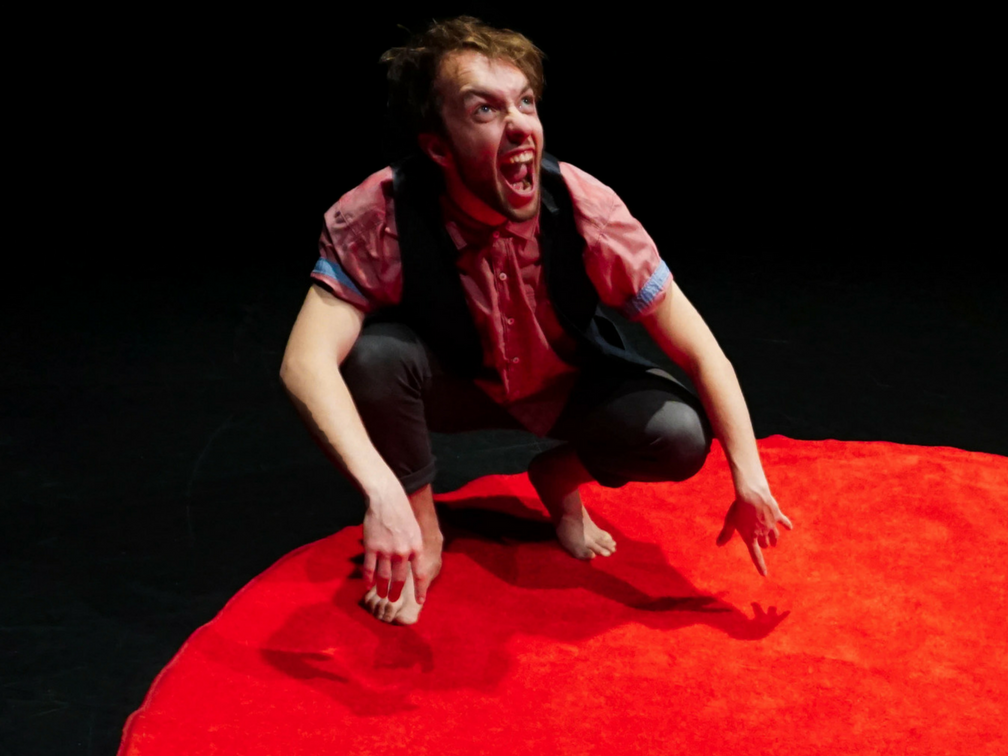 How long have you been producing work on the Fringe circuit?  As an artist/company?
Bobby Watson Theatre Company (BWTC) is new to the Fringe and so is Roan Shea – the incredible lead actor playing Red Peter in our show "How to Become Human in 5 Years". Myriel Meissner, the director of our show, has had her Fringe debut in summer 2017, where she performed as a puppeteer in Baba Yaga at the Windsor and Boulder Fringe.
Is this your first visit to Victoria?
Yes it is. We are incredibly excited. Although both Roan and Myriel have been living in Portland for more than five years, neither of them have made it to British Columbia yet. It's been a big dream of Myriel to visit Victoria before she moves to Europe this fall – and now their show will be part of the Victoria Fringe! They have been so antsy and thrilled – they absolutely can't wait to be there. If you have any travel, outdoors, arts or food recommendations, write us at bobbywatsontc@gmail.com. We'd love to hear from you and get to know you.
Have you been (or will you be) taking the show to other Fringes? 
Victoria will be our first Fringe with this show and we would love to get the show touring to other Fringes if it is well received in Victoria.  Myriel has been booked all summer – creating and performing a new theatre work at CoHo Theatre in June and working on a large opera festival in Austria over the summer. Victoria was our prime Fringe choice, because of its stunning location and how it's timing worked with our schedules.
Is your show a new work, or has it been performed elsewhere? 
The show is pretty fresh. It had a very short but incredibly successful run in April 2017 at Fir Acres Theatre in Portland, the theatre facility at Lewis and Clark College from which both Roan and Myriel graduated. Myriel worked on an 8 month interdisciplinary research on the human-animal relationship in performance under the mentorship of Dr. Stephen Weeks and created the show parallel to her theoretical research. It was an incredibly intense time of study, arts, sweat, tears, discovery, enlightenment and experiment for the ensemble. After its brief but exhilarating run in Portland, we knew the show needed to go on tour and reach a larger audience.
Significant awards or accolades? (not just on the Fringe circuit)
Not yet. The show, being a brand new text adaptation and performance piece, only had a short test run at Fir Acres in Portland last year. Victoria really will be our jumping off point for this show. It was incredibly successful with the Portland audience during its test run. It sold out quickly and people loved it. We hope the Victoria audience is going to feel the same about it.
Can you speak to the creation process of this work? 
The show itself was created and rehearsed in an 8 week rehearsal period, but lots of dramaturgical research preceded and accompanied the process. It was revived in a 9 day rehearsal intensive in the end of July this year.
The rehearsal process itself started with lots of physical research, studying of chimpanzee's behaviour, walk and gestural work, watching of documentaries, digging into Kafka's language through poetry writing and many demanding physical theatre exercises drawn from physical theatre practices.
Then, if you were to walk into a rehearsal room in week 4, you would see Roan Shea, walking with bent knees and wrists, arms reaching long to the floor like tentacles, in an alienating and yet elegant fashion. Suddenly an object, maybe a shoe or a banana is thrown his way. Roan startles, than quickly and silently begins to loop around the room like an ape to examine the object. His movements seem effortless – only his sweat drenched face and slightly trembling knees give away the incredible physical training the talented actor is going through every minute of his 3 hour rehearsal time. Apart from the quiet jungle noises of the accompanying soundtrack and occasional instructions by Myriel, the room is silent and filled with electrifying energy.
Roan plays an ape, who in turn is acting like a man. In his witty, somewhat alienating and yet comforting performance, he constantly pushes the boundary between the human and the animal and by doing so, gradually breathes live into Kafka's imaginary hybrid character.
On the whole, it was an incredibly demanding, exhilarating and thoughtful rehearsal process, full of discoveries, joy, music, sweat, tears and friendship.
Who will your show appeal to? 
Reflective thinkers of all kinds: TED talk lovers, academics, wanna-be academics and non-academics, artists, self-proclaimed philosophers, readers, activists, pod cast listeners, hobby writers & biologists, crossword puzzle solvers, ANYONE WHO LOVES TO LAUGH & CRY, THINK, GET SURPRISED and engage with the theatre they see.
What would you say to entice a potential audience member to come?
You might not know whether to laugh or cry. You might not know what on earth you should think about what you've just seen and heard. But, you won't walk out of the theatre unshaken.
If Roan's character rendering of an ape-turned into man were just physically impressive, I would have to drag you to the theatre just to see his transformation and great skill as an actor. But Roan and the show is equally intellectually agile as it is physically detailed. So…don't even try to argue. Get out of that house and go to the theatre with me! NOW! You gotta see this show!
What do you hope to inspire in your audience?
Humbleness. Awe. Laughter at oneself. Conversation amongst the audience, their friends and families that lasts way beyond the show time. Time to think, stop, slow down, care.
Is there anything I've missed asking you, or that you would like to comment on?
If you, as an audience member, have any questions, would like to learn more about the original source text for this show, discuss the show before of after with us or learn about Myriel's research into the human-animal boundary in performance, feel free to email us at bobbywatsontc@gmail.com! We'd love to hear from you!
Also – a very brief background on the original text, for those who are interested:
A Report to an Academy" (German: "Ein Bericht für eine Akademie") is a short story by Franz Kafka, written and published in 1917 in the German monthly "Der Jude" (The Jew). It is written in form of a speech given to "the academy" by Red Peter, an ape who acquired human skills and languages to integrate himself into "the world of men".
With biting humor and stark earnestness, How to Become Human in 5 Years follows the apish Red Peter from his imprisonment in a cage to Broadway's Theatre Stages. Adapted from Kafka's A Report to an Academy, this celebrated one-man show subtly layers dark comedy, social satire and Kafka's equivocal language to ask the question: What makes us human? facebook.com/BobbyWatsonTheatreCo
How to Become Human in 5 Years
Written and created by Myriel Meissner, performed by Roan Shea
Bobby Watson Theatre Company (Portland, OR)
Venue 2 Downtown Community Centre (755 Pandora)
Tickets $9 via Ticket Rocket online or in person, at the Fringe HQ or at the door 1hour prior.
Duration: 45 minutes
All Ages, Absurdist Tragicomedy
Showtimes:
Aug 23 Thursday 06:45 pm
Aug 25 Saturday 04:30 pm
Aug 26 Sunday 08:30 pm
Aug 29 Wednesday 06:30 pm
Sep 01 Saturday 12:45 pm
Sep 02 Sunday 06:15 pm
NOTE: All ticket holders 13 + must have a Fringe Button to use their ticket. A $1 surcharge applies per ticket (this fee directly supports the Victoria Fringe). Advance sales cut off 3 hours prior to show time. At door tickets go on sale at venue 1 hour prior to show time, cash only (half of all tickets are reserved for at door sales). Fringe Buttons can be purchased in advance at Fringe HQ, Ticket Rocket and at every venue. No latecomers, exchanges or refunds.
About the artist/company
Roan Shea (actor, Red Peter) is a Boston native with a B.A. in Theatre Performance and Environmental Studies from Lewis and Clark College (Portland, OR). He is an actor and creator, whose recent credits include main roles in Trifles, The Arsonists, Love and Information, and Edgar and Annabel. He is delighted to be exploring his ape nature in Victoria.
Myriel Meissner is a director, performer and educator from Austria. She received her B.A. in Theatre Performance from Lewis and Clark College and continued her education at The Institute for Contemporary Performance, where she trained in devised methods, Suzuki, Viewpoints and Clowning practices. As an educator she has worked at Oregon's Children Theatre and with New Moon Theatre Productions.
Credits

Myriel Meissner – Director
Roan Shea – Red Peter
Arianne Melton – Costume Design
Myriel Meissner – Set & Projections