UK word wizard Rob Gee has been a popular addition to the Canadian Association of Fringe Festivals (CAFF) circuit with many appearances at the Victoria Fringe Festival. He's back with his latest (and newest) show Death A Romantic Comedy.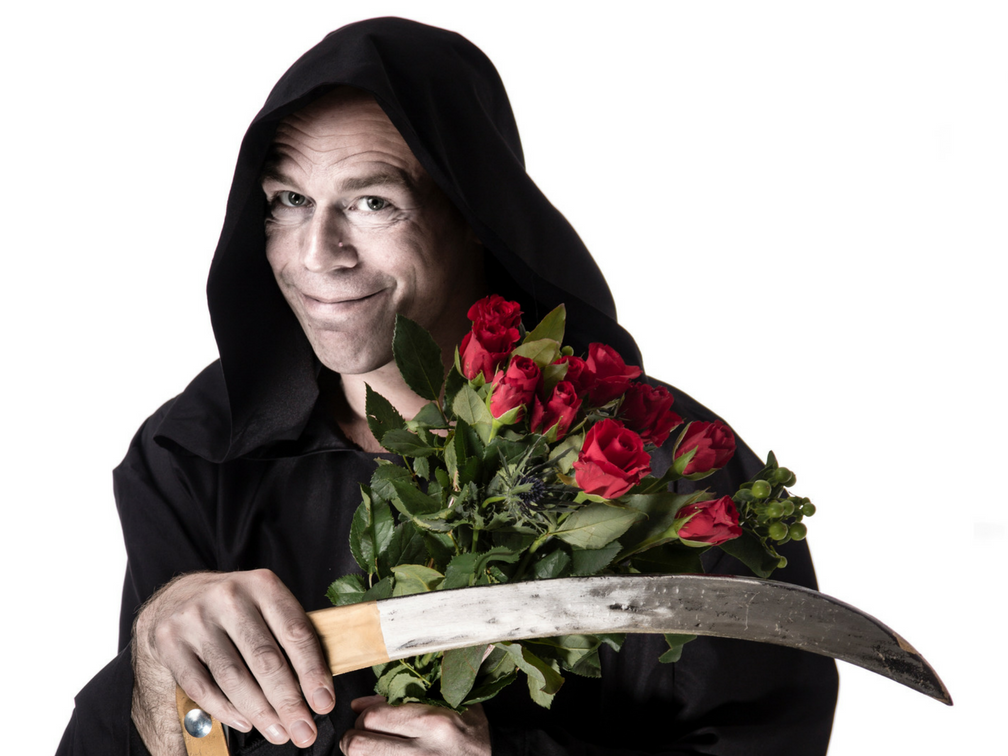 How long have you been producing work on the Fringe circuit?  As an artist/company? When did you first come to Victoria—shows you've presented here? 
I've been performing fringe festivals for 19 years – my first was Edinburgh in 1999. I did my first Canadian fringe in 2006 and I've not done the Edinburgh Fringe since. Why would I?
2006 was my first year in Victoria and this will be my eighth Victoria Fringe. Good Lord.
Have you been (or will you be) taking the show to other Fringes? 
This show is brand spanking new – I was still writing it on the drive to Winnipeg! It was broken in there, it does Edmonton next, and Victoria will be its third fringe. Hopefully it'll then tour a load of other fringes next year.
(I'm doing Forget Me Not in Van this year – they haven't seen it yet)
Is your show a new work, or has it been performed elsewhere? 
Ahhh – this time last month it was barely a twinkle in my eye! It's very new indeed.
Significant awards or accolades? (not just on the Fringe circuit) 
For this show, nothing yet. That said, CBC in Manitoba named it as one of their 6 picks for the last weekend of Winnipeg Fringe. The reviewer saw it twice! Mainly because the inaugural performance was so rough…
I'm pleased to report previous shows have won a veritable avalanche of awards between them. I'm also a performance poet by trade, so I've won quite a few poetry slams, but it's been a while since I did all that slam malarkey.
Can you speak to the creation process of this work? 
Yes, it originated from the cancer comedy commission mentioned in the press release. I came to realise that over the last few years, I've written comedy about dementia, cancer, terrorism and mental illness. I thought I might as well go the whole hog and see if I could do death.
The process goes like this:
Think of a good title – the kind of title you yourself would like to go and see. It doesn't have to be tasteful.
Book some fringes and/or venues.
Do nothing for a significant period of time; because life is more important than art.
Panic and drink a lot. Bang out a first draft between hangovers.
Bore as many friends as you can with this draft. They can help make it better.
Learn it as best you can, then expose it to the good people of a very small fringe, ideally London or Regina. Then rewrite.
All went to plan, although I first exposed it to the good people of Winnipeg Fringe, which is a big one. It went okay though.
Who will your show appeal to?  
Anyone at risk of death
What would you say to entice a potential audience member to come? 
I'm actually a nice guy really… It's only 60 minutes… (this is why I'm crap at flyering!)
Also, it's both kinds of funny. It's the right kind of wrong. It's like a fart that doesn't leave a bad smell.
What do you hope to inspire in your audience?
Laughter, lots of laughter! And a bit of contemplation.
Is there anything I've missed asking you, or that you would like to comment on?
I think you've covered it all!
A comedy about drinking, death, falling in love and a missing pacemaker.  The new show from comic and poet Rob Gee, creator of Fringe hits Pandemonium and Icarus Dancing:  ????? "Outrageous and hilarious… my abdominal muscles deserve an apology" – Times Colonist. ????? "Dr. Seuss for adults" – Uptown Magazine, Winnipeg.  ????? "A master storyteller… be prepared to be blown away!" – CBC robgee.co.uk
Death A Romantic Comedy by Rob Gee (UK)
Venue V4 – VCM Wood Hall, 907 Pandora Ave
Tickets $11 ($9 students/seniors) available from victoriafringe.com or ticketrocket.co:
 http://www.ticketrocket.co/event/details/107178/death-a-romantic-comedy .
Duration: 60 mins
Rating: Adults only: Coarse language, adult themes
Genre: Comedy, spoken word
Showtimes:
Mon August 27th, 6:15pm
Thurs August 30th, 8:00pm
Fri August 31st, 7:30pm
Sat 1st September, 10:45pm
Sun 2nd September, 12:30pm
NOTE: All ticket holders 13 + must have a Fringe Button to use their ticket. A $1 surcharge applies per ticket (this fee directly supports the Victoria Fringe). Advance sales cut off 3 hours prior to show time. At door tickets go on sale at venue 1 hour prior to show time, cash only (half of all tickets are reserved for at door sales). Fringe Buttons can be purchased in advance at Fringe HQ, Ticket Rocket and at every venue. No latecomers, exchanges or refunds.
About the artist/company
Comic, poet and reformed psychiatric nurse, Rob has toured the UK, Europe, Australia and North America. He's won numerous poetry slams, including the Edinburgh Slam, BBC2's Why Poetry Matters Slam and the Orlando Poetry Smackdown, as well as over twenty awards for his solo shows. He regularly leads comedy and poetry workshops in psychiatric settings and is sometimes sent into schools as a warning to children. https://www.robgee.co.uk/
Credits
Rob Gee – Writer and performer
Tara Gatherer – Director