Lessons by Wendy Graf. Bema Productions April 12-22, 2018. A review.
Bema Productions does it again with the nuanced production of Lessons by Wendy Graf (performed in the most appropriate 153 year old heritage synagogue Temple Emanu-El April 12-22, 2018).
Now in their fourth season, Bema has come to be known for insightful renderings of scripts that on the surface appear simple—it is director Zelda Dean's single biggest gift—to find the eternal and universal in narrative arcs with a well-defined direction.  The surprises, often anticipated, are imbued with weight and heft—regardless of one's background there are nuggets of wisdom to be found.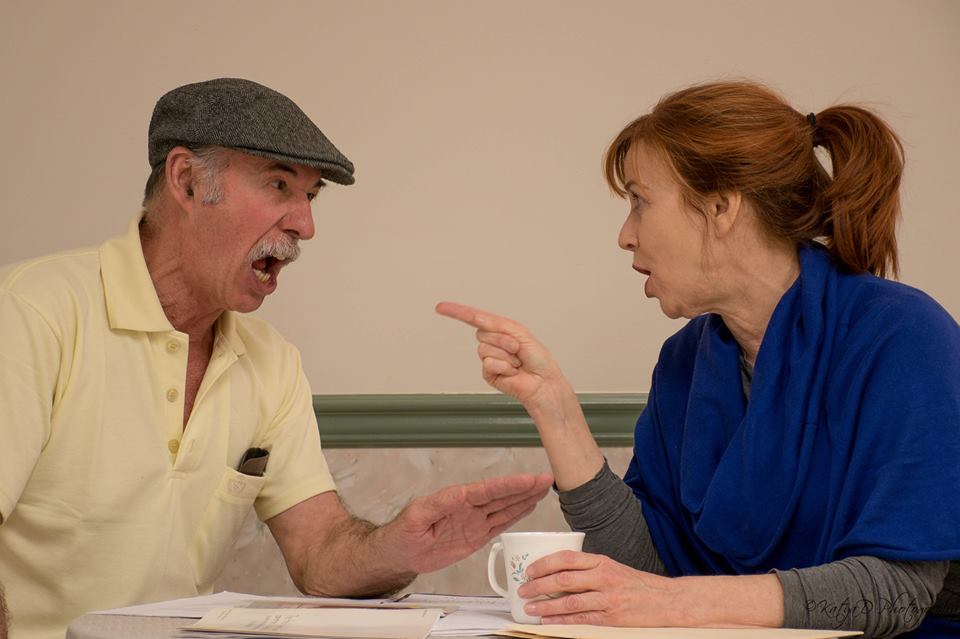 Alf Small and Christine Upright. Photo: Katya Delancey
Lessons introduces us to Ben (Alf Small), a preternaturally enthusiastic and energetic retired shoe manufacturer, recently a widower, and to Ruth (Christine Upright) a prickly depressive who is a teacher of Hebrew and a Torah scholar.  This unlikely duo bicker and kvetch through much of the play, begrudgingly teasing out admiration for one another through lesson after lesson as Ben goes from his original goal—enough Hebrew to travel to Israel—to the much loftier one of preparing for his bar mitzvah.  As unbelievable as this sounds, it is perfectly in line with Ben's "can-do" character and his life's motivations—he's the sort of person who is relentless in his pursuit of improvement, whether it be his tennis game, running time or business.  Ruth becomes another project—a person to be jollied out of her self-imposed exile to a condo on an island off Seattle, literally shut-off from the world-at-large, surrounded by a cloud of smoke from her cigarettes, fuelled by endless cups of coffee.  She's bitter, he's cheerful. But, behind those masks, as each comes to reveal past hurts, disappointments and tragedies, lies a real person, set apart from faith and culture—bereft in their loss.
Small and Upright are magnificent as Ben and Ruth, with a naturalistic acting style that compels careful attention—not a moment of this two hour play is wasted.  The synagogue is the perfect setting with the bimah (elevated platform) standing in for the kitchen–providing several levels of height and depth for the action–and simple black partitions becoming the entrance to Ruth's apartment. A window on the back wall, a cupboard, and a table and chairs complete the set design. (Alf Small). Annie Weeks' lighting design provides a sense of the passage of time.
Lessons is a deeply Jewish play—however it is definitely not only for a Jewish audience. Swaddled in their grief and alienation—no matter their polar opposite reactions to it–Ruth and Ben grapple with eternal questions of meaning and significance.  Small conveys a profound sense of loss when he recounts memories of his conservative Jewish grandfather; Upright is almost catatonic in her refusal to move forward from unspeakable tragedy—yet, somehow, they must and by small life-affirming steps based in their faith—they do.  For an audience who may be neither Jewish nor religious, there are still important points to consider—the life-long search for significance and meaning is not restricted to persons of faith; at some level this is a life-long human pursuit.  Thus Lessons becomes a lesson on Jewish faith and belief, as well as a lesson in being human.
Graf's script provides an discerning glimpse into Judaism for those completely unfamiliar with even the simplest of concepts related to the faith—at some level the audience shares in Ben's sense of wonder as secrets are revealed—Small lights up like a child when a key point is grasped or a complete blessing remembered—and in Ruth's reverence for the complexity of the Torah—Upright cradles the scrolls as if a small beloved child (even if paper towel rolls stand in as substitutions—this bit of irreverence is very humourous). These two extremely committed actors did the hard work necessary to learn enough Hebrew and Aramaic to be credible (Hebrew Coach Najama Ferstman).
Chris Rudram's sound design follows the arc of the plot—at first quite cheerful and then moving to a decidedly more sombre tone as hurt surfaces; selections underline the contribution of the clarinet which proves to be a very versatile instrument in this minor key music.
Throughout, careful and light touches of humour serve to lighten the dialogue between Ben and Ruth; Small and Upright are fine comic actors who understand the right moment for a gesture or interjection while Dean's precise direction is reminiscent of a conductor—working with the ebb and flow of human emotion to create a coherent uplifting impression.
Bema Productions is proud to announce the Canadian premiere of "Lessons", a thoughtful, compelling play about finding faith and love in a sometimes violent and alienating world.

"Lessons" is performed by Christine Upright (last seen as Edna in Bema's "Prisoner of Second Avenue") and Alf Small ("Horowitz and Mrs Washington"). Zelda Dean directs.

When Ben finally decides to have a Bar Mitzvah (at his age!) he hires Ruth, a Rabbi who's lost her faith, to tutor him. The two characters forge a friendship as they each search for healing and forgiveness while wrestling with their own deep-rooted problems. "Lessons" is a touching, funny and poignant drama that asks the question: Can we find healing and forgiveness when our beliefs are questioned?

"A blend of wit and wisdom, "Lessons" questions, amuses and beguiles. Graf is in the long tradition of Jewish writers that include Neil Simon. And, very much like Simon, she mixes the angst in our lives with an overlay of humor that is both touching and tender." – Ed Kauffman, Hollywood Reporter

"This quest for faith—in his case, a faith he's never had, and in hers, a faith that she's forsaken—is a poignant plea that touches everyone," – KABC Radio

Wendy Graf is an award winning playwright whose plays have been produced throughout North America. "Lessons" was first produced in 2004 by West Coast Jewish Theatre and The Group at Strasberg in West Hollywood.
Lessons by Wendy Graf, directed by Zelda Dean
Bema Productions
Congregation Emanu-El Synagogue, 1461 Blanshard Street
April 12-22, 2018
Tickets: $22 through Ticket Rocket or at the door
Cast:
Christine Upright Ruth Feingold
Alf Small Ben Roseman

Production Team:

Zelda Dean Director
Alf Small Set Design and Construction
Annie Weeks Graphic and Lighting Design
Chris Rudram Sound Design
Susan Holtz Stage Manager
Sharon Fitch Production Assistant
Frances Aknai Publicity
Paul Hilton Lighting Technician
Karen Croquet Sound Technician
Michael Davies Set Assistant
Amber Woods Properties
Sharon Fitch/Jill Swartz Front of House
Najama Ferstman Hebrew Coach
Katya Delancey Photography
Further Reading:
Wendy Graf
http://lower-depth.com/ldte-playwrights-corner-wendy-graf/
Jewish blessings
https://en.wikipedia.org/wiki/List_of_Jewish_prayers_and_blessings
https://www.tbsneedham.org/sites/default/files/uploaded_documents/tm_rh5772_sampling_blessings.pdf