Love's Labour's Lost at the Greater Victoria Shakespeare Festival 2017. A review.
Oh to have the wit and erudition of the noble lords and ladies of Navarre and France.  Janet Munsil directs the light, airy and playful word feast, Love's Labour's Lost, perfect for summer viewing on the grounds of Camosun College Landsdowne campus as part of the Greater Victoria Shakespeare Festival (July 4-29, 2017).
Be prepared for quick repartee and convoluted arguments as the King (Brian Quackenbush) and his courtiers (Evan Coates–Dumaine, Trevor Hinton—Longeville and Mary Van Den Bossche—Berowne) turn themselves inside-out with philosophical arguments when they unknowingly take an oath to forswear women just as the Princess (Madeleine Humeny) and her ladies (Katrina Koenigshofer –Maria, Sarah Jean Valiquette—Rosaline and Hilary Wheeler—Katherine) arrive for a visit.
Munsil has a keen sense of humour which she employs to the fullest with this accomplished cast—the sense of gentle mocking evident in Shakespeare's text is fully present.  Puzzled by the emphasis on the word forsworn, I waited until intermission to search for the meaning, and found to my astonishment that it means not only to take an oath ("swear") but also to perjure oneself—and thus the ramifications for these gentlemen, who as nobles, would not take their oaths lightly. Word nerds and debaters can rejoice since this is but one small example of the delights that await.
Not content to simply illuminate the text, Munsil brings abundant physical comedy to this production. The Camas stage is decorated with a simple large Grecian urn silhouette and a bench, yet when the King and his men hide in plain sight, contorting themselves in unbelievable pretzels and frozen positions—Quackenbush as a tree is outstanding, while Hinton attempting to flatten himself into invisibility is hilarious—it becomes possible to see a castle and its grounds through their very actions.
In juxtaposition to the rather austere and carefully weighed position of the learned gentlemen, Jarod Crockett presents a flamboyant Don Armado—all flowery language, soft hand gestures and outrageous garb while the village clown Costard (Geoff Davidson) and constable Dull (Emily De Korte) are sympathetic and earthy as common people flummoxed by pretentious speech, provoking much laughter at their silly arguments and misunderstandings.  Shakespeare's scorn, however, is fully unleashed at the pomposity of the teacher Holofernes (Cam Culham) and curate Nathaniel (Blake Handley)—Culham and Handley are perfect as these self-important fools, particularly in the play within a play, the Nine Worthies, which they orchestrate for the entertainment of the gentlefolk. Charlotte Thompson is the foppish and sharp-tongued French servant Boyet while Erin Spence as Moth is plain-spoken and sweet-voiced (notably singing My Heart's in the Highlands) as the aide to Don Armado.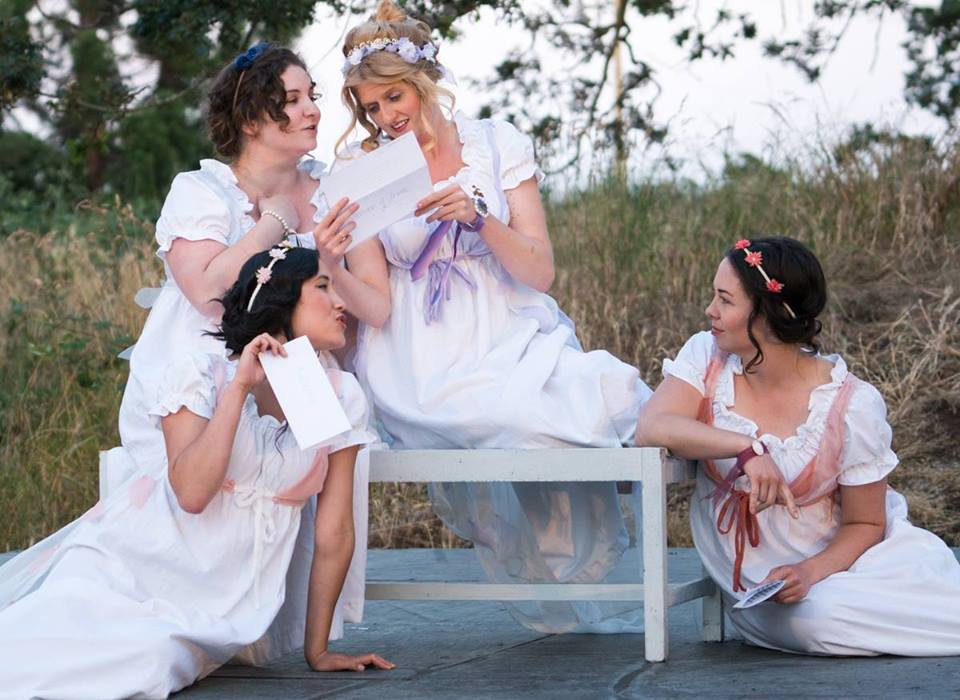 Katrina Koenigshofer (Maria), Hilary Wheeler (Katherine), Madeleine Humeny (Princess), Sarah Jean Valiquette (Rosaline). Photo: David Bukach
Production designer Carole Klemm and costume co-ordinator Hannah Ockenden employ a treasure trove of embellishments to provide a visual feast—Empire-waist gowns feature gauzy capes and colourful floral accents to differentiate the ladies, while the gentlemen sport luxurious vests, lacy ascots, breeches and riding boots.  Everything is carefully colour co-ordinated, down to the letter paper of the missives penned by the men, which matches the ladies' capes.
This is a gentle battle of the sexes, with mischievous side glances, double entendres and much posturing from both men and women. Humeny brings her signature droll style to the role of the Princess while Quackenbush, smitten and coy, plays the polar opposite of his part as the murdered Banquo in Macbeth (what fun it must be for the actors to embody such diverse characters—it definitely adds to the enjoyment of the audience). In her first appearance with the GVSF, Van Den Bossche is outstanding as the verbose and highly intelligent Berown, always looking for the angle to win a verbal joust, and perfectly matched to the capabilities of Valiquette as the equally keen-minded Rosaline.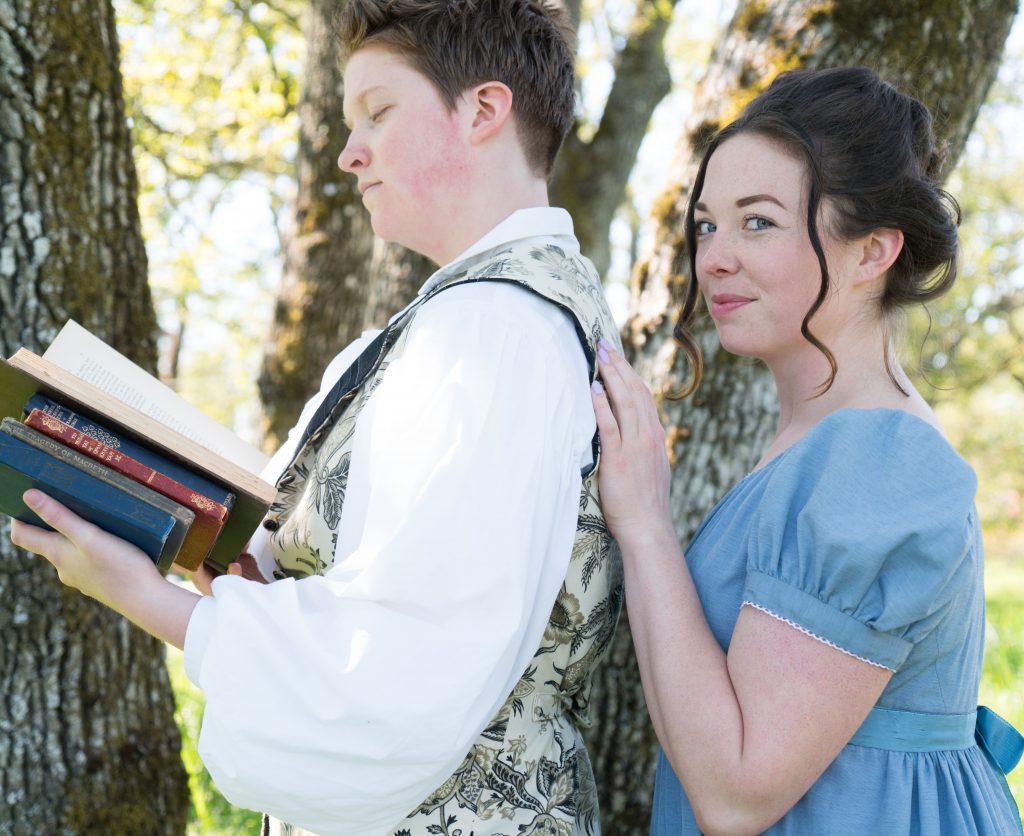 Mary Van Den Bossche (Berown) and Sarah Jean Valiquette (Rosaline). Photo: David Bukach
Everyone needs a posse for backup, and in this case Wheeler and Koenigshofer for the ladies and Coates and Hinton for the gentlemen provide the essential elements of group cohesion—their characters providing the foils absolutely necessary to the overall effect.  Demure as a lady, Koenigshofer is saucy and pert as the servant girl Jaquinetta.
A surprise visit by a band of Russians (the men in disguise) had the audience in stitches at their antics (and didn't fool the ladies for a minute).
Playing in repertory with the dark, brutal and ferocious Macbeth, Love's Labour's Lost provides the perfect balance to the tragedy, its realistic dénouement a pleasant surprise in a canon that most often sees couples serendipitously paired-off at the end.  Does true love wait? It's a pity Shakespeare didn't write the sequel; theatre-goers will need to come to their own conclusions.
Love's Labour's Lost directed by Janet Munsil
Greater Victoria Shakespeare Festival
Camosun College Landsdowne campus (Richmond Road)
July 4-29th 2017; Wednesday and Friday at 7:30pm and Saturday at 1:30pm
Tickets: adults $24, seniors and students $19. Children under 12 are FREE.  Available online or at the onsite box office (open at 12:30 for matinées and 6:30 for evening performances).
Festival Passes: adult: $42, seniors (65+) and students (With Valid ID): $33
Order your picnic in the park with Dine in Victoria:
http://www.vicshakespeare.com/food/
Come early for pre-show entertainment:
http://www.vicshakespeare.com/music/
NOTE: Parking at Camosun College is $3.25
Production Team
Producing Artistic Director Karen Lee Pickett
Associate Producer Stephanie Meine
Production Assistant Cierrah Gibbs
Front of House Manager, Volunteer Coordinator Ariel Slack
Director of Love's Labour's Lost Janet Munsil
Production Stage Manager, Lighting Design, Sound Editing Carolyn Moon
Production Stage Manager Sylvia Lindstrom
Production ASM Nolan McConnell-Fidyk
Production Designer Carole Klemm
Costume Coordinator Hannah Ockenden
Technical Intern Deniz LeSurf
Additional Production Credits
Music Arrangement Erin Spence
Lyrics "My Heart's in the Highlands" Robert Burns
Closing Choreography Mary Van Den Bossche
Cast

Dumaine Evan Coates
Don Armado Jarod Crockett
Holofernes Cam Culham
Costard Geoffrey Davidson
Dull/Mercade Emily de Korte
Nathaniel Blake Handley
Longeville Trevor Hinton*
Princess Madeleine Humeny
Maria/Jaquinetta Katrina Koenigshofer
King Brian Quakenbush
Moth Erin Spence
Boyet Charlotte Thompson
Rosaline Sarah Jean Valiquette
Berowne Mary Van Den Bossche
Katherine Hilary Wheeler
Disclaimer: I received a complimentary ticket to attend the preview of Love's Labour's Lost