Magic Unicorn Island by Jayson McDonald. Uno Fest May 2015.  This is a review of a previous production I saw at the Victoria Fringe Festival in August 2014.
Jayson McDonald first popped up in Fringe consciousness the year Giant Invisible Robot played the Intrepid Theatre Club in 2007 (and promptly sold out). Since then he's become a regular not only at the Victoria Fringe Festival but also at UNO Fest. Audiences love his lanky physical presence that moves with such ease from one character to another, his sense of humour, and the dark edge to his writing. Nothing is ever quite what it seems in McDonald's shows and Magic Unicorn Island is no exception.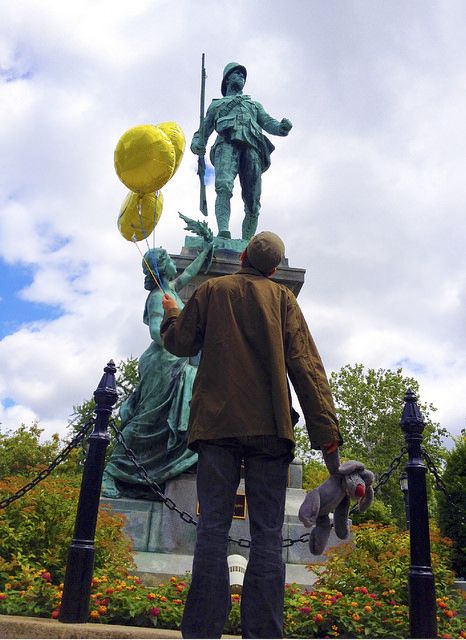 In a black void, inhabited by inchoate mumblings, a self-pleased God forms the universe, fills it with light, sets the stars to twinkling, and creates the planets. Life moves—in the blink of an eye—from amoeba to fishes struggling out of the ooze, to simians, Neanderthal and man.
Fast forward to a dystopian future where the bees are dying, war follows war as the world struggles to become one United Empire, and the children (led by 14 year-old Shane Rivera) flee to a secret island until the adults around them come to their senses.
Magic Unicorn Island is bleak and brilliant writing, a difficult cautionary tale that wallops with a hard gut-punch.  It cries out, "pay attention, wake up" with every vignette presented. I squirmed uncomfortably as an unnamed person taught a child to hate—everybody, including itself.  Invective poured out.
And then, the script cuts to glimpses of smarmy public relations professionals and newscaster airbrushing world events.  McDonald is wielding a scalpel carefully—probing and prodding the painful places, providing just enough levity as he launches his final attack.
In the noble tradition described by Hamlet, McDonald does indeed "hold…the mirror up to nature".  Surrounded by the magnificent beauty of Vancouver Island, secure in our peaceful existence, it's hard to be reminded that our reality is far from that of the majority of the world's population.  Thankfully, artists like McDonald hold us to account.
Magic Unicorn Island
Stars and Hearts (London, ON)
Created and performed by Jayson McDonald
60 minutes – comedy, adult themes, extremely coarse language
Tickets $20
Thur May 21, 9:00* (Pay What You Can)
Fri May 22, 6:30
Tickets $20 through Ticket Rocket online, in person (#2-1609 Fisgard at Blanshard) or by phone 250 590 6291
An award-winning show from the creator of Giant Invisible Robot, Boat Load and Underbelly. Having successfully won conflicts waged against every nation and some of the more troubling abstract nouns, The United Empire issues one final declaration of war on its last remaining adversaries…its own children.

'McDonald's characterizations and language are exhilarating.…I'm grateful to McDonald for his message of love. It goes deep.' – Georgia Straight

'Jayson McDonald has crafted a funny, smart and devastatingly acerbic parable…' -CBC Manitoba