Million Dollar Quartet at the Chemainus Theatre Festival February 12-March 26, 2016. A review.
Million Dollar Quartet, currently at the Chemainus Theatre Festival until March 26, 2016 is a boisterous tribute to a seminal moment in rock 'n roll history—brim-full of excellent musicianship, impeccable design and enough moments of nostalgia to satisfy fans of the era.
The legendary Sam Phillips of Sun Records (played here by Leon Willey in a splendid cajoling manner) certainly knew how to spot raw talent, and his myth-making abilities were remarkable. When he arranged for a reporter and photographer to snap the photo of Elvis Presley, Johnny Cash, Carl Perkins and the upstart Jerry Lee Lewis at a recording session December 4 1956, the significance would not be realized for decades.
It took until 1981 for the session recordings to be released, and it wasn't until 2006 that a regional theatre known for making musicals (several of which have gone on to Broadway stages and awards) — Village Theatre in tiny Issaquah WA–brought the story to the stage. Million Dollar Quartet debuted on Broadway in 2010. The Chemainus Theatre Festival Production is the Canadian début.
By creatively stretching the truth, creators Colin Escott and Floyd Mutrux have crafted a highly entertaining show built around some of the greatest hits in the artists' catalogues. Only two numbers—the Gospel classic Down By the Riverside and Brown Eyed Handsome Man—were in the original recorded session. Ascribing the role of narrator to Sun Records head Sam Phillips, sharing interesting tidbits about the young stars he discovered in a conspiratorial fashion, allows each actor to feature in a personal vignette.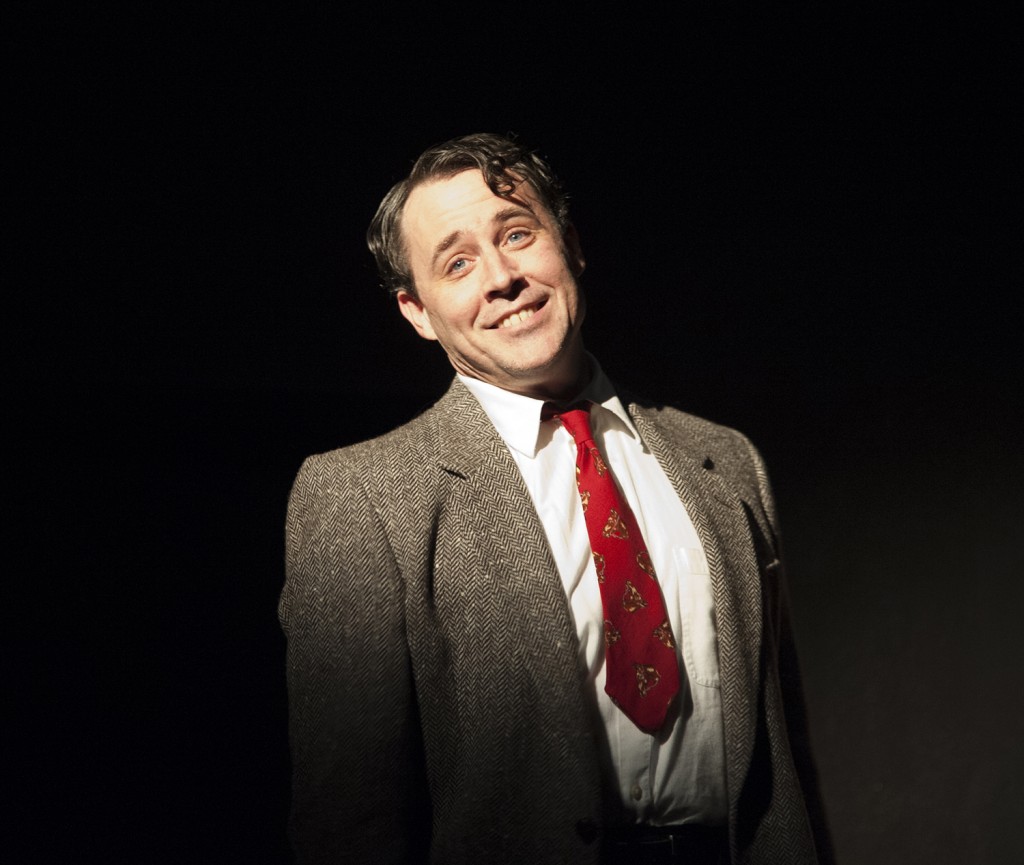 Leon Willey (Sam Phillips). Photo: Cim MacDonald
Playing Jerry Lee Lewis with all his flamboyant personality and self-assured and precocious talent, Montgomery Björnsson repeatedly flashes his most engaging smile in an attempt to win over the others, to no avail. This constant search for the spotlight and need for adoration sets up dramatic tension throughout the script. Daniel Kosub displays a tight and contained energy as Carl Perkins, and his deft and soulful licks on the electric guitar are remarkable. His notable numbers include See You Later Alligator (featuring Kosub as Perkins and Alexander Baerg as Elvis) and the overlapping Sixteen Tons (with Jonas Shandel as Johnny Cash) and My Babe (Kosub) where the guitars appear to duel with one another. Baerg as Presley has a frenetic energy on numbers like Hound Dog (glitzy lighting effects by Craig Alfredson) and That's All Right with signature pelvic thrusts and wide-legged splits, and quiet introspection on Memories Are Made of This. Shandel, last seen as The Man in Black in last year's hit Ring of Fire, displays slow, honest, undisputable authority on Walk the Line and Folsom. Björnsson, like his namesake, brings down the house on Great Balls of Fire and Whole Lotta Shakin' when he pulls out all the stops—playing the piano backwards and pounding the keys with his feet.
Meaghan Chenosky as Dyanne stands in for Marilyn Evans–a Las Vegas dancer and Elivis' girlfriend at the time, who was not a singer. Chenosky's sexy voice on Fever is shiver-inducing. The only female onstage, she is often coaxing and teasing the others into better behaviour, when she isn't stepping outside to become their confidante in hushed tête-à-têtes, and is memorable in a role confined to the back pages of history (in fact it's only after the success of Million Dollar Quartet that Evans was eventually located).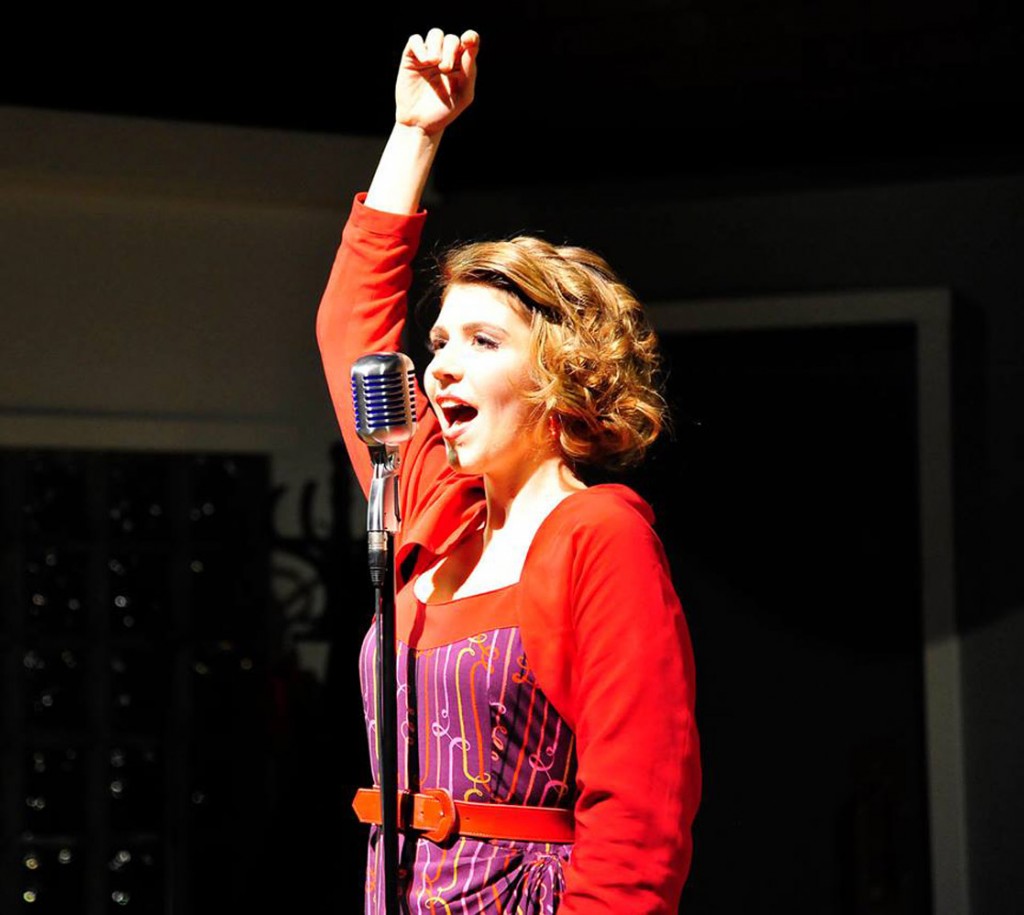 Meaghan Chenosky (Dyanne). Photo: Cim McDonald

Kraig Waye (Brother Jay and also the musical director for the show) on bass and Scott Carmichael (Fluke) on drums round out the ensemble as the quintessential studio musicians, whole-heartedly and professionally committed to the task at hand.
Under the direction of Mark DuMez, the actors, much like the rock icons they portray, slip into a groove common to talented individuals—there is an evident ease and camaraderie among them that comes from knowing each other's skills, and constantly pushing to improve the performance of the group. They share the stage easily, with deference and humility, seizing the spark of the original musicians.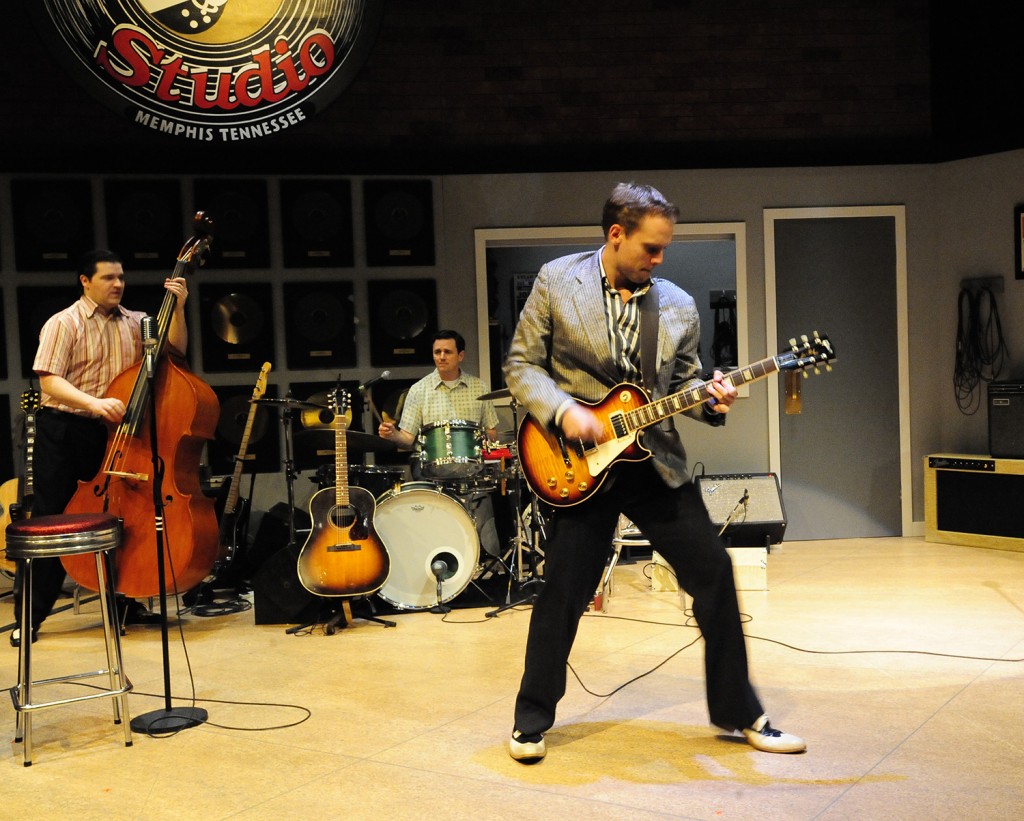 Kraig Waye (Jay Perkins), Scott Carmichael (Fluke), Daniel Kosub (Carl Perkins). Photo: Cim McDonald
When a sound engineer or live mixer does their job well, most audience members will never notice. Andrew Nicholls is flawless in the execution of his role, perfectly balancing vocal ranges and the numerous mics and instruments, further enhancing an already highly entertaining show.
The set design by Laurin Kelsey appears as if dropped from a 1950s time warp with glass block windows, walls decorated with gold albums, and a sound booth lit from within.
Costume designer Crystal Hanson has a lot of fun with the wardrobe, particularly for the finale when the four stars appear in glamourous and sparkly attire.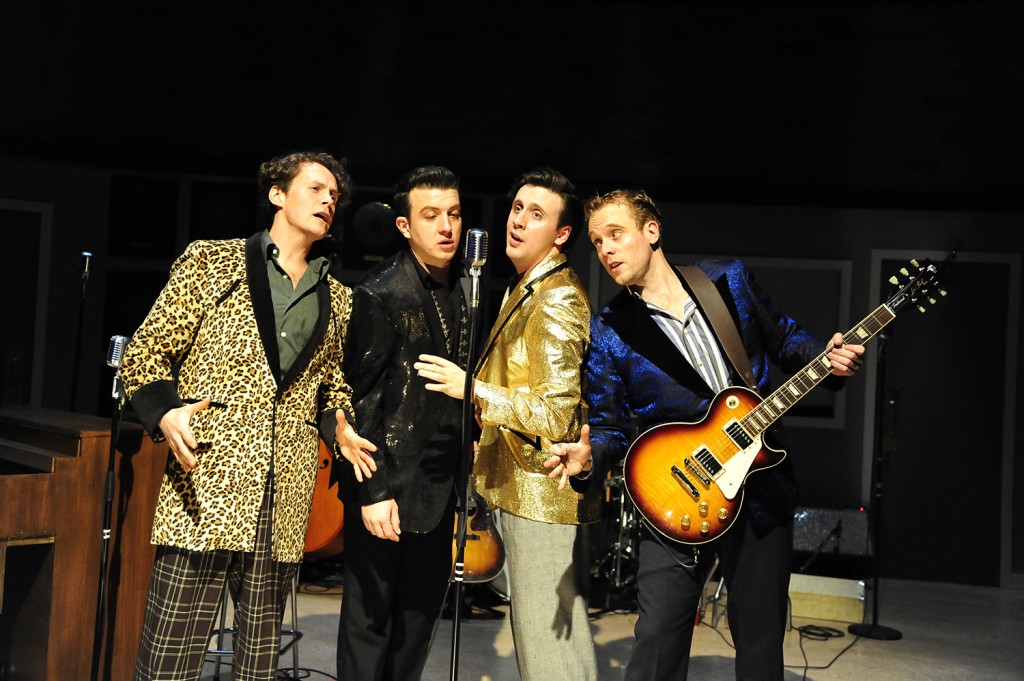 Montgomery Björnson (Jerry Lee Lewis), Jonas Shandel (Johnny Cash), Alexander Baerg (Elvis), Daniel Kosub (Carl Perkins). Photo: Cim McDonald
One glorious afternoon, four icons of rock 'n roll found themselves in the same room, thanks to their mentor Sam Phillips. Million Dollar Quartet is the inspiring tribute to a phenomenal moment in time—captured due to the foresight of a seminal showman and promoter—one this Chemainus Theatre Festival production faithfully honours.
In the mid-1950's, four young and talented musicians met by chance, and made music history, in one red-hot jam session. Elvis Presley, Jerry Lee Lewis, Carl Perkins, and Johnny Cash are famous for their legendary songs and rock 'n' roll hits. Million Dollar Quartet is the acclaimed story about their astonishing careers and this landmark day in music history.
Million Dollar Quartet, book by Colin Escott and Floyd Mutrux, directed by Mark DuMez
Chemainus Theatre Festival, 9737 Chemainus Road
February 12-March 26, 2016
Tickets: $25-$67 (Chemainus Theatre Festival practices dynamic ticket pricing)
By Phone: Box Office at 1-800-565-7738 and online at chemainustheatre.ca.
JUKEBOX MUSICAL – Inspired by actual events
Warning: Contains mild language
Age Recommendation: 12+
Run Time: Approximately 1.5 hours (including a 20 minute intermission)
Production Team
Director Mark DuMez
Musical Director Kraig Waye
Set Designer Laurin Kelsey
Costume Designer Crystal Hanson
Lighting Designer Craig Alfredson 
Stage Manager David Baughan 
Apprentice Stage Manager Linzi Voth
Live Mixer Andrew Nicholls
Cast:

Alexander Baerg Elvis Presley
Montgomery Björnson Jerry Lee Lewis
Scott Carmichael Fluke
Meaghan Chenosky Dyanne
Daniel Kosub Carl Perkins
Jonas Shandel Johnny Cash
Kraig Waye Brother Jay
Leon Willey Sam Phillips
Show enhancements are available, and include: free "talk-backs" with the cast and crew following Wednesday performances (where insight into the production will be shared); a special show-themed dinner in the contemporary Playbill Dining Room (featuring an impressive hot buffet, fresh salad bar, and tempting desserts); a full "Getaway" package at the Best Western Plus Chemainus Inn (which includes accommodations, show dinner, deluxe breakfast buffet, use of the indoor mineral pool, hot tub and fitness centre).
Further reading (here are a few of the many articles I researched in preparation of this review–I find the backstory about the development of the musical particularly fascinating)
http://www.sunrecords.com/news/million-dollar-quartet-dec-4-1956
https://itunes.apple.com/ca/album/complete-million-dollar-quartet/id453908323
http://www.issaquahreporter.com/news/92906504.html
http://www.theguardian.com/music/2015/aug/08/jerry-lee-lewis-interview-heaven-hell
http://www.city-journal.org/2014/bc1107mh.html
https://en.wikipedia.org/wiki/Million_Dollar_Quartet_%28musical%29#Original_Broadway_production
http://encoreartsseattle.com/group/village-theatre-issaquah
http://www.elvis.com.au/presley/marilyn_evans_and_the_million_dollar_quartet.shtml
http://www.seattletimes.com/entertainment/on-broadway-village-co-stars-catch-million-dollar-ride-to-broadway/
Disclaimer: We attended Million Dollar Quartet as guests of the Chemainus Theatre Festival.