The cultural phenomena that is the Mom's The Word collective has landed, once again, at their "home away from home", the Belfry Theatre , for the latest update in the uproarious saga–Mom's the Word 3: Nest 1/2 Empty.  For twenty five years, relentless in their honesty, this quintet of actors and writers has turned selves, husbands, children and relationships into fodder for their remarkable comedic talents—and garnered an army of followers, not only in Canada, but internationally as well.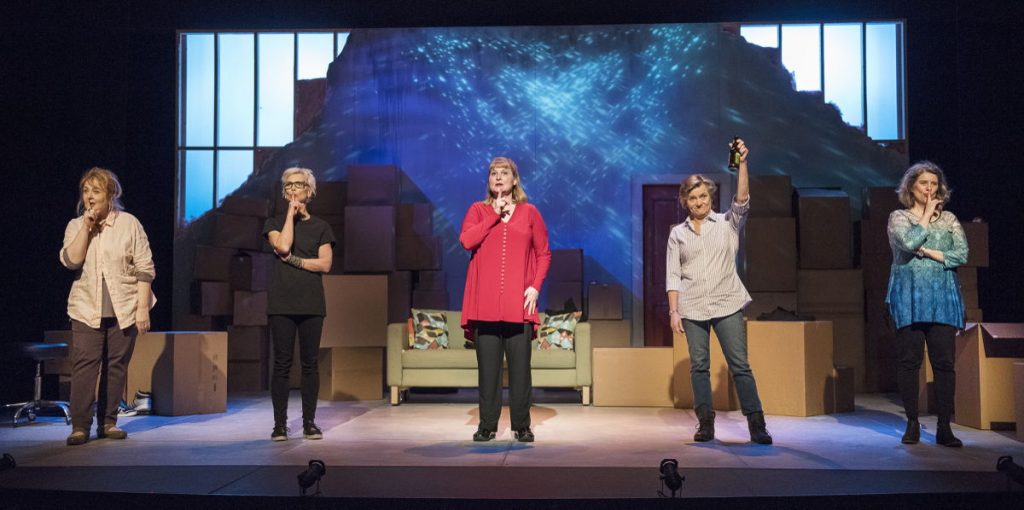 Barbara Pollard, Jill Daum, Deborah Williams, Robin Nichol, Alison Kelly. Photo: Emily Cooper
Older, perhaps wiser, but definitely at the point of truly not giving a *** about what others think, they detail failed marriages, mental health struggles, female sexuality, changing relationships with spouses and children, and coming to grips with self in a far-reaching, rapid-fire two hours.
Mom's the Word 3: Nest ½ Empty is raunchy, bawdy, truthful and incredibly touching with writing that appeals to an audience's sure desire to laugh and unwind, while retaining the ability to hone in on beautiful prosaic poetry—"shrunk like the pieces of ginger left in the bottom of the crisper" remarks Jill Daum in one heartbreaking vignette.
Pam Johnson's clever set, a jumble of large packing boxes onstage, reveals hidden treasures—a fridge, freezer, cupboards and stove—while the back wall is partially deconstructed—a nod perhaps to the internal renovations ongoing as maternal roles change. Furniture is minimal—a large couch and some rolling office chairs. Projections by Kate De Lorme (who also designed the sound) delineate segments of the show and add visual elements to emphasize emotional moments—the death of Dolly Dog, John Mann's final concert, Robin's skydiving adventure.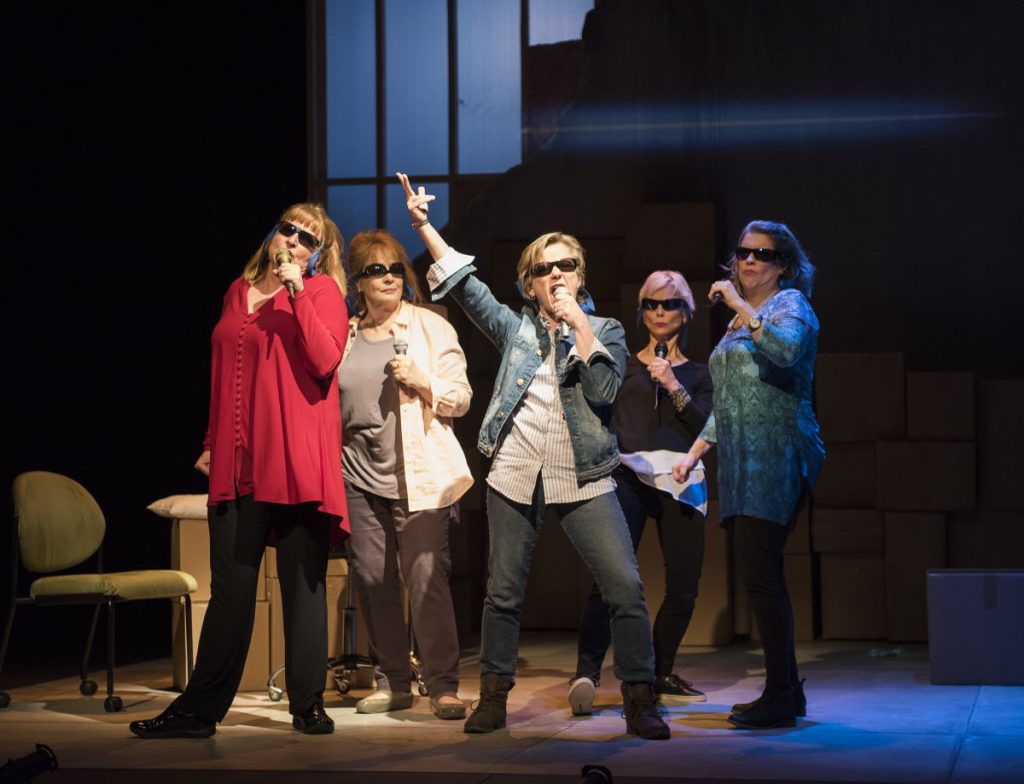 Deborah Williams, Barbara Pollock, Robin Nichol, Jill Daum,Alison Kelly. Photo: Emily Cooper
In a familiar format honed in Mom's the Word and Mom's the Word 2, the woman first introduce themselves and their situations—Barbara Pollard, the "gay divorcée; Deborah Williams, with the "self-loathing gene"; Alison Kelly who wants to "channel her rage"; Robin Nichol who never wanted to be a mom and Jill Daum, whose husband has early-onset Alzheimer's.  They balance humour on a knife edge; nothing is sacred—not illness, death, nudity, sex or language—everything is grist for the mill in the hands of these talented thespians and writers, who have carefully honed their craft over the decades, and, aided by long-time director Wayne Harrison, have a clear understanding of the need to balance laugh-out-loud moments with those of deeper, if no less funny, significance. Guffaws, titters and the quiet knowing laugh erupt throughout the space—it's clear some jokes speak to a particular audience and others are more universal in nature.  As a young friend said after the show "I'm not a mom, I don't have children, but I have a mom and I can relate as a child of a mom."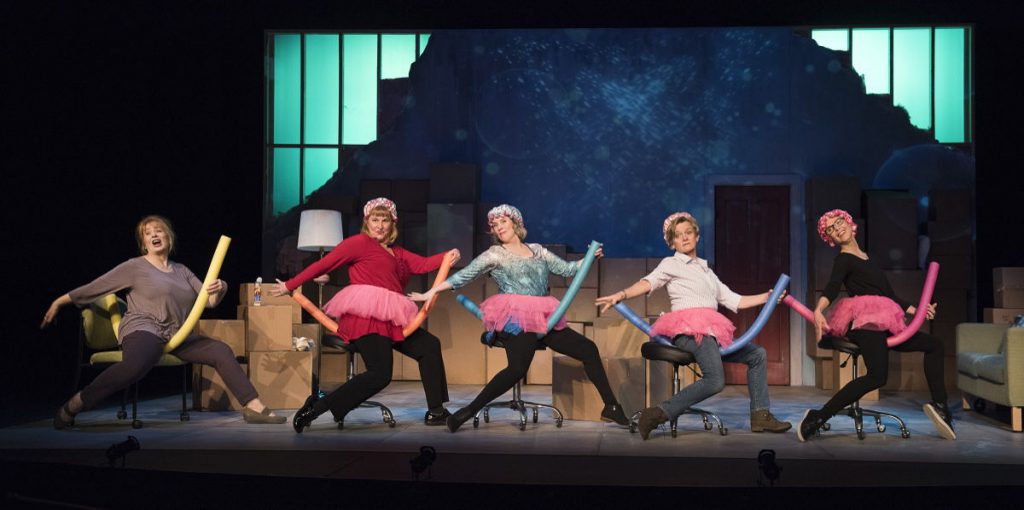 Barbara Pollard, Deborah Williams, Alison Kelly, Robin Nichol, Jill Daum. Photo: Emily Cooper
Interspersed with clever theatrical moments (where Marsha Sibthorpe's lighting design is particularly effective)—the moms in a version of one of Esther Williams choreographed water ballets (Anna Kuman, choreographer) with pool noodles used in a most suggestive manner, as game show contestants and as rockers in a medley of tunes channeling Up Town Funk, Wanna Be, Who Let the Dogs Out—and deep heartfelt confidences, Moms the Word 3 is profound and courageous.  These moms speak for all us more timid souls when they reveal the intimate details of their personal lives in unabashed fashion—putting into words our own inner monologues. They give everyone permission to laugh at the absurdity of life, and to continue to thrive despite its challenges. Regardless of time that advances, these women are unrepentant and triumphant.
Their kids are grown, their marriages have "evolved," and their bodies are backfiring. Life doesn't get any prettier, but it never strays far from ludicrous or poignant as the moms continue to mine their personal history for every embarrassing detail. Filled with insights, secrets, and ribald humour, this new show from the moms you love is both hysterical and deeply touching.
Belfry Theatre presents an Arts Club Theatre Production
Mom's The Word 3: Nest ½ Empty
Written and performed by Jill Daum, Alison Kelly, Robin Nichol, Barbara Pollard & Deborah Williams
1291 Gladstone at Fernwood
July 24-August 12, 2018
Tickets for Mom's the Word 3: Nest ½ Empty range from $26.50 to $54 (plus GST). Tickets are available at 250-385-6815 or online at tickets.belfry.bc.ca. Prices are subject to change. Discounts available for Belfry season subscribers, seniors, students and members of the military.
Creative Team
Original Director – Wayne Harrison
Set and Costume Designer – Pam Johnson
Lighting Designer (Original) – Marsha Sibthorpe
Sound and Projection Designer – Kate De Lorme
Stage Manager –  Marijka Asbeek Brusse
Assistant Stage Manager – Sandra Drag
Performance Schedule (July 24 – August 12)
Tuesday – Thursday at 7:30 pm
Friday & Saturday at 8 pm
Saturday Matinees at 4 pm
Sunday Matinees at 2 pm
Wednesday Matinee (August 8) at 1 pm
Disclaimer: I received complimentary tickets to attend Mom's the Word 3: Nest 1/2 Empty.