My Funny Valentine at OUTstages 2018. Interview with Dave Deveau.
I first interviewed Dave Deveau when his play My Funny Valentine was presented as a reading at the inaugural OUTstages Festival in 2015.  You can read that interview HERE.  I caught up with Dave recently for an update.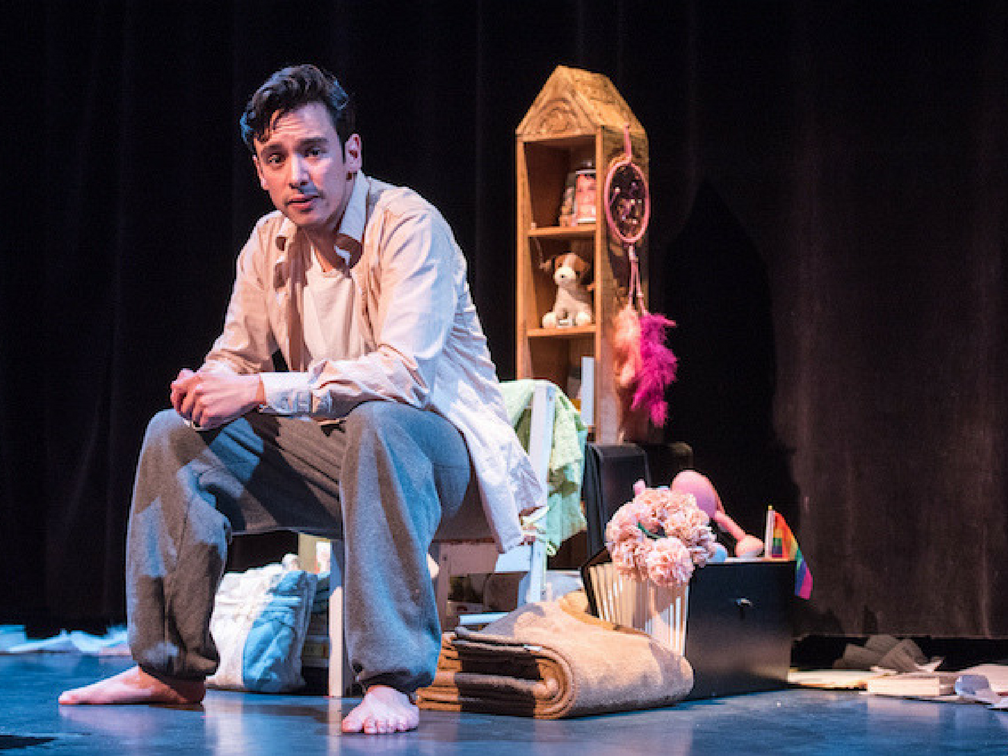 Has My Funny Valentine changed at all since its debut?
Every time we circle back to this show I work on the text a bit, so over the years the final monologue has shifted quite a bit. It's really important for that final piece to take place in the here and now and with a world that changes so drastically from year to year, it always needs some readjustment.  It's been really amazing to see four different actors take on this hefty piece over the years and see their beautiful and haunting interpretations. Some characters have been identical in their performance and others have found completely different nuance in the hands of another performer.
What do you hope to inspire in your audience?
The play really ignites conversations – different people connect to different characters for different reasons. It's all part of a larger conversation of the ripple effect – that when something happens in a community it ripples out and we are all affected.
Who will be interested as a potential audience member?  What would you say to entice someone to come?
The Georgia Straight described the show as The Laramie Project of this generation, which I found deeply kind. It will make you laugh, and it will make you think and feel. These are the reasons I go to the theatre. If you want something broad and fun go see Mamma Mia, but if you want something provocative and something that speaks to the world we are living in, then I'd say My Funny Valentine is a good bet.
What's next?
In addition to raising our four month old son Dexter, I have a whole bunch of plays in the works. My latest work for young people called Ladies and Gentlemen, Boys and Girls, about a transgender nine year old has been touring Ontario and I just received a Dora nomination for it (Toronto Theatre awards). I'm working on new plays for the Belfry, Arts Club, Green Thumb Theatre and a new work for Zee Zee which will premiere in the spring of 2019 called Dead People's Things.
Significant accolades or awards?
My Funny Valentine won me the Sydney Risk Award for Outstanding Original Play by an Emerging Playwright in 2011. It was nominated for the Oscar Wilde award for outstanding writing (Dublin) and the Jessie Richardson Award for Best Original Play. In total my plays have been nominated for 21 Jessies and 4 Doras.
Is there anything I haven't asked you that it would be important to know?
This is Zee Zee Theatre's 10th Anniversary Season and we were included in the city of Vancouver's proclamation of Year of the Queer. This production was our first national tour this year – including a stop at Toronto's Buddies in Bad Times Theatre in January.
My Funny Valentine presented by Zee Zee Theatre, Vancouver
Created by Dave Deveau and performed by Connor Wylie
OUTstages 2018
Metro Studio Theatre
Thursday June 21st at 7pm
Tickets: $25
Duration: 85 minutes
Rating: 12+, Coarse language, scenes describing violence
Genre: Drama
Credits:
Directed by Cameron Mackenzie
Stage managed by Hannah Case
Set & costume design by Marina Szijarto
Lighting design by Jergus Orpsal
Sound design by Shawn Sorensen
Assistant directed by Bronwyn Carradine
My Funny Valentine has been generously supported by TD Bank.
Hailed as "exceptionally beautiful" (Vancouver Courier), this Jessie-nominated work was written in response to the tragic 2008 murder of Lawrence King, a 15-year-old shot by his male classmate after asking him to be his valentine. In a series of profoundly moving monologues, Vancouver actor Conor Wylie will take audiences through the minds of those caught in the aftermath of an unspeakable hate crime. My Funny Valentine cracks open the greater humanity of a town trying to heal.

Hot off a hugely successful run at Toronto's Buddies in Bad Times Theatre and in Vancouver, the play is the recipient of the Sydney Risk Prize and was also nominated for Ireland's Oscar Wilde Award for 'Best Writing'.

"a play ripe for discussion…necessary viewing" -Stage Door (Toronto)

 "an impressive display that's spurred on by the playwright's finesse with character-building" -Georgia Straight

 "a thoughtful, moving exploration…complex, layered and compassionate" -Slotkin Letter (Toronto)

About the company:
Founded in 2008 by Cameron Mackenzie, for ten years Zee Zee Theatre has shared small stories by amplifying the voices of those on the margins. From our first production, Whale Riding Weather, to 2016's huge hit, Elbow Room Cafe: The Musical, Zee Zee continues to drive conversations with diverse audiences on stages across Vancouver.

Through signature productions like Human Library and My Funny Valentine, the company has established itself as having unique and provocative conversations with diverse audiences. It offers recognizable situations with poignancy and builds a connection with our surrounding community in order to inspire unity in the shared human experience.