Olive Copperbottom by Penny Ashton. Victoria Fringe 2017. An interview.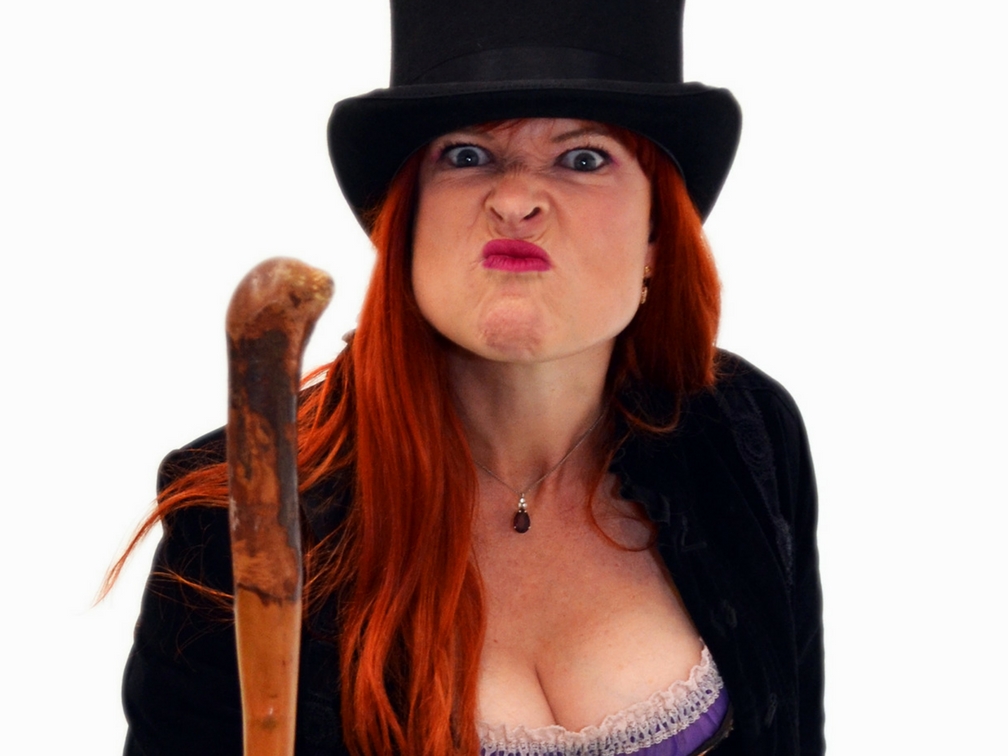 Penny Ashton plays a remarkable fifteen characters in what is sure to be a rollicking performance if her last appearance in Promise and Promiscuity is any indication.
NB: Olive Copperbottom arrives August 28th and is scheduled for FIVE performances.
How long have you been producing work on the Fringe circuit?  As an artist/company?
My first ever Fringe was the 2001 Wellington Fringe as a producer, then the 2004 Edinburgh Fringe as a performer (starting small) and then in 2007 I hit Canada! This will be my 7th Canadian circuit in some capacity.
Is this your first visit to Victoria?  2008
Have you been (or will you be) taking the show to other Fringes?
Yes Toronto, Winnipeg, Edmonton, Calgary and Victoria.
Is your show a new work, or has it been performed elsewhere?
This show was born in NZ in April.
Significant awards or accolades? (not just on the Fringe circuit)
I won Best Theatre in the Adelaide Fringe (not a Canadian circuit) with 1000 shows to contend with, that was Promise and Promiscuity.

Can you speak to the creation process of this work?  
I immersed myself for months in Dickens, finding wonderful quotes, characters and plot devices. I then had a workshop where I focused on making the show accessible for everyone, not just Dickens fans. I chose all the music, then spent months writing the show, designing the costume, having the music recorded and then voila, Olive was born. It was quite the gestation.
Who will your show appeal to?
Musical Theatre Fans, fans of wordplay and innuendo, fans of Dickens and literature in general, fans of kick ass ladies who can fistfight with themselves onstage, ukulele fans, fans of birth control and woman's rights to their own bodies and fans of Dick Jokes.
What would you say to entice a potential audience member to come?
There's gin, gruel, prostitutes, ukuleles, fist fights, drinking songs, corsets, orphans and did I mention the Dick Jokes? There's also a lot of clever language and a rollicking good tale about an orphan you come to care about a great deal. OH and it's all played by one woman of course.
What do you hope to inspire in your audience?  An appreciation of birth control and woman's autonomy, an appreciation that illegitimacy is not the stigma it once was, and the appreciation of dick jokes.
Is there anything I've missed asking you, or that you would like to comment on?

Head to http://www.hotpink.co.nz/shows/olive-copperbottom/ for videos and reviews.
Olive Copperbottom by Penny Ashton
VENUE: V3 – Metro Studio (1411 Quadra St)
Duration: 75 minutes
Genre: Musical Theatre Comedy
Rating: PG 14+
Tickets: $11 through Ticket Rocket or at the doo
Mon Aug 28 – 6:30pm
Wed Aug 30 – 8:45pm
Thu Aug 31 – 9:30pm
Sat Sep 2 – 6:30pm
Sun Sep 3 – 3:15pm
Penny Ashton presents…

OLIVE COPPERBOTTOM: A NEW MUSICAL BY CHARLES DICKENS AND PENNY ASHTON

"…electrically energetic and madly captivating.." Wellington Regional News

Following the delicate sold out successes of Promise and Promiscuity, Penny Ashton swaps Austen for Dickens and brings orphaned hero Olive, and a squalid gaggle of hilarious Victorian characters to crusty life. Will Olive find a family amongst the brothels, toffs and gruel? Or will Mrs Sourtart break her heart as well as her teeth? A rollicking one-woman musical journey through fifteen gin soaked characters told with song, dance and questionable personal hygiene.

Promise and Promiscuity has stormed the world stage, having been performed over 200 times in 4 years and selling out theatres, historic halls and front rooms from Adelaide to Edinburgh to Regina. The natural progression in this literary journey is the master of Victorian squalour and finery, Charles Dickens. Ashton requests that you should come because as Dickens says; "It is a hopeless endeavour to attract people to the theatre, unless they first be brought to believe they will never get in."

"Ashton is a one-woman-show wonder." CBC 2017 ««««

"…a frothy margarita of theatrical fun, with a pronounced tequila kick. Winnipeg Free Press 2017 ««««

"Ashton is truly a remarkable performer; she plays more than fifteen characters, always with great relish and conviction." Mooney on Theatre, 2017  

"…'tour de force'…" Theatreview
"…outstanding solo performance…" Wellington Dominion Post
"…It's a rollicking gem of a show." 13th Floor
"…a virtuoso performance…" Wellingtonista
"..very very good… very very funny…" Radio New Zealand

Penny Ashton is NZ's own global comedienne having performed over 500 solo shows all over the world.  She has represented New Zealand in Theatresports and Performance Poetry and is embarking on her first UK theatre tour with Promise and Promiscuity in 2017.  She is a regular and original panelist on Radio and TV in New Zealand and is a busy marriage celebrant and jazz hand enthusiast.