Paper Street Theatre 26 hour Improvathon March 2/3 in Victoria BC. (Media release)
VICTORIA – Dozens of local performers will take to the stage for more than a day to raise funds for the 3rd annual Paper Street Theatre Improv Festival.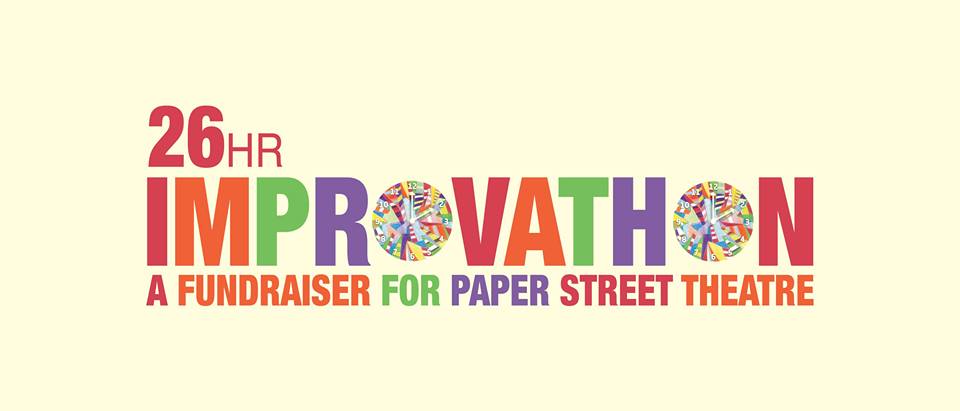 "We are going to improvise for a full 26 hours without stopping," said director Dave Morris. "That's a lot of making stuff up! This is our third year doing the Improvathon and every year it gets bigger and more hilarious. After you've improvised on stage with someone for over a day, it gets really ridiculous."
Each improviser gathers pledges for every hour they are on stage – the longer they performer, the more money they raise. The public is encouraged to come down to Intrepid Theatre any time (literally – any time) between Friday, March 2nd and 10pm Saturday, March 3rd to watch the show and cheer on the performers. Entrance is by donation!
The Improvathon helps raise funds for Paper Street Theatre's Improv Festival in April. This year's festival will feature troupes from Sweden, Finland, America and Canada.The Improvathon is Paper Street Theatre's only fundraiser all year and last year's Improvathon raised almost $3,000. 
The 26-Hour Improvathon
March 2 8pm- March 3 10pm
Intrepid Theatre, 1609 Blanshard
Donate now –
https://www.eventbrite.com/e/26hr-improvathon-tickets-42822597542 
Event Website: http://www.paperstreettheatre.ca/improvathon.html 
Event on Facebook: http://www.facebook.com/events/1969820833280009/ 
Paper Street Theatre creates improvised theatre. With seven seasons under its belt this award-winning company has tackled genres and styles from Lovecraft to Jane Austen to Quentin Tarantino and has toured across Canada and Europe: http://www.paperstreettheatre.ca