One of the aspects of the Victoria Fringe Festival that I appreciate the most is the ability to experience work(s) in genres that are relatively unfamiliar to me. It's that way with dance about which I know very little.  This year Para Dos by PointeTango Company is one of two dance shows at the Fringe (the other being Palabre en el Tiempo).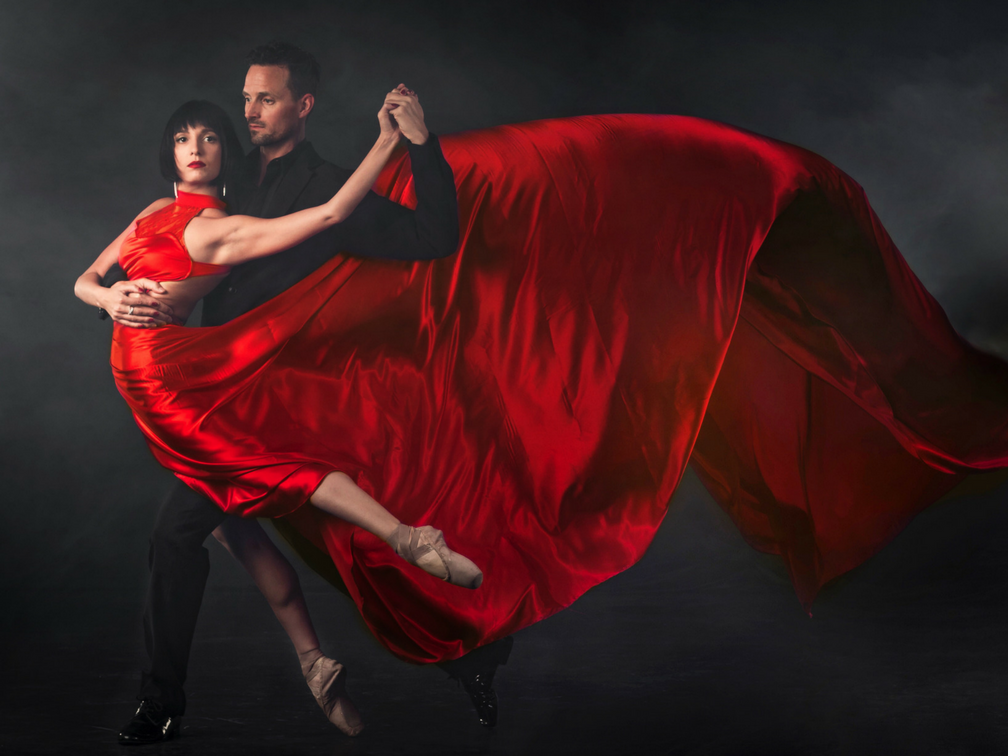 Direct from Argentina, PointeTango Dance Company brings its latest show Para Dos- For Two! to Victoria. Immerse yourself in the music of Buenos Aires and be swept away by spectacular lifts, graceful ballet, and the passion of Argentine tango.
In this original show, Erin and Alexander illustrate their unique dance vocabulary of PointeTango which combines the intensity of Argentine tango with the precision of classical ballet.
Created in the heart of Buenos Aires, Para Dos is the story of two dancers, lovers, and explorers who interpret the culture and drama of this iconic city. Don't miss this one of a kind dance show!
How long have you been producing work on the Fringe circuit?  As an artist/company?
This is PointeTango's first year presenting our original work in the Fringe Festival circuit and it is also a first for us to produce a full-length show of our own choreography and vision. It's a dream come true!
Is this your first visit to Victoria?
PointeTango is very excited to be presenting Para Dos in Victoria for the first time!
Catch a sneak preview of our show in Victoria's Centennial Square on August 25th at 7pm!
Link to Facebook event: https://www.facebook.com/events/1960490840681470/
Have you been (or will you be) taking the show to other Fringes?
Victoria is the last and fifth city of our Canadian tour of Para Dos. We have had successful runs in London, ON, Regina, SK, Hamilton, ON, Saskatoon, SK and we hope to enthuse the Victoria community as well.
Is your show a new work, or has it been performed elsewhere?
Para Dos is a brand new show, premiered and sold out at the London Fringe Festival.
Significant awards or accolades? (not just on the Fringe circuit)    
"A clear audience favourite" –The Western Gazette 
TiLee award winner! -London Fringe Festival 
Best of venue -Hamilton Fringe Festival         
5 Stars/5 -The Star Phoenix
Can you speak to the creation process of this work? 
We, Erin Scott-Kafadar & Alexander Richardson, have spent the last two years in Buenos Aires, Argentina, creating this 45-minute show. We are the only company in the world to dance traditional Argentine tango on classical pointe shoes and have developped a completely new dance vocabulary to be able to transfer the authentic connection of the abrazo (embrace) from Argentine tango to pointe shoes. Alexander, who is a dancer but also the choreographer of Para Dos, revisits his background in music and, as a tribute to the great Canadian Pianist Glenn Gould, plays the opening Aria from the Goldberg Variations live on stage. Among the classics of Argentine tango music, you will also hear an original composition by Alexander entitled 'Tick Tock' created just for Para Dos. All of our costumes are custom made in Argentina and we dedicated a month to design the long flowing red train you see in our poster with the help of the Argentine designer, Jorge Orlando. One sad and unknown fact about Erin's pointe shoes, is that every show, a pointe shoes dies…To help us replace her shoes every show, we have 20$ calendars for sale to go towards our  'pointe shoe fund'.
**7 calendars = 1 pair of pointe shoes!
Who will your show appeal to?
Calling all lovers of dance to come see Para Dos. Wether you love tango, ballet, music, or art, this is the show for you. We have also had great comments and reviews from audience members experiencing a live dance show for the first time. This is a show for people of all ages, so bring your grandparents and bring you little ones, its only 45-minutes!
What would you say to entice a potential audience member to come?
Come see this one of a kind dance show! Experience the passion of Argentine tango, the precision of classical ballet, mesmerizing lifts and live piano and let the music of Argentina transport you to the bustling streets of Buenos Aires.
What do you hope to inspire in your audience?
We hope to inspire a love for live dance. Being engaged in the present, to experience and feel something unique in the moment that can't be replicated. We also hope to encourage young aspiring dancers to pursue their dreams and create something innovative. If you don't fit a certain mold, create an environment where you can shine.
Is there anything I've missed asking you, or that you would like to comment on?
Para Dos which means "For Two", is a dance show made for two; two dancers, two lovers, two travellers and we tell our story through movement. To follow our story, please like us on Facebook @PointeTango and watch our videos on PointeTango's Youtube channel.
For all the program notes of the music and poetry we dance to, visit our website at www.pointetango.com
PointeTango is a unique dance company directed by choreographer, Alexander Richardson and created with lead dancer, Erin Scott-Kafadar. Pushing new boundaries of dance, PointeTango combines the intimacy of Argentine tango with the precision of classical ballet to create a new dance vocabulary.

**PointeTango is the only dance company in the world to transfer the connection of the abrazo (embrace) from Argentine tango to pointe shoes.  
Para Dos by Pointe Tango (Montreal)
Metro Studio Theatre (Fringe Venue 3) 1411 Quadra Street
Tickets: Advance price: All Seats $11 + s/c Door price: All Seats $11
Duration: 45 mins
Rating: All ages
Genre: Contemporary dance
Showtimes :
Fri Aug 24 – 5:15pm 
Sat Aug 25 – 9:15pm 
Sun Aug 26 – 4:00pm 
Tue Aug 28 – 7:45pm
Fri Aug 31 – 9pm  
Sat Sep 1 – 8:30p
NOTE: All ticket holders 13 + must have a Fringe Button to use their ticket. A $1 surcharge applies per ticket (this fee directly supports the Victoria Fringe). Advance sales cut off 3 hours prior to show time. At door tickets go on sale at venue 1 hour prior to show time, cash only (half of all tickets are reserved for at door sales). Fringe Buttons can be purchased in advance at Fringe HQ, Ticket Rocket and at every venue. No latecomers, exchanges or refunds. 
Credits
Choreographer/dancer: Alexander Richardson
Dancer: Erin Scott-Kafadar
photographer of poster image: Mark Ruddick