Twist and Shout—The British Invasion, presented at the Chemainus Theatre Festival June 12-August 29 was originally conceived by director Alex Mustakas, the founder of powerhouse Drayton Entertainment, in 2005. Ten years later, it's still going strong and was re-mounted in 2014 at the Huron County Playhouse (Grand Bend, ON) where it all began.
If ever a musical revue can be called a blockbuster, it is Twist and Shout. Designed to appeal to a dedicated group of theatre-goers, the baby boomers, but drawing audiences across a cross-section of music aficionados, it pulls no punches for sheer number of musical hits, dance numbers and costume changes.
Set design (Jeff Johnston-Collins, who also designed the lighting) carefully re-creates a note-perfect live TV studio, complete with turquoise accents, raised daises for the performers and large TV screens to either side of the stage—playing continuous loops of 1960s-era commercials during the break, and displaying historic musical facts and close-up shots during the scenes (exhaustive research provided by Michael Bignell with visual elements by Peter Conrad and Steve Kelly).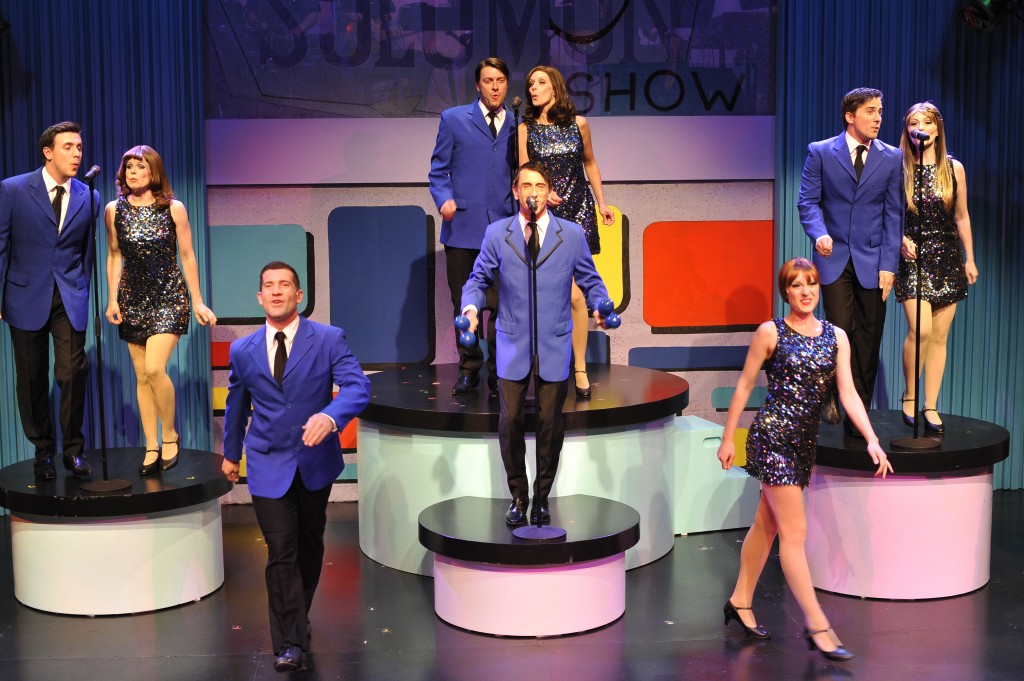 Studio host Roy Solomon (Tory Doctor) mimics popular figures of the time, giving a particularly fine impression of Ed Sullivan introducing the band that started it all—The Beatles (Alexander Baerg, Duff McDonald, Nigel McInnis, Scott Walters)—and winning over the full house with his lovable goof-ball ways, and comedy shtick (pulling a hat out of a rabbit, performing a magic act and switching clothes with dance captain Jessica Keeling to the tune of Delilah). His performances are not only confined to hosting but include solos on tunes (There's a Kind of Hush) as well as wonderful footwork (With a Little Bit of Luck and Get Me to the Church—complete with pearly costumes) with ensemble members Galen Johnson, Jarret Cody, Jessica Keeling and Julianne Hobby.
Twist and Shout is an extensive tribute (over five dozen songs) to a brief period in time, 1964-1967, when the face of music changed dramatically, covering all the great and minor hits of seminal groups—the Beatles, Herman's Hermits, The Animals, Freddy and the Dreamers, Procol Harum, Dave Clark Five, The Searchers, The Hollies, The Rolling Stones—and individual artists—Donovan, Petula Clark, Lulu, Dusty Springfield, to name but a few. Mustakas even includes a nod to British film (James Bond with Cailin Stadnyk channeling Shirley Bassey (Goldfinger) in a clinging gown dripping with sequins and beads—costume design Jessica Bray) and musical theatre (Camelot, My Fair Lady, Oliver- As Long as He Needs Me beautifully rendered by Heather McGuigan).
The excellent live band (Patrick Courtin, Marisha Devoin, James McRae, Brad Shipley) led by Nico Rhodes plays hidden from view perched above the action. The technical wizardry of live mix designer Paul Tedeschini synchronizes the music with the actions of the performers onstage—what an incredible feat that demands a perfect sense of time, rhythm and co-ordination from all involved. The entire production becomes the living embodiment of finely honed craft and art.
With a cast of twelve, many of whom have appeared in other Drayton productions, space onstage is tight. Choreographer Gino Berti employs all the moves that seemed so hip at the time—precise undulations, arms that sway gracefully, bops and light hip checks, little hitches, fabulous spins and twirls. The dancers display a great spirit of playfulness, joy and light-heartedness—the care-free side of youth, pre-Vietnam War.
With its snappy, up-beat tempo, and happy nature Twist and Shout barely hints at the turmoil to come. Donovan (Duff MacDonald—an original cast member) wanders trippingly through the theatre singing Mellow Yellow in a running gag.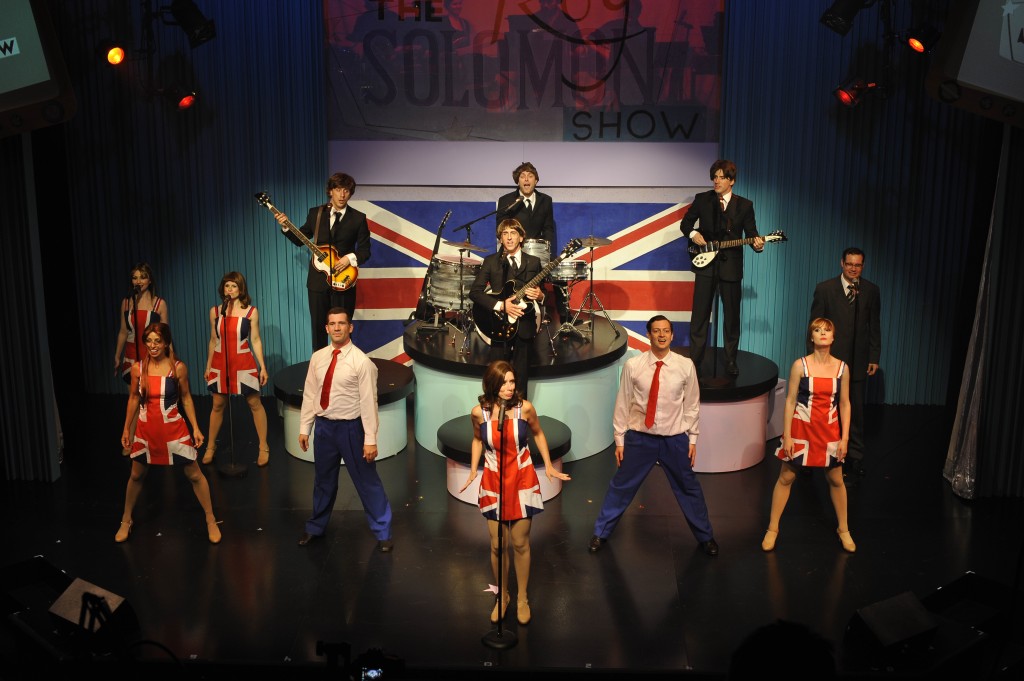 Staging varies from quintets, quartets, duos to the full ensemble, with some very effective work by the all-female combo of Sara Alexander singing Lulu's big hit To Sir With Love, Heather McGuigan in Petula Clark's I Know a Place, Julianne Hobby as Cilla Black in Anyone Who Had a Heart and Cailin Stadnyk as Dusty Springfield in You Don't Have to Say You Love Me. The ladies can bop with the best of them, attired in Mary Quant-inspired pop-art sheaths and mini-skirts, or sexy, slinky gowns. Part of the allure of the show lies in remembering the sea-change in clothing choices during this period—turtle-necks for men, polyester, Nehru collars, vivid prints.
Soloists shine in individual numbers—Duff MacDonald, boldly lit in House of the Rising Sun, Alexander Baerg in a whole-hearted Whiter Shade of Pale, Cailin Stadnyk belting Son of a Preacher Man, Scott Walters prancing and hamming it up as Mick Jagger and Heather McGuigan displaying great emotional range in You Don't Own Me.
The ensemble lets loose in Shout (expertly handled by vocalist Cailin Stadnyk leading the audience in a call-and-response) and the assembled crowd jumps to its feet in appreciation for this salute to the sixties and the British Invasion that changed pop music forever.
Twist and Shout-The British Invasion, conceived and written by Alex Mustakas
Orchestration & vocal arrangements by Robert Foster
Directed by Alex Mustakas
Chemainus Theatre Festival
June 12-August 29, 2015
Tickets: $28-$71 depending on show availability and demand.
Chemainus Theatre practices dynamic ticket pricing.
Directed by Alex Mustakas
Choreographer Gino Berti
Set Design Jeff Johnston-Collins
Costume Design Jessica Bray
Live Mix Design Paul Tedeschini
Stage Manager Sara Robb
Apprentice Stage Manager Mel Watkins
Wardrobe Apprentice Emma Clark
Backstage Crew Joanna Legwand
Musical Director/Keys Nico Rhodes
Keys 2 Patrick Courtin
Bass Marisha Devoin
Drums James McRae
Guitar Brad Shipley
Ensemble Sara Alexander
Ensemble Alexander Baerg
Ensemble Jarret Cody
Roy Solomon Tory Doctor
Ensemble Julianne Hobby
Ensemble Galen Johnson
Ensemble Jessica Kelling
Ensemble Duff MacDonald
Ensemble Heather McGuigan
Ensemble Nigel McInnis
Ensemble Cailin Stadnyk
Ensemble Scott Walters
Disclaimer: We attended Twist and Shout The British Invasion as guests of the Chemainus Theatre Festival. As always, I retain complete editorial control of all content published on this website.