Shirley Valentine by Dragon Monkey Theatre. A review.
I had the opportunity to attend the sold-out production of Shirley Valentine by Dragon Monkey Theatre, a fundraiser for the Victoria Women's Transition House, at the Intrepid Theatre Club in June (June 2-4).  Based on the demand for tickets, the company is remounting the production at Langham Court Theatre (with a portion of ticket sales benefiting the theatre) July 20-22, 2017.
Lorene Cammiade has an incredible facility with dialect (coach Danda Humphreys) and physicality, clearly portraying a phenomenal twenty-two characters in the one-woman Willy Russell hit show Shirley Valentine.  Written in 1986, the saga of this working-class Liverpudlian housewife, constrained by class and tradition to a rather stifling role, remains relevant thirty years on, due to the careful considerations of the Dragon Monkey Theatre team.  Director Wendy Merk mines the darker corners of this preternaturally cheery character and, under her direction, Cammiade excels at revealing great levels and depths—of despair, pluck and perseverance. Whether chatting up a storm to "wall", coming to terms with her husband's nature, doing a send-up of her daughter Milandra's reactions or taking on xenophobic British vacationers—there is an inner steeliness that lies beneath the happy-go-lucky exterior.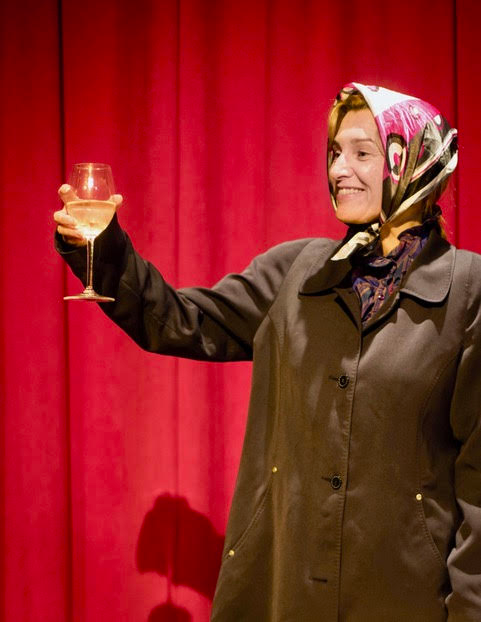 Photo: Terry Stitt
Onstage for the duration (an amazing two hours and 15 minutes), first in her apartment and then sunning on a beach in Greece (and talking to "rock") Cammiade holds the audience's attention from first to last word.  The sparse set elements allow theatre-goers to focus in on Russell's adept script and truly experience the power of solo theatre in the hands of seasoned practitioners. Sound design (Jason King) and lighting (Carol-Anne Moore) contribute to create a fulsome, well-rounded production, proving once again that it is not required to have a large budget to create a rich theatrical event.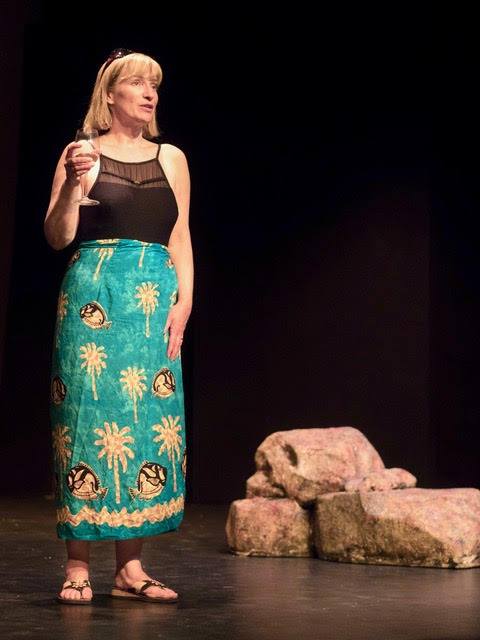 Photo: Terry Stitt
Comedy and everyday drama co-mingle in this true tour-de-force performance.  If packed houses at shows in June were any indication, audiences are advised to obtain tickets soon for benefit shows at Langham Court Theatre July 21 and 22.
Shirley Valentine by Willy Russell, directed by Wendy Merk
Langham Court Theatre
July 20-22, 2017 Thursday and Friday at 8pm, Saturday at 2pm.
Tickets $20 each. Available at the door if there are any left. To be sure, phone 250 384 2142.