Silent Sky by Lauren Gunderson at the Chemainus Theatre Festival. A review.
From the depths of the human soul to the vastness of space, Silent Sky by Lauren Gunderson—at the Chemainus Theatre Festival October 13-November 4, 2017—is a transcendent journey filled with passion and love.
Henrietta Leavitt (Emma Slipp) deserves to be more well-known. She was at the forefront of ground-breaking research in early 20th century astronomy, single-handedly discovering over 2400 variable stars (half those identified up to that point). Yet, today, her legacy is largely unrecognized by the general public.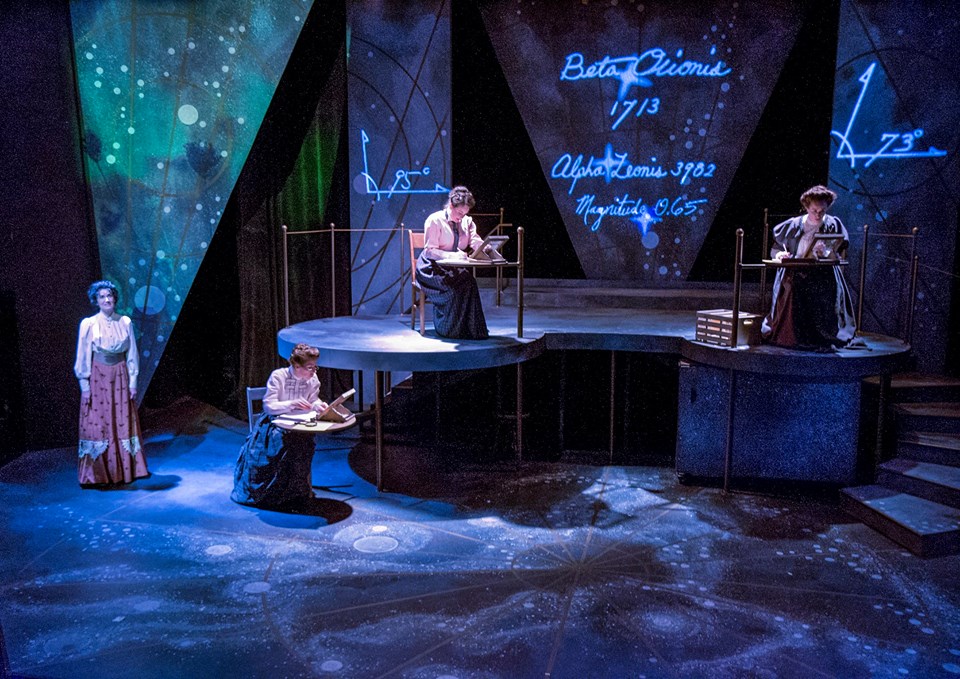 Andrea Cross, Anita Wittenberg, Emma Slipp and Luisa Jojic. Photo: Cim McDonald
Playwright Lauren Gunderson sets out to rectify this oversight through gripping dialogue that pulsates with vigor and humour, painting a clear picture of the challenges Henrietta encountered during a lifetime devoted to the stars.
As Henrietta, Slipp vibrates with energy, even when standing still—as if words alone could never communicate the workings of her ever-curious mind. With a direct and forthright manner she's a juggernaut on a mission that no one can deny—not family and certainly not convention.  At a time when women didn't yet have the vote and when their financial affairs were ceded to male relations, Henrietta convinced her father to release her dowry in order to travel from the family home in Wisconsin, to Harvard and the famous laboratory of Edward Pickering, where she joined a group of women—the first "computers—who parsed astronomical data.
Here she worked under suffragette Annie Cannon (Luisa Jojic) and Williamina Fleming (Anita Wittenberg)—two women who couldn't have been more different.  Jojic portrays Cannon (who developed the Harvard Classification Scheme for stars) as stern and no-nonsense, though, with the passing of time, she gradually warms and the atmosphere becomes collegial.  As Fleming, Wittenberg is brusque and blustery, with a firm disposition to skewering people, particularly Peter Shaw (Jay Clift) their immediate superior.  Much of the humour in Silent Sky is due to Wittenberg's incessant asides and sharp observations. Clift's Shaw is awkward and bumbling—providing the sense of a man who is largely outpaced intellectually by the women considered to be his inferiors, and hindered by the social rules of the day—to the point that he cannot pursue his romantic relationship with Henrietta.
Andrea Cross, playing Margaret Leavitt, the sister who remains at home to tend to familial obligations, contributes quiet counter-balance to the at-times tempestuous Henrietta.  Her music reveals an essential clue to a puzzling scientific problem.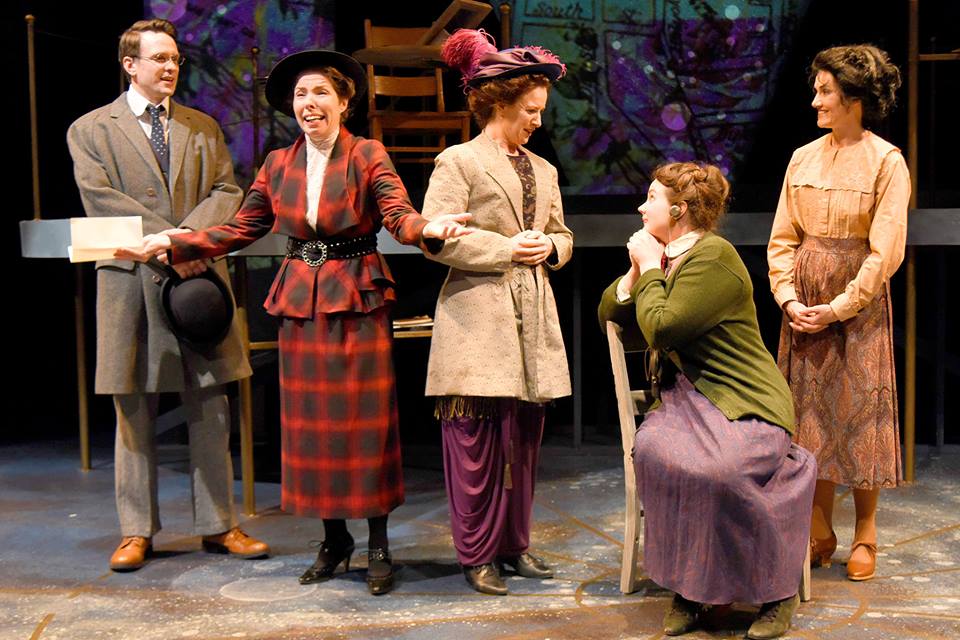 Jay Clift, Anita Wittenberg, Luisa Jojic, Emma Slipp, Andrea Cross. Photo: Cim McDonald
Under the discerning direction of Mark DuMez the cast conveys the tumultuousness of the times—when society was on the cusp of change, and the universe was unveiling enormous secrets. Silent Sky is filled with heady ebullience as fact after hitherto-unassailable fact yields to the onslaught on new data and theories. Nowhere is this constant tension more noticeable than in the relationship between sisters—the placid life of Margaret pitted against the unending thirst for knowledge exhibited by Henrietta.  In this counterbalance, Slipp and Cross create a powerful dynamic that underscores the entire piece.
Erin Gruber has refined the two-level set to a few simple elements against which to display a wide range of elegant projections—from townscapes, to ocean-going liner, from super novas to intricate mathematical equations. Lighting by Conor Moore paints a broad swath between light and dark, creating intimate moments when Henrietta is working late at night alone in the laboratory as readily as the public everyday environment. Combined, the effect is cinematic and definitely captures the awe-inspiring wonder and enormity of space. Nico Rhodes' sound design magnifies this feeling.
Costumes by Crystal Hanson are works of art—moving from the corseted styles of the early 1900s with their stiff colours, mutton sleeves and full skirts to the softer and more simplified fashions of the 1920s.
Lauren Gunderson is currently the most produced living playwright in the US—with her warm, witty, human dialogue, it's easy to see why.  Silent Sky bristles with life; complex scientific ideas are readily distilled for a popular audience.  Through these lovable characters it's possible to glimpse the passion that inspired a generation of women to reach for previously unattainable heights. Intellectually stimulating and artistically uncompromising Silent Sky is theatre that engages heart, mind and soul.
Silent Sky by Lauren Gunderson, directed by Mark DuMez
Chemainus Theatre Festival
October 13-November 4, 2017
Tickets: $26-$69 without buffet $38-98 with—depending on day and time
250-246-9820 / Toll Free: 1-800-565-7738
Email:
info@chemainustheatre.ca
Website:
http://www.chemainustheatre.ca
Creative Team
Director Mark DuMez
Set/Projection Designer T. Erin Gruber
Sound Designer Nico Rhodes
Lighting Designer Conor Moore
Costume Designer Crystal Hanson
Stage Manager Jessica Schacht
Apprentice Stage Manager Shelby McCoy
Cast
Peter Shaw Jay Clift
Margaret Leavitt Andrea Cross
Annie Cannon Luisa Jojic
Henrietta Leavitt Emma Slipp
Williamina Fleming Anita Wittenberg
Disclaimer:  We attended Silent Sky as guests of the Playbill Restaurant and the Chemainus Theatre Festival.
Further reading:
Lauren Gunderson
http://www.americantheatre.org/2017/09/21/the-top-20-most-produced-playwrights-of-the-2017-18-season/
https://www.newyorker.com/books/page-turner/youve-probably-never-heard-of-americas-most-popular-playwright
"Henrietta Swan Leavitt." Famous Scientists.
https://www.famousscientists.org/henrietta-swan-leavitt/
Online Star Register. Women in Astronomy. Part 1: Henrietta Leavitt
https://osr.org/blog/osr-en/women-astronomy-history-part-1-henrietta-swan-leavitt/