Sleeping Giants by William Head on Stage WHoS October 7-November 5 2016. A review.
Sleeping Giants currently playing at William Head on Stage (in collaboration with SNAFU) is
SNAFU's founder Ingrid Hansen first introduced devised theatre to the men at William Head in 2010—the result was CHALK, a silent movement-based piece.  In the intervening years, they have gone on to imagine Fractured Fables (a series of fairy tales based on inmates' lives in collaboration with The Prison Collective and Peter Balkwill of the Old Trout Puppet Workshop), Time Waits for No One (inspired by Mitch Albom's book The Five People You Meet in Heaven) and, last year, HERE: A Captive Odyssey—the history of William Head from before contact to the present.  Every year, new people are incorporated into the "living WHoS community" and every year the skill sets of seasoned members grow.
This year is significant as the team of "outside" artists has often served in a mentorship role; the production design—set, lighting, costumes—was created by the men; they also had considerable input for the music and sound design (composer Katrina Kadoski).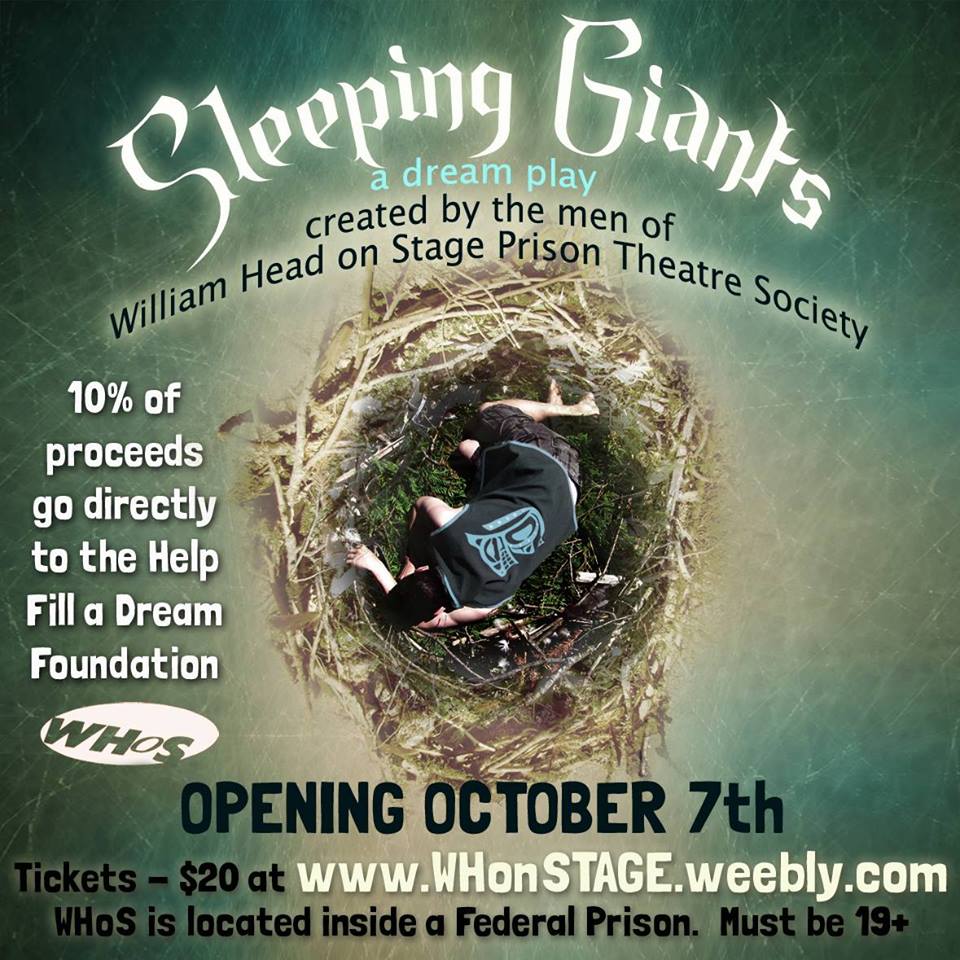 Sleeping Giants introduces a world where people can no longer dream—captive to the bright, new and shiny, they wander the world entranced by "the blue light".  As a result, the Night—Ketab (RS) is fading.  In a last ditch effort to save the world, he gathers the Spirits around a magic well and sends them out to lure potential dreamers to drink of its waters and fall asleep.
A medicine wheel, drawn on the floor, describes the space with the well set in the centre and the audience situated on four sides. Actors enter and exit from the four directions.  Overhead a transparent jellyfish-like creature hovers, introducing the dream element.
Designs are fantastical—beginning at the archway entrance from outside with feathers and fabric intertwined with lights. Costumes (designer RF) for the Spirits and the Dream Dust Ensemble incorporate layer upon layer of free-flowing shimmery fabric; the inhabitants of Shinyville sport sparkles, sashes and brilliant accoutrements while the clothes of Rustyville are dark-toned and utilitarian; Moko Jumbi's headdress and tail feathers are works of art.  The incredible attention to detail extends to the fabulous footwear and hair styles (TL)—when did a local production last have a cobbler?
Ambient sounds, created by DJ Rusty Bucket (BD), Rusty Sixstring (RC) and Rusty Busker (Tasha Diamant), fill the air. The Dream Dust Ensemble (Emma Zabloski, JJ, JH, JU, DW and JF) swirl and whirl and, on occasion, break dance.
The Dream Spirits are an eclectic group—drawn from indigenous traditions (Rayna—Anne Cirillo), the Caribbean (Moko Jumbi—an upbeat DN dances on stilts, teasing and taunting the audience) and fairy tales (Sprite—Jeni Luther; Fogre–a blustery PF, and the commanding Alchemist EG, towering over the others).
Five men have lost their way—can they be saved and find their way back to who they were? Sapa Awasis (JA) becomes a slave to Moko Jumbi—struggling to free himself his tragic shiver-inducing laments ring out.  Rico (CL), a "rusty" wants desperately to be a "shiner" in order to help his sick mom–in his dream he raps with Fogre. Babaloo (ST) has wandered too far from Shinyville; tempted by Sprite, he dances. Tutsup (TA), once a forest dweller, is turned into a bear to learn tolerance, patience and love. Zip Jam Totempole (VW) remembers the teachings of his grandmother Rayna.
The WHoS ensemble has taken deeply personal stories, found essential nuggets of universal truth and in so doing, created a story that enraptures, elevates and heals.  Director Kathleen Greenfield has an expansive and loose style that allows participants to range free within carefully set boundaries—there is great liberty, playfulness and joy to the proceedings, despite the struggles faced by the protagonists.
Mirth and laughter are lightly sprinkled throughout—in the delightful way the "big oaf" of an ogre attempts to break dance (PF as Fogre is hilarious in this moment), as Moko Jumbi holds forth from on high, and when Sprite tempts Babaloo.
Sleeping Giants is a story of restoration and redemption fashioned from the gifts, large and small, of a group of people determined to come together as a creative force and belong to something bigger than themselves.  The multiple layers of narrative and design present ample opportunities for spectators to contemplate a particular thread in this dense tale.  Whether your particular pleasure lies in absorbing, observing or pondering—you will be well served in this wonder-filled world.
Now celebrating their 35th year the William Head on Stage Prison Theatre Society continues to challenge (themselves and audiences) and entertain, a short 35 minutes from Victoria, yet a world apart.
Sleeping Giants: A Dream Play directed by Kathleen Greenfield
co-produced by William Head on Stage Prison Theatre Society (WHoS) and SNAFU
William Head Prison, 6000 William Head Road
October 7-November 5, 2016
Tickets $20 in advance only through Ticket Rocket, online in person (101-804 Broughton Street) or by phone 250 590 6291.
10% of proceeds go directly to the Help Fill a Dream Foundation
Gates Open at 6:15pm
Gates Close at 7:15pm
Show Begins at 7:30pm
Absolutely no late-comers
W.H.o.S. is located inside a Federal Prison.
Must be 19+ to enter. You may be electronically scanned and
searched by a dog. Personal belongings (purses, wallets, cell phones, money, etc) are forbidden and must be left in your car.
No smoking materials are permitted.
PHOTO ID REQUIRED.
Directed by Kathleen Greenfield
Co-Created, Designed and Performed by the Men of WHoS and Anne Cirillo, Tasha Diamant, Jeni Luther, and Emma Zabloski
Music Composition and Sound Design Mentor Katrina Kadoski
Stage Management Mentor Erin Crowley
Lighting Design Mentor Poe Limkul
Costume Design Mentor Ingrid Hansen
Choreography by Ingrid Hansen and Emma Zabloski
Movement Coach John Aitken
Costume Support from Preeti Dhaliwal
Disclaimer: I was offered a complimentary ticket to attend Sleeping Giants