Sweeney Todd by Sondheim, currently playing at Blue Bridge Repertory Theatre July 31-August 12, 2018, bristles with electricity and a terrible current of visceral vitality that keeps audiences spell-bound throughout.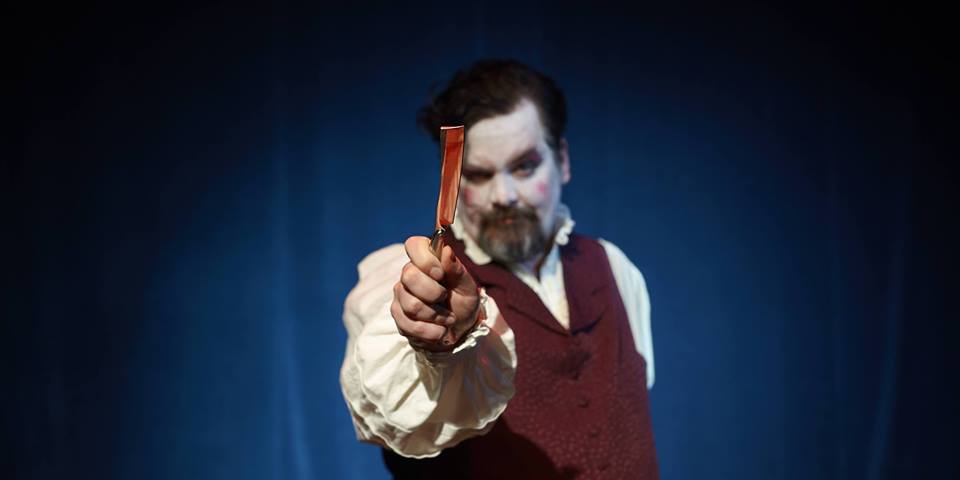 Daunting in scope for a small ensemble of ten players, this version of Sondheim's cult hit—it's been staged around the world since its original Broadway run in 1979, adapted as a movie in 2007 by Tim Burton with Johnny Depp and Helena Carter Bonham and as an opera, recently performed by Vancouver Opera—demands nimble musicianship (music direction Don Horsburgh) and inventive design.
Director Brian Richmond decided early, given the constraints of the casting and the physical space at the Roxy Theatre, in consultation with the design team—Patrick Du Wors, set and lighting, Graham McMonagle, costumes—to reframe the narrative.
A scrim, decorated by antiqued projections of the show's title, obscures the audience's initial perceptions. Behind it, characters, in white-face and dressed in white, move with slow deliberate actions (Jessica Hickman–movement). Buckets, titled with the seven deadly sins and three virtues, line the front of the stage.  People paint on the walls.
The music is disconcertingly genteel and refined—classic minuets and sonatas play in the background.
There's a sudden bustling about as people dress one of the characters in a skirt.  The curtain is drawn—the action begins.
Welcome to the world of Sweeney Todd as seen through the eyes of the participants in an arts therapy class for the morally deranged—a world where, other than Sweeney Todd (Jacob Richmond oozes danger and menace as the unhinged barber, holding on to sanity by a thread) and Mrs Lovett (Shauna Baird is, by wicked turns, sweet and accommodating, or taunting and conniving), personalities and personages are donned and cast off in a terrible simulacra.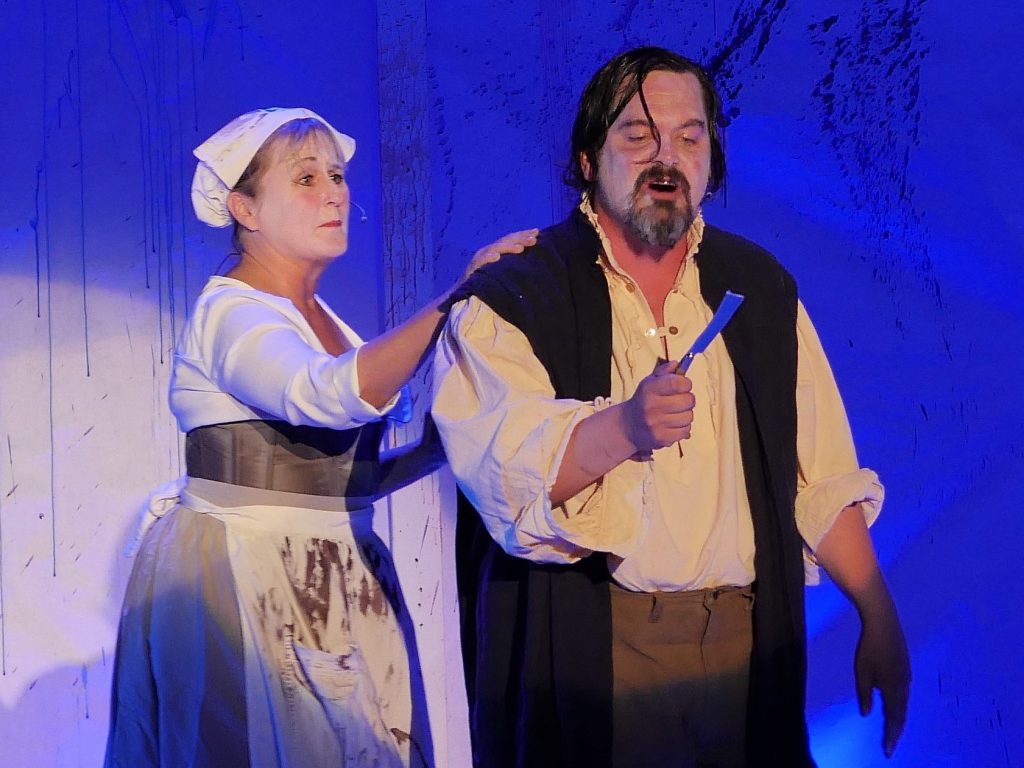 Shauna Baird and Jacob Richmond. Photo: Jam Hamidi
The original raked stage from the inaugural season provides an enhanced sense of closeness to the proceedings.  Paper covers the flats allowing for many background scenes to be performed as shadow play and puppetry, adding another layer of the macabre and, at times, much needed comedic relief.
The ensemble—Cassandra Lemoine-Johanna, Kholby Wardell-Tobias, J. Lindsay Robinson-Judge Turpin, Rielle Braid-Beggar Woman/Pirelli, Gabriel Macdonald-Anthony Hope, Joé Lampron-Beadle Bamford, Sarah Murphy and Kieran Foss—comprised of early career musical-theatre and opera talent, is strong and cohesive, their singing a wonderful expression of diverse styles.  Each member brings incredible clarity and definition to songs showcasing their characters—Lemoine reaches pure, soaring heights;  Wardell portrays addled innocence and an eagerness to please; Robinson is the epitome of cupidity and avariciousness; Braid is lusty and unbridled as the Beggar Woman and hilariously self-important as Pirelli, the rival barber; Macdonald is true and virtuous; Lampron is precious and proud, Murphy and Foss (who was parachuted in at the last moment due to sudden emergency)–vibrant and cheeky in various character roles.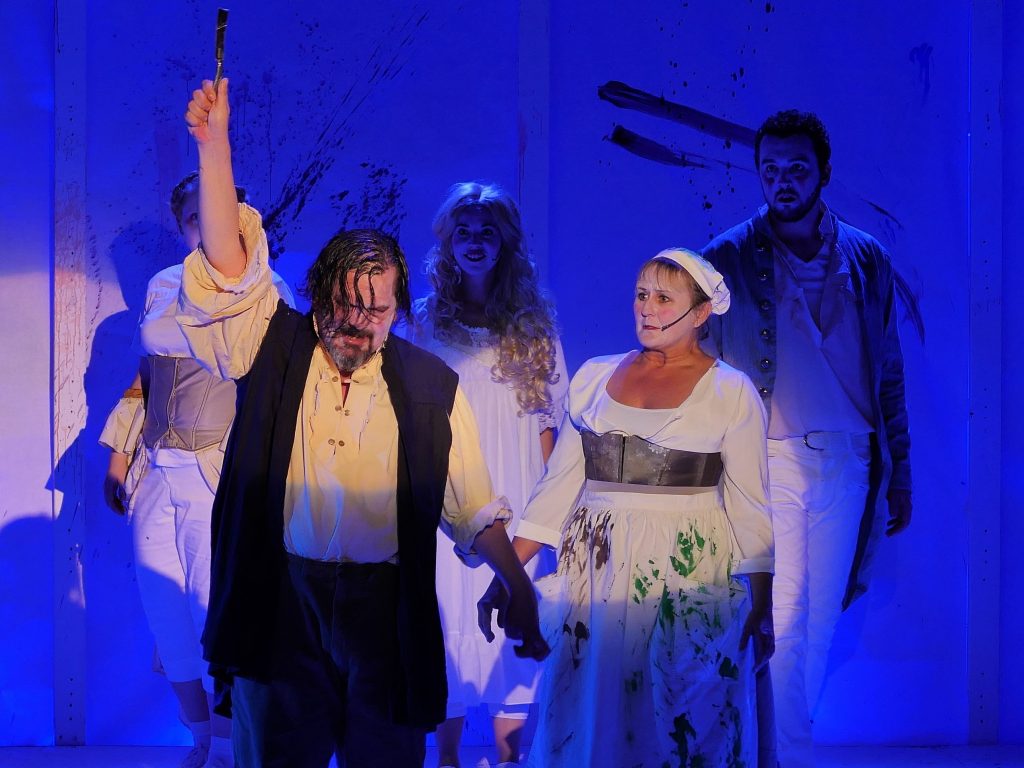 Rielle Braid, Jacob Richmond, Cassandra Lemoine, Shauna Baird, Gabriel Macdonald. Photo: Jam Hamidi
Du Wors lighting effects conjure a world where evil abides just under the surface—green hues tinge the opening number Sweeney Todd, providing an inkling of what is to come; unease permeates the proceedings from the very beginning. Likewise as dastardly murders begin to accumulate, red washes over the actors in splotches.
McMonagle's costumes carry highlights of Commedia dell'arte with overcoats, simple bustles and petticoats, bright orange ribbons for hair, hats and wigs—further emphasizing the framing device.
Musical accompaniment is provided by two keyboardists (Jeff Poynter and Heather Burns and Meredith Zwicker in rotation)—with over thirty songs and the magnificent dissonances of Sondheim's music this is a tremendous accomplishment.
Brian Richmond is well-known for the vastness of his creative vision, his ability to distill the pure essence of any production and his belief in the actors' capacities to perform feats they previously thought unreachable. The result is an exhilarating performance of the highest calibre that energizes and entertains simultaneously. Sweeney Todd caps an already remarkable tenth anniversary season.  Bravo to everyone involved!
Directed by Blue Bridge Artistic Director Brian Richmond, this chamber version of this popular work has been offered a bold new visual re-conception by Richmond and his design team, set and lighting designer Patrick Du Wors and costume designer Graham McMonagle. Conceived as taking place in a present day arts therapy workshop for the 'politically deranged', this new version sees ten performers on stage painting, creating and destroying their sets and costumes on a nightly basis while they sing, dance and mime their way through their vision of 1847 London.
Sweeney Todd, the Demon Barber of Fleet Street,
Blue Bridge Repertory Theatre at the Roxy, 2657 Quadra Street
July 31-August 12, 2018
Tickets: $25-52 depending on day
Directed by Brian Richmond
Music Direction by Don Horsburgh
Movement by Jessica Hickman
Designed by Patrick Du Wors and Graham McMonagle
Dialects by Iris Macgregor-Bannerman
Starring:
Jacob Richmond as Sweeney Todd and Shauna Baird as Mrs Lovett
with
Rielle Braid, Kieran Foss, Cassandra Lemoine, Joé Lampron, Gabriel Macdonald, Sarah Murphy, J. Lindsay Robinson, and Kholby Wardell
Piano
Jeff Poynter, Heather Burns and Meredith Zwicker
Disclaimer: I was offered complimentary tickets to attend opening night of Sweeney Todd.