The Drawer Boy at Blue Bridge Repertory Theatre July 3-15. 2018. A review.
The Drawer Boy—written by award-winning playwright Michael Healey in 1996 about the experience of The Farm Show—an early (1972) experiment in community-based theatre, where actors created shows based on the lives of Ontario farmers—and currently at Blue Bridge Repertory Theatre until July 15th, is a riveting homage to an homage—a modern re-telling of what has itself become a classic of Canadian theatre (and one of its most-produced plays).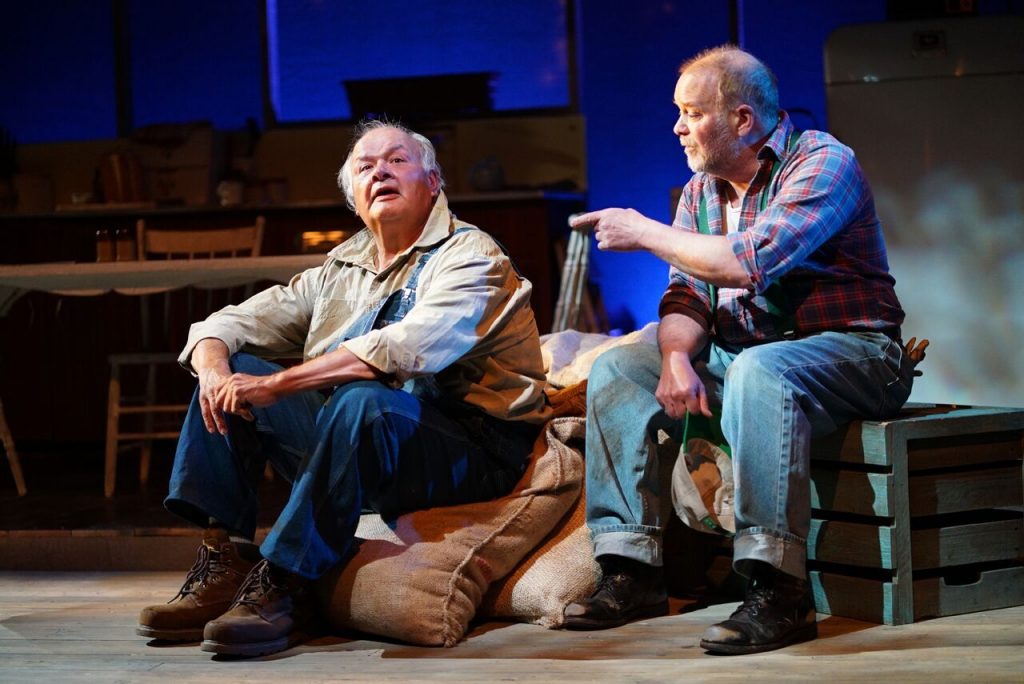 Gary Farmer and Michael Armstrong. Photo: Jam Hamidi
Patricia Reilly's set, in reference to the plans drawn by Angus (Gary Farmer)—the "draw-er boy" of the title—exposes the framework of the home where he lives with child-hood friend, Morgan (Michael Armstrong). An ancient stove and refrigerator, as well as the wood stove in the corner, situate the era in the near past.  It's rustic and simple, with views through a scrim, to the wide outdoors with its sun-dappled clouds and star-lit evening skies (lighting design, also Reilly).  Chickens cluck, birds twitter, the ubiquitous screen doors squeaks with a sound firmly embedded into collective cultural memory. (sound designer Alex Wlasenko).
Farmer slices home-baked bread, butters it and spreads jam. The slow and steady action is engrossing.  Then, the action is repeated—a first clue that everything is not as it seems.  Farmer is magnetic, with a slow and purposeful stillness to his movements.In comparison, Armstrong's Morgan is brusque—at times domineering, issuing commands and orders that Angus cheerfully obeys.  It's clear from the outset there is remarkable history between the two.
Into this carefully constructed and placid life, arrives the young and idealistic Miles (Griffin Lea), an actor from Toronto bent on invading their privacy, offering to live with them for a few weeks in order to hear their stories. Morgan, none too pleased at this invasion, is merciless in his laconic teasing—creating work that doesn't exist to keep Miles busy.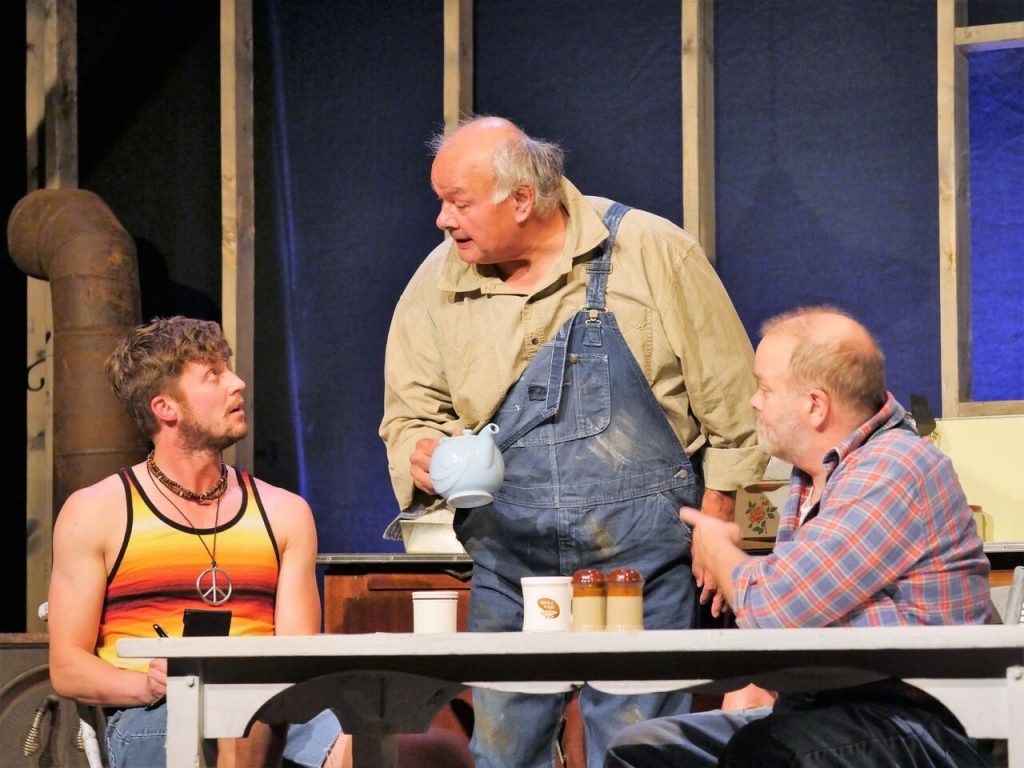 Griffin Lea, Gary Farmer and Michael Armstrong. Photo: Jam Hamidi
Pauline Stynes' costumes for Angus and Morgan add to the homey atmosphere, while Miles' attire of tie-dye and ragged jeans cut-offs speaks to his big-city roots.
Director Jacob Richmond has a clear gift for uncovering every comedic moment in a script and the ability to tune into the symbiotic relationship created by the actors to deliver playfulness, dry wit, tender moments and then, to balance it with the tremendous tragedy of Morgan and Angus' life.
The stage melts away, the audience is carried deep into the heart of story—imagined and real—as the actors become who they are meant to portray.  It takes a very special skill set and years of training and experience to produce moments such as these. Farmer and Armstrong have worked together before at Blue Bridge (Of Mice and Men, Our Town) and were able to draw Lea, an accomplished performer in his own right (Hedwig and the Angry Inch, Rocky Horror Show—Atomic Vaudeville; Animal Crackers—Blue Bridge) into their ambit. The results are remarkable—intimate and revelatory, imbued with a vulnerability not often experienced. Good theatre is a gift, one never to be taken lightly—the magic onstage for The Drawer Boy is exceptional.
Driven by hearing the story of his life on-stage, Angus' memory resurfaces. Miles is perplexed when Morgan is infuriated at this development.  The Drawer Boy is one of the most powerful and tragic explanations of the impact and necessity of story-making on our lives; of how we collectively use story-telling to cope with the horrible realities of everyday living and make meaning out of challenges. And, ultimately how we all desire to be the heroes of our own stories.  Perversely, when Miles interferes in Morgan and Angus' ordered universe, he robs them of this comfort—a fact he will need to live with.
The Drawer Boy is a window deep into the heart, a reminder that sometimes heroes live in quiet and constrained circumstances, that simply waking up every day and carrying on is a triumph of epic proportions. The ensemble under Richmond's astute guidance has produced a moving and thoughtful tribute to ordinary lives.
Thank you Blue Bridge Repertory Theatre for continuing in your quest to bring the finest Canadian theatre to Victoria audiences.
The Drawer Boy by Michael Healey, directed by Jacob Richmond
Blue Bridge Repertory Theatre at the Roxy 2657 Quadra Street in Quadra Village
July 3-15, 2018
Tickets: $20-47 through the Box Office online, by phone 250-382-3370 or in person Wednesday to Saturday between 12pm-4pm
Creative team:
Director Jacob Richmond
Set and Lights Designer Patricia Reilly
Costume Designer Pauline Stynes
Sound Designer Alex Wlaskenko
Stage Manager Becca Jorgensen
Assistant Stage Manager Kristen Iversen
Cast:
Miles Griffin Leonard Lea
Angus Gary Farmer
Morgan Michael Armstrong
Disclaimer: I received complimentary tickets to attend opening night of The Drawer Boy.