The behemoth that is Sondheim's Sweeney Todd comes to the Roxy Theatre from July 31st– August 12th in Blue Bridge Repertory Theatre's creative re-imagining.  I met with Patrick Du Wors, set and lighting designer, and Graham McMonagle, costume designer, to discuss the many innovations they have employed to redefine the scenario while remaining true to Sondheim's original intentions.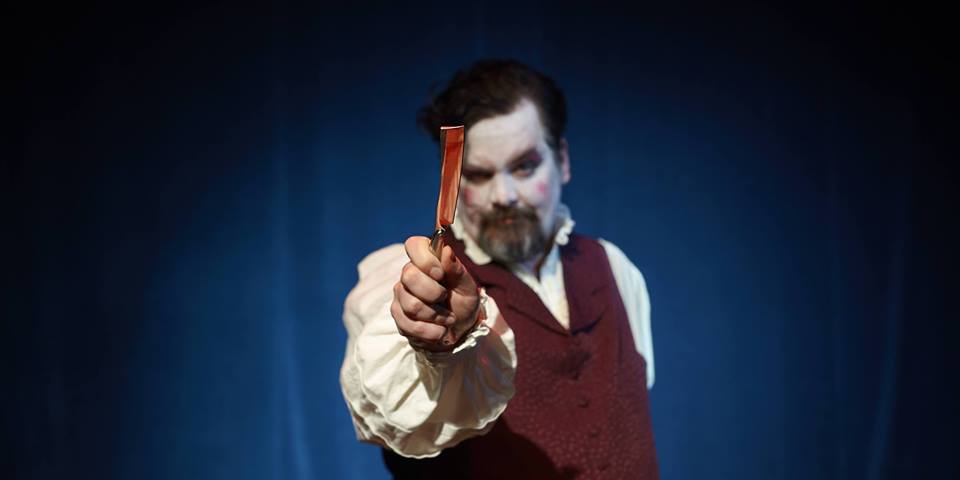 "Sweeney Todd is extremely taxing, even for the largest companies in North America', says Du Wors. "We couldn't do it as written, so the question became, what could we do at the Roxy that we couldn't do at other theatres like the Phoenix, Belfry and McPherson?  Early on we decided that we could be messy, since it's our own house, and the Roxy is a bit of a 'rough and tumble' theatre with a different ambiance."
They started with the most difficult challenge—what to do about the murders and the ghosts, who, in other productions, become invisible—they disappear never to be seen again.  In Blue Bridge's version, with a smaller cast playing multiple roles, the creative team soon reached a decision to be completely theatrical, reframing the narrative to take place in an art therapy class for the 'politically deranged'.
The 'students' are dressed, at the beginning, in white trousers and T-shirts, and transform before the audience into their many characters. "It was a wonderful challenge for me, as a designer" states McMonagle.  "I had to determine the key signifiers of people like Judge Turpin—what one or two pieces, when layered over this costume, would indicate 'judge'?"  He studied original drawings from Hogarth, the famed late-19th century illustrator, for clues. The libretto also has hints—"Joanna in her muslins with yellow hair—that's something we could reproduce in an art therapy class," he says, calling this re-invention "visual poetry".  Gradually, over the course of the musical, the tones change to mirror the social structure of the time—from white and neat and tidy, to grey and messy.
"We're directing the audience's attention to fill in the pieces" says Du Wors "there's just enough context for them to make the leap on their own".
"With the actors in white face recalling Commedia dell'arte and shadow puppetry for flashback scenes, this production, stripped of all the "bells and whistles" often seen on Broadway or London stages, is very moving", says McMonagle.
Live musical accompaniment is provided directly in front of the audience by two keyboardists and the actors also create foley sounds.
The cast is comprised of well-known members of the Blue Bridge ensemble in key roles—Jacob Richmond is Sweeney Todd and Shauna Baird plays Mrs Lovett—as well as rising opera talents Taylor Fawcett, Cassandra Lemoine and Joé Lampron and early career artists Rielle Braid, Gabriel Macdonald, Sarah Murphy, J. Lindsay Robinson, and Kholby Wardell.
Du Wors promises a different performance every night—the set, built of paper, is destroyed over the course of the evening, to be rebuilt for the next day.
This creative re-imagining of Sondheim's iconic work promises an inventive evening of intimate theatre, quite unlike anything seen recently on a Victoria stage.
Inspired by the gruesome but extraordinarily popular 'Penny Dreadful' novels of the 19th century, Sondheim's elegant pop opera has thrilled international audiences since its premiere in 1979.

Directed by Blue Bridge Artistic Director Brian Richmond, this chamber version of this popular work has been offered a bold new visual re-conception by Richmond and his design team, set and lighting designer Patrick Du Wors and costume designer Graham McMonagle. Conceived as taking place in a present day arts therapy workshop for the 'politically deranged', this new version sees ten performers on stage painting, creating and destroying their sets and costumes on a nightly basis while they sing, dance and mime their way through their vision of 1847 London.
Sweeney Todd, the Demon Barber of Fleet Street,
Blue Bridge Repertory Theatre at the Roxy, 2657 Quadra Street
July 31-August 12, 2018
Tickets: $25-52 depending on day
Directed by Brian Richmond
Music Direction by Don Horsburgh
Movement by Jessica Hickman
Designed by Patrick Du Wors and Graham McMonagle
Dialects by Iris Macgregor-Bannerman
Starring:
Jacob Richmond as Sweeney Todd and Shauna Baird as Mrs Lovett
with
Rielle Braid, Taylor Fawcett, Cassandra Lemoine, Joé Lampron, Gabriel Macdonald, Sarah Murphy, J. Lindsay Robinson, and Kholby Wardell
Piano
Jeff Poynter, Heather Burns and Meredith Zwicker